Market Sentiment: More Top Coins Moved into Positive Area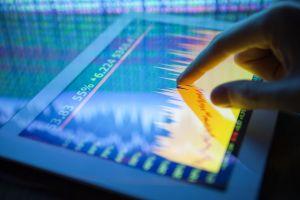 Out of the top 10 coins by market capitalization, exactly half are registering a positive sentiment around them, according to Predicoin, a crypto market sentiment data analysis service. The average of all coins gives an almost neutral score - 5.02 - which is still going towards the positive range, potentially offering hope for the upcoming week.
In total, during the past week, sentiment towards Bitcoin and Ethereum improved the most (+5.9% and +3.4%, respectively,) while Stellar and XRP suffered the biggest loss (-9.3% and -1.8%.)
On Monday (UTC 10:40 AM), Bitcoin, Ethereum, Litecoin , EOS, and Binance Coin are the clear winners at the start of this week. This is a good change of pace compared to last week, when only EOS, Litecoin, and Tether were among the winners - now, Bitcoin and Ethereum escaped the negative sentiment list, while Binance Coin joined the top 10 by market capitalization.
Sentiment change among the top 10 coins:
(5 is neutral, below 5 is negative, above 5 is positive.)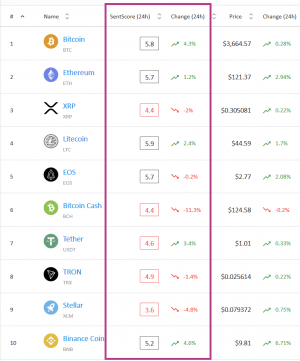 For this turn of events, Bitcoin can thank its strong fundamentals (score of 7.8) but also news surrounding it (score of 6.1) which followed the recent price rally that affected the whole market.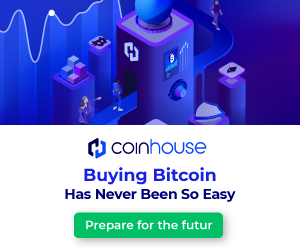 Bitcoin SentScore in the past 7 days: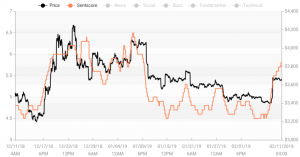 Ethereum's disposition is similar, as they also owe most of their good score to fundamentals (6.5) and news (5.7). Litecoin is certainly the biggest winner with a total score of 5.9, which is a strong indicator in a market that still retains many bearish characteristics. LTC is thanking the technicalities (7.9) for the score boost, followed by the buzz surrounding it (6.2).
Stellar is the biggest loser with a curiously low score for its technical aspect (1.4), while none of the others ever exceed 5 (for fundamentals) either. Its new score shows a clear drop from where it was this time last week - at 4.3 - and the score seems to be intent on dropping further.
And although Bitcoin Cash is not even so far away from a neutral score at 4.4, it is also the fastest dropping one in the past 24 hours as its score dropped by 11.3% - far more than any other coin. For comparison, the second biggest change was a drop by Stellar of 4.8%. Notably, all coins are in the relative green by price change except for Bitcoin Cash, the price of which dropped by 0.2% in the past 24 hours as of the time of writing.
Meanwhile, as reported, Brian Stutland, the Chief Technology Officer at Equity Armor Investments, told CNBC on Friday that the recent rally could be a beginning of a bigger rally.
However, despite the crypto moves of the last few days have been encouraging, Mati Greenspan, senior market analyst at social trading platform eToro, claims that "we're not out of the bear market just yet."
_____
Methodology:
Predicoin measures the market sentiment by calculating the SentScore, which aggregates the sentiment from news, social media, technical analysis, viral trends, and coin fundamentals based upon their proprietary algorithms.
As their website explains, "Predicoin aggregates trending news articles and viral social media posts into an all-in-one data platform, where you can also analyze content sentiment," later adding, "Predicoin combines the 2 sentiment indicators from news and social media with 3 additional verticals for technical analysis, coin fundamentals and buzz, resulting in the SentScore which reports a general outlook for each coin." For now, they are rating the top 30 cryptocurrencies by market capitalization.