Market's Red, but These 6 Altcoins in the Top 50 are Up by Two Digits
Disclosure: Crypto is a high-risk asset class. This article is provided for informational purposes and does not constitute investment advice. By using this website, you agree to our terms and conditions. We may utilise affiliate links within our content, and receive commission.
Six of the top 50 coins by market capitalization have risen from the after-crash blood into the market greenery with a double-digit rise in the past seven days.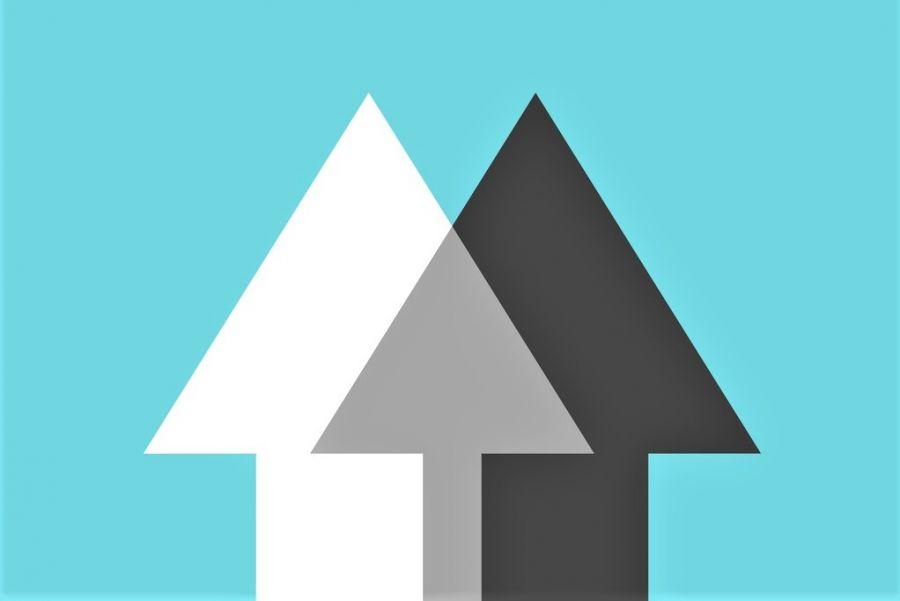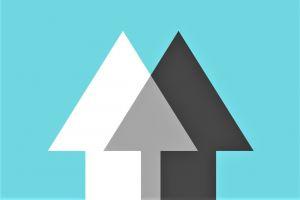 Source: iStock/Dmitrii_Guzhanin
After the market crashed on October 23rd, with Bitcoin (BTC) now holding onto the USD 7,500 level, most of the coins remain in red in the past week. That includes all but one coin in the top 10 and all but two coins in the top 20 category. Nonetheless, even in such a situation, there are those that managed to not just grow, but grow by a double digit number over the course of the past seven days. Focusing on the top 50 coins by market capitalization, the following six are such coins.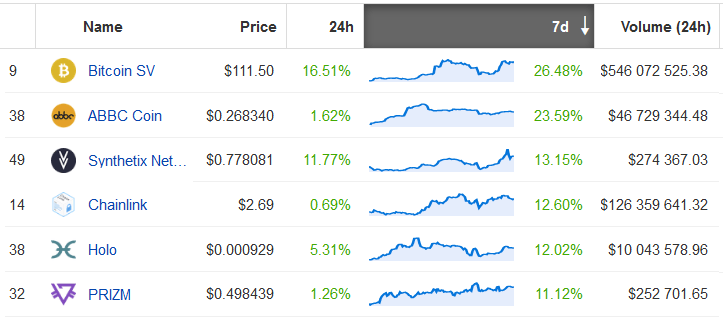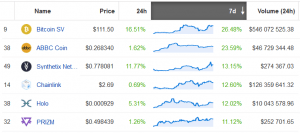 Source: Coinpaprika, 07:10 UTC
In the first place we find one of the top 10 coins – the 9th coin by total market capitalization, with a rise of 26.5% in the last week, but also 16.5% in the last 24 hours alone. Though it started the week with its lowest price for this time period, USD 86.8, it jumped on October 21st, rising to USD 114. After a downward correction, it rallied again in the past day, reaching its highest 7-day price of c. USD 111, where it now stands, and it continues to rise.
The exact reason behind the rally would be interesting to know. BSV Twitter account hasn't been updated since April and the website's news section since August, though its community of supporters seems active, which in itself can have a positive influence on the price. Another opinion was given by entrepreneur and advocate for BSV, Calvin Ayre, who tweeted that "regulation is coming and this favours original Bitcoin BSV as is the only platform that was designed to work inside existing laws."
The next in line is the coin we often see on these types of list, as it was also one of the winners in the last quarter, and it's sitting on the 38th spot by total market capitalization (up from the 49th spot in a matter of days). It appreciated 23.6% in the last seven days, and 1.6% in the last day. The price was rising for two days at the beginning of this time period, from the lowest price of USD 0.22 to the highest price of USD 0.30 on October 30th. It dropped slightly the next day, then two days later again, but currently trades at c. USD 0.27.
ABBC's Twitter account is an active place offering an insight into what may have pushed its price up. Since last Friday, we see a number of announcements, guides and promotions posted, particularly about listing on cryptocurrency exchanges, including IDAX opening ABBC/USDT and ABBC/ETH trading pairs, the same trading pairs being available in DigiFinex, as well as Dobi Exchange resuming deposit and withdrawal of ABBC.
Moving on with the 49th coin by total market capitalization, which has seen a rise of 13.2% in the past seven days and almost 12% in the past 24 hours. SNX's chart shows a more gradual rise to the price of USD 0.75 on October 22nd, followed by a correction downwards, then a sharp jump on October 24th to USD 0.86, though it dropped in a few hours. Nonetheless, it's still in green and trades at c. USD 0.78.
Recently, SNX has been discussing a proposal on moving towards decentralized oracles with Chainlink, as well as Structured ETH being built, among other protocols, on top of Synthetix to produce non-custodial packages/positions, and having a community governance call just hours ago. Additionally, they announced the beta version of their Mintr v2 (Mintr is a decentralized app for SNX holders to mint synthetic assets, Synths), which comes with new features.
Speaking of Chainlink, the 14th coin by total market capitalization appreciated 12.6% since last Friday and 0.7% since yesterday. Looking at the charts, LINK's fluctuations are somewhat sharper than the previous coins, but it was still rising for two days to reach its highest seven-day price of USD 2.81 on October 22nd. Though seeing one larger drop the next day, it's still rising, and is now standing at USD 2.69.
Chainlink is currently hosting the first Chainlink Virtual Hackathon, but they've announced several other things as well, besides the above-mentioned collaboration, such as Ztake officially becoming a part of the Chainlink ecosystem, as did Ultrain, but also the "etherlime chainlink shape" that leverages Etherlime and Chainlink to speed up and stabilize the development process around bringing real-world data on-chain, as the announcement says.
Seeing a rise of 12% over the course of the last seven days, HOT found itself in the fifth spot on this winners list. It also appreciated 5.3% in the last 24 hours. This coin's chart is even zigzaggier than the previous one. Though its fluctuations are more prominent, two rallies can be observed: a bigger one on October 20th when it reached the highest price in this time frame of USD 0.001, after which the price dropped, climbed again to USD 0.0091 a day later, dropped significantly on October 23rd, though it had its second smaller rally the same day, dropping again afterwards, then having a more stable rise since. Now it trades at USD 0.00092.
HOT has an active GitHub, they've announced their Holochain Blog after launching their Forum, posted updates, including Holo Central updates, and notes about decentralization, and they keep in contact with their community.
PRIZM (PZM)
The final coin this time around was also the winner of the past quarter, as reported last week. It has risen 11.12% in the last seven days, but also 1.26% in the past 24 hours. Continuing with the zigzaggiest chart so far, PZM has seen at least six rises, quickly followed by drops. The biggest of these was, interestingly, on October 23rd, the day the market crashed, when its price climbed to its highest in the last seven days, USD 0.51 – compared to the lowest price of USD 0.44 on the 18th – before dropping again. It jumped to USD 0.51 again the next day, and now trades at USD 0.49.
As previously noted, PZM's blog, site, YouTube channel and SNS accounts in English aren't updated frequently, though its site in Russian offers more information, posting critical pamphlets every few days, as well as the announcements about its listing on the cryptocurrency exchange Hotbit at the beginning of October, critical updates, and so on, though it seems that in the past week there were no additional announcements made.
---