Market Buoyed by Japanese Companies Boost, XEM Jumps by 24%
Japan's cryptocurrency industry has received a timely boost with positive news from two of the country's crypto industry players.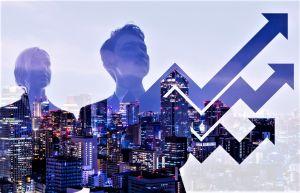 Coincheck, a crypto exchange, has finally resumed deposits and withdrawals in NEM (XEM) for the first time since a devastating USD 400 million hack in January this year. The hack was the world's biggest raid on an exchange to date, and led to the company suspending all NEM transactions on January 26.
Now, Coincheck posted an announcement stating, "[Our platform's] security network has received approval from independent experts."
The market was immediately buoyed by the news, with NEM prices rising by 24% in the past 24 hours.
Following a takeover by the ambitious Monex Group, the exchange began on the long road to resuming services, and has since received the necessary regulatory approval from the Financial Services Agency (FSA).
The company resumed partial service on October 30, when it resumed deposits for four cryptocurrencies, including Bitcoin, Bitcoin Cash, Litecoin and Ethereum Classic, as well as purchases for Bitcoin Cash, Litecoin and Ethereum Classic. However, Coincheck has now resumed full services for NEM, as well as the Ethereum and Lisk tokens.
At the time of writing, Coincheck has not yet resumed deposits and purchases for Ripple and Factom, although it is allowing withdrawals and sales in these two tokens.
Meanwhile, GMO Internet, the operator of the FSA-licensed exchange platform GMO Coin, as well as mining platforms GMO Mining and Z.com Cloud Mining, reports that its crypto-business revenues for Q3 amount to almost USD 23 million, with GMO Coin's "quarter-on-quarter profits up by 34.4%." The company also stated that GMO Coin accounts "are growing steadily," noting that 208,000 GMO Coin accounts have been created to date.
The company last month claimed to have mined 595 Bitcoin and 875 Bitcoin Cash, and has previously stated that it intends to break Chinese miners' monopoly, operating mines all over the world, including a mine at a secret location in Scandinavia. GMO's Q3 report also claims that the company is "aiming to achieve [a mining hash rate of] 800PH/s within the year."
GMO is also planning to release a stablecoin, in conjunction with its subsidiary GMO Aozora Net Bank.
---