M3 Games is a Unique New Web 3 Game Network with Play to Earn Gaming
Disclosure: Crypto is a high-risk asset class. This article is provided for informational purposes and does not constitute investment advice. By using this website, you agree to our terms and conditions. We may utilise affiliate links within our content, and receive commission.
Disclaimer: The text below is an advertorial article that is not part of Cryptonews.com editorial content.

M3 games is a network of the First NFT Games ever where players can win money based on their investments into the NFT team deck and fundamental in-game skills.
The network integrates traditional gaming, metaverse technology and cryptocurrency in a beneficial way for users who can earn income in several ways from the exciting games.
M3 Games hosts the first freemium HTML5 NFT games. Developed by a team of experienced software developers, the games employ marketable tokens and NFTs, regular tournaments, and passive income for creators and asset owners to give players a good return on investment for their time and effort.
This revolutionary web 3 network provides maximum gaming experience by interconnecting several independent NFT games and enabling the interactions of game assets across the individual games. This means that game assets (e.g., characters, property etc.) within one M3 game can function as NFTs to be ported to any other game on the network.
Sweet Clash is the first game on the network God of gods is soon to be released which will enable an exciting new gaming experience like Sweet Clash VS God of gods!
Several other games are scheduled to be released on the network within months. Hence, M3 is developing a complex fun web of possible gaming experiences for players. Also, the games are primarily web based which will enable general access to an identical gaming experience across devices, but there is also support for mobile gaming. Some of the upcoming games are highlighted below;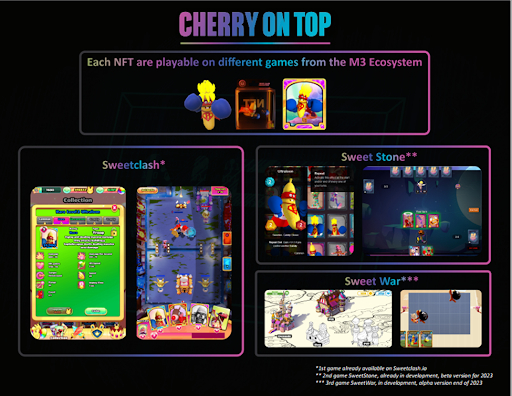 M3 games also promotes Play to Earn (P2E) gaming which allows gamers not just to have fun with a game but also to make money. This is an advantage over the prevalent Play to Win (P2W) games where players spend time just to beat opponents and possibly progress to another level of difficulty.
This Play to Earn ideology gives more utility to our M3 games and is provided in the games as follows;
Gather game tokens and cards while gaming to transform them to cryptocurrency and NFTs.
Hold assets which keep increasing in value due to profit injection.
Trade crypto and NFTs in market places like Uniswap and Pancakeswap.
NFT creators' profit whenever the NFTs are traded.
Game tournaments in which players can pay M3 tokens to join and compete for prizes.
The Scholarship feature is another outstanding P2E support which allows NFT holders who may not be indisposed to rent their NFTs to other available players and share in their profit from gaming.
Join our M3 discord now to play Sweet Clash and partake in the minting coming up October 31st.
Inclusive Version Support of M3 games
The games on the M3 network support both a free version for regular gaming and a paid NFT version for E-sports. You can also access the games without logging in your wallet.
In the Freemium version, players collect game cards for free which they can subsequently transform to NFTs at a floor price. From this freemium version, players can access paid NFT tournaments in the "League 5" ladder, after they must have understood the game.
The NFT version enables NFT holders to earn money by taking part in daily tournaments and earn passive income through the "Scholarship" program, where they can rent NFTs to other players so that they can take part in tournaments.
Watch the M3 trailer below;
Benefit from the Economics of M3 Games
1. Make income from NFTs:
Players can obtain NFTs on M3 games by making them, buying them, or paying to have game cards they have accumulated turned into NFTs. These NFTs can then be traded, held to appreciate in value, or lent to other players to make money. Since the NFTs may be utilized in several games, they can also be used to develop new games for the ecosystem. This creates an entire industry for digital properties on the platform. NFT owners on the platform earn passive income as illustrated in the image below.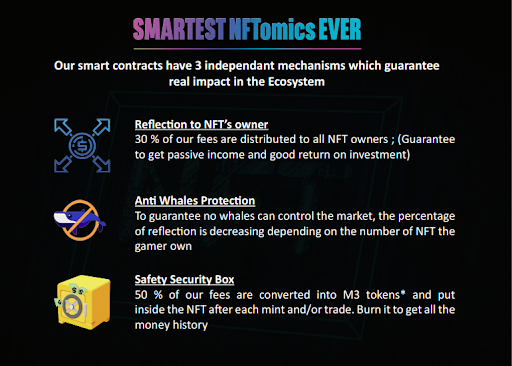 2. Profit from M3 tokens:
M3 token and MGR (Meta Golden Rabbit) token are the two tokens in the M3 ecosystem. The M3 token, which may be used to buy NFTs, sign up for competitions, and participate in platform governance, costs 1 euro for 1 M3. Conversely, MGR token is obtained by the conversion of off-chain Golden Rabbits. Both tokens increase in value due to profit injection by the creators of the network and this generates passive income. Explore the illustration below;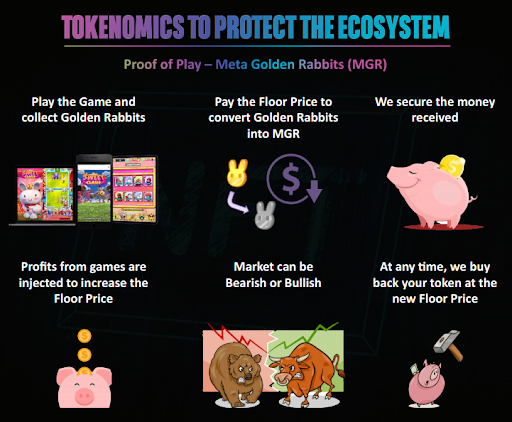 3. Participate in Tournaments:
There are regular game tournaments where players register with M3 tokens and compete against other players on the platform to win prizes. The image below gives a more detailed explanation of the tournaments.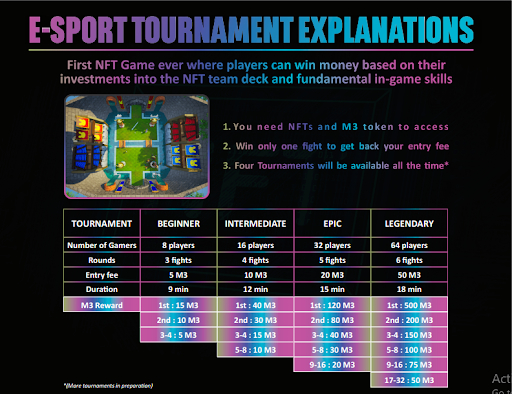 Multiple Uses of M3 Games
The M3 network serves different kinds of users by providing various benefits to these users.
1. For Gamers:
M3 allows gamers to choose which game they want to play, using their preferred NFTs and crypto assets. They can also create a dynamic E-Sports career through participation in tournaments or trading of game assets.
2. For Studios:
M3 allows studios to create games using graphical IP with an already existing community. This reduces marketing costs as gaming studios will not have to directly manage artists, only load transferable assets right into their games.
3. For Artists:
M3 gives artists a starting kit to help kickstart their game design journey instead of learning from scratch. Also, artists can collect fees from each sale of their creations.
M3 Games will change the industry
With its extensive crypto support, M3 Games seeks to make cryptocurrencies accessible to the general public in a way that is enjoyable, approachable, and simple to understand. Also, by making professional gaming a viable and rewarding career option, M3 also advances E-Sports.

Visit M3 website or play Sweetclash now to enjoy these benefits.
---