LuckyBid is Now Live on Arbitrum One
Disclaimer: The text below is a press release that is not part of Cryptonews.com editorial content.
LuckyBid, the first omnichain NFT lottery, gives everyone on L2 chains, starting with Arbitrum One, the chance to own bluechip Ethereum NFTs (e.g. BAYC, CryptoPunks) with small investments and low gas fees.
LuckyBid is powered by LayerZero omnichain technology and uses the Chainlink Verifiable Random Function (VRF) to ensure 100% provably fair play and full transparency.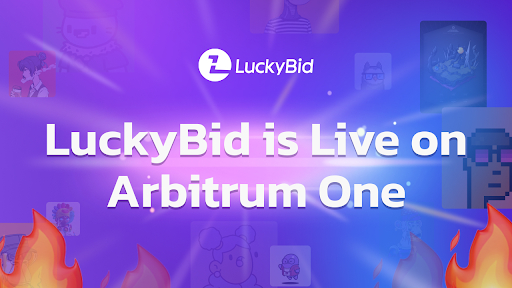 Lotteries on the Blockchain
Real world lotteries have strong product-market fit and have been wildly popular for centuries, enjoying hundreds of billions of dollars of annual worldwide sales. However, the global lottery industry has several serious drawbacks that can be solved using blockchain technology. Some of the problems include issues such as lack of fair play, inaccessibility, non-transparency, and slow or missed payouts.
Blockchain lotteries are 100% transparent, all information such as winners and past draw results can be verified by anyone on-chain. By design, blockchain lotteries are more accessible and do not depend on residing in a particular geographic location to participate. Blockchain lotteries enable anyone, anywhere to try their luck as long as they have an internet connection and a crypto wallet.
What's an NFT Lottery?
The NFT Lottery is an innovative leap into the future. Until now, the NFT space has been dominated by expensive bluechip NFT collections, such as BAYC and CryptoPunks (e.g. Current floor price of CryptoPunks is around 50 ETH or nearly $100,000 USD). Few NFT enthusiasts can afford such sky high prices and this is severely limiting the mass adoption of NFTs. NFT Lotteries will allow millions of L2 traders at all socioeconomic levels to win exclusive NFTs from prestigious digital art collections. This will broaden and deepen the demand and liquidity for NFTs and democratize NFT ownership, while simultaneously attracting more much-needed capital to help develop the future of Finance.
How LuckyBid NFT lottery works?
LuckyBid is similar to real world lotteries in that bidders can buy tickets and win prizes by simply buying the winning ticket. In fact, the LuckyBid NFT lottery offers a better user experience than real world lotteries because the tickets are actually NFTs that can be freely traded and never expire, even after the draw concludes.
Here is how LuckyBid works for the typical bidder. First, buy your ticket(s) and then choose your favorite NFT collection from the active draws: the more tickets you play, the higher the probability of winning your desired NFT. Next, wait for the draw process to finish. Specifically, once the draw has collected enough funds to purchase the floor NFT, the ETH will be bridged to Ethereum via Stargate Bridge and the floor NFT will be purchased on the OpenSea NFT marketplace. After the floor NFT is successfully acquired, it will be bridged safely and securely to Abitrum One utilizing LayerZero ONFT technology. Next, the 100% provably fair Chainlink Verifiable Random Function (VRF) and Chainlink Automation will be used to choose the winner of the draw. Finally, the NFT will be automatically transferred to the chosen wallet address and a notification will be sent to the winner. Last but not least, the NFT can be bridged back to Ethereum or used by the LuckyBid winner in L2 DeFi activities.
LuckyBid Degen Points program
LuckyBid would like to say a big Thank You to early degen users who have been active on Metawin and LooksRare NFT raffles on Ethereum mainnet, despite paying those unpleasantly high gas fees.
Based on the snapshot taken between March 1st and May 31st 2023, you probably have some juicy Degen Points waiting for you.
LuckyBid is excited to launch this innovative NFT lottery on Arbitrum One and democratize the bluechip NFT market for L2 traders who until now have been locked out of the space due to prohibitively high floor prices and onerous gas fees.
Please check out our website, FAQs and socials to find out more about how you can benefit by joining LuckyBid draws and gaining the chance to win bluechip NFTs.
---