Love Hate Inu: The Viral Crypto Platform That Rewards You for Voting - How to Buy Before Price Increases?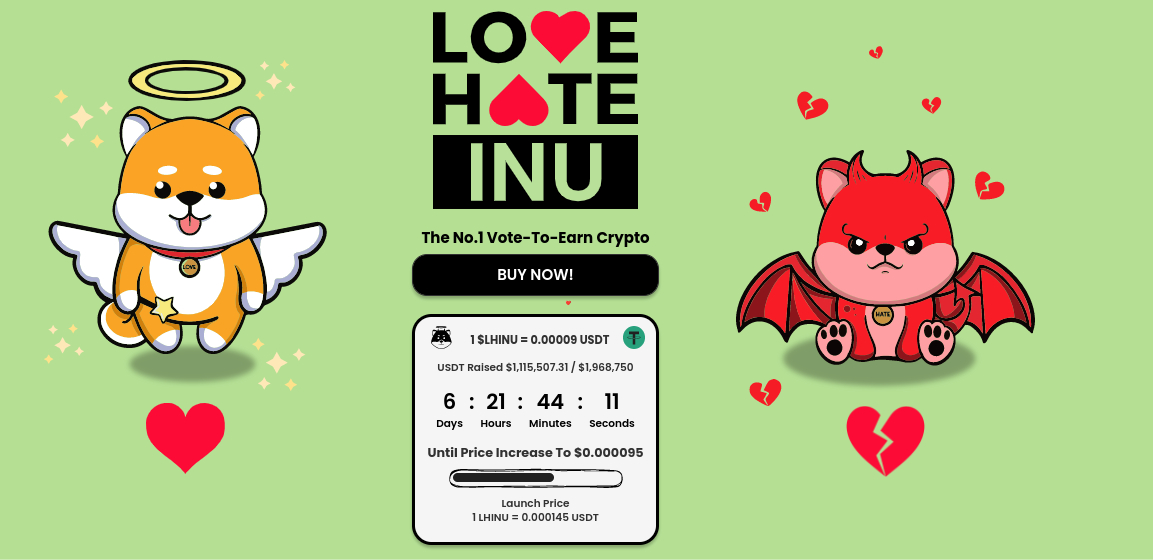 Voting is a civic right that allows citizens of a particular region to select their leaders. The process is often done within a particular timeframe and is ideally free and fair.
However, the human factor has largely made this civic duty a herculean task for many – from rigged elections and referendums to intimidation, voting has become affiliated with the elderly only.
A new crypto project, Love Hate Inu, aims to change this erroneous idea and allow people's voices to be heard.
The platform also allows users to earn passive income when they vote on sensitive public issues.
Vote-to-Earn - The New Crypto Trend
The crypto market is rife with the latest innovations. So far, move-to-earn (M2E), play-to-earn (P2E), and train-to-earn (T2E) are the trending models where users get to earn when they interface with the relevant blockchain project.
The latest is vote-to-earn initiated by the Love Hate Inu protocol.
Resident on the largest smart contract network, Ethereum, Love Hate Inu rewards users when they stake their LHINU tokens to vote on different topics.
The platform allows users to either vote 'love' or 'hate' on any trending meme polls. This simplistic approach ensures all users can air their opinions on local and national issues with zero influence and intimidation.
Interestingly, Love Hate Inu is built using blockchain technology which is decentralized and censorship-resistant. This way, all responses gathered from poll results are free and transparent.
The use of blockchain tech makes it easy for anyone to verify the results of any polls without resorting to a centralized voting mechanism or service.
To ensure Love Hate Inu users are constantly rewarded with the LHINU tokens when they stake and cast their votes, the protocol will be working in conjunction with multiple decentralized applications (dApps) in the Ethereum ecosystem to raise sponsored polls.
This will serve as an online survey where users stand a chance to earn LHINU tokens and get rewarded with non-fungible tokens (NFTs) and other metaverse-themed items.
Love Hate Inu Presale Off to a Blazing Start - Buy Now?
The Ethereum project is a new form of meme coins that aims to make performing civic duties fun.
Instead of focusing on being a joke crypto asset alone, Love Hate Inu presents a social construct for residents of every country to participate in the key decision-making process.
So far, the idea has caught on like wildfire, and the Love Hate Inu presale has been one of the most impressive.
In less than three weeks, the project team has raised over $1.1 million in its second presale stage. The massive growth is largely due to the bargain price the ERC-20 token currently goes for.
At press time, early-bird investors can buy LHINU for $0.00009, a great price for such a promising crypto asset.
For now, the project is running down a timeline, and this price will shoot up to $0.000095 in the third stage.
Buying into this project can be a great deal given that it will post a listing price of $0.000145 when it fully launches, which is more than a 200% increase for those who purchase during the presale.
How to Purchase the LHINU Token
So, how do you get LHINU? For investors looking to purchase the vote-to-earn coin, here are the steps to follow:
Set Up a Crypto Wallet
First, investors must set up a cryptocurrency wallet. They can choose either the Metamask wallet for their PCs or the Trust wallet for their mobile devices.
Buy USDT/ETH
The platform accepts purchases made in either Tether (USDT) or Ethereum (ETH). Once the required tokens are acquired, users can move them to the crypto wallet.
Connect Your Crypto Wallet
After funding the wallet, the next step is to connect it to the Love Hate Inu presale platform. To finish the process, select the wallet option and follow the on-screen instructions.
Buy $LHINU Tokens
Once the wallet is connected, investors can purchase the token with either ETH or USDT. The tokens will be deposited into the linked wallet once the transfer is completed.
The digital asset is currently priced at $0.00009 per token, and investors must purchase at least 10 $LHINU tokens to proceed.
Disclaimer: The Industry Talk section features insights by crypto industry players and is not a part of the editorial content of Cryptonews.com
---