Love Hate Inu Presale Hits $250k in 2 Days, 7 Days and $700k Left Before Stage 1 Ends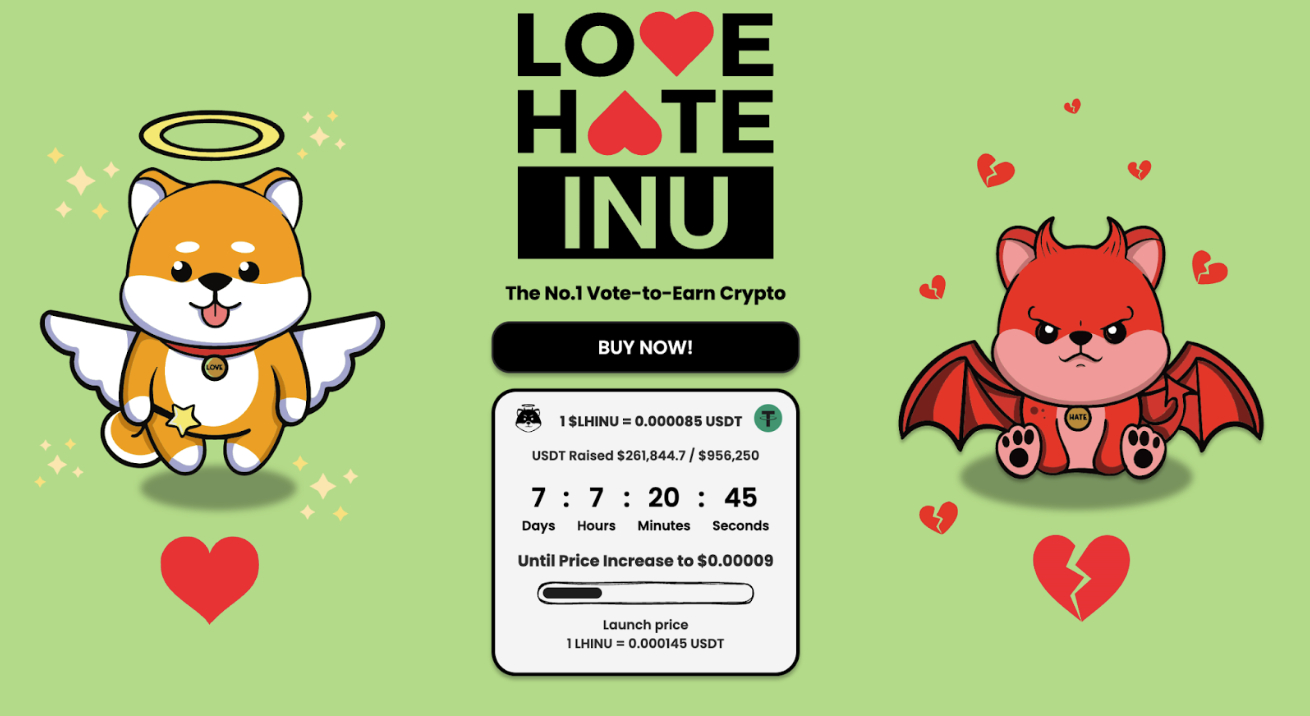 Friday March 10th, 2023 – Love Hate Inu (LHINU), a meme coin that rewards voting, has become immensely popular having raised more than $260,000 within a mere two-day period.
There are now only 7 days left until the price of the token jumps from $0.000085 to $0.000090.
But such is the speed of the fundraising, there is only $700k to pull in before the Stage 1 target of $956,250 is hit – prospective investors will need to move fast to catch the lowest price.
Everyone has an opinion on Donald Trump and that's why Love Hate Inu is a genius idea
Love Hate Inu has struck on the novel idea of leveraging blockchain technology for one of its best use cases – secure and transparent systems.
Users will vote on absolutely anything, such as whether or not they like Donald Trump or Elon Musk, for instance.
Because people invest so much passion in their loves and hates, Love Hate Inu promises to be super popular on the internet.
There's no chance of subverting the voting mechanism because everyone taking part has to stake the LHINU token.
Judging by the take-up of the presale offering alone, LHINU already looks like it is going to be wildly popular.
A major aspect of its appeal is the striking character illustrations the community will be voting on. These are likely to be highly shareable, guaranteeing that virality will be a core attribute of the project.
After Love Hate Inu, the survey industry will never be the same again
On the face of it, Love Hate Inu might seem like a frivolous use of blockchain technology, but it is far from it.
The survey industry is a $3.2 billion in 2023 industry and Love Hate Inu will be its no. 1 disruptor.
The platform will offer individuals and brands the ability to create polls, with the added benefit of brands being able to motivate participation by offering both digital and non-digital rewards.
Among the team's revenue-generating ideas are plans to provide a service to enable brands to distribute NFT discount voucher codes to poll participants.
By blending the proven attraction of meme coins with the utility of a useful and trusted voting system, there is every chance that LHINU will surpass the heights achieved by coins such as Dogecoin and Shiba Inu.
Launched in August 2020 at a price of $0.000000000153, Shiba Lnu rocked in price by 7,254,000% to reach $0.00001015 – a gain of 72,000x.
There is a very good chance that LHINU could be one of the biggest crypto launches of 2023 as it is sure to go viral on socials.
Super fair launch – 90% of supply has been made available to the public
LHINU presale is super fair because 90% of the total supply of 100 billion tokens is being made available to the public. Because the overwhelming majority of supply is being offered to the public, there is zero chance of a rug pull by self-interested parties.
You can buy Love Hate Inu using ETH or USDT (Tether stablecoin). If you have those cryptos in your wallet, you can buy them directly on the site with a card and then pay for your LHINU.
There is also no vesting period for the $LHINU token.
Simple and powerful: the more you vote, the more you earn
The ecosystem rewards participation and engagement. The more you vote, the more you earn.
When taking part in the Love Hate Inu polls, participants must stake their $LHINU for a minimum of 30 days. This requirement prevents spam and the manipulation of voting.
The Love Hate Inu ecosystem comprises the Vote Submission Platform, where poll ideas are presented for the community as a whole to consider, and the Management Dashboard, in which the transparent monitoring of the voting process takes place.
The team will also be hosting polls to make sure that there are always subjects available to vote on that everyone can engage with.
The 10% of the token supply not on sale will be held back for use in marketing campaigns, development and paying out Vote to Earn rewards.
The presale is split into eight stages so investors need to move fast to catch the soft launch Stage 1 price of $0.000085.
Love Hate Inu launches in the third quarter of 2023. From the fourth quarter, LHINU token holders and interested brands will be able to create and promote their own polls.
Love Hate Inu is a Facebook-level opportunity – but this time it is open to all
FOMO is ramping up and the presale is only two days old. Love Hate Inu is unique and like all the best ideas, its simplicity is at the root of its attraction.
Remember how Facebook started in much the same way as LHINU, with Mark Zuckerberg's dubious 'Hot, not Hot' rating system?
Well, Love Hate Inu will be emulating that success but through a more enviable route.
And unlike the closed venture fundraising that stopped ordinary people from investing in Silicon Valley startups that are now giant companies, today we have crypto, which means anyone can invest in the greatest and best new ideas like Love Hate Inu.
---