Love Hate Inu Presale Hits $1 Million Milestone: The Crypto That Lets You Vote on Celebrity Controversies and Earn Big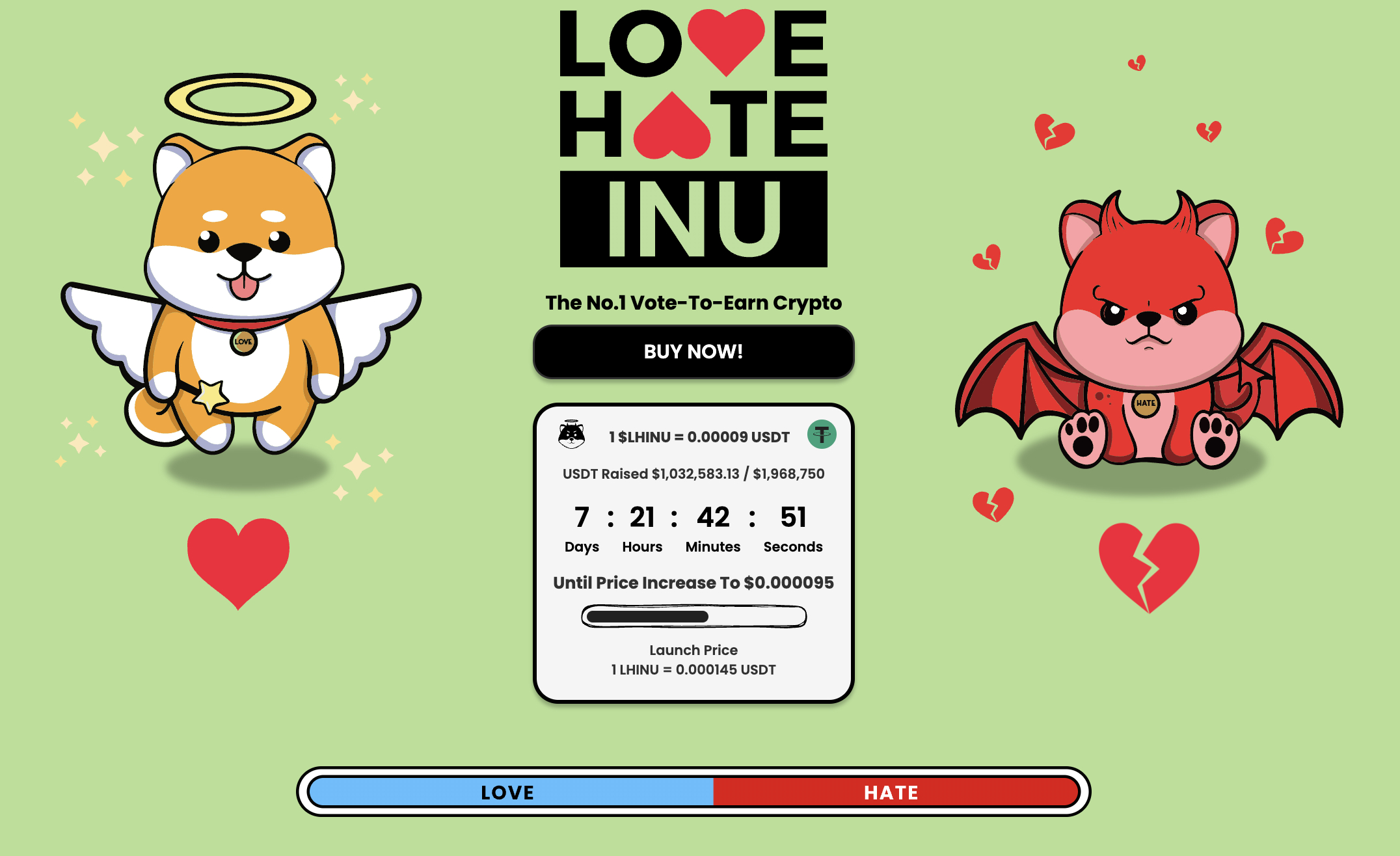 Love Hate Inu (LHINU) is a fast-rising meme coin project set to revolutionalize the $3 billion online survey industry with its utility vote-to-earn (V2E) Web3 technology.
The crypto project allows participants to earn rewards for engaging in polls and surveys in a thrilling and unique way.
As of press time, the meme sensation has raised a whopping $1,000,000 in investment in just nine days since its official presale launch, showing huge excitement from investors.
Excitement Builds Over the New Vote and Earn Ecosystem
The meme coin family comprises media hype and excitement, and Love Hate Inu (LHINU) is no exception.
This trendy meme coin is poised to follow in the footsteps of Dogecoin and Shiba Inu, potentially offering substantial returns to early investors.
The Love Hate Inu platform features a vote-to-earn (V2E) system, allowing members to engage in trending polls and surveys covering various topics such as celebrity news, social values, politics, finance, climate change, and the green revolution, among others.
Built on the reliable and secure Ethereum blockchain, the Love Hate Inu platform ensures top-level security and transparency, making it an attractive option for investors looking to capitalize on the meme coin trend.
It took approximately five days for the exciting meme coin to reach the $500,000 milestone; three days after, the project has already raised over $1m in investment and will continue to rise as more investors get intrigued by the potential of the V2E platform.
According to the Business Research Company report, the online survey industry is worth $3 billion and will rise to $6 billion in 2027.
Love Hate Inu seeks to harness its Ethereum blockchain technology by providing immutable and secure poll and survey results that cannot be manipulated in any form.
To participate in polls on the platform, members must stake the utility native token for at least 30 days.
The more $LHINU staked by a member, the more their overall voting power increases.
Furthermore, the meme coin project will provide immense value for top survey brands and diverse Web3-powered projects keen on achieving accurate opinion outputs on topics and questions on an array of sectors.
Love Hate Inu distinguishes itself from other meme coins due to its versatile accurate survey and poll results powered by the Ethereum blockchain – giving it a real-life utility beneficial to the global industry.
With this considered, the platform changes the narrative of meme coins as it embeds hype, strong utility, and a potential bullish trajectory, making it one of the best crypto projects to invest in and earn nominal profit.
Regarding rewards, the meme coin platform is yet to make an important announcement on rewards mechanics.
However, its native token, $LHINU, powers all transactions and voting operations.
Users will also earn the token as a reward for engaging in some polls.
According to the meme sensation project Whitepaper, the development team will plan polls and surveys for a while, but after quarter 3 (Q3), the community with get to choose what to vote on next.
This is impressive as the internet will finally have the mechanics to settle debates on viral, serious, and witty topics from a wide range of sectors.
Individuals interested in sharing opinions in a vibrant community and earning financial perks should buy $LHINU tokens at a discounted price via its presale, as they will be needed to participate in voting activities.
Early investors would be prime benefactors of potential bullish trajectories in the future.
Buy $LHINU Now – Price to Increase in a Few Hours
As previously stated, the exciting meme coin recently launched its presale, with the first stage ending in a few hours, bringing the price of $LHINU from $0.00009 USDT to $0.000095.
The development team initially aimed to raise $956,250 in its presale first stage, and with more than 11 hours to go, it has already generated over $1m, surging passed the intended milestone.
Love Hate Inu is on the right part to becoming the fastest crypto project to raise the highest capital in the presale stage, which is usually a sign of a bullish asset.
With Shiba Inu's (SHIB) mind-blowing return on investment percentages still fresh in memories, investors can brace up for $LHINU as it has all it takes to be the next meme sensation to skyrocket due to its insane hype and real-life utility.

Visit Love Hate Inu Here
Disclaimer: The Industry Talk section features insights by crypto industry players and is not a part of the editorial content of Cryptonews.com
---