Litecoin Price Prediction as LTC Spikes Above $100 – Can LTC Reach $1,000 This Year?
Disclosure: Crypto is a high-risk asset class. This article is provided for informational purposes and does not constitute investment advice. By using this website, you agree to our
terms and conditions
. We may utilise affiliate links within our content, and receive commission.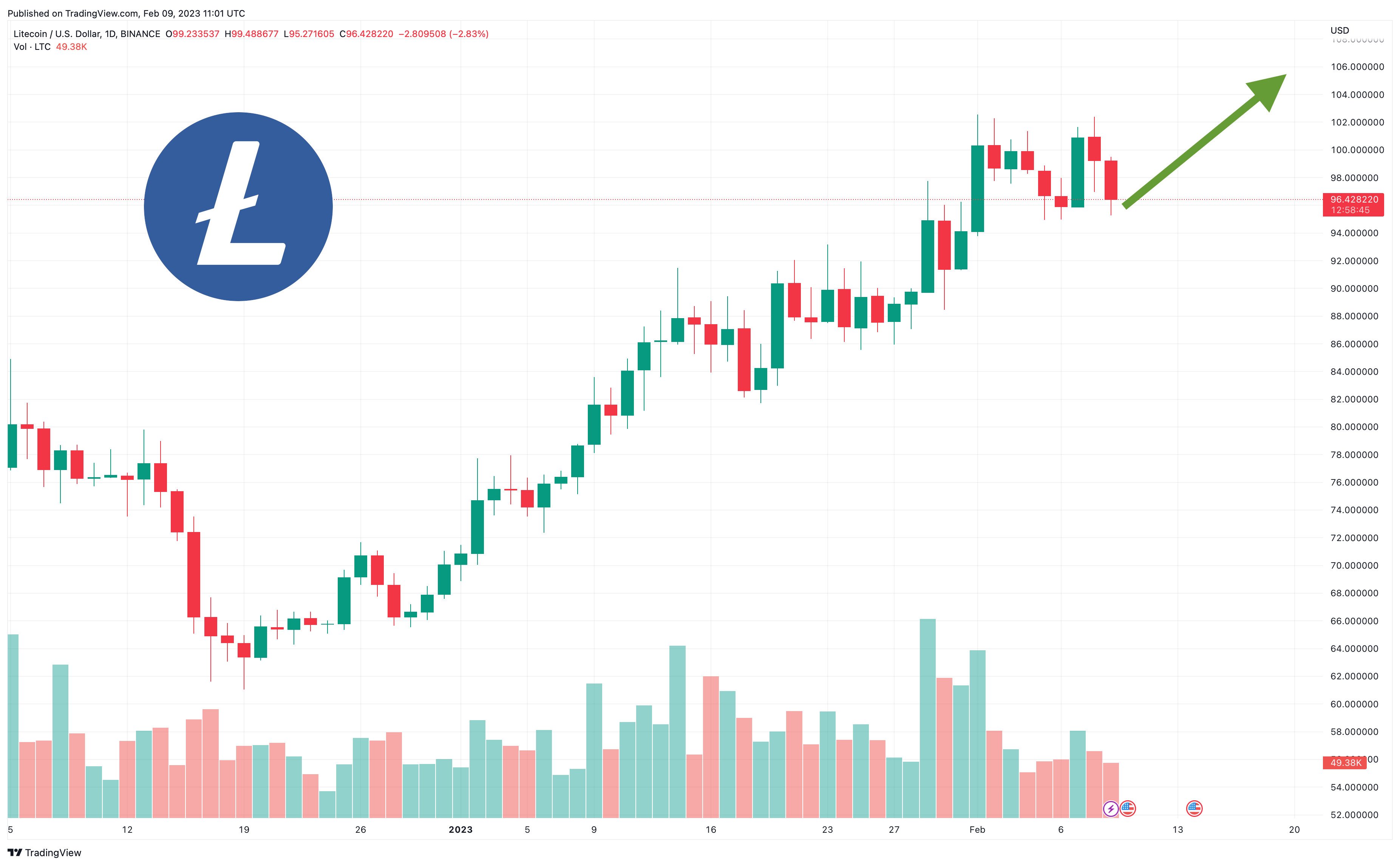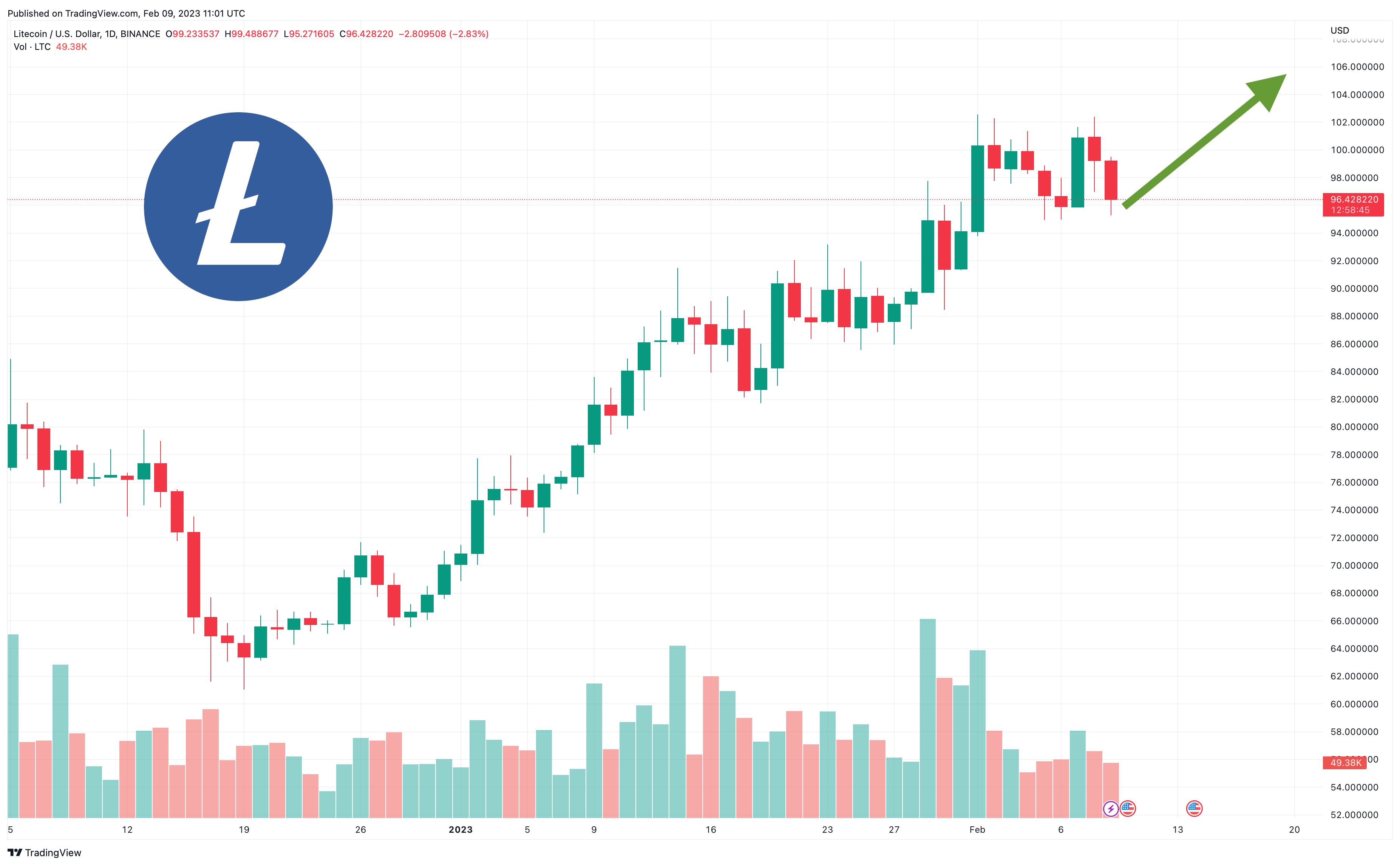 The Litecoin price has dropped by 5% in the past 24 hours, falling to $96.29 after it rose above $100 yesterday. This current level means that it has gained by 7% in a fortnight and by 17.5% in the last 30 days, pushed up by the Litecoin Foundation's announcement that its Mastercard-powered Litecoin Card will be launching in Europe.
Such news served to remind the market of Litecoin's existence as 'the silver to Bitcoin's gold,' with the altcoin remaining one of the most widely used cryptocurrencies in the ecosystem. And assuming that the wider market and global economy continue to recover this year, it could easily break out to new levels.
Litecoin Price Prediction as LTC Spikes Above $100 – Can LTC Reach $1,000 This Year?
It seems that litecoin's jump over $100 was somewhat short-lived, with this price proving to be something of a stubborn resistance level for the token. It has mounted a few attempts to rise sustainably above this level in the past week or so, but each attempt has failed.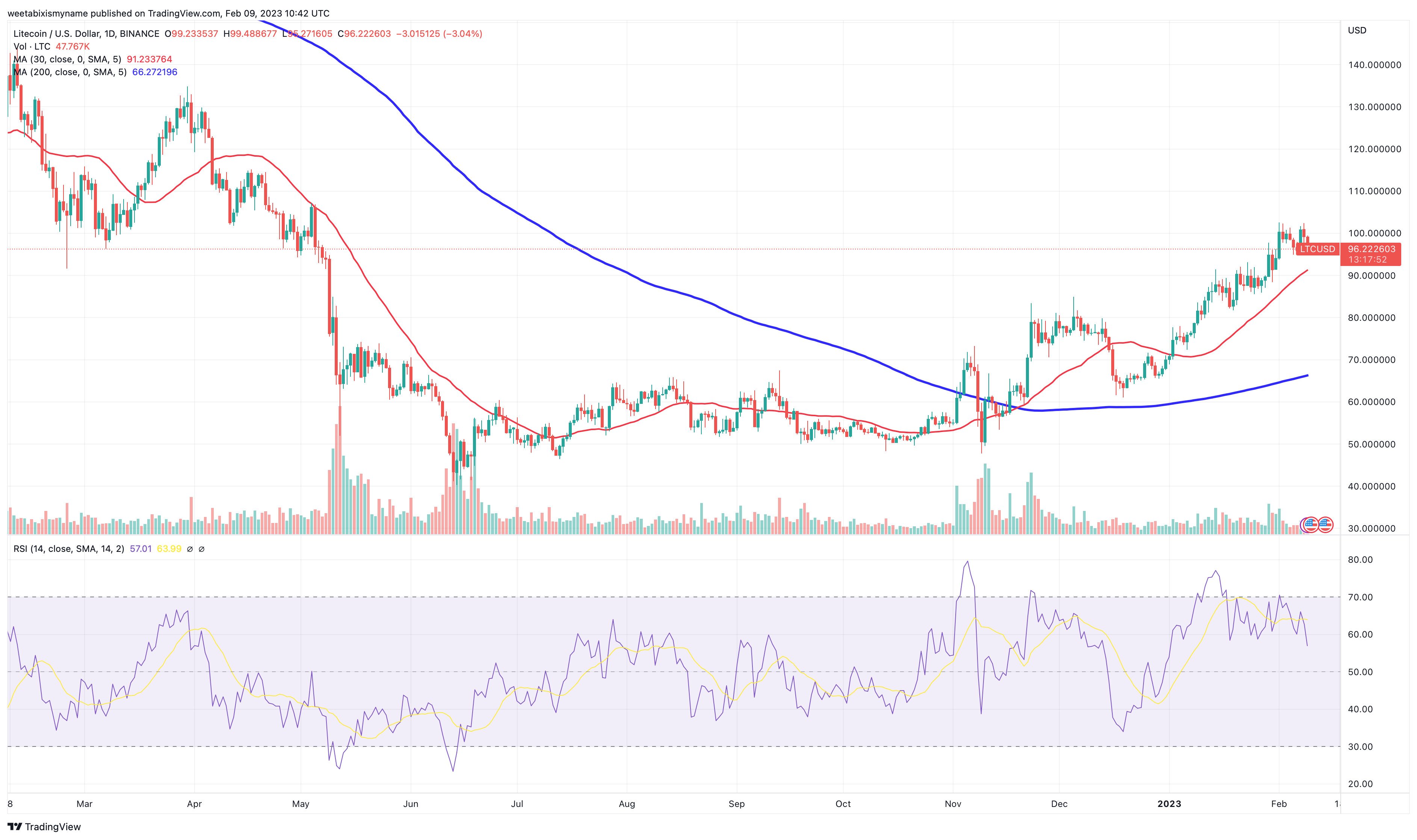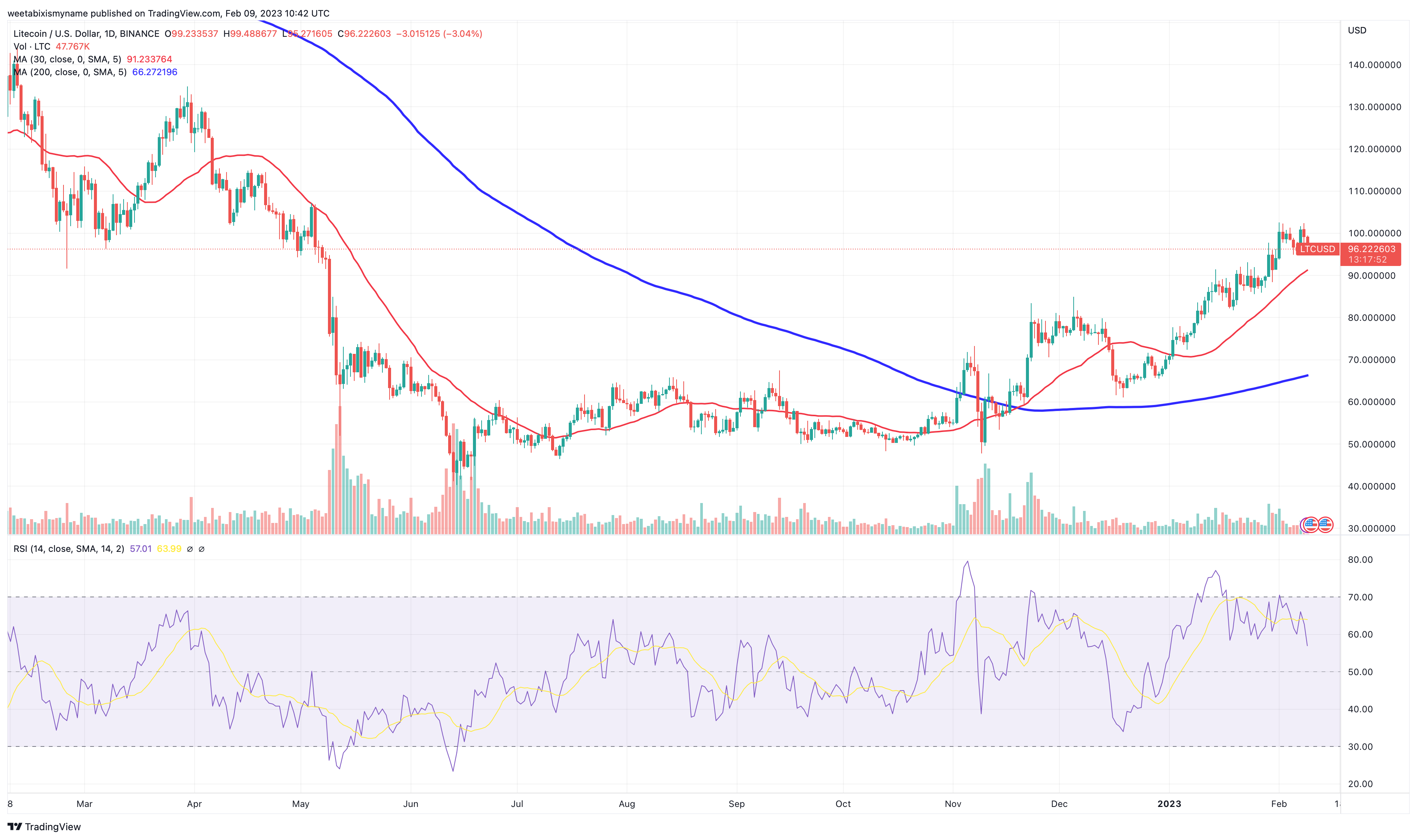 That said, LTC's indicators remain encouraging. Its relative strength index (purple) has sunk a little in the past day, yet it remains at around the 60 mark, signaling continued buying pressure.
At the same time, its 30-day moving average (red) continues to rise further above its 200-day average (blue). While there's a chance that it may have peaked, it still points upwards, suggesting that further gains may be in store.
As noted above, the extension of Litecoin's partnership with Unbanked and Mastercard into Europe is the main reason for LTC's recent joys. Its foundation had already partnered with both firms some two years ago to launch the Litecoin Card in the United States, yet following the success of this launch, the card is now arriving in Europe and the United Kingdom.
BREAKING: The Litecoin Foundation @UnbankedHQ and @Mastercard, announce the all new Litecoin Card program now available to residents in the UK and Europe – reaching approximately 84% of the EU! #PaywithLitecoin⚡#Litecoin $LTC https://t.co/uefUP4fl95

— Litecoin Foundation ⚡️ (@LTCFoundation) January 30, 2023
"I am thrilled to be working with Mastercard to open crypto card programs in the UK, Europe and abroad," said Unbanked co-founder and CEO Ian Kane. "Mastercard has been very forward thinking when it comes to digital assets, so bringing them together with the Litecoin Foundation, so consumers have the ability to use Litecoin in their daily lives is a great achievement."
Indeed, the Litecoin Card will enable holders within the UK and Europe to use their LTC holdings to pay for goods and services. As it does in the US, the card will also use the Mastercard network so that LTC can be converted at the point of sale into fiat currency.
This announcement has underlined the utility of Litecoin as a (slightly) more scalable — and spendable — version of Bitcoin. Even though the altcoin has become semi-forgotten amid the rise of Web3, NFTs, the metaverse, DeFi, and proof-of-stake, it remains one of the most-used and most valuable cryptocurrencies in the market.


As of writing, Litecoin's market cap is $6.958 billion, putting it in 16th place overall. Perhaps even more impressively, BitInfoCharts' data reveals that it boasts just over 300,000 active addresses in the past 24 hours, putting it ahead of Dogecoin and Dash (Bitcoin and Ethereum have 888,000 and 655,000, respectively).
Such usage highlights the fact that, even if it rarely attracts the headlines, Litecoin is more than holding its own in the market as one of the most popular cryptocurrencies. As such, there's every chance that it could continue to rise this year as the market, in general, recovers.
While $100 has proved too much for it at the present moment in time, it will likely pass this level in the coming weeks. From there, it could hit $200 or $300 by the end of the year, with its current all-time high standing at $410.26 (set in November 2021).
My higher-end price prediction for Litecoin in 2025 are
$6,500 – $13,000 per 1 LTC.

Imagine squabbling over litecoin sub-$100. $LTCUSD #Litecoin bookmark this. pic.twitter.com/28XWfB9YNP

— Shan Belew Ⓜ️🕸 (@MASTERBTCLTC) February 7, 2023
Of course, for diehard Litecoin supporters, such levels will be the tip of the iceberg. Some holders are even predicting four-digit prices in the next couple of years, which is ambitious, but Litecoin's continued growth shows that is possible.
Alternatives to Litecoin
Litecoin may be having a good spell, but it is not the only high-potential cryptocurrency in the market. Accordingly, we've reviewed the top 15 cryptocurrencies for 2023, as analyzed by the CryptoNews Industry Talk team.

The list is updated weekly with new altcoins and ICO projects.
Disclaimer: The Industry Talk section features insights by crypto industry players and is not a part of the editorial content of Cryptonews.com.
---