Last Chance to Invest in This New Presale Before Stage 4 Ends – Make Your Move Now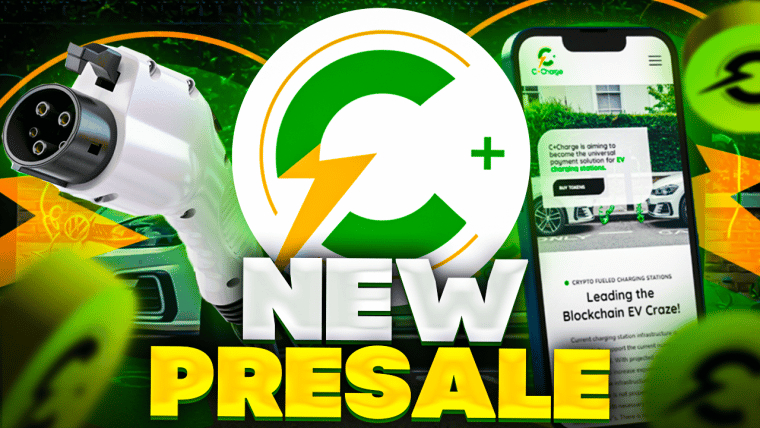 As the world transitions to a green future, free of carbon engines, the rise of electric vehicles (EV) could be a historic turning point. And the C+Charge (CCHG) presale, set to enter the next stage in a few hours, has ignited markets with the promise of delivering EV charging profits to Web3.
Using the latest in scalable blockchain technology, C+Charge is working to make EV charging more transparent and accessible than it has ever been before.
C+Charge's mission is to make the EV charging process simple, efficient, and rewarding.
At the heart of this, is the idea of democratizing EV charging profits - and that means disrupting the centralized provider model that currently grips the industry.
With such an ambitious intention, could C+Charge redefine the EV charging landscape through its' P2P payment system? Read more to find out.
What does C+Charge (CCHG) do?
Built on the back of the BNB Binance Smart Chain, ecosystem native $CCHG will be used as a utility token.
This is an innovative token design built for compliance and compatibility with OCPP 2.0 – a universal EV charging station standard.
C+Charge aims to be fully integrated with over 1.8m charging stations worldwide. Once users have been allocated a wallet, they're able to pay for EV charging using the $CCHG tokens.
But that's not all because C+Charge connects EV vehicle owners with something new: Carbon Credits.
The dApp tracks charging usage and enables users to accumulate carbon credits through a reflection program. This will see 1% of transactional volume reserved to purchase carbon credits to be re-distributed and airdropped to token holders' wallets.
With over $1.9m raised and a commitment to expanding functionality, the deflationary $CCHG token is set to soar.
C+Charge has already published its ambitious project roadmap, and there are exciting plans coming following the completion of the presale.
First and foremost, the first CEX launch will go live on March 31st.
But additionally, there are upcoming plans to announce charging hardware partnerships ahead of the rollout of the first C+Charge electric chargers.
Stage 4 Ends In 2 Hours
There is currently left just 2 hours left of the C+Charge presale in stage 4 - don't miss your chance to join the future of EV.
With current $CCHG token prices a steal at $0.017 - interested investors are encouraged to get on board early to reap the rewards of the EV revolution!
Join the future of EV charging with C+Charge, Pay for EV charging, earn carbon credits, and track your portfolio with the C+Charge app.
Don't miss out on this opportunity – buy CCHG now before the price increases.
With over $1.9m raised and a commitment to expanding functionality, this token is set to soar.
Disclaimer: The Industry Talk section features insights by crypto industry players and is not a part of the editorial content of Cryptonews.com.
---