Kimchi Premium Vanishes, then Returns as Bank Issues Appear to Have Hit Upbit
Widespread reports of a return of the kimchi premium appear to have been shrouded in confusion after bitcoin (BTC) prices plummeted briefly on a number of domestic exchanges before rising back above the USD 62,000 mark – while the market-leading Upbit platform suspended fiat withdrawals, possibly due to a banking issue.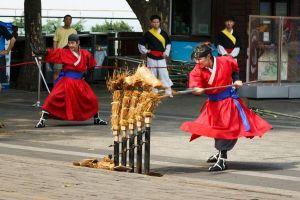 The platform announced that it was conducting an "urgent inspection of KRW deposits and withdrawals," but did not specify what the issue was in an official notice.
However, the Upbit operator Dumanu told the media outlet TechM that the issue was with a "fiat deposit and withdrawals service provider," and "not with Upbit's servers."
The problem, however, may lie with the exchange's banking partner. As previously reported, Upbit has partnered with the neobank K-Bank, with whom the crypto exchange's customers are obliged by law to hold real-name authenticated accounts if they want to use Upbit services.
At around 7 AM UTC, BTC prices fell by 8% on leading platforms on yesterday's prices, with some altcoins falling by 20%. But prices bounced back just an hour later. TechM stated that this sparked a massive rush in BTC buying. That made K-Bank "temporarily suspended related services and begin to inspect operating systems."
But the issue may run deeper than this. Indeed, it may have been the straw the broke the camel's back.
SBS reported that the K-Bank's Upbit partnership may have become too successful for its own good. While business is booming with new crypto-related account creation and trading volumes via Upbit remain sky-high, the bank is not performing as well when it comes to doing what banks traditionally do – i.e. lend money.
The company's mortgage products have experienced a much less positive uptake, the media outlet reported, a fact that has raised red flags. The latest surge in fiat-fuelled crypto buying may have tipped K-Bank's payment model into dangerous territory.
The media outlet reported that the bank had lowered the interest rate of four new products "from today," and had decided to stop new sales of one of its "preferential terms" deposit offerings from next month.
SBS labeled the issue an "emergency in managing K-Bank's loan-to-deposit ratio."
On the kimchi premium issue, the CryptoQuant CEO Ju Ki-young claimed there was evidence of "arbitrage" as Upbit rival Bithumb had seen "BTC inflow mean" increase "while all other exchanges" had seen falls. "It seems some whales are depositing BTC to Korean exchanges," he wrote.
But per EToday, opinions are divided on the matter of the kimchi premium. A researcher quoted by the media outlet stated that they doubted there would be any sharp rises in the discrepancy between South Korean and overseas exchanges, with experts claiming that medium to long-term, prices would likely correct, despite short-term "burdens" for South Korean BTC traders.
For those about to ring the alarm bells, it may be worth pointing out that at the peak of the kimchi premium (2017-early 2018), when South Korea accounted for almost 9% of the global BTC market, sustained premiums of 30% were regular, and the premium peaked at a whopping 55%. Experts have previously told Cryptonews.com that a return to these heady days are extremely unlikely.
Per Scolkg data at the time of writing (UTC 12:11pm), the kimchi premium is now back at around +12%, with a difference of about USD 6,400 in the price of BTC 1 on Upbit and Binance.
____
Learn more:
- At Least 10 South Korean Crypto Exchanges' 'Survival Not Guaranteed'
- Customers of Small South Korean Crypto Exchanges Fear for their Funds
- Upbit Operator May Follow Coinbase with Nasdaq IPO Bid – Analysts
- Sales and Income Rocket at South Korea's Biggest Crypto Exchanges
- Inspired by Tesla, South Korean Crypto Moms Take the Bitcoin Plunge
---