Kava Token Price Pumped 41% in May, Analysts Predict This Little Known Crypto is Next to Rise – Find Out Why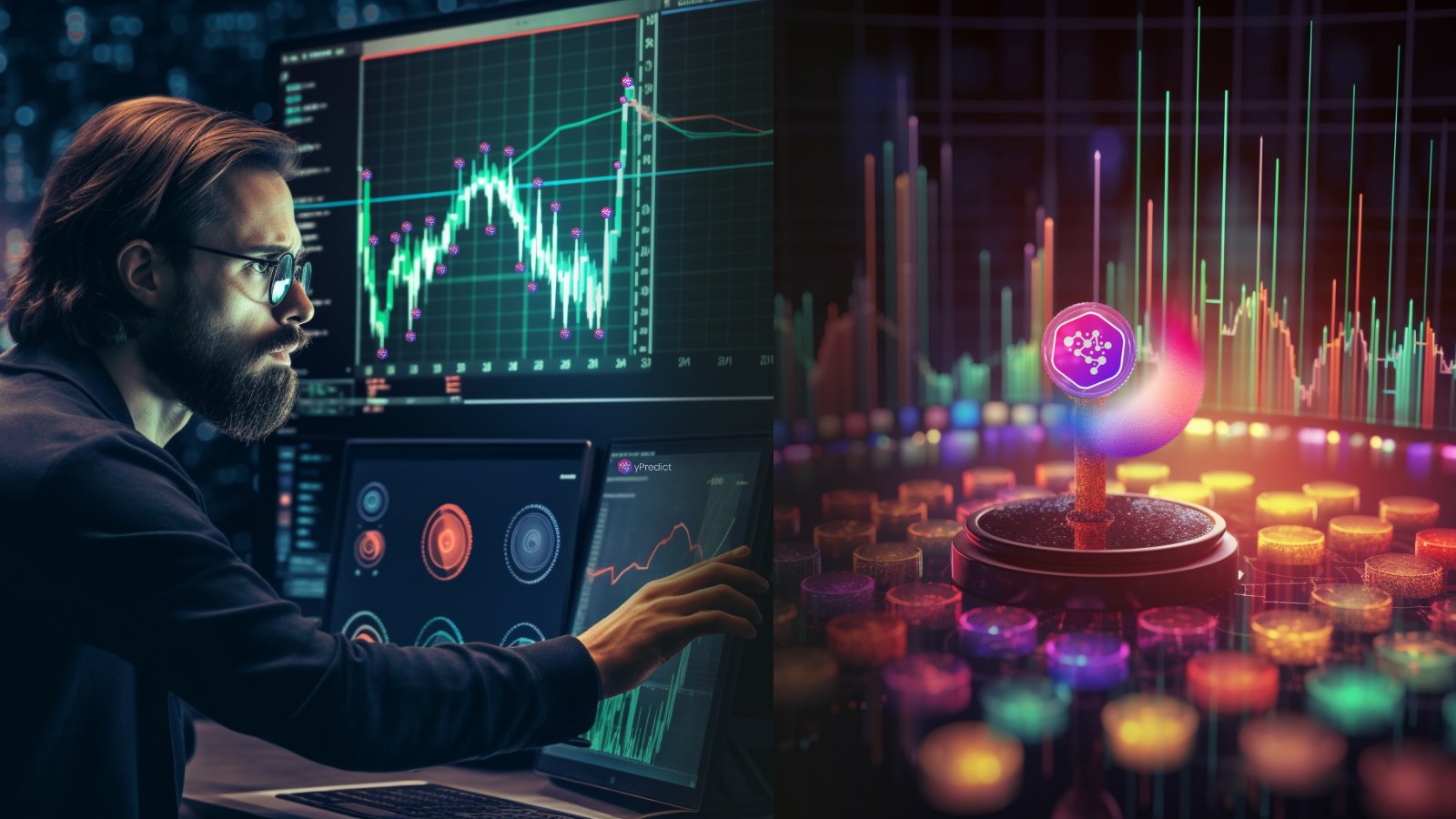 Kava recorded a massive value-reclaiming trend in May amid the fluctuations in the crypto market.
According to data from CoinMarketCap, Kava pumped by over 41% over the past 30 days.
Though several crypto assets recorded a southward price trend, Kava maintained a positive hold surging through the month.
While Kava soars, analysts consider a new crypto asset, yPredict, as an asset with a unique value proposition capable of increasing its adoption
yPredict leverages artificial intelligence to create a new dimension in price predictions.
Its presale has generated over $1.78 million as investors rush to accumulate the YPRED tokens.
Will yPredict become the next token to rise? Let's find out the possibility of yPredict's price explosion and sustainability.
The Price Trend For KAVA In May
KAVA, the native token that powers the Kava ecosystem, kicked off with an opening price of $0.7799 as of May 1.
Gradually, KAVA tried to strengthen its hold by resisting the forces from the bears as its value increased.
The token closed at $0.7943 as of May 5.
Despite the forces of the bears in the crypto market that pushed most crypto assets down, Kava kept a strong and impressive performance.
As of May 8, Kava's opening and closing prices were $0.7321 and $0.7465, respectively.
From May 9, Kava started reclaiming value as it surmounted the resistance force at the $0.8000 level to hit a closing price of $8016.
As of May 12, the token broke a new resistance mark and crossed the $0.9000 region to close at $0.9139.
Kava witnessed a more aggressive bullish force, with the token's price breaking into the $1.0000 region as of May 14.
The price surge into the $1.0000 level could be connected to the increasing hype surrounding Kava's launch of an upgrade, KAVA 13 Mainnet.
Despite slight swings in value, KAVA has maintained an average trading price above the $1.000 region.
The overall price trend gave the DeFi token more than a 41% price rally in May.
At the time of writing, KAVA is trading at around $1.14, indicating a surge of 1.28% over the past 24 hours.
According to CoinMarketCap, Kava ranks as the 68th top crypto asset with a market cap of $615.1 million.
Its 24-hour trading volume is about $42.7 million.
yPredict Could Be The Next Crypto Token To Rise
The crypto space has been caught in the web of trending assets with several presales made recently.
yPredict is among the top with explosive investment attention.
yPredict is revolutionizing the crypto predictions market using its artificial intelligence technology.
It allows users to experience more success in crypto trades with impressive market forecasts.
The AI-powered crypto platform includes many features that ensure users receive accurate crypto asset predictions.
The elements include market news, price charts, social media sentiments, and other analytics tools.
It processes data in real time, allowing users to track their investments and reduce potential losses.
Using yPredict could be a great investment action for investors to make informed decisions and predictions that could increase their returns.
Also, it eliminates the stress of engaging in several hours of analyzing price market charts and graphs.
yPredict Explosive Presale
The native token, YPRED, powers the activities of the yPredict ecosystem and is currently on presale. The crypto has generated over $1.78 million through its presale.
Out of its total supply of 100 million YPRED tokens, the team behind yPredict allocated 80% (80 million) coins for its presale.
Currently, the presale is at stage 6 with the price of YPRED at $0.09 per token.
With a presale cap of $6.5 million, yPredict could hit this target in a few months once the presale maintains its recent trending tempo.
The token is expected to list on exchanges at $0.012, offering early investors at presale stage 6 up to 33% paper gains.
So, interested investors could act quickly to avoid the potential profits before the presale sells out.
Also, the outstanding features and functionalities of yPredict make it a potential crypto asset with more future returns on a long-term investment option.
yPredict's AI-powered trading platform offers an attractive edge for investors and traders in crypto trades.
Analysts believe that yPredict will be the next crypto asset to rise in the nearest future.
According to a popular British crypto YouTube analyst, Jacob Crypto Bury, yPredict is similar to a low market cap gem that could see 10x or more returns soon.
What Makes yPredict Unique
AI-Powered Prediction Leverage
yPredict is powered by artificial intelligence to assist users in earning more returns on their investments.
It can predict the price of major crypto assets like Bitcoin (BTC), Ethereum (ETH), Shiba Inu (SHIB), and others.
About 1% of top AI developers and quants are part of the team behind yPredict, offering useful insights that set the project as a unique model.
With its AI technology, investors and traders can now enjoy a level trading ground with institutional players.
It offers access to trading signals, news, market sentiment, chart pattern recognitions, technical analysis, and other useful tools for the trades.
Fast-Growing Crypto Community
yPredict is one of the fast-growing crypto communities in the crypto space.
The yPredict Twitter Page boasts over 18,000 followers with more than $1.78 million raised in the YPRED token presale.
Also, the crypto access claims to have 20,000+ users on a waiting list.
Further, yPredict is featured on many popular media outlets globally. These include Business Insider, Yahoo Finance, Cryptonews, Benzinga, NewsBTC, Bitcoinist, and others.
Fair and Transparent Presale
yPredict has distinguished itself as one of the crypto industry's fairest and most transparent presales.
The AI-powered platform allocated 80% of its total supply of 100 million coins, representing 80 million tokens for public presale.
The remaining allocations for the protocol are 10% to liquidity, 5% to development, and 5% to treasury.
With its outstanding tokenomics, yPredict eliminated the possibility of a rug pull as the greater percentage of the token supply is placed in the hands of the public.
This depicts the project's commitment to transparency, fairness, and security.
Ultimate Utility Token - YPRED
The native token of the yPredict, YPRED, is a utility coin that powers the ecosystem's operations.
It is issued on the Polygon blockchain, with low gas fees and increased user transaction speed.
Holders of $YPRED tokens can unlock premium features on the platform by paying a subscription fee.
10% of the fees are distributed to existing YPRED holders.
Also, holders can stake YPRED coins and earn up to 45% quarterly staking rewards from the 10% of the subscription fees.
This passive earning is competitively high compared with the industry average staking rewards of 5 to 10% APY.
Conclusion
yPredict has redefined crypto market predictions with its edge-cutting AI technology through great and accurate crypto forecasts.
Though the crypto asset is still running its presale, it has indicated its potential for high returns.
Having generated over $1.78 million in a few weeks of its presale, investors are still rushing the YPRED token for more grabs.
The token has proven its utility both within and outside the yPredict ecosystem.
It could be the next crypto asset for a massive price explosion in the future, all things being equal.
---