Justin Sun Promises Another USD 20m, Community Cries 'Scam'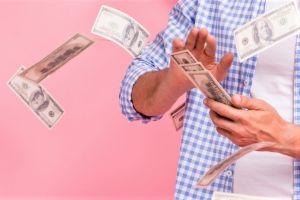 After announcing the "USD 20 million free cash airdrop" last week, Justin Sun, founder and CEO of blockchain platform Tron, has revealed another controversial plan, reportedly worth another USD 20 million.
Sun said he is giving away USD 20 million in incentives to those major stablecoin Tether (USDT-OMNI, or USDT issued by Tether based on the BTC network) holders who decide to jump ship and move onto the USDT-TRON stablecoin, recently announced by Tron in partnership with Tether.
In a Tweet posted yesterday, Sun said:
#Hodl USDT-TRON to earn initial 20% APR in USDT-TRON. 100 day campaign. $20M initial budget no hard cap. Just sayin'. 😎 $TRX $BTT pic.twitter.com/jyo7QcrtbE

— Justin Sun (@justinsuntron) March 21, 2019
So basically, he's talking about a 20% interest rate that equals some USD 20 million to get people to move from one platform to another. At this point in time, we don't know how many people actually moved, but what we do know for certain, is that the call has moved – a lot of eyebrows.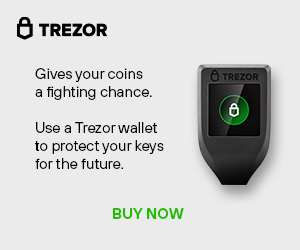 The comments on the Twitter announcement are mostly negative, with people calling Sun out on an old-promised airdrop that never happened, and it involves the first million people that registered a wallet for the Tron platform.
I love tron, but yep.. still waiting. Been hodling since early 2017

— CryptoWietje (@CWietje) March 21, 2019
Others are literally hoping Sun goes to jail, and some are even sharing memes, referring to the well know Bitconnect scam project. It's a real clown fiesta in the comments. Reddit is no different, with redditors complaining "no one is making any meaningful contributions to the github" (a web-based hosting service that is most often used for code), and that the TRX is a "bubble [ready] to burst into a million pieces."
Truth be told, the incentives, and the various ways Sun 'motivates' people to switch has bared fruit (allegedly, on March 16, Tron's transaction volume was a few times higher than those of EOS or Ethereum), but questions remain if it's going to last, or if these incentives are something of a hail Mary.
Transaction volume on the EOS, Tron and Ethereum blockchains: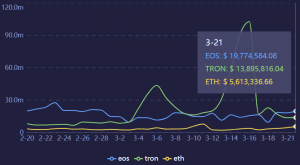 ____
TRX price chart: