Join Bitfresh Casino - Investment Opportunity
The text below is an advertorial article that was not written by Cryptonews.com journalists.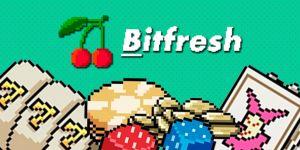 Gambling is known for its quick outcomes, and it is both exciting and intimidating. While it can make you rich in just a second, things can quickly go another way around.
Plus, there are games where you simply can't win - because that's the way they are designed. With so many unfair gambling platforms, it became harder to enjoy these games.
But this is all about to change with the launch of Bitfresh Casino.
What is Bitfresh?
Bitfresh Provably Fair Casino is a retro-style crypto project under development that will revolutionize the gambling area. Its team plans to build it as a secure and transparent blockchain-based iGaming platform, focusing on the community's needs.
Therefore, Bitfresh is not a simple Gambling platform/casino. It is an entire ecosystem that will amaze not just gamblers but crypto investors as well.
How does Bitfresh improve the gambling experience?
First of all, Bitfresh Casino is built on blockchain technology, meaning that you have autonomy, transparency, and anonymity right off the bat.
But Bitfresh's team took a step further.
One of the biggest concerns of gamblers is that they can be cheated on. So the platform has introduced the provably fair feature. With this "little" addition, every player can verify if any interference occurred in the meantime.
Nobody can change the hash seed, everything is done by the software, and there's no place for human errors.
What else?
To make crypto gambling even more enjoyable, the team also introduced different types of rewards along your Bitfresh journey.
Did you ever hear of crypto casino mining? Well, neither did us, but the team made it a thing. Every time you gamble, you will be rewarded with Bitfresh tokens (BFT). No matter if you won the game or not. Even more, they implemented BFT rewards whenever players increase in rank.
Yes, there's a ranking system based on how much you bet.
And if that's still not enough, find that you can buy boosters for your games with its core token and also complete daily missions to get even more rewards.
Why would crypto investors be interested in Bitfresh?
Besides all the gambling perks Bitfresh offers, there is something about the platform that matches the crypto investors' interests - the BFT token and the dividends system.
The BEP-20 BFT tokens can easily be traded for other tokens. And since Bitfresh it's a very new token it's the perfect time to get involved, invest, and see how the price increases over time.
As for the dividend system, that's their way of getting profits back to players and investors, casino profits go to a pool and part of these profits are distributed proportionally to people who deposited BFT tokens in the Bitfresh platform.
Where to invest?
Bitfresh launched its public sale on April 24, 2021 on ApeSwap.finance a new decentralized exchange that is on everyone's lips right now. Since then, Bitfresh has attracted a lot of people and the BFT price has almost doubled. BFT tokens can be bought in the ApeSwap website, but that's not all, while the Bitfresh platform is being built you can stake your BFT tokens on ApeSwap.finance to receive even more BFT tokens!
Ready to be part of a Blockchain Casino? Click here to buy BFT Tokens
---