Is It Too Late to Buy Shiba Inu? SHIB Price Jumps Up with $100 Million Volume and This $1 Bitcoin Alternative Has Raised $2,000,000 Already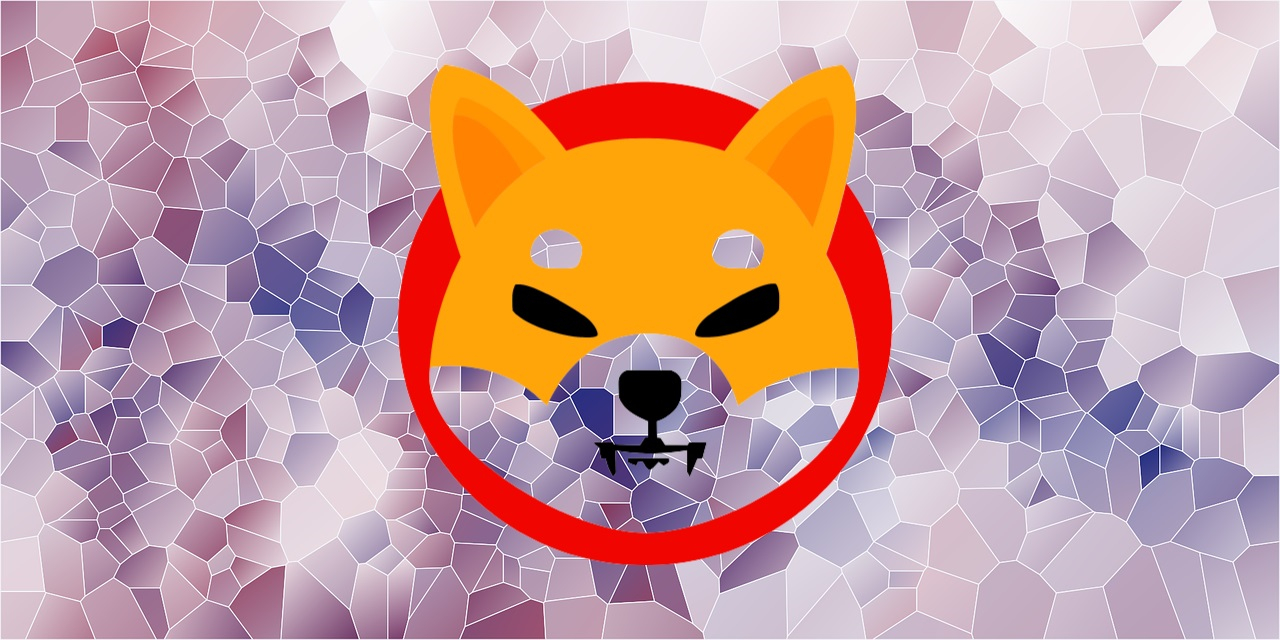 The SHIB army are fighting on, as two years of downside price action for the second-biggest meme coin continues to push lower, but could technical consolidation ignite a recovery rally? Find out in this Shiba Inu price analysis.
Since the all-time high in the midst of the 2021 bull run, Shiba Inu has been hit hard by a decline of more than 91% and now, with price action approaching rock-bottom levels, hopes are building for a meme coin recovery after almost a month of sustained consolidation above the MA20.
SHIB Price Analysis: Can Consolidation Ignite SHIB Recovery Rally?
The tightly fought consolidation pattern has seen SHIB price action ranging for 35 days, with SHIB currently trading at $0.00000782 (a 24-hour change of -1.26%).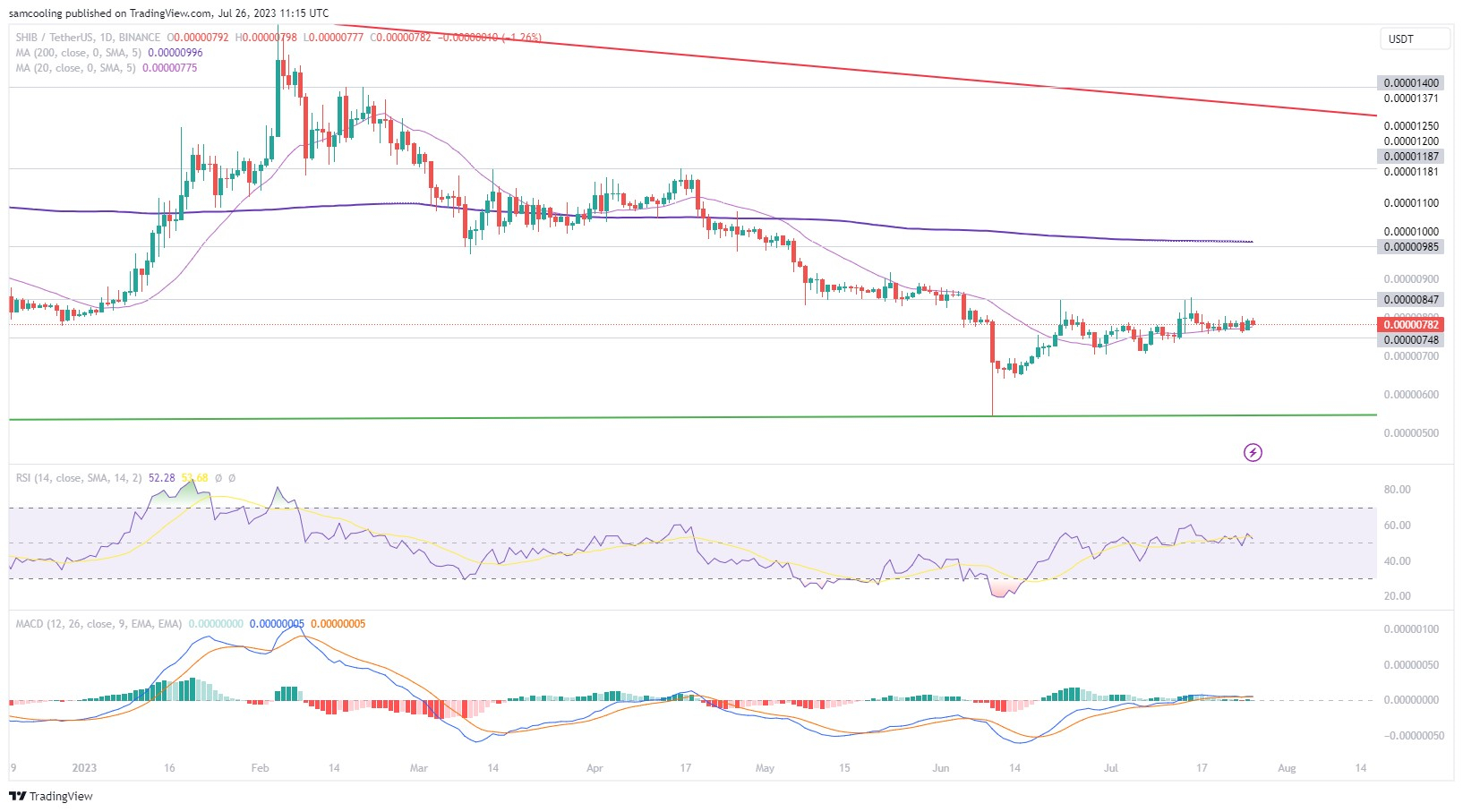 Movements to the upside were ignited on June 10 after a bounce off lower trendline support pushed SHIB +43% in value - critically reclaiming the 20DMA on June 20.
Yet, newfound footing atop the 20DM has driven over a month of consolidation, as anxious holders wait to see whether price action has found the launchpad it needs to push upwards towards the 200DMA (around $0.000000995).
A well-defended consolidation has fuelled the hopes of many, although the impact of price stabilization has yet to make an impact on SHIB's indicators which are characteristically sat on the fence.
Shiba Inu's RSI is currently signaling a minor bearish divergence at 51.28 - suggesting a greater period of consolidation is in demand by technical structure.
And this is a view confirmed by the MACD which is showing a completely neutral signal at 0.00, suggesting that there is still everything to play for in this perilous position.
With little input from the indicators, technical analysis is emboldened, and a double rejection from the upper price level resistance at $0.0000085 could suggest an upside move is unlikely.
This leaves SHIB with a challenging risk: reward profile, as upside potential is limited to +8.15%, whereas downside risk is more significant at -30.8%, giving SHIB a short-time frame risk: reward ratio of 0.26 - a terrible entry.
Despite the challenging price action for SHIB holders (and DOGE holders), smart money isn't being side-lined, as a race into straight to DEX token launches seems to be gaining traction as the fastest way to make gains this summer.
One such project garnering significant attention is BTC20, due to its promise of revitalizing the biggest cryptocurrency Bitcoin in an effort to improve the network for future generations.
Can BTC20 Revitalize the Bitcoin Space?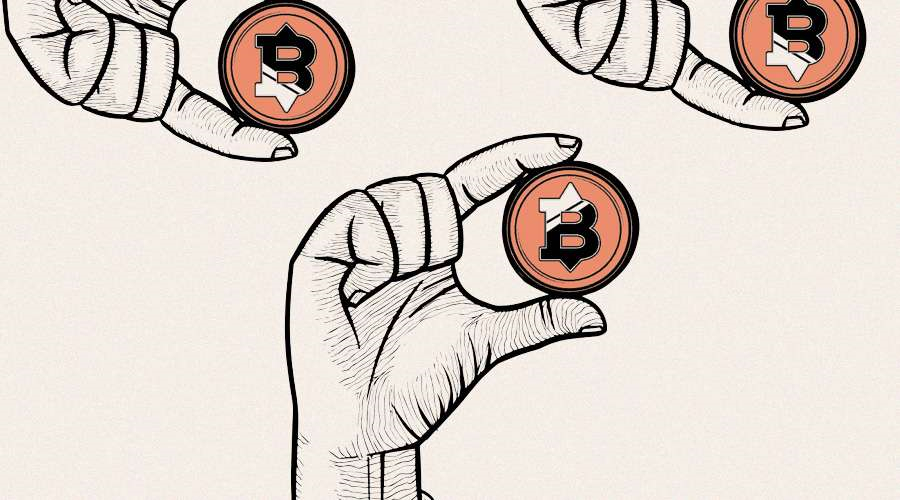 An offshoot project with a difference, BTC20 has been created by a serious development team with an incredible 120-year vision for project growth - already experiencing an almost $2.5m influx of volume in the first week.
Better yet, by avoiding the pump-and-dumps that characterize straight-to-DEX launches, BTC20 is forging a dedicated community of holders through a novel presale fundraiser.
What is BTC20 and How is it Different?
Have you ever wondered what it would be like to own an entire Bitcoin? Sat on the sidelines watching BTC making yet another all-time high, pondering how much you could've made if you'd just been around in the early days?
BTC20 is Bitcoin, but better... Built to stand the test of time using ERC-20 proof-of-stake technology as its backbone, BTC20 holds the promise of minting an entirely new generation of Bitcoiners with the added promise of a greener network and passive income generation.

Bitcoin Network Carbon Emissions Could Be Cut by 99.95% By New BTC20 Token
Indeed, for years now Bitcoin's proof-of-work model has drawn massive criticism due to excessively high energy consumption - powered all too often by dirty power grids contingent on coal-fired power stations.
This has been a leading issue for Bitcoin globally, cited as the reason Beijing banned Bitcoin mining , in 2021 it was reported that the Bitcoin network was responsible for 113 metric tons of carbon emissions.
An outlandish increase from just 0.9 metric tons in 2016, this problem is only set to get worse as future halving events and increased difficulty rates in future take their toll on miners.
BTC20 is the solution to this challenge, offering a shift to far cleaner and less demanding proof-of-stake blockchain technology for future Bitcoin transactions.
But this is more than just a sustainable solution to Bitcoin's dirty energy problem, BTC20 has become an opportunity to re-imagine the way Bitcoin benefits holders.
Staking Rewards for Bitcoin Through BTC20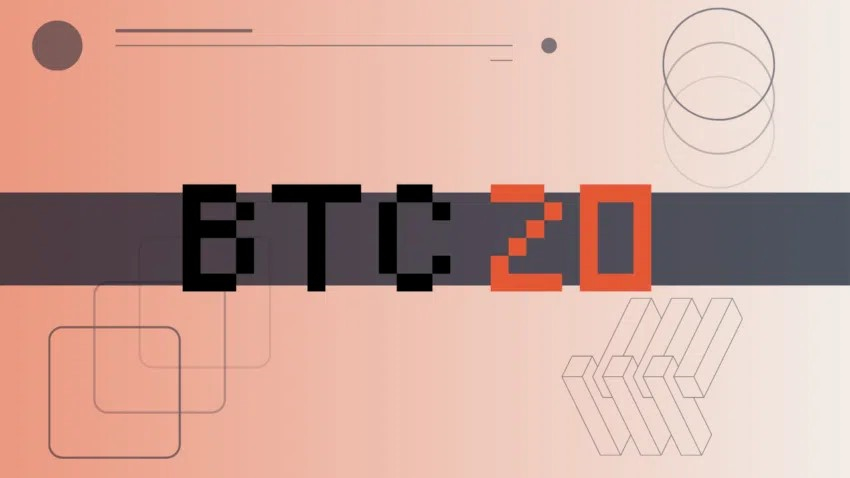 Holder benefits will be delivered through a novel stake-to-earn mechanism, set to launch in Q4 of this year, offering the promise of double-down rewards for those committed to holding, with rewards issued proportionally to staking quantity.
The staking mechanism will seek to distribute a huge swathe of locked tokens (a minimum of 14.95m unsold in the presale) in a gradual token release set to match the Bitcoin network.
Staking rewards are tied to both the staking quantity and blocks validated, with 6.5 BTC20 per 1 block validated forming the bedrock of the staking rewards.
This can be seen in the example below, where if a holder stakes 5,000 BTC20 for a one-year period, they will receive approximately 3,285 BTC20 in rewards - given a rough APY of 65.70%.

At an alluring presale price of just $1 per BTC20 token, interest is surging as Bitcoiner's race to secure a slice of the 3 million tokens up for grabs in the presale.
Imagine the possible growth, if BTC20 gains even 10% of Bitcoin's market cap (10% = $58bn today) then BTC20 would be worth $2,790 - a 278,900% increase.
With a tokenomic supply mirroring Bitcoin at 21m tokens, and a dedicated team of developers working on a roadmap with a 120-year view - the long-term sustainability of this project could very well outlive the original Bitcoin itself.
BTC20 has already gained traction with leading crypto analysts such as Jacob Bury, testament to the skyrocket traction surrounding the launch of the BTC20 presale.
You can read the BTC20 whitepaper here to familiarise yourself with the next-generation technology underpinning this exciting project. Also don't miss the chance to connect early with fellow holders on the BTC20 twitter here.
Don't miss your chance to join the ranks of early Bitcoin backers - become a wholecoiner today.
Disclaimer: Crypto is a high-risk asset class. This article is provided for informational purposes and does not constitute investment advice. You could lose all of your capital.
---