Is it Too Late to Buy Pepe Coin? PEPE Price Blasts Up 98% and AI Crypto Platform yPredict Just Hit $2.6 Million – Here's Why You Should Pay Attention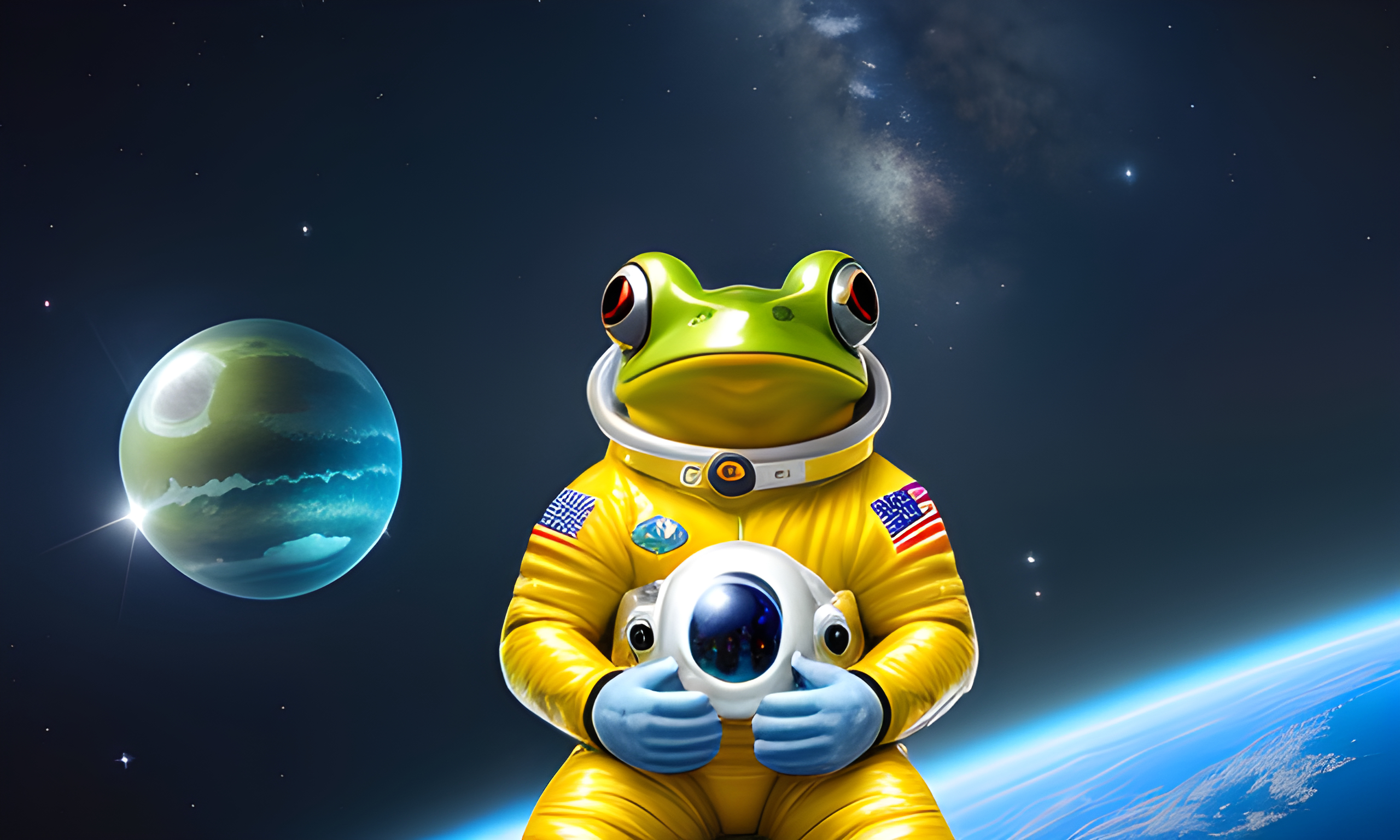 The price of PepeCoin skyrocketed almost 100% in the past month, catching the attention of cryptocurrency market observers.
With the meme coin now stabilizing, many wonder whether the rally will continue or reverse. Technical indicators show a mix of strength and weakness, suggesting the price could go either way.
PEPE Price Action Shows Conflicting Momentum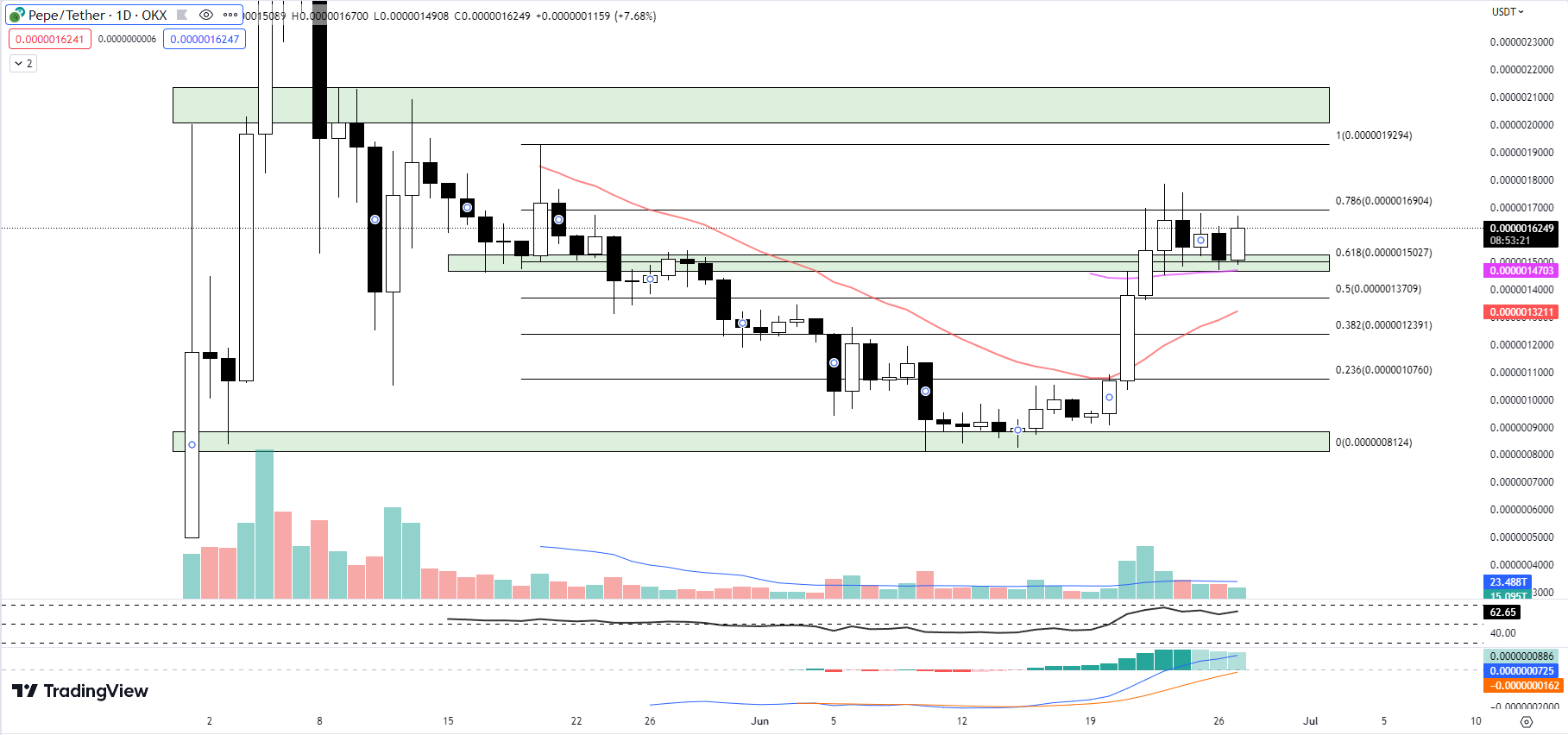 The 20-day EMA for PepeCoin currently stands at $0.0000013211, while the 50-day EMA is slightly higher at $0.0000014703.
These levels indicate that the meme coin is trading above both its short and medium-term moving averages, suggesting some bullish momentum.
However, with the volume declining for the past 5 days, a significant price movement may be imminent.
The RSI has increased to 62.65 from yesterday's 59.40, pointing to growing buying pressure.
Meanwhile, the MACD histogram has slightly decreased to 0.0000000886 from yesterday's 0.0000000929, indicating that the bullish momentum might be losing some steam.
In terms of market cap and volume, PepeCoin's market cap has risen by 3.71% to $633 million, while the 24-hour volume has declined by 6.31% to $236 million.
This divergence in market cap and trading volume can be seen as a potential warning sign for investors.
Key Levels May Determine If PEPE Price Surge Continues Or Stalls
PepeCoin currently faces resistance at the Fib 0.786 level, standing at $0.0000016904.
A successful breakout from this level and the consolidation range high at $0.0000017845 could lead to a retest of the next resistance zone between $0.0000020074 and $0.0000021360.
On the other hand, immediate support lies at the Fib 0.618 level ($0.0000015027) in confluence with the 50-day EMA ($0.0000014703).
If PepeCoin breaks down below this support, the next potential level to watch is the Fib 0.5 level at $0.0000013709.
While PepeCoin has made significant gains recently, the technical indicators present mixed signals for its immediate future.
Investors are advised to keep a close eye on key support and resistance levels and the trading volume to make informed decisions on their positions.
PepeCoin's recent surge has drawn attention to other promising platforms in the cryptocurrency market, including yPredict.
The combination of yPredict's AI-powered technology and extensive range of services has caused quite a stir, with investors eager to see the platform come to fruition.
yPredict: An AI-Powered Web3 Trading Platform
Recently, yPredict unveiled its first AI model, devised to predict the optimal backlink profile for ranking a URL based on a particular keyword.
As it broadens its horizons beyond crypto analytics and price predictions, yPredict also has plans to cater to mid to large-scale content teams.
yPredict's potential has already seen its native token, $YPRED, pull in over $2.6 million in presale.
AI advancements have become pivotal across sectors, including financial market price forecasting. AI models can analyze vast amounts of price data, identifying trends that might be overlooked by human analysts.
yPredict seeks to provide traders with this valuable market edge by building a crypto research and trading platform that leverages AI-powered signals, pattern recognition, and social/news sentiment features.
The platform develops its technology with the help of leading AI developers and quants, providing users access to advanced predictive models and data insights.
$YPRED is based on the Polygon blockchain, offering minimal gas fees and swift transactions. It also lays the economic groundwork for the AI-driven trading platform.
Subscriptions to premium yPredict services are payable in $YPRED, with 10% of these fees distributed back to $YPRED holders, incentivizing token retention and passive income. In future, holders will also be given the option to stake their tokens in pools for monthly rewards.
Some observers have described $YPRED as one of the best AI utility coins on the market.
As the cryptocurrency market continues to evolve, projects like yPredict demonstrate the potential of AI-powered platforms to offer valuable tools and opportunities for investors.
With the ongoing presale of its native token, $YPRED, and the launch of its first AI-powered model, yPredict is positioning itself as a key player in the intersection of Web3 and AI technology.
Disclaimer: The Industry Talk section features insights by crypto industry players and is not a part of the editorial content of Cryptonews.com.
---