Is Metawin Legit and Safe to Play at? Metawin Casino Review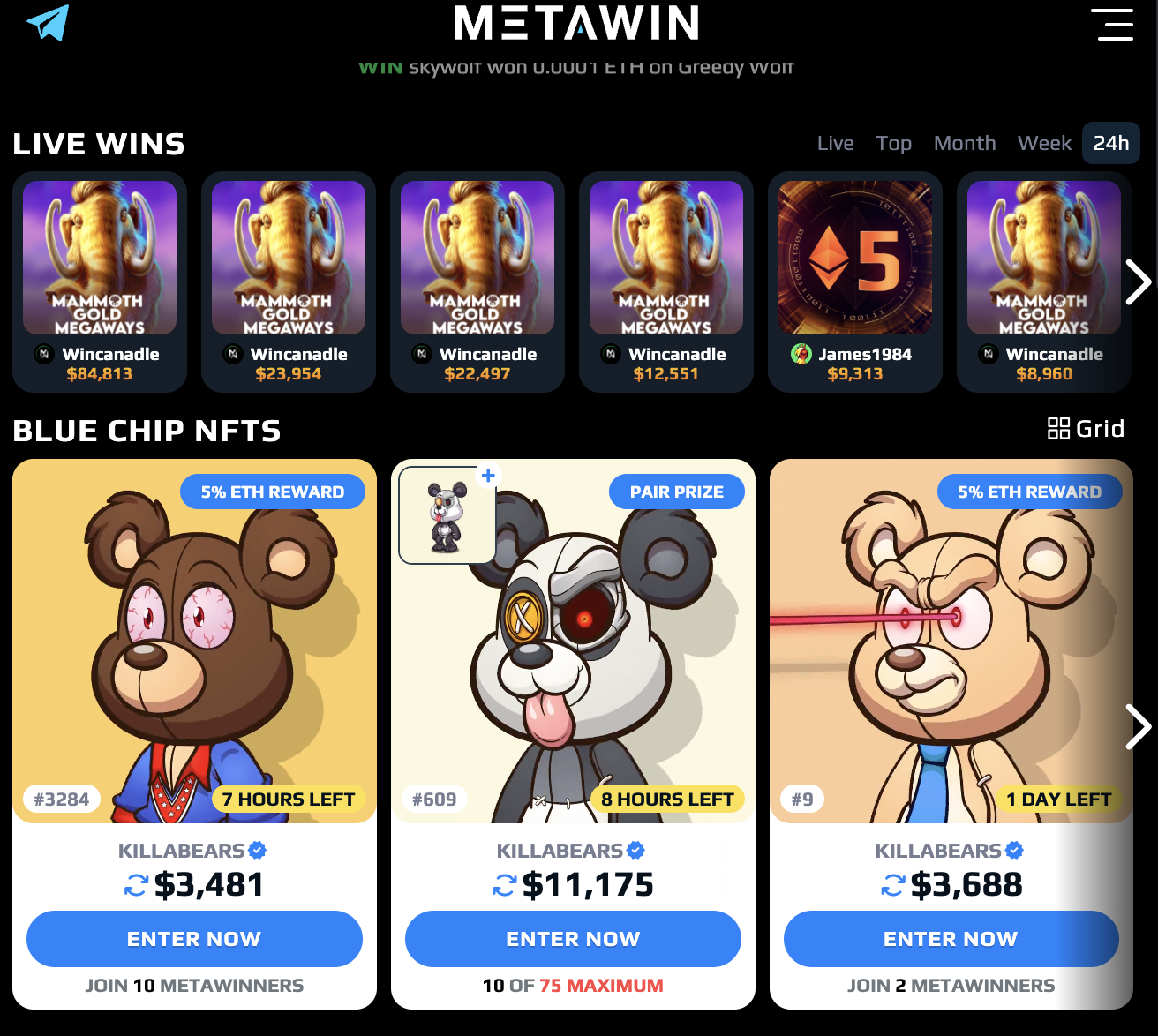 Disclaimer: The text below is an advertorial article that is not part of Cryptonews.com editorial content.
From being able to directly connect your wallet to start playing to no requirement of any KYC - Metawin claims to do everything a crypto casino player could want. It says it removes the roadblocks that often stop players from enjoying casino games while rewarding players via crypto and NFTs.
However, due to the open nature of the offerings by Metawin, many ask - Is Metawin legit and safe to use? This guide explores the answer to this query while providing some alternatives to Metawin casino.
What is Metawin?
Metawin is a crypto casino that features various slot games, live dealer games, and mini-games. As you open this casino, you will encounter a collection of NFTs, Megaways, bonuses, and lottery competitions that promise to reward users with crypto and cash rewards.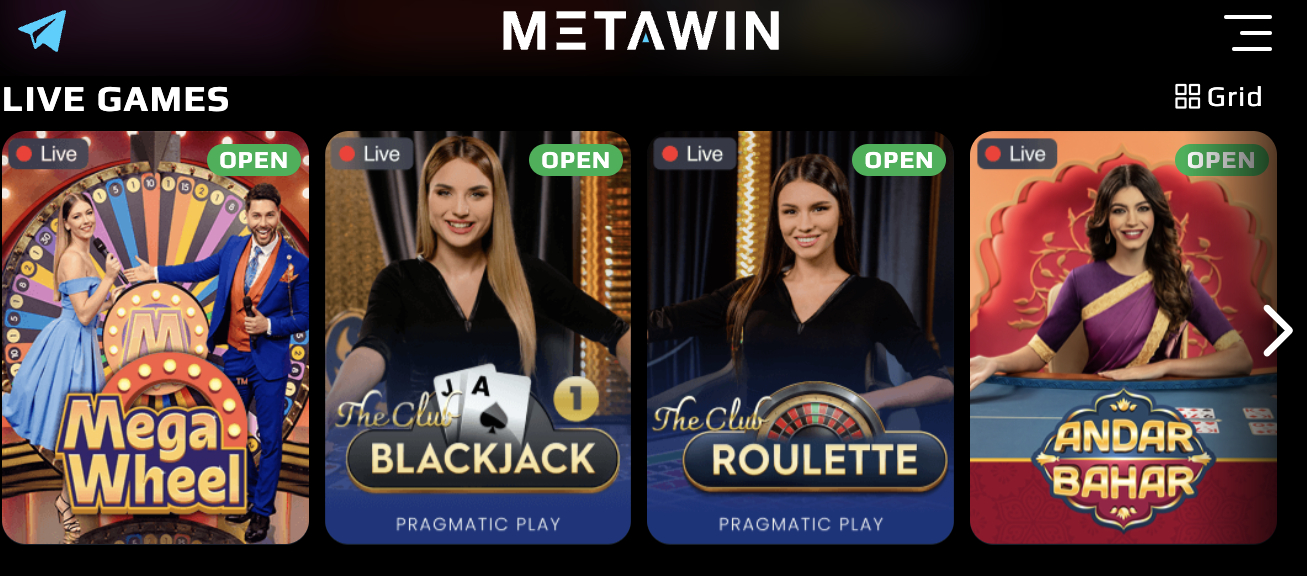 The selection of the games available on this platform could be robust, but selecting them is not an easy task. For instance, you would see only 22 games available in the slot section. And while there is a "more games" button available, it won't take you deeper into the website. Instead, it will ask you to connect your wallet.
Justifying it, Metawin says it is a casino that runs on blockchain. And taking part in casino games requires a personal signature. It also says that it doesn't ask for an "approve all" state.
All the slot games and live dealer games that Metawin provides are by Pragmatic Play. There is no sportsbook, however, which is justifiable as only a few crypto casinos and sportsbooks support crypto-based bets.
In terms of rewards, Metawin features NFTs and cash. The rewards consist of blue-chip NFTs the site says are worth more than $3k. Other rewards include ETH, Beans NFT, and more.
Metawin also features its own native NFT selection known as Metawinner. They are said to be utility-driven NFTs divided into several editions. Holding these NFTs would allow players to get access to special games that feature special rewards.
In terms of licenses, however, Metawin doesn't have any. However, it does say at the bottom of the home page that Metawin is a patent-pending platform. Also, the platform has a massive following on Twitter, with over 140k followers.
Overall, Metawin is a blockchain casino featuring a host of games that cater specifically to cryptocurrency enthusiasts. It has not imposed any restrictions such as KYC requirements or providing personal details. However, it does require users to connect their wallets to explore the platform further - which could deter risk-averse players from interacting with the platform.
Read on as we explore these aspects more deeply to determine if Metawin is legit.
Be sure to check out our list of Bitcoin casinos if you are looking for Metawins alternatives.
Metawin Bonuses Available
Bonuses and competitions make crypto casinos more valuable. They are add-ons that motivate you to participate in games and earn bigger rewards. The following are the bonuses that Metawin offers:
Mammoth Gold Megaways
Most of this platform's "live wins" are crowded with Mammoth Gold mega ways. They are cash rewards given to players for winning certain live dealer games. Generally, these are cash prizes that range from $10k to all the way up to $25k. It could be more, but the latest gold megaways have offered these prizes.
ETH Rewards
Metawin also offers ETH rewards to players. Players are rewarded with a certain number of ETH tokens upon winning competitions. The highest ETH that has been awarded recently is 150 ETH.
Free Entries
Those who hold Metawinners NFT can get access to free entries into certain competitions. Here, the rewards consist of 5 ETH and NFTs. The nature of the rewards available here will likely change depending on the season.
Welcome Bonus
Metawin doesn't offer any type of welcome bonus because it has no sign-up requirement. Players are told to connect their wallets upon coming to the website straight away and start playing the games.
Metawin Games Available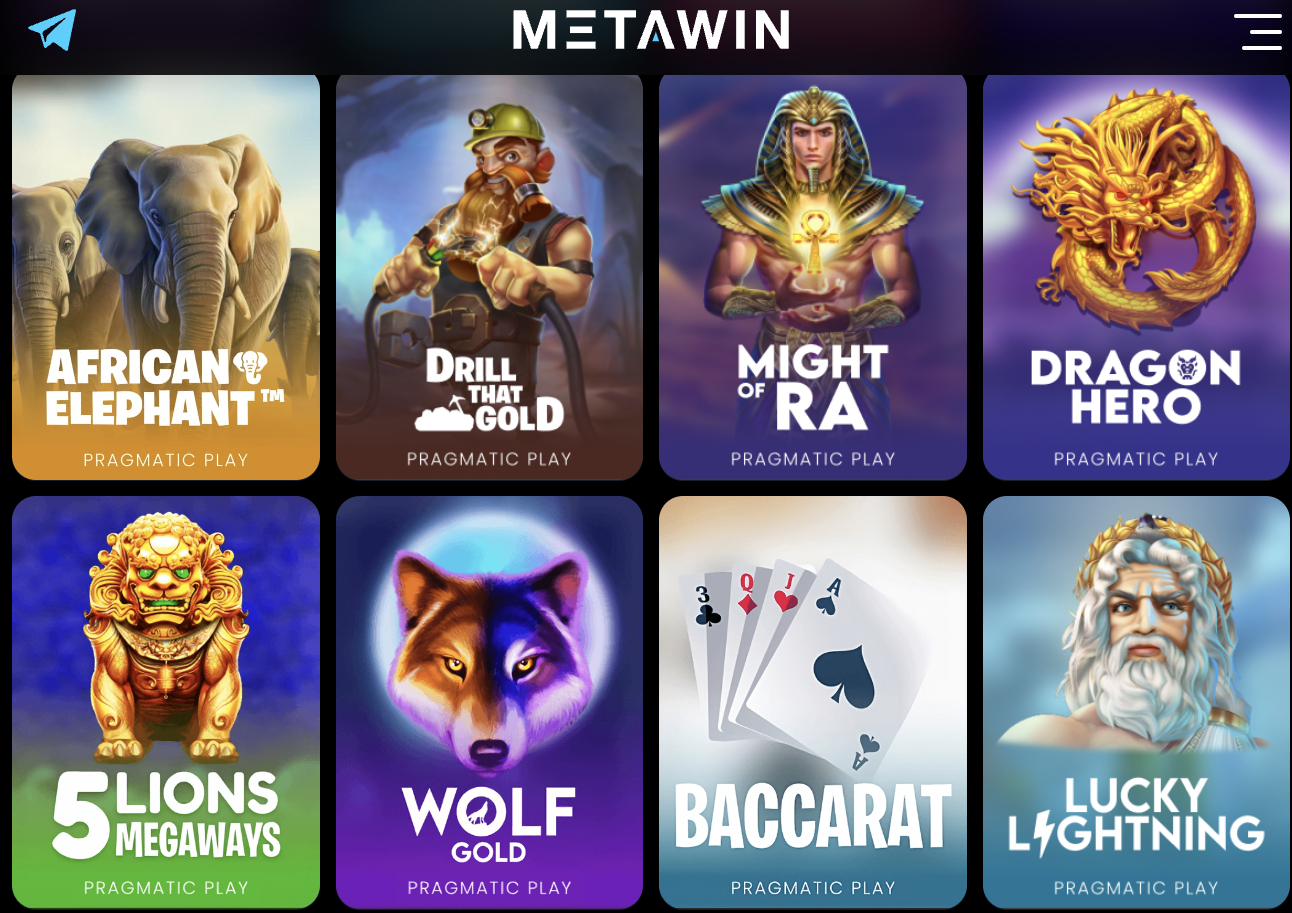 Metawin offers the following categories of games:
Slots
The first selection of games that Metawin offers is slots. These games are provided by Pragmatic Play and consist of old-school and new games. The best ones include the Gates of Olympus, Big Bass Amazon Xtreme, Sweet Bonanza, African Elephant, and more.
Baccarat
We also found that Metawin offers a standard roulette game - a table game version - by Pragmatic Play. Live dealer options for Baccarat are not available on this website.
Also, check out our list of best Baccarat casinos.
Live Dealer Games
There are also multiple live dealer games available on Metawin - all of which are provided by Pragmatic Play. They include Dragon Tiger, Speed Blackjack, Mega Roulette, Mega Wheel, and more.
Mini Games
There is also a unique selection of mini-games available on Metawin. The list includes Hi-Lo, REKT, Metawheel, and MAX. These games are graphically optimal and offer a great experience.
Overall, the games available on Metawin are good. However, they can only be interacted with after connecting your wallet. Also, no free-play mode will allow you to check out these games.
Metawin Unique Features
Here is the list of unique features of Metawin:
Blockchain Casino
Metawin is a crypto casino that runs on blockchain. That introduces a decentralization aspect to this game that ensures that the games remain fair and the rewards remain randomized. Both of these factors combine to give players a unique experience.
Explore our best decentralized gambling sites list for more options.
No Login Requirement
Most crypto casinos have a login requirement associated with them. But Metawin, being a decentralized casino, hasn't imposed such requirements. While that allows users to come and play the games directly, the trade-off is the lack of a welcome bonus - which is one of the main reasons many find crypto casinos exciting.
NFT Rewards
Metawin offers NFT-based rewards along with standard crypto and cash rewards. Players can also enter to obtain blue chip NFTs worth over $3k.
A Large Twitter Following
Metawin has a large Twitter following. Over 140k followers on Twitter constantly engage with its posts on a regular basis. And when we checked out the comments, they were respectful.
Metawinners NFT
One of the reasons why many experts know that Metawin is a legit site is the presence of Metawinners NFT. MetaWinners NFT is a collection of 10,000 algorithmically generated NFTs in four categories.
Digital Access Chips - 4444 NFTs
Cyber Additions - 3332 NFTs
Special Additions - 2222 NFTs
Holding these NFTs essentially makes one a member of the Metawinner community. All the funds generated through the NFTs are, according to Metawin, funneled into growing the platform.
Is Metawin Legit?
By all accounts, Metawin is a legit casino. It has legit casino offerings and suitable rewards. However, there was once a time that it did face contention from some skeptics who accused it of being a scam. But the project has now shown its legitimacy to the public with its blockchain-based offerings.
Although minimal, the game selection of the platform focuses more on quality. And since most of the games are provided by Pragmatic Play, one can expect to have an authentic gambling experience.
The NFT addition as a reward as well as a way to interact with some of the more nuanced competitions that Metawin organizes is also good.
And finally, the No-KYC requirement is also a major asset for this casino.
That being said, there are some factors that make this casino a bit less inclusive than others. For instance, interacting with a list of games also requires one to connect their cryptocurrency wallets. Risk-averse casino enthusiasts might not like this feature. Also, while it is good that there is no login requirement, it removes perks like welcome bonuses - which often happen to be the main selling point for most crypto casinos.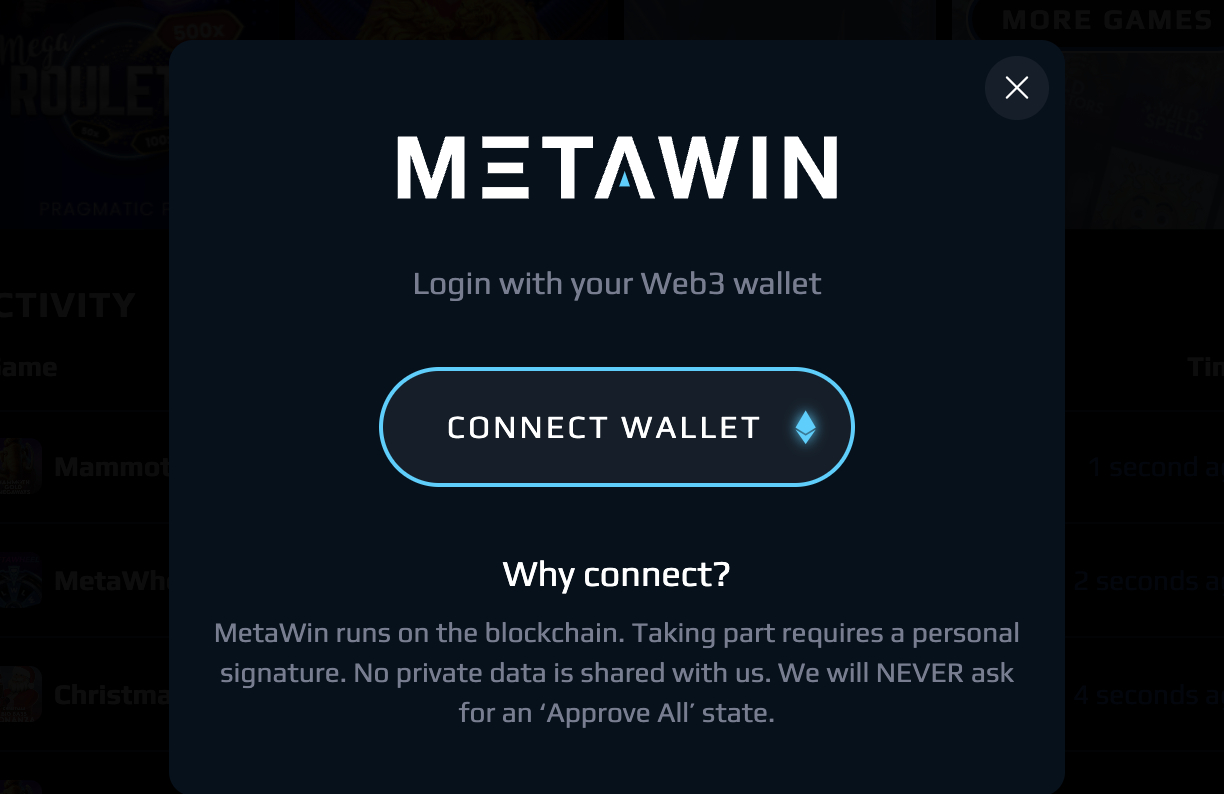 And there is also no information about what crypto assets other than Ethereum are supported on this platform. While the addition of ETH is great, the crypto is not particularly inclusive. We would have wanted other cheap assets - like Tron and Cardano to have been supported on the platform.
The collection of games also could have been a little bit better, especially when the casino is decentralized.
Due to these factors, it is not only better but critical to look for alternative casinos that offer better offers, are much more inclusive, and are suitable for all levels of players.
Alternatives to Metawin
Even though Metawin is legit, some of its offerings lack the inclusive factor necessary to appease veteran and novice gamers. Lucky Block and Mega Dice are two alternatives that offer a better option.
Lucky Block
Lucky Block is a licensed crypto casino launched in 2022. It is owned and operated by Entretenimiento Rojo B.V. Being a licensed casino, it adheres to all the mandatory rules, ensuring players are secured as they play. Lucky Block started as an NFT competition platform using LBLOCK as its primary currency. And as the end of 2022 turned around, the developers finally reached the end of the roadmap and introduced Lucky Block casino.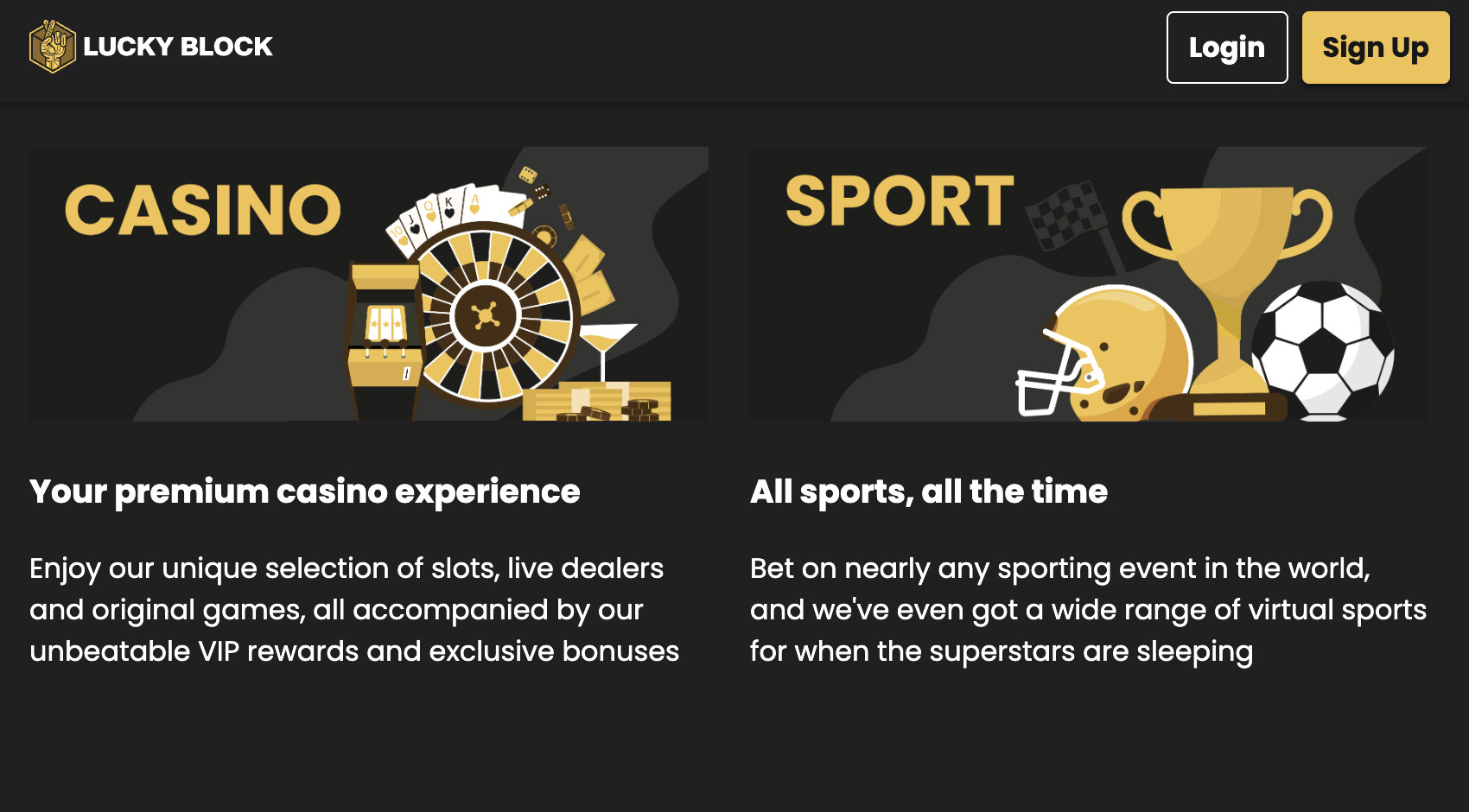 Games Available on Lucky Block
Lucky Block hosts a wide array of games - over 3k - including slots, live dealer games, table games, and crash games. These games are provided by over 70 industry-leading developers and give an authentic gameplay experience to users.
A sportsbook is also provided on Lucky Block that covers over 30 markets. And in terms of cryptocurrencies, Lucky Block now supports 11.
Bonuses Available
Lucky Block also offers a wide array of bonuses. First-time users will get access to a welcome bonus. It is a 200% matched deposit bonus of up to £10,000 and 50 free spins. Other bonuses include a Monday Reload Bonus that offers up to £200 every Monday. And a Game of the Week bonus, where you get access to free spins to test a new game every week.
Check out our Lucky Block review for more details.
Mega Dice
Mega Dice is another better alternative to Metawin. This crypto casino launched in the middle of 2023 and started attracting a massive following via its games, promotions, and no KYC requirements. Even though it doesn't impose KYC restrictions, it is a licensed casino. It is owned and operated by MIBS N.V.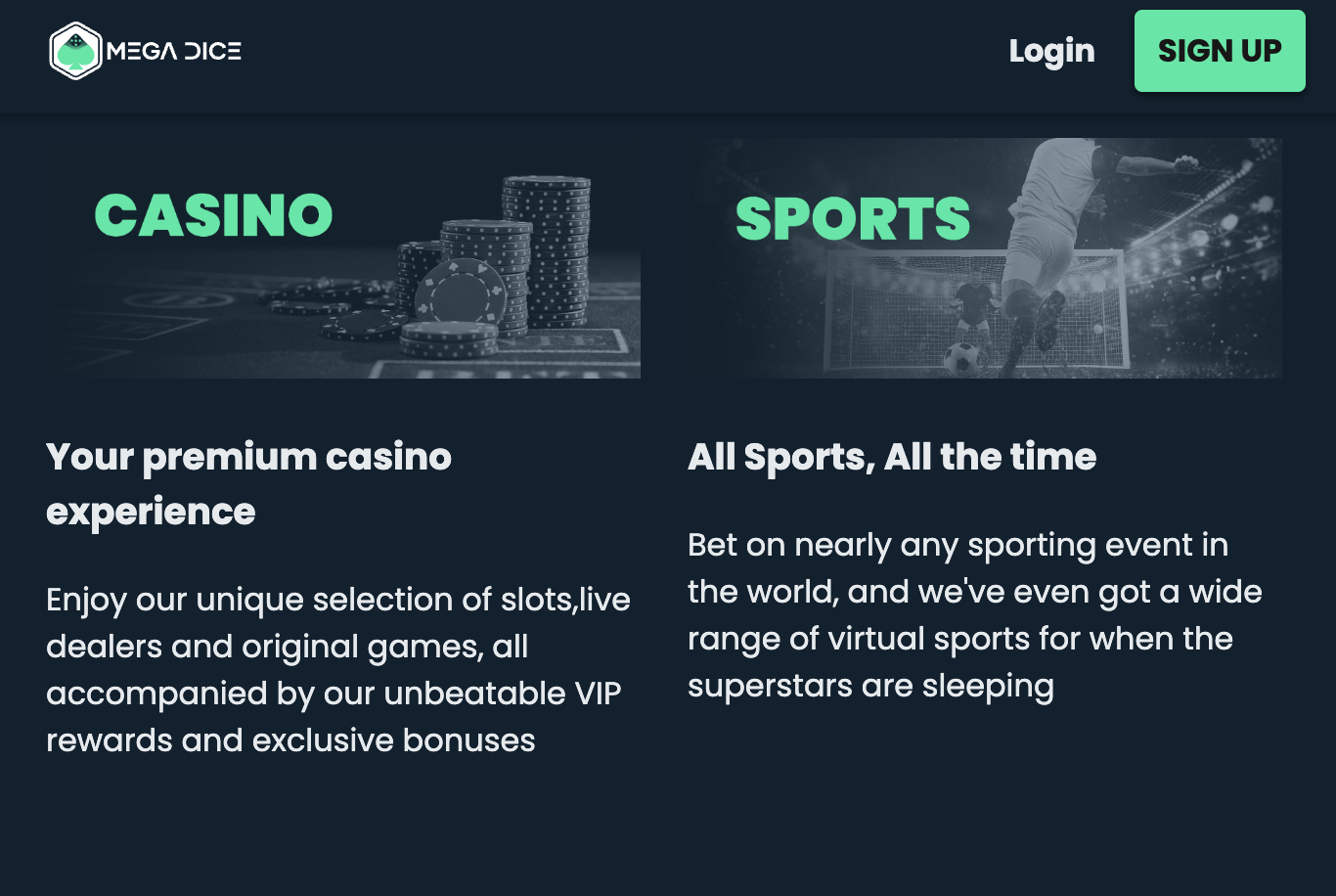 Games Available Mega Dice
Mega Dice offers hundreds of slot games, multiple live dealer games, crash games, and crypto games. These games are provided by over 50 industry-leading developers, such as Pragmatic Play, NetEnt, Evolution, and more. Mega Dice also offers a robust sportsbook covering 39 markets, with odds provided by Betradar, Odding, and Betgenius.
Bonuses Available
Much like Lucky Block, Mega Dice also offers an array of bonuses. First off, there is a welcome bonus of up to 1 BTC. 50 free spins are also rewarded to new players. It also offers a Monday Reload bonus and Wednesday Free Spins based on the game of the week.
Check out our Mega Dice review for more info.
The Verdict - Is Metawin Legit?
In this guide we asked - is Metawin legit - and also compared it some potential Metawins alternatives pundits may be interested in.
Our review team found that yes, Metawin is a legit casino. It has a crypto-centric approach with no KYC or login requirements, meaning anyone can play as long as they connect their wallets. It has a good reputation among users.
However, some might say it has veered too much into the direction of crypto-specificity. Even checking out additional games that it has requires one to connect their wallet. And the collection of games available isn't that large.
That is why Lucky Block and Mega Dice could be better alternatives to Metawin casino worth considering. Both of these games offer a host of games to pick from, and both of them don't have any KYC requirements.
FAQs
What is Metawin?
Metawin is a crypto casino featuring a modest selection of slots, live dealer games, and mini-games. It is a blockchain casino offering a host of NFT-based rewards.
Is Metawin legit?
Yes, Metawin is a legit crypto casino. Legitimate game providers provide all the games it delivers, and it has a large social media following. However, many of its offerings are limited, which could make Lucky Block and Mega Dice better alternatives to Metawin casino.
---