Is Dogecoin a Good Investment in 2023?
Disclosure: Crypto is a high-risk asset class. This article is provided for informational purposes and does not constitute investment advice. By using this website, you agree to our terms and conditions. We may utilise affiliate links within our content, and receive commission.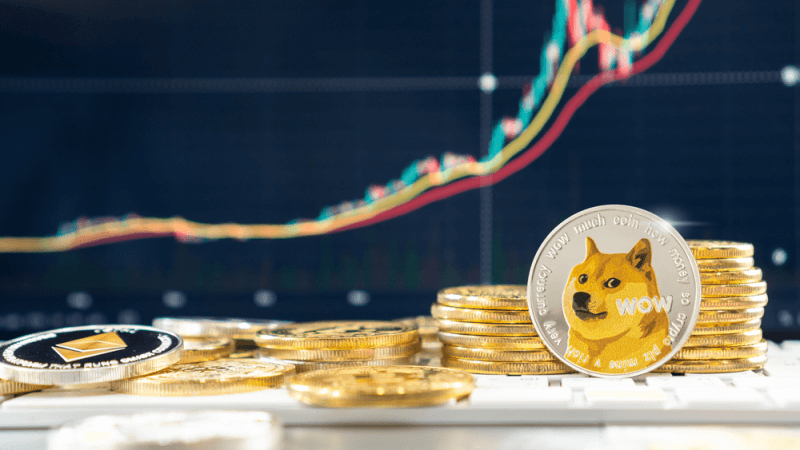 Disclaimer: The Industry Talk section features insights by crypto industry players and is not a part of the editorial content of Cryptonews.com.
Following the long cold crypto winter of 2022, the collapse of FTX, and some signs of recovery for the crypto markets in 2023, many investors are wondering whether Dogecoin is worth buying now.
This guide will aim to answer the question – is Dogecoin a good investment? We're going to look at a range of different metrics to help crypto investors make informed choices on the original meme coin. This will include historical and current price action, expert opinions, and more.
Is Dogecoin a Good Investment? Background
As DOGE investors will know, part of the reason Dogecoin was catapulted to fame in 2021 was down to Tesla's CEO Elon Musk. Musk tweeted about DOGE meme tokens on several occasions and each time, the value of the cryptocurrency increased.
At one point in 2021, investors saw gains in the thousands of percent. Is Dogecoin still a good investment today? We talk about this subject throughout this guide. 
As a result of Elon Musk's tweets throughout 2022 about the token, Dogecoin recovered somewhat but still didn't manage to set a new all-time high. 
Over the last six months, DOGE's market cap has increased by over one hundred percent however thanks to that bounce. This recent price action has led investors to ask, is it a good time to buy Dogecoin? 
While many experts have many answers regarding this question, they do follow a common consensus – the answer is not so black and white. 
While the FTX crash pulled down the DOGE price in 2022, 2023 has been good for the crypto market in general. Dogecoin has been going up – and the recent rebranding of the Twitter icon with the DOGE meme as its icon pushed the value of Dogecoin up by nearly 50%. 
This is just one of the recent moves by Elon Musk, that feeds into the rumors that Twitter may begin accepting DOGE. That will lend more credibility to this token, bringing in more investors and making it a good choice even for those who have been on the fence about the memecoin. 
How Dogecoin Has Performed Since Launch 
Those researching 'is Dogecoin worth buying?' will no doubt require further insight prior to making a decision. One of the best ways to begin researching a potential Dogecoin investment is to look at its performance thus far. 
This is because for some, historical performance might be indicative of future results.
Dogecoin was created in 2013 and the meme crypto token remained relatively unnoticed by investors for years. 
Dogecoin was first created as a Bitcoin alternative.
 The idea came from a popular meme on the internet involving a Japanese dog breed, Shiba Inu.
In 2018, investors looking for a cheap altcoin flocked to Dogecoin. Its market capitalization doubled in a short amount of time, which saw DOGE reaching its (then) all-time highest value of over a billion dollars. 
This didn't last long, by the end of the same month, Dogecoin's market cap fell again.
However, 2021 was the year of the meme token and Dogecoin became one of the fastest-growing cryptocurrency assets. Dogecoin hit a new all-time high market capitalization of around $70 billion in May 2021.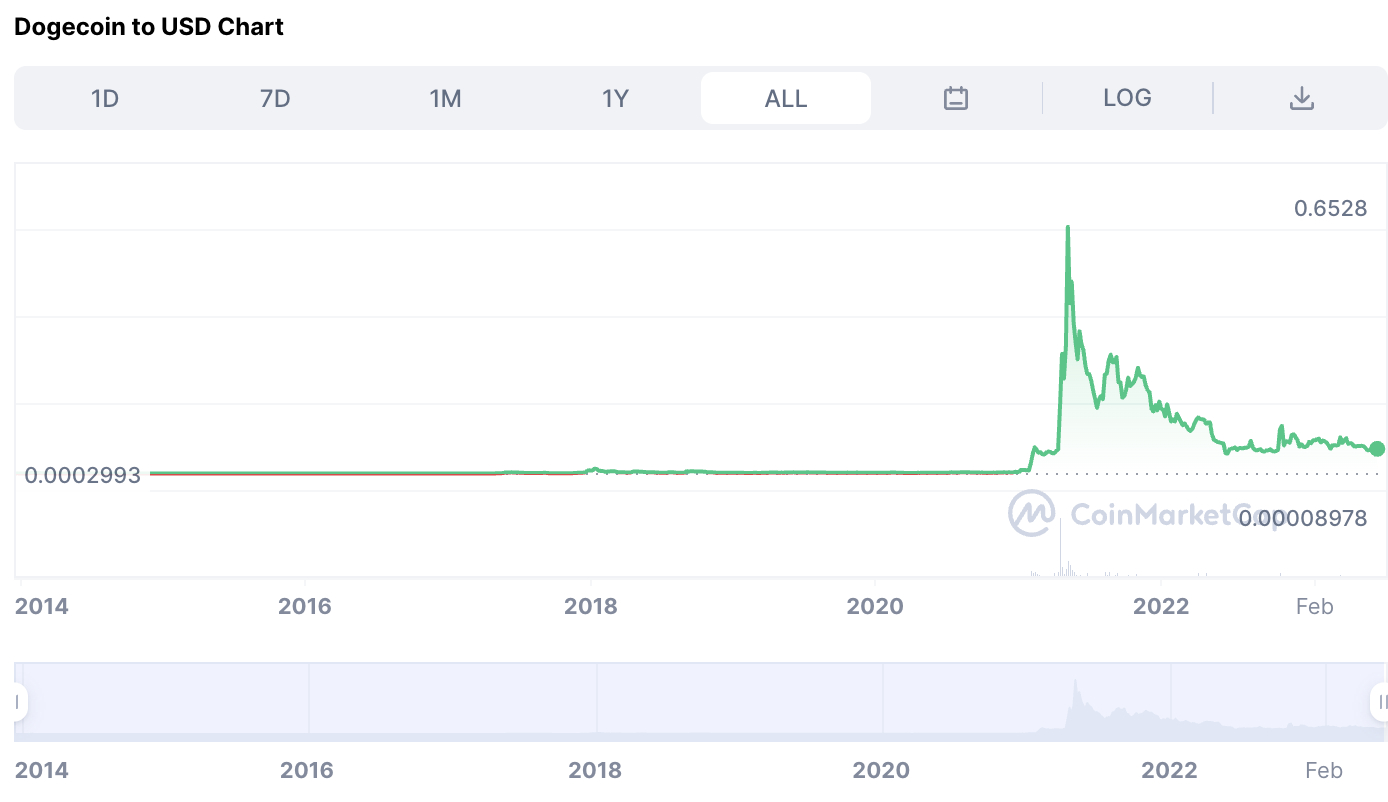 Dogecoin is also one of the best cryptos to buy during a crash. Those who invested early in 2021 and cashed out in May of the same year made gains in excess of 13,600%. Fast forward to 2022 and a lot has happened for Dogecoin. 
For example, the meme coin's price was affected by Elon Musks' bid to buy Twitter. This began in April 2022 and was completed in October. Investors looking for the best altcoins also decided to buy Shiba Inu, which witnessed a 30% increase. Moreover, Musk filed to allow Twitter to be a payments platform.
His cryptic tweet hinted at DOGE being accepted as payment, which sent the cryptocurrency on an upward trajectory again. Elon Musk has applied for Twitter to be classified as a money service firm, allowing users to transfer and receive money.
2013 – Dogecoin was released and carried a market cap of under $500 million for years
2018 – DOGE reached a market capitalization of $1 billion
2021 – Dogecoin is swept up in the meme craze and increased by almost 14,000% in five months
2022 – In April, Elon Musk put forward an offer to buy Twitter. In October, it was accepted. Over nine days, DOGE increased by 140%
2022 – On Halloween, Elon Musk hinted at DOGE being used as payment on the platform – it increased by over 20% in 48 hours.
2023 till now – Dogecoin opened in 2023 at $0.070 and climbed thanks to the outpouring of support for Bitcoin. The token then retraced to hit the yearly low at $0.066 before climbing once again. Major upward momentum happened after Elon Musk changed the Twitter icon to a Shiba Inu, which led to the DOGE price crossing the $0.1 mark. There has been some retrace as of late, but it hasn't been rapid – which indicates that Dogecoin will continue to build support for the rest of 2023. At press time, DOGE is trading around the $0.06 mark.
Dogecoin Price History 
We've talked about the performance of Dogecoin, and now here's a breakdown of its price history for clarification. 
Following its previous all-time high in 2018, Dogecoin didn't achieve a billion-dollar market cap again until January 2021.
In 2021, Dogecoin became one of the fastest-growing cryptocurrencies ever. By the end of March 2021, Dogecoin carried a market capitalization of around $6.9 billion. On May 10th, 2021, the market cap skyrocketed to over $70 billion.
This was an increase of over 1,200% in less than two months. Investors who added DOGE tokens to their portfolio in January, and cashed out during its all-time high in May, made gains of over 13,600%.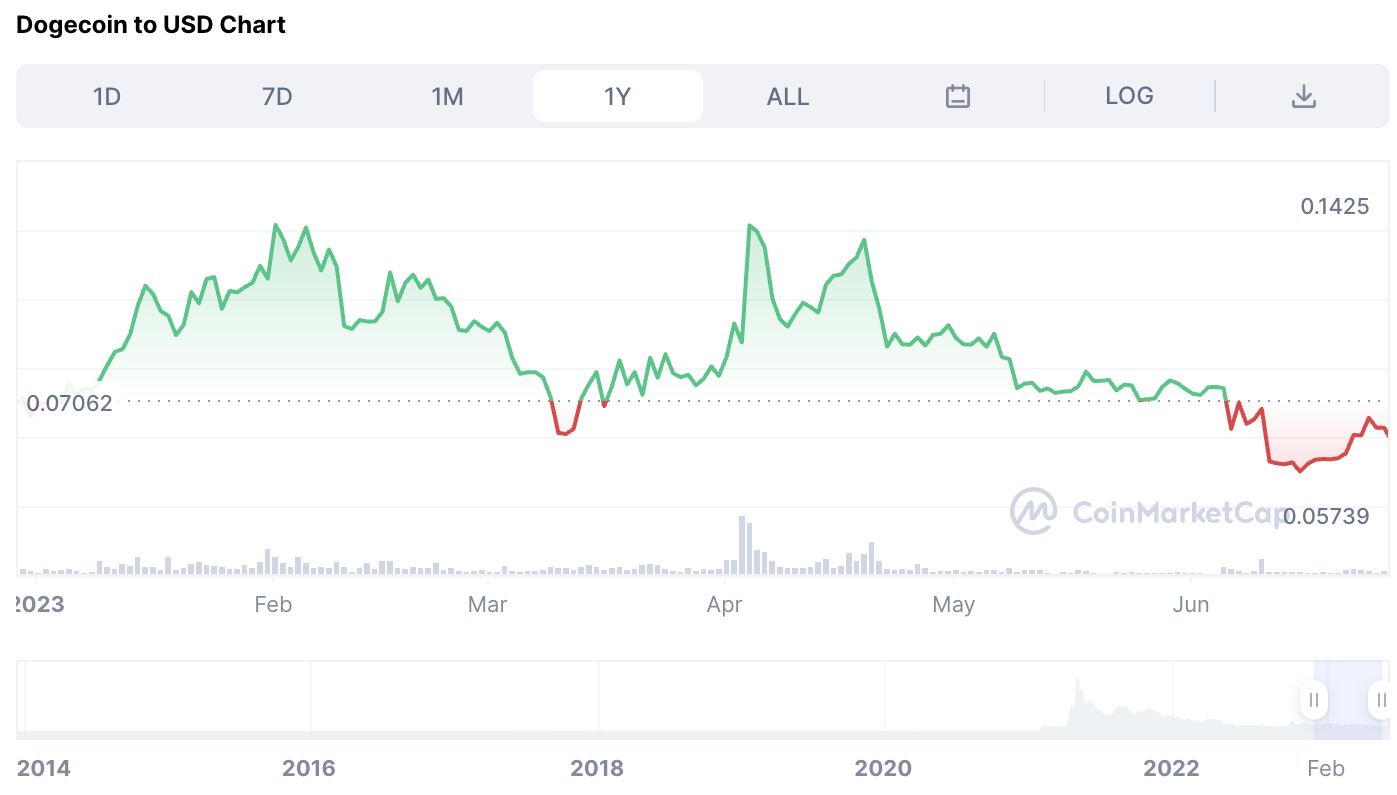 July 2021 saw market-wide price declines as China cracked down on mining and cryptocurrency trading. Dogecoin recovered, but nowhere near its all-time high.
In April 2022, Elon Musk, nicknamed 'the Dogefather', hit the headlines again when he made an offer to buy Twitter. As a result, Dogecoin increased from $16.9 to $20 billion in 48 hours.
The stock market crashed and crypto followed, losing billions of dollars in value. However, by October 2022, Musk's offer to buy twitter was accepted. Dogecoin saw a rise of almost 140% in nine days following confirmation.
In the same month, Elon Musk filed with FinCen to allow Twitter to facilitate money transfers. The CEO created a stir again when he posted a Halloween tweet featuring a Shiba Inu dog.
The dog was wearing a t-shirt with the Twitter logo and a winking emoji. This was seen as a clue that he intended to accept payments with DOGE on his recently purchased social media platform. 
The market capitalization increased by almost 22% between October 31st and November 22nd, 2022.
Bitcoin gained a lot of support because of the latest developments about the Fed rate. That support flowed into other tokens – including Dogecoins. As a result, Dogecoin went from opening at $0.070 in January 2023 to peak at $0.09. Further support by Elon Musk's Twitter antics pushed the token beyond the $ 0.1 mark. In mid-March 2023, Elon Musk swapped the Twitter bird for a Doge meme, which further pushed the DOGE price. But the token started to retrace once Elon reinstated the Twitter bird as the main icon again. 
By the latter half of April 2023, Dogecoin dropped from $0.09 to $0.07 before experiencing a minor bounce. The token is now hovering around the $0.06 level and maintaining a market capitalization of $9.1 billion. 
See a recap of Dogecoin's highs and lows below:
2013 – Dogecoin was created
May 2021 – All-time high market capitalization of over $70 billion
July 2021 – China cracks down on cryptocurrencies, and the market suffers. DOGE falls to a market capitalization of $23 billion
October/November 2022 – Elon Musk's offer is accepted by Twitter. Between October 25th and November 2nd, 2022, DOGE is up 140% from $7.8 billion to $19 billion.
January to April 2023 – Elon Musk rebranded Twitter's official logo with Shiba Inu, which pushed more interest towards doge, pushing its price past $0.1. 
July 2023 – The Twitter rebrand only persisted for a few days, leading Dogecoin to drop below $0.06 and land around $0.07 before bouncing. The current market trends show a retrace. Dogecoin is priced at around the $0.06 mark at press time. 
At the time of writing, Dogecoin's market capitalization is at over $9.1 billion
Dogecoin Price Forecast 
Although Dogecoin has fallen around 84% since its all-time high in 2021, it remains one of the most popular cryptocurrencies.
Elon Musk's recent takeover of Twitter has rekindled interest in Dogecoin. At the time of writing, Dogecoin is ranked number eight of all cryptocurrencies.
Will Dogecoin go up? Here's a quick look at some price predictions:
2023:
PricePrediction.net says that DOGE might be trading at $0.13 in 2023
DigitalCoinPrice predicts a similar situation, suggesting an average price of $0.14
Wallet Investor, on the other hand, is more conservative, predicting that DOGE will be closer to $0.04
2024:
DigitalCoinPrice analysts suggest that DOGE could hit up to $0.20 by the end of 2024
Analysts at PricePrediction.net are optimistic, forecasting a price of $0.22
2025:
PricePrediction.net believes that DOGE could hit $0.32 in 2025
Analysts at Coin Price Forcast are more conservative, stating that DOGE could be trading at $0.10
DigitalCoinPrice foresees a maximum trading price of $0.25 in the same year
2030:
Coin Price Forcast analysts foresee a price of $0.19 at the end of the year 2030
Meanwhile, in the same year, PricePrediciton.net has forecast an average trading price of $1.69 per DOGE
Market commentators at DigitalCoinPrice are more conservative and think DOGE could be trading at around $0.51
When asking if should I sell my Dogecoin? – should remember that Dogecoin price predictions should be taken with a pinch of salt. In comparison to stocks, the crypto market is still new and highly speculative.
Dogecoin's Utility – What Does the Future Hold?
Is investing in Dogecoin a good idea? Is cryptocurrency safe in general? These are just a few of the many questions most crypto enthusiasts have nowadays.
This crypto project began as a joke, and it's widely thought of as having no utility. DOGE was used for tipping to start with, and it is becoming more widely accepted as a form of payment.
Third parties like BitPay and Coinbase have integrated Dogecoin payments
A number of companies offering prepaid cards also accept DOGE tokens
Additionally, businesses can interact directly with the Dogecoin blockchain, particularly via the JSON-RPC interface
Dogecoin is accepted by numerous well-known brands and online shops, including Gamestop, Airbnb, AirBaltic, Gucci, and many more
Tesla also accepts DOGE as a form of payment for some of its products
Moreover, Elon Musk has applied for Twitter to be classified as a money service firm
Musk provided specifics about Twitter's strategy to enter the payments business during a live discussion on the platform
According to the information given, Twitter users may soon be able to send digital money to other users
This will also enable users to withdraw money to verified bank accounts, meaning creators can try to earn an income via the platform
Musk also hinted at users being able to receive a high-yield money market account to entice them to deposit funds with Twitter
As we mentioned earlier, DOGE investors reacted positively to this news. Put simply, this will allow users to transfer and receive money, including Dogecoin and other cryptocurrencies. 
Is Dogecoin a Good Long-Term Investment or Short-Term Investment?
Some market commentators see Dogecoin as more of a short-term speculative asset, whereby investors take advantage of pricing swings. That said, Dogecoin is among the top ten cryptocurrencies and is being more widely adopted.
As mentioned in our early price predictions, many experts are positive about the future of Dogecoin, which could indicate that it's a worthy long-term investment. Investors could also consider diversification and only allocating small amounts to cryptocurrencies to spread the risk.
What Experts Say on Whether You Should Invest in Dogecoin
Along with other cryptocurrencies, Dogecoin saw a value decline during the previous year, dropping more than 48% since the beginning of 2022 and over 84% from its all-time high set in May 2021. 
There has also been a major curve ball for the crypto market, as FTX collapsed and Binance sold $500 million worth of FTT tokens.
Over $6 billion worth of crypto tokens were withdrawn from FTX over three days. Bitcoin and all other cryptocurrencies fell, with the whole industry losing billions of dollars in market value. That said, Dogecoin remains a top ten crypto asset and has a market capitalization of over $10.9 billion.
Is Dogecoin worth buying? The Investors Observer Sentiment Score for Dogecoin is neutral at the time of writing. That said, the long-term earning potential of this currency appears relatively positive.
Where to Buy Dogecoin
If the conclusion is yes when asking, should I invest in Dogecoin? – it's a wise move to place an order at a reputable and well-established trading platform.
Below is a review of eToro, a low-cost broker with the approval of multiple regulators:
eToro – Popular Low-Fee Dogecoin Trading Platform 
eToro has been on the scene since 2017, is licensed, and serves millions of investors and traders from around the world. The platform charges a small fee of 1% on every Dogecoin transaction and also offers passive trading tools.
For example, investors can copy the individual trading positions of an experienced crypto trader. A minimum investment of $200 is required for Copy Trading and it's a great way to shorten the learning curve and passively build a portfolio of digital assets.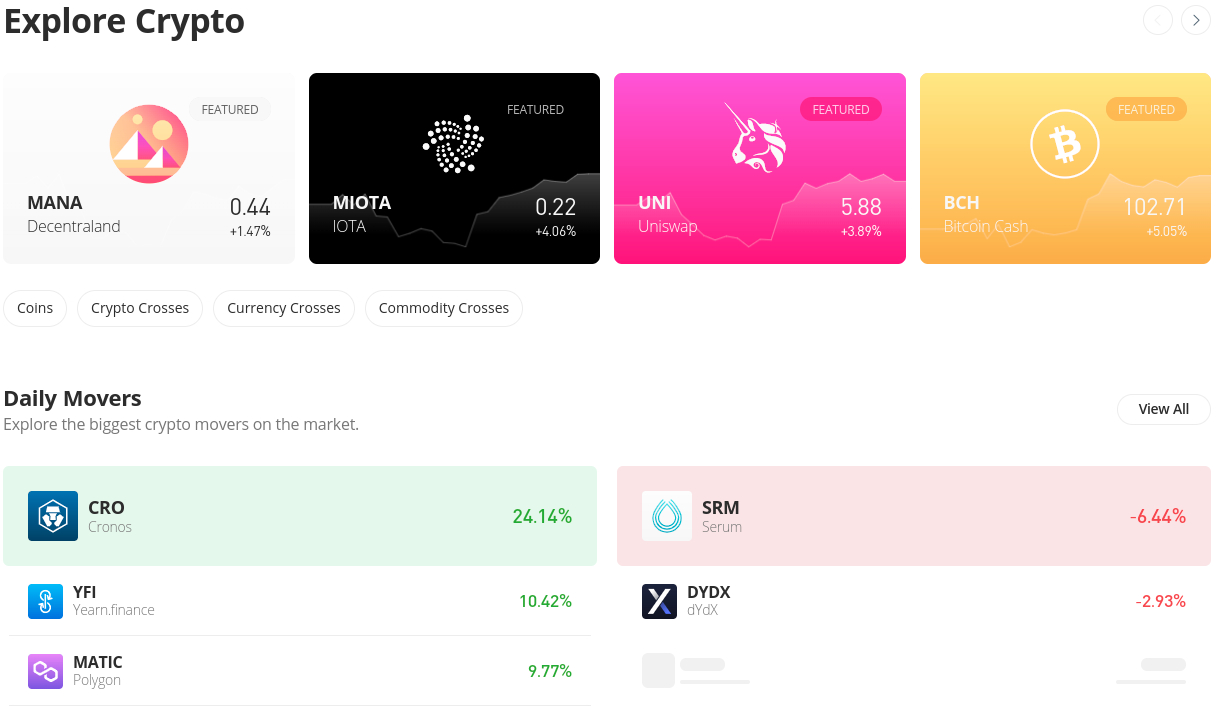 If the Copy Trader sells some tokens and makes a profit of 5%, this will be mirrored in the portfolio, in proportion to the initial investment. Smart Portfolios, meanwhile, are managed baskets of assets – many of which contain Dogecoin. These are comparable to crypto index funds.
Some are made up of equities, but many of the Smart Portfolios at eToro are curated collections of cryptocurrencies. This allows investors to diversify their Dogecoin portfolio with one click. The minimum investment is $500.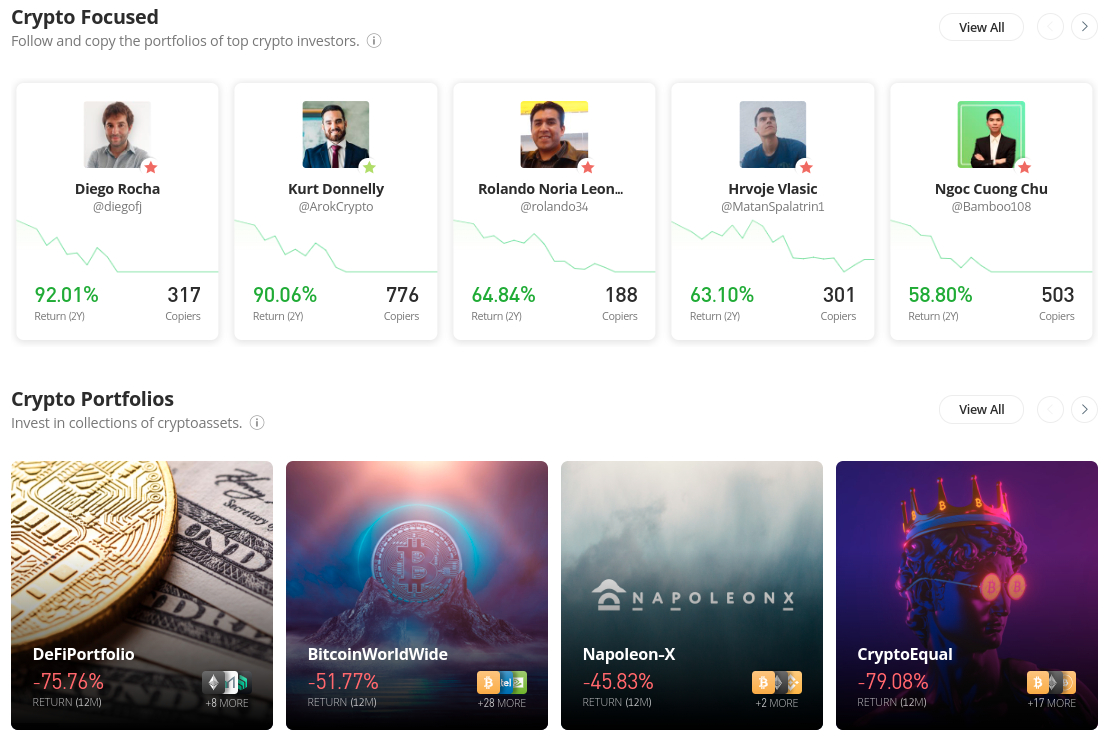 US investors aren't required to pay a fee when making a deposit. The minimum is just $10 and there are multiple payment types to choose from. Those who think Dogecoin is still worth buying can place orders on the go via eToro's free app.
Crypto assets are volatile investment products. Your capital is at risk.
Should I Buy Dogecoin Now? Our Verdict 
Is Dogecoin a good investment? According to our findings, it seems as though Dogecoin is still worth buying now according to some analysts.  
Investors who believe DOGE tokens will increase again in the future might consider adding them to their portfolio now, at a discount to the aforementioned all-time high.
The influential CEO of Tesla, Elon Musk, still very much supports the crypto asset and it seems as though it might be adopted as a form of payment on his newly acquired Twitter platform. Not only that, but big brands like Gucci and Airbnb now accept DOGE as payment.
Although its market capitalization is lower than it has been, Dogecoin is still one of the best penny cryptocurrencies to buy today.
Coins to Consider Alongside Dogecoin
Is now a good time to buy Dogecoin? Research findings point to it having potential. That said, the power of diversification shouldn't be overlooked.
That is to say, investors who buy DOGE could also broaden their horizons and add some alternative tokens to their portfolio as well.
But those who don't want to veer off from memecoins have a better chance with memecoin presales. These tokens have utility, but they stick to their memecoin roots. 
Wall Street Memes – A Social Crypto Leveraging a Large Community
Wall Street Memes ($WSM), an all-new memecoin project, is making waves in the world of meme coins. WSM, the project's native token, is undergoing a presale and has raised an impressive $12.9 million, positioning it as a token with explosive potential.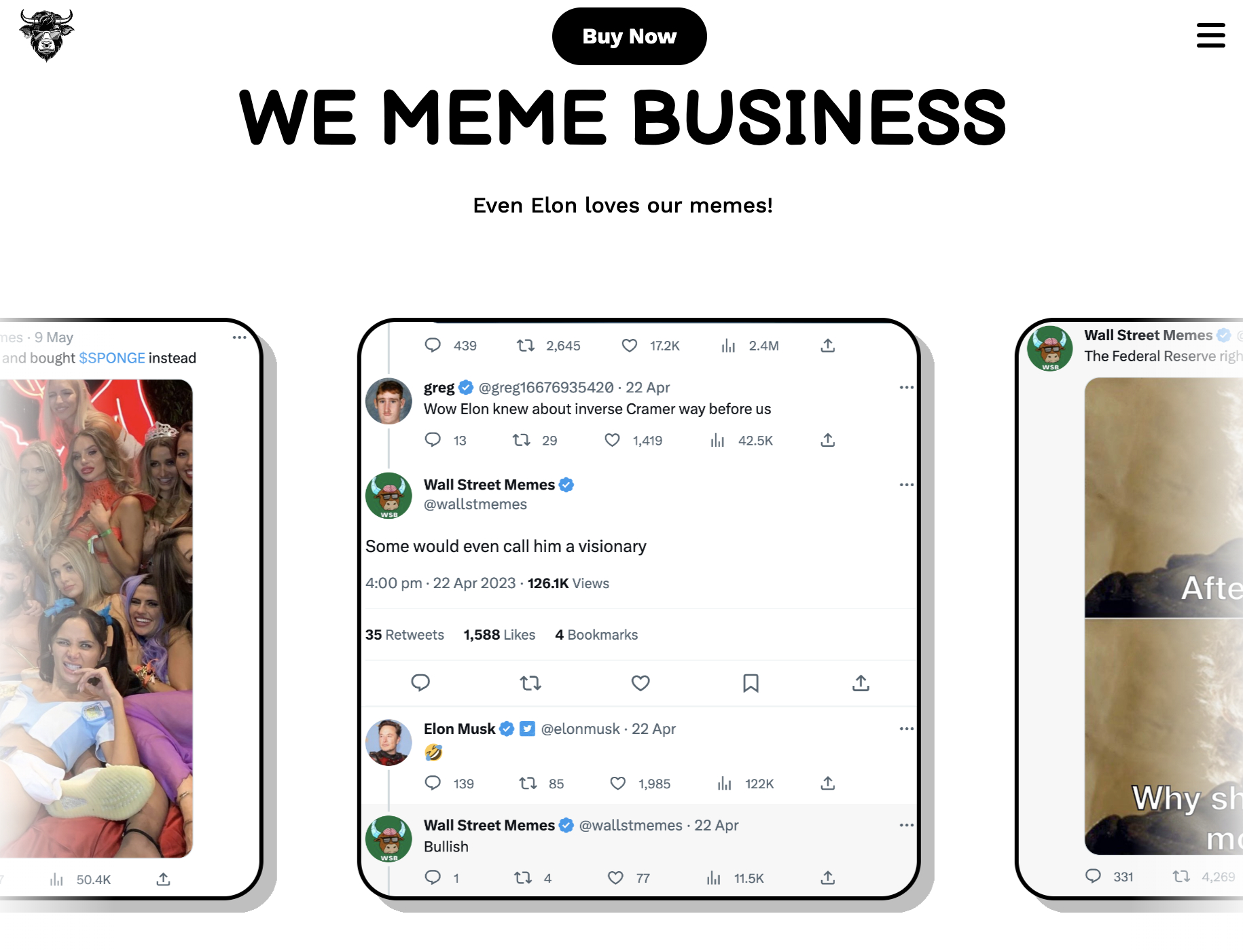 The team behind the project successfully launched the "Wall St Bulls" NFT collection, selling all 10,000 pieces in just 32 minutes and raising $2.5 million. With a community of over 1.1 million followers across social media platforms, Wall Street Memes delivers engaging content related to financial markets.
The $WSM token aims to deepen community engagement. With support from influential figures like Elon Musk, Tier-1 CEX listings are on the horizon. Wall Street Memes' unique tokenomics align developers' incentives with $WSM holders, with 100% of the token supply distributed to the community.
The presale includes a $50,000 airdrop, stimulating engagement and rewarding participants. Investors can purchase $WSM tokens at a discounted price of $0.031 during the presale. The project aims to reach a $1 billion market cap, establish partnerships with influencers, and create an exclusive "gated community" for $WSM holders.
Conclusion
Today we've explored and answered the question, is Dogecoin a good investment? According to some analysts, the answer is yes, potentially. In late 2022, Elon Musk caused a stir among DOGE investors by filing to allow Twitter to facilitate payments. And with the latest rebranding to the Twitter logo – the flame of Dogecoin facilitating rumors have more fire poured into them. 
Many believe this will result in DOGE being accepted by the platform, and as such, the crypto tokens will increase in price. In addition to Dogecoin, some investors are turning to crypto presales for maximum gains. In this regard, Wall Street Memes is popular among investors. 
FAQs
Is Dogecoin still worth investing in 2023?
Many market commentators argue that Dogecoin is still worth investing in. At the time of writing, Dogecoin is among the top ten in terms of market capitalization. Moreover, DOGE can be purchased for a few cents.
Is Dogecoin a good investment long-term?
Time will tell whether or not Dogecoin is a good investment long-term. That said, some analysts foresee the price increasing between now and 2030, some as high as $1.69 per DOGE.
Will Dogecoin ever go above $1?
Analysts at PricePrediciton.net argue that Dogecoin could be as high as $1.69 by 2030. Other market commentators are more conservative with their predictions. 
Will Dogecoin ever be valuable?
To some, Dogecoin is valuable, in that they may have bought tokens when they were cheaper than they are now. Some analysts foresee DOGE tokens increasing in value between now and 2030. Whether or not this happens remains to be seen.
---