Is Cryptocurrency Safe to Invest in 2023? How to Avoid Crypto Scams
Disclosure: Crypto is a high-risk asset class. This article is provided for informational purposes and does not constitute investment advice. By using this website, you agree to our terms and conditions. We may utilise affiliate links within our content, and receive commission.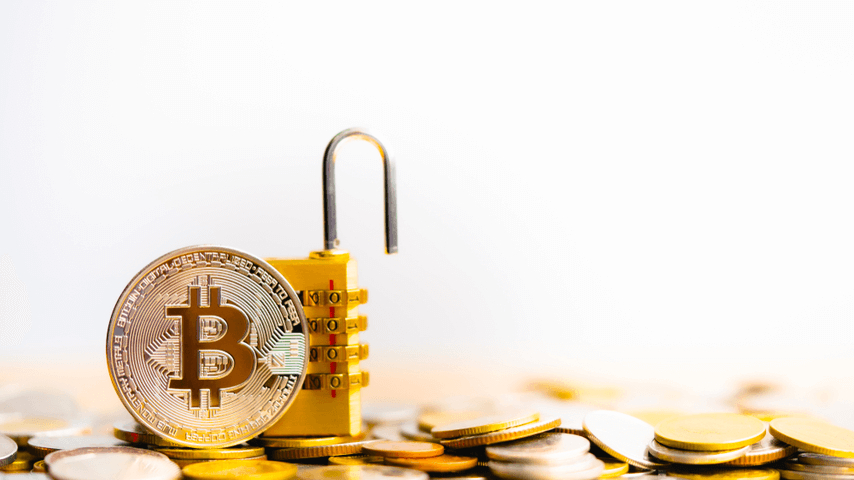 The cryptocurrency trading scene offers plenty of opportunities to make money – regardless of broader market conditions. 
But is cryptocurrency safe, from an investment perspective? In this guide, we discuss whether cryptocurrency is safe and what strategies and methods can be employed to reduce the risk of loss. 
Is Cryptocurrency Safe? Our Verdict Summarized
Is cryptocurrency safe? We summarize the key points of consideration to make before proceeding with a cryptocurrency investment:
Overall, investing in cryptocurrency is a safe endeavor, but there are certain metrics to consider
First and foremost, investors should ensure that they are using a legitimate cryptocurrency exchange when placing buy and sell orders online. 
Diversification is particularly key in this industry, with successful investors generally having a broad portfolio of different cryptocurrencies at various weights. 
Dollar-cost averaging will also ensure safety from a financial perspective, insofar as this strategy follows small but regular investments. 
Another way to stay safe in the cryptocurrency arena is to ensure that a suitable wallet is used to store tokens. MetaMask and Trust Wallet are great options to consider in this regard. 
Focusing on high-quality projects is another way to reduce long-term risk. Instead of investing in meme coins that do not offer any real-world use case, consider exploring presales like Bitcoin ETF Token and Bitcoin Minetrix. 
So that begs the question – is cryptocurrency safe? Read on to learn how to become a risk-averse investor in this highly volatile trading scene. 
How to Stay Safe When Investing in Crypto & Avoid Cryptocurrency Scams
Read on to further evaluate the question – How safe is cryptocurrency? 
Focus on Quality Presales
One of the safest ways to invest in cryptocurrency is to ensure that plenty of research is undertaken into the respective project. A good starting point in this regard is to explore high-quality presales. 
For those unaware, crypto presales enable investors to gain exposure to a brand-new project before it is launched to the general public on an exchange. 
Think along the lines of a stock IPO (initial public offering) but in the world of digital currencies. 
Many crypto ICOs (initial coin offering) utilize a progressive pricing structure when selling their newly founded tokens. 
This means that the earlier an investment is made, the lower the cost price. 
And in turn, by the time the presale has finished, there is often already an upside. 
It is, however, crucial to explore each and every metric of the crypto presale before proceeding. Get started by reading the project whitepaper and assessing its roadmap targets. Also, consider the tokenomics and the team behind the project. 
To offer some insight into the best upcoming ICOs, Bitcoin ETF Token (BTCETF) could be one of the best future cryptocurrency projects to gain exposure to. This newly founded project is offering deflationary tokenomics and follows the arrival of a Bitcoin ETF. 
Bitcoin Minetrix is another new cryptocurrency that we like the look of, with the project offering tokenized credits to support cloud mining. This cryptocurrency will also offer high staking yields, just like Bitcoin ETF Token. 
Regulated Exchanges and Brokers 
When investing in presales, the investment process is facilitated directly with the respective provider. It's just a case of securely connecting a wallet like MetaMask and confirming the purchase. 
However, when investing in cryptocurrencies that are already listed on exchanges, it is crucial to do some due diligence on the provider. More specially, avoid any cryptocurrency exchange that does have an adequate regulatory framework in place.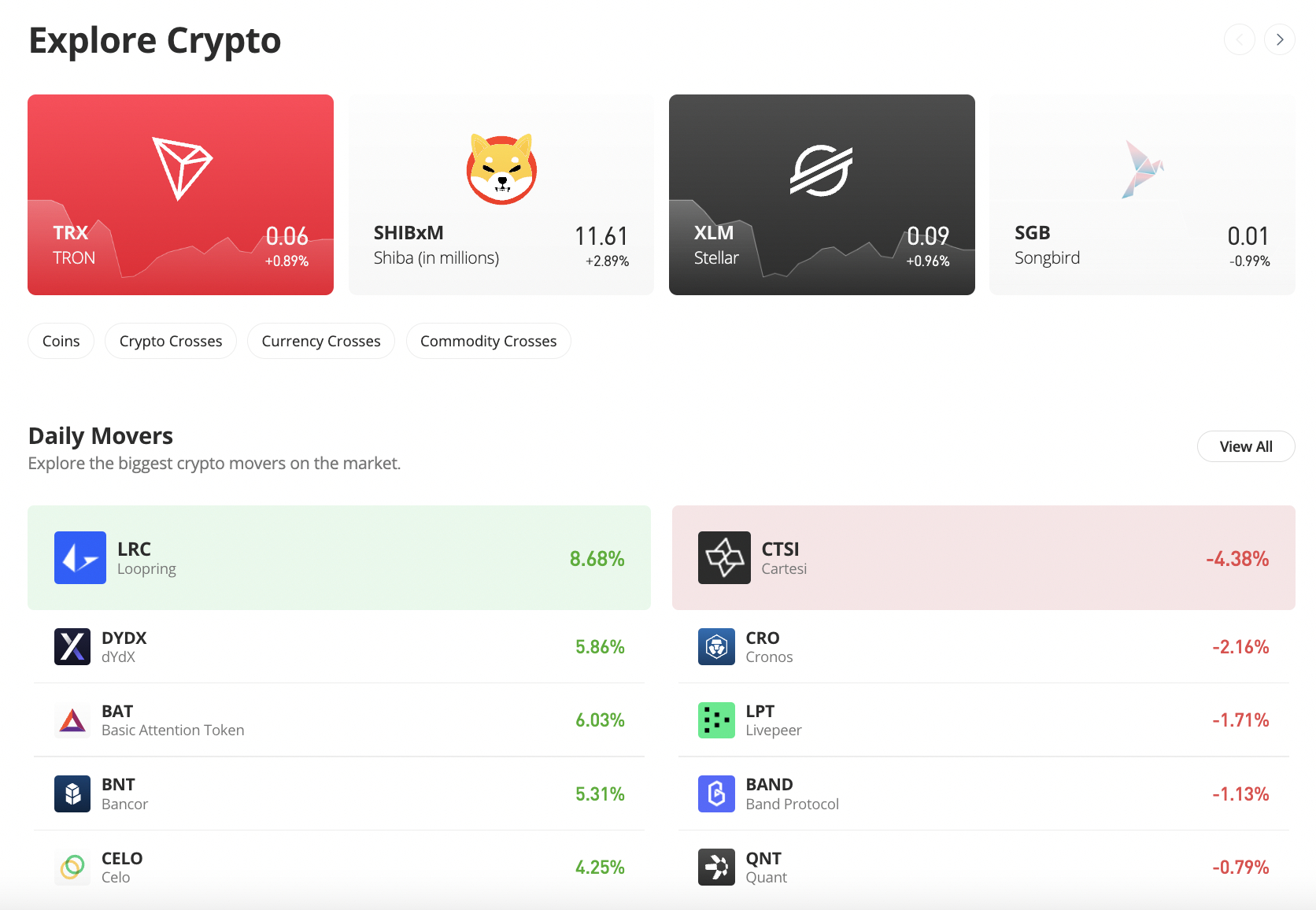 As we mention in more detail shortly, eToro is one of the best places to buy cryptos with the most potential. It is regulated by multiple tier-one financial bodies, including the SEC. This enables eToro to secure banking facilities and in turn, it supports debit cards and e-wallets like PayPal. 
Crucially, this means that investors can make safe cryptocurrency purchases in a fully regulated environment. Compare this to the likes of FTX – which, although one of the largest cryptocurrency exchanges before it filed for bankruptcy, was not regulated by the SEC.   
Have a Solid Strategy in Place
All trading markets require investors to have a solid strategy in place. The chosen strategy should be based on the investor's risk profile and financial goals. 
Dollar-Cost Averaging 
When answering the question – is it safe to invest in cryptocurrency? – one of the best safeguards is to dollar-cost average each purchase. 
Consider an investor that has $5,000 at their disposal. 
A seasoned investor would utilize this $5,000 across multiple purchases at various intervals, such as $500 per month. 
This means that each time $500 is invested, the portfolio cost price is averaged out based on market conditions. 
An inexperienced investor, on the other hand, may elect to allocate the entire $5,000 in one lump sum. 
This is a risky way to approach the cryptocurrency markets, considering that broader sentiment can reverse at any given time. 
For example, an investor that allocated $5,000 into Bitcoin during its peak at $69,000 per BTC would, as of writing, now be looking at a 68% loss. This means that just to break even, Bitcoin needs to witness growth of over 210%.   
Diversification  
Risk-averse investors that are exploring the question – are cryptocurrency safe? – should also look into a diversification strategy. This is a proven long-term strategy that is utilized in the traditional stock trading markets.  
Diversification refers to the investment process of spreading the risk across many different cryptocurrency projects. This means that if one of the investments fails, there are plenty of other cryptocurrencies in the portfolio that could do the exact opposite. But what is the best crypto portfolio allocation to hedge against risk?
For example, some of the portfolio could be allocated to high-quality presales like Bitcoin ETF Token and Bitcoin Minetrix. 
Some of the portfolio could go to coins from the metaverse and DeFi spaces, which are high-growth areas of the cryptocurrency scene. 
And perhaps a much larger percentage of the portfolio could go to established, large-cap crypto projects like Bitcoin, Ethereum, and BNB. 
There is no right or wrong way to diversify a cryptocurrency investment, as the portfolio should be built based on the investors' goals and tolerance for risk. 
Know When to Lock in Profits 
Another strategy to consider when exploring the question – is cryptocurrency safe? – is to ensure that emotions do not hinder an investor's ability to secure profits. By this, we mean that during a bullish period, cryptocurrency prices can explode by considerable amounts. 
This is especially the case when a new presale hits the market and there is an element of hype surrounding the project. For instance, it is not uncommon for new cryptocurrencies to generate returns of 1,000% or more after the respective presale has concluded.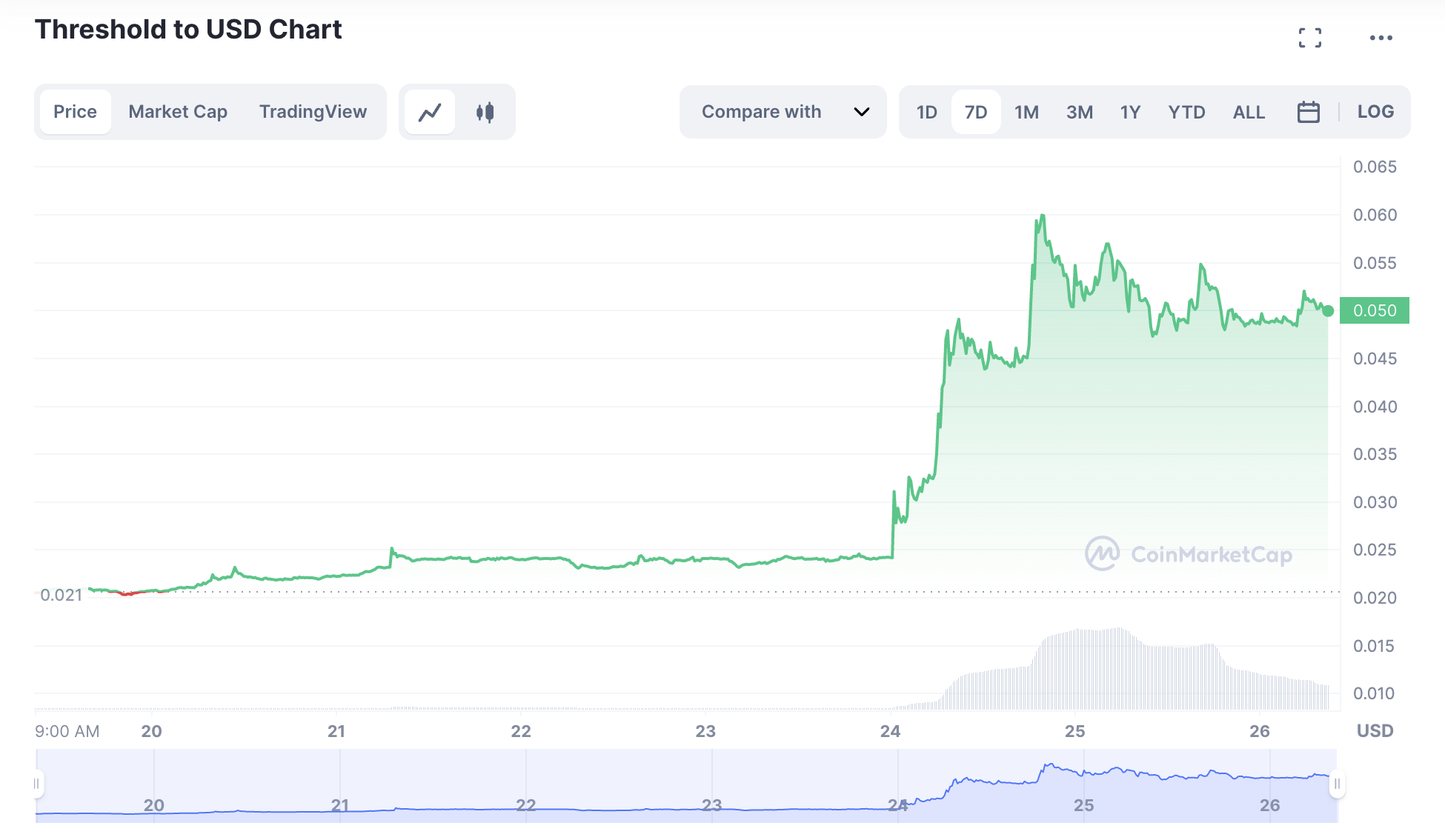 While there are, of course, no guarantees that this will be the case, it is still important to have some profit targets in mind. Seeing an investment portfolio grow by unprecedented amounts is great, but be sure to cash out profits along the way. 
Store Cryptocurrency Safely in a Reputable Wallet 
Beginners will often forget about the importance of keeping cryptocurrency tokens in a secure, reputable wallet. Instead, newbies will often buy cryptocurrencies from an exchange, and keep the tokens in their web-wallet account. 
This means that the exchange has full control over the tokens, so if it runs into financial issues (like FTX), the cryptocurrency could be at risk of loss. 
Fortunately, this risk can be reduced greatly by withdrawing the tokens from an exchange and into a privately owned wallet. 
There are many wallets to choose from in this regard, but MetaMask and Trust Wallet are the stand-out options.
When investing in presales, the process is different when compared to buying cryptocurrency from an exchange. As noted earlier, investors will simply need to connect their chosen wallet to the presale dashboard to complete the investment. 
After the presale finishes, the investor will claim the tokens, which will subsequently be transferred directly into the connected wallet for safekeeping. 
Potential Risks of Crypto 
The most effective way to stay safe when investing in cryptocurrencies is to have a firm understanding of the core risks. 
In doing so, this will enable investors to implement certain strategies and methods to alleviate the identified risks, such as those discussed in the previous section. 
In this section, we discuss the most pressing risks that investors need to consider when gaining exposure to cryptocurrencies. 
Risk of Monetary Loss
The most obvious risk is much the same as any investment product. That is to say, when trading cryptocurrency, the investor could lose some or even all of their capital. 
Cryptocurrency prices are determined by market forces, so there is no way of knowing with any certainty whether a token will rise or fall, both in the short and long term. 
This is just the nature of the cryptocurrency investment arena. The best way to reduce the risk of losing money is to ensure that the portfolio is well-diversified. 
Moreover, to ensure that the investment isn't made during the peak of an upward cycle, it is best to avoid investing a lump sum. Instead, it is more risk-averse to dollar-cost average.  
This means that when cryptocurrency prices are falling, the investor will continue to make purchases but at a discounted entry rate. This will average the cost price of each cryptocurrency within the portfolio.  
Exchange Risk
We also discussed the risks associated with cryptocurrency exchanges. It is important to remember that exchanges are centralized entities, which means that investors will need to trust that the platform is legitimate. 
Although some exchanges – such as eToro, are regulated by tier-one bodies like the SEC, the vast majority of platforms in this space operate in an unlicensed manner.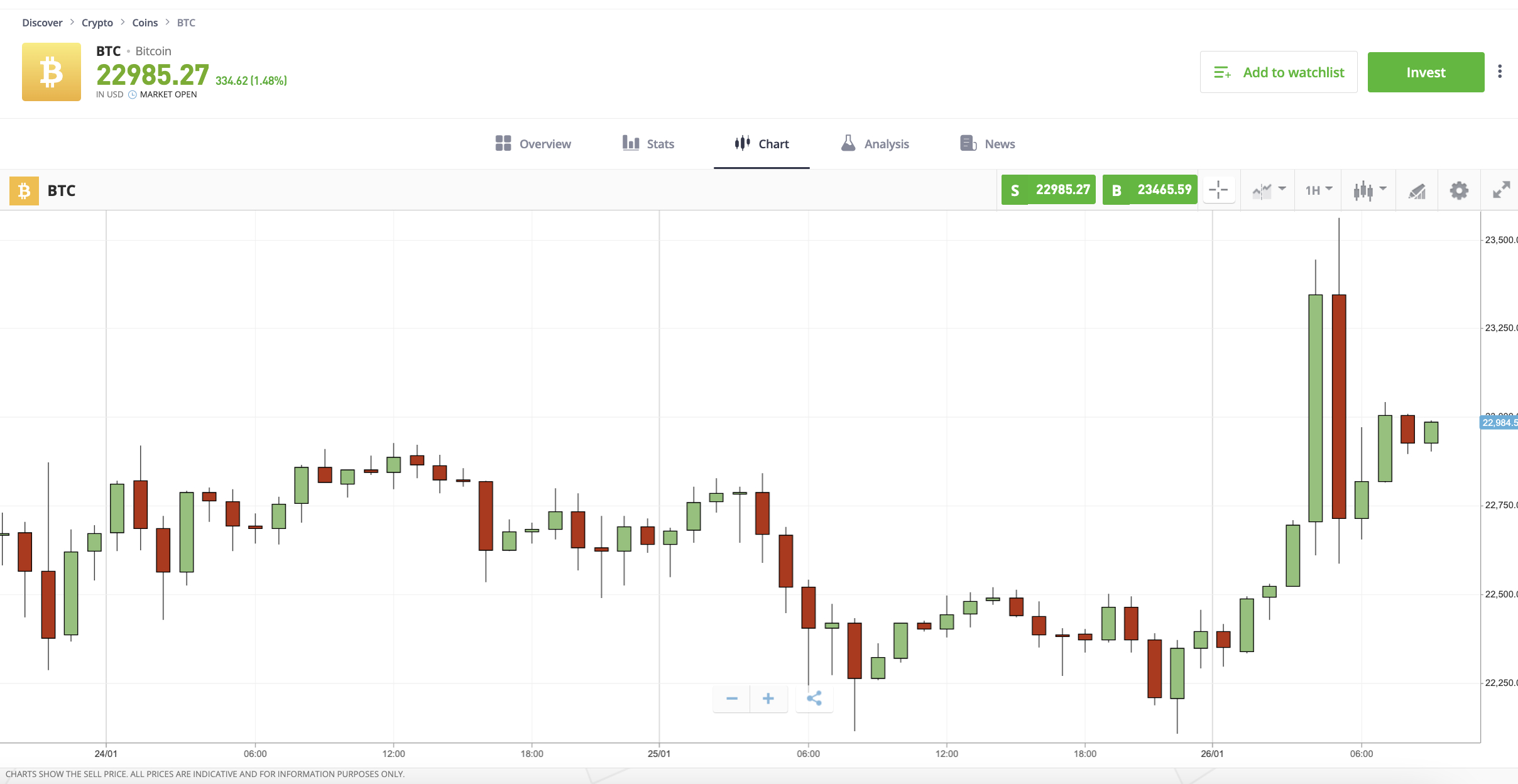 This is like depositing money into an unregulated bank. Once again, the best way to avoid the risks linked to third-party cryptocurrency exchanges is to only use a platform that is heavily regulated.  
 Crypto assets are a highly volatile investment product. 81% of retail investor accounts lose money when trading CFDs with this provider. Your capital is at risk.
Rug Pulls
Rug pulls are another risk that should be taken seriously when exploring the question – Is crypto safe? 
In a nutshell, this term refers to illegitimate cryptocurrency projects that are launched and marketed with one clear objective – to scam investors for as much capital as possible. 
The entity behind the planned rug pull will raise funds from investors during a presale campaign and then not long after, disappears. 
The scam artist will not only keep the cryptocurrencies invested during the presale, but then cash out their own tokens once listed on an exchange. 
The good news is that rug pulls represent a tiny minority of the overall cryptocurrency space. Moreover, investors can give themselves the best chance possible of avoiding a rug pull by conducting sufficient amounts of research into the project.      
Volatility 
Cryptocurrency assets are known for their high levels of volatility, especially when compared to stocks. 
As such, before investing in the cryptocurrency market, it is important to be prepared for this. Those that are not prepared for volatile pricing will often panic sell their investment after seeing the portfolio value decline in a short period of time. 
Panic selling will ultimately lead to losses in the long run. 
For instance, in late 2022, Bitcoin hit lows of $16,000. 
Investors that not only held onto their Bitcoin at $16,000 but continued to dollar-cost average have since enjoyed a rapid reversal. 
For instance, as of writing, Bitcoin is priced at $22,000, which is 37% above the $16,000 low. 
Those that sold, however, are likely at a loss. 
The best way to avoid panic selling on the back of volatile markets is to only check the value of a portfolio once a week, as opposed to every day.  
Tax liability  
Another risk to consider when exploring how to invest in cryptocurrency safely is that tax will likely be applicable on any sales that are made. 
This will vary from one country to the next, but in most instances, capital gains tax will be liable after a cryptocurrency position is closed.   
The best way to avoid any unexpected tax bills is to be strategic when it comes to timing. For example, some investors will purposely sell cryptocurrency at a loss, so that this can be written off in the respective tax year. 
Similarly, some investors will wait until the current tax year finishes to cash out at a profit, with the view of avoiding a capital gains liability. 
Cryptocurrency tax rules can be complex depending on the country of residence, so be sure to speak with a qualified advisor as opposed to making assumptions. 
How to Store Cryptocurrency Safe
We briefly discussed the importance of storing cryptocurrency safely in a reputable wallet. 
Those that are completely new to cryptocurrency wallets should have a basic understanding of the fundamentals. First and foremost, wallets come in two primary frameworks – custodial and non-custodial. 
Custodial wallets are controlled by third parties, such as a cryptocurrency exchange. This means that the tokens are at risk of an exchange collapse. 
Non-custodial wallets are completely decentralized. This means that access to the wallet is only possible with a private key. This means that nobody can access the funds other than the rightful owner – not even the wallet provider. 
The safest option of the two is to opt for a non-custodial wallet, to ensure full control of the funds. Investors preferring to keep their cryptocurrency on a laptop device may opt for MetaMask, which offers a browser extension for Chrome, Firefox, and more. 
Another option is to store the crypto on a cell phone. Trust Wallet is a good option here, with the provider offering a secure mobile app for safe crypto storage.   
What Cryptocurrency is Safe to Invest in – Top 5 Picks
So far, when answering the question – is it safe to invest in cryptocurrency, we have established that investors can protect themselves by implementing a range of proven strategies. 
In this section, we explore some of the best crypto to buy in a safe and secure environment. 
Bitcoin ETF Token (BTCETF) 
Our first pick in this list is Bitcoin ETF Token ($BTCETF) – a new ERC-20 token that offers staking rewards and deflationary tokenomics by tracking the progress of the Bitcoin ETF.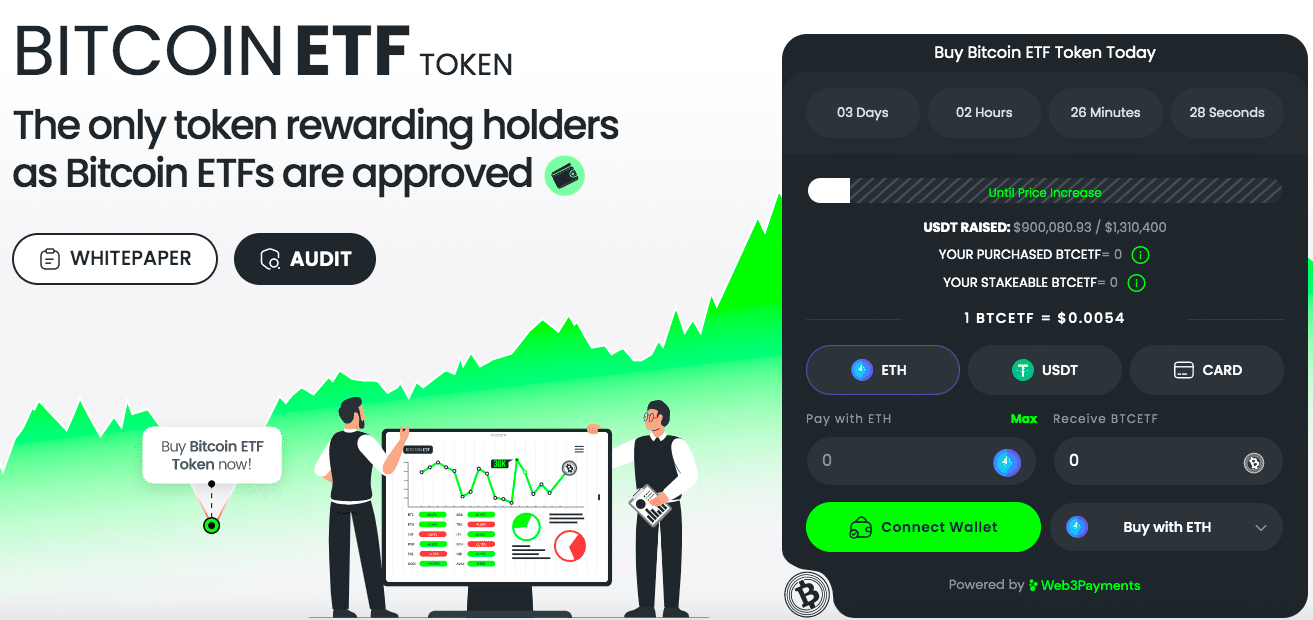 A Bitcoin ETF (Exchange-Traded Fund) has been pushed by many global investment companies, as it will allow investors to trade BTC like another share on the stock exchange. The SEC is yet to approve the first Spot Bitcoin ETF.
Bitcoin ETF Token has been created to celebrate the potential arrival of this ETF. The project has laid out 5 milestones, on the completion of which, it will burn 5% of its token supply. These include: 
SEC's approval of the first Bitcoin ETF 
The launch of the first Bitcoin ETF 
Bitcoin ETF assets under management crosses $1 billion 
$BTCETF crosses $100 million in trading volume 
Bitcoin reaches an all-time high of $100K 
As Bitcoin ETF Token ticks off all the milestones, it will burn 25% of its token supply. Thus, the remaining tokens may increase in value in the long term. Investors looking for safe returns can also generate passive income through the staking contract. 
$BTCETF can be staked on a smart contract – which is verified by Coinsult. At press time, the staking APYs (Annual Percentage Yields) are more than 280%. Over 100 million tokens have already been staked on the ecosystem. 
To acquire $BTCETF as early as possible, interested investors can enter the ongoing presale. $BTCETF has a total supply of 2.1 billion – 40% of which has been set aside for the presale. In total, 840 million tokens are being allocated across ten rounds. 
Currently, $BTCETF is priced at $0.0054 per token. By the tenth round, the price will increase to $0.0068 per token. Bitcoin ETF Token hopes to raise nearly $5 million through the presale. Read the Bitcoin ETF Token whitepaper and join the Telegram channel for more information on this cryptocurrency. 
| | |
| --- | --- |
| Presale Started | 6 Nov 2023 |
| Purchase Methods  | ETH, USDT, Card |
| Chain | Ethereum |
| Min Investment | None |
| Max Investment | None |
Bitcoin Minetrix (BTCMTX) 
The next cryptocurrency on our list is Bitcoin Minetrix ($BTCMTX). Bitcoin Minetrix's goal is to make cloud mining safe for investors – and is the first platform to decentralize this space. 
Cloud mining is an activity through which centralized corporations rent out mining time to everyday users and individuals. Since not everyone can afford to purchase mining equipment and buy mining rigs – cloud mining reduces the costs. 
However, this space has been plagued with dubious activities being performed by the centralized companies. Bitcoin Minetrix solves this problem by tokenizing cloud mining into ERC-20 credits. Thus, since the credits are stored on the blockchain, they can be tracked easily. 
To start earning these tokenized credits, investors must purchase $BTCMTX – the native cryptocurrency. Currently, $BTCMTX is available to purchase through the ongoing presale. From a supply of 4 billion – 2.8 billion tokens will be offered across 39 presale rounds. 
At the time of writing, $BTCMTX is priced at just $0.0116 per token. While purchasing tokens from the presale website, investors can select the 'Buy and Stake' option to directly lock in their holdings after the transaction is completed.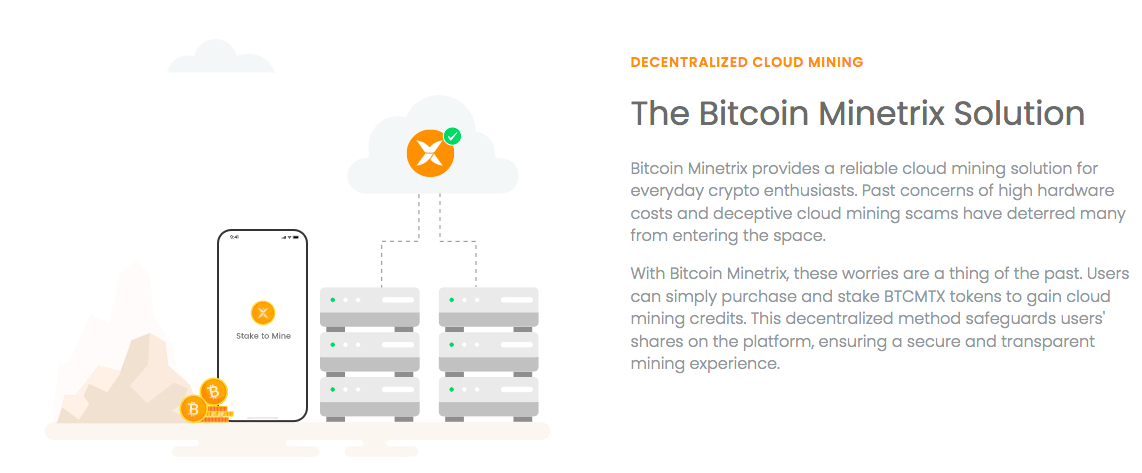 By staking $BTCMTX on the smart contract, you will start generating these ERC-20 tokens. The tokens generated can be burned on the ecosystem to earn Bitcoin mining power. With your Bitcoin mining power, you can earn mining times, and potentially earn a portion of the mining revenues. 
Thus, investors can start accessing mining revenues and staking yields with this new cryptocurrency. So far, the Bitcoin Minetrix presale has collected more than $4 million. For more information on the cryptocurrency, read the Bitcoin Minetrix whitepaper and join the Telegram channel. 
| | |
| --- | --- |
| Presale Started | 26 Sept 2023 |
| Purchase Methods  | ETH, USDT, BNB |
| Chain | Ethereum |
| Min Investment | $10 |
| Max Investment | None |
Bitcoin (BTC)
Bitcoin is perhaps the safest cryptocurrency to gain exposure to, considering that it is the world's most recognized digital asset. Bitcoin is the original cryptocurrency, launched in 2009. Bitcoin has by far the largest valuation, with a market capitalization of several hundred billion dollars. 
Bitcoin is volatile like all cryptocurrencies but since its inception, has provided early investors with truly phenomenal returns. Consider that when Bitcoin was first launched, it wasn't even worth a cent. Bitcoin now trades for tens of thousands of dollars. But is Bitcoin a good investment?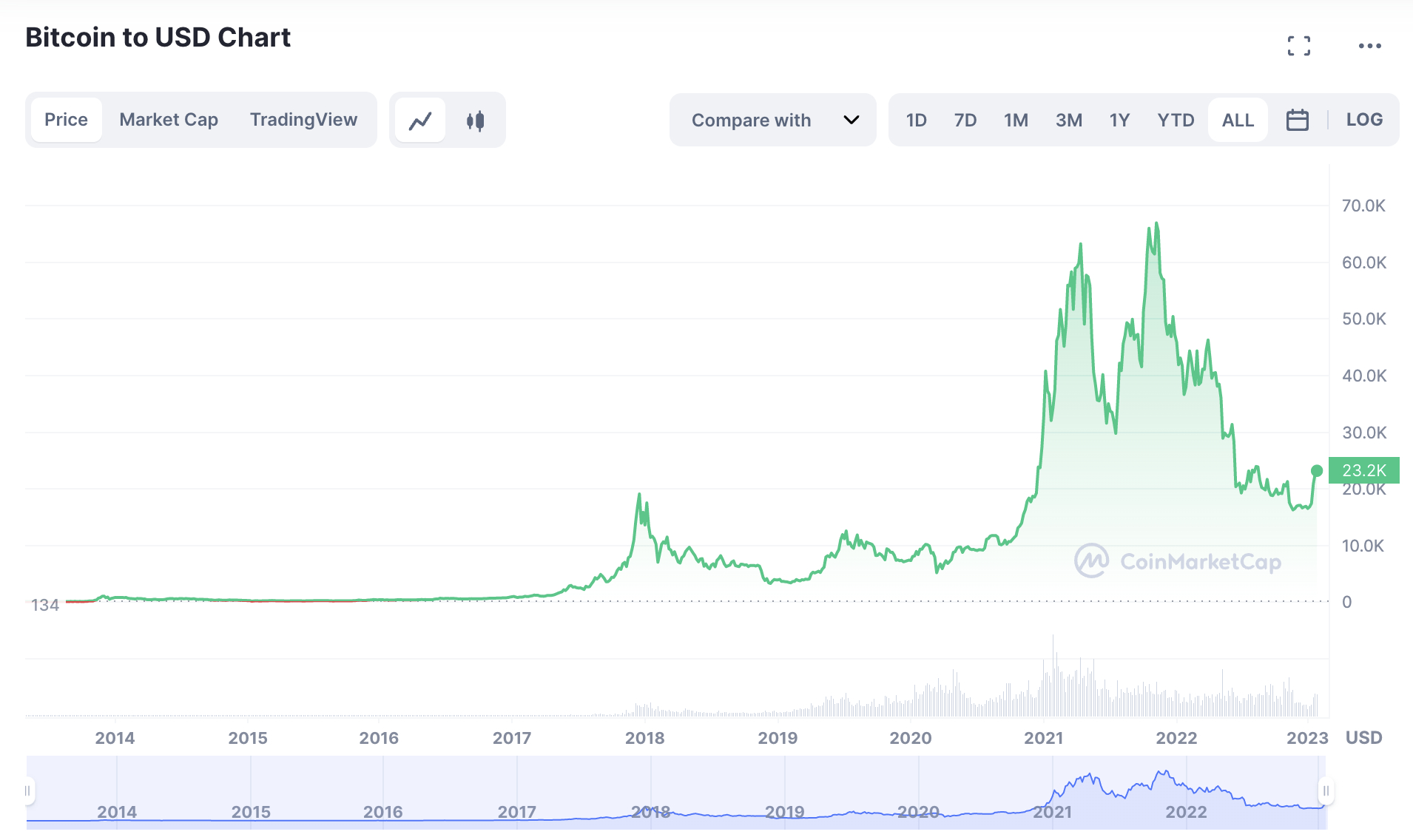 To invest in Bitcoin safely, investors will need to ensure that they use a regulated trading platform. eToro, for example, is authorized and regulated by the SEC, alongside the FCA, ASIC, and CySEC. 
Not only that, but eToro was founded in 2007, so it has a proven track record of over 15 years. On eToro, it is possible to buy Bitcoin from just $10. The transaction will be processed instantly when opting for an e-wallet or debit card, and no fees are charged on USD payments. 
Your capital is at risk. Crypto asset investments are highly volatile and speculative 
Ethereum (ETH)
Ever asked yourself the question is Ethereum a good investment? Many cryptocurrency investors that own Bitcoin will also hold an allocation of Ethereum. Ethereum is the second-largest digital asset in terms of holders and market capitalization. Unlike Bitcoin, the Ethereum blockchain can facilitate smart contract agreements. 
In turn, this enables other cryptocurrency projects to build their platform on the Ethereum network. There are thousands of top-quality projects operating on Ethereum, including the previously discussed Bitcoin ETF Token and Bitcoin Minetrix.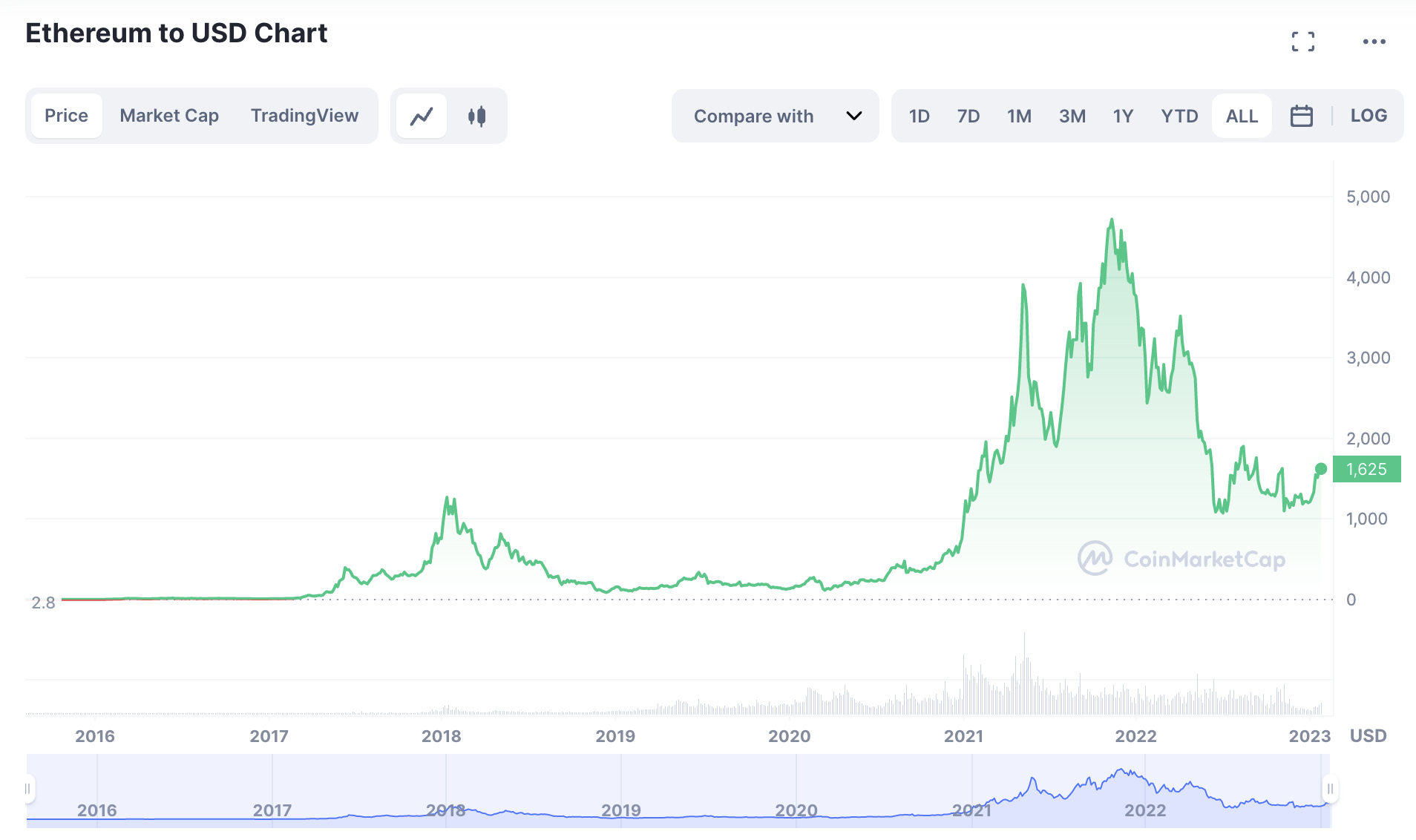 This also includes leading metaverse coins, like Decentraland and The Sandbox. Ethereum was launched in 2015 and the network continues to enjoy constant improvement. Once Ethereum 2.0 completes its evolution, transactions will be even faster, cheaper, and more scalable. 
Investing in Ethereum in 2023 offers a huge discounted entry price when compared to its previous high of nearly $5,000. As of writing, Ethereum continues to trade between $1,400 and $1,600. Ethereum can be purchased from eToro in a regulated environment, from just $10.
Your capital is at risk. Crypto asset investments are highly volatile and speculative  
Solana (SOL)
Solana is another large-cap cryptocurrency that remains popular with risk-averse investors. Solana operates in a similar way to Ethereum, insofar as it supports the deployment and management of smart contract agreements. 
Although Solana has a fraction of partner projects when compared to Ethereum, the underlying technology is arguably a lot more efficient. Not only in terms of being able to scale significantly more transactions each second, but low fees and speed.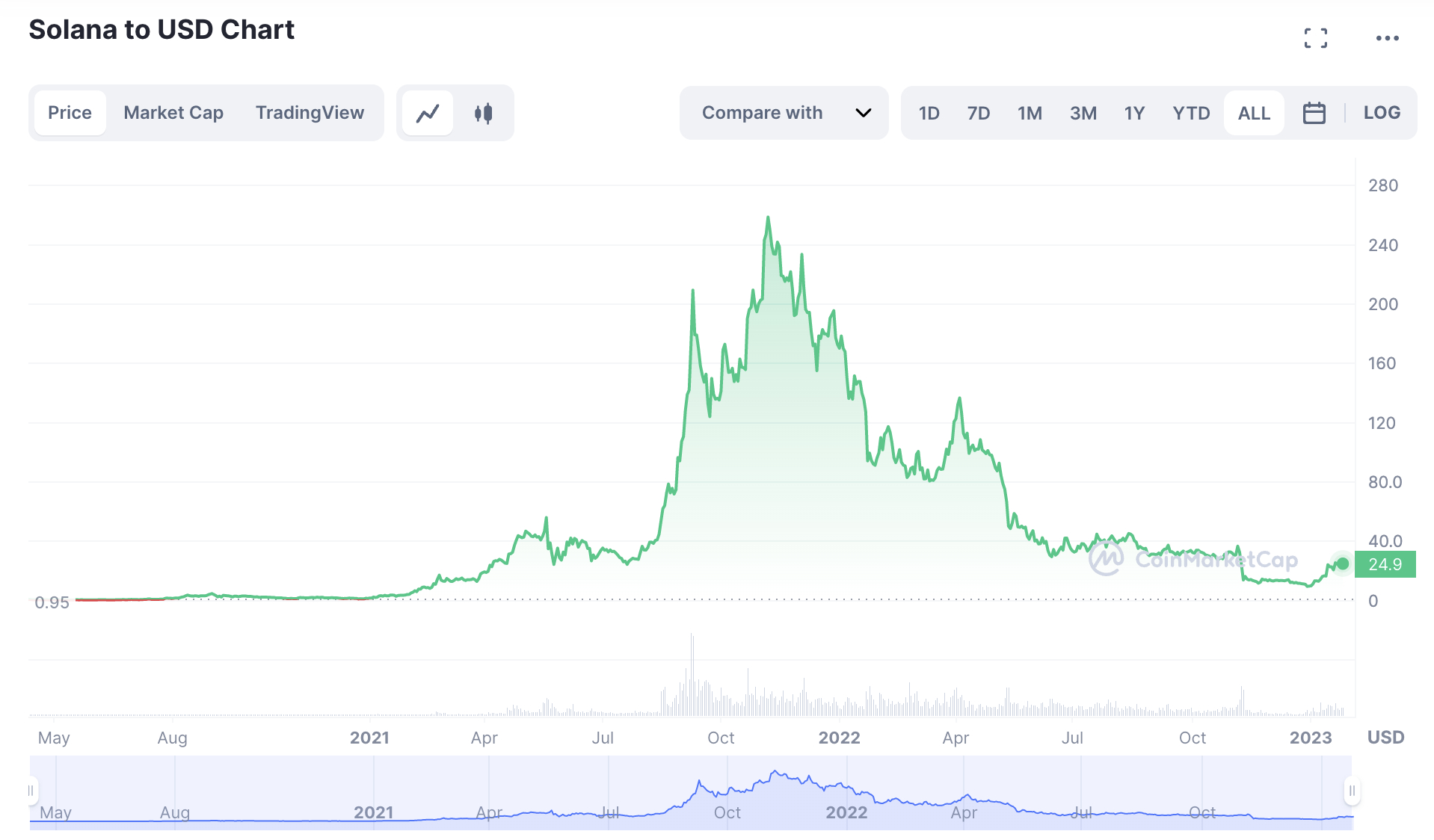 Solana is, therefore, a cryptocurrency that has performed extremely well in recent years. According to CoinMarketCap, Solana was listed on cryptocurrency exchanges in mid-2020 at just $0.95. 
Solana is trading at approximately $25 as of writing. This represents growth of 2,500% from its 2020 valuation. With that said, Solana was trading at over $270 during the prior bull run. Based on current prices, a return to this figure would represent growth of nearly 1,0005.  
Your capital is at risk. Crypto asset investments are highly volatile and speculative 
Conclusion: Is Cryptocurrency a Safe Investment?
Like all investments, there is no guarantee of making money when gaining exposure to cryptocurrency. This industry has historically outperformed the traditional stock markets by a considerable amount, but investors will need to ensure that they remain risk-averse. 
Ultimately, presales offer one of the most attractive segments of the cryptocurrency space, considering that investors will be buying into a new project at the best price possible. 
The ongoing Bitcoin ETF Token (BTCETF) presale – which has raised over $900K so far, represents one of the most hyped cryptocurrency projects of 2023. This cryptocurrency speculates on the arrival of a Bitcoin ETF – and offers deflationary tokenomics and high staking yields. 
Investors can buy $BTCETF through the ongoing presale before the initial exchange offering takes place.
FAQs
What are the dangers of cryptocurrency?
Cryptocurrencies are investment products that offer both an attractive upside and plenty of risks. The main risk is that investors can see the value of their cryptocurrency portfolio decline by considerable amounts. There are also risks associated with cryptocurrency exchanges, so in this regard, it is advisable to stick with regulated providers like eToro. 
Is cryptocurrency safe in 2023?
No investments are completely risk-free, but there are steps that investors can take to gain exposure to this industry in a safer manner. This includes focusing on high-quality projects (such as Bitcoin ETF Token, Bitcoin Minetrix), using a regulated exchange to make investments, and having access to a secure crypto wallet. 
Can you get scammed by cryptocurrency?
Due to the unregulated nature of cryptocurrency assets, there will always be a small minority of projects that aim to scam their investors. This is more commonly known as a 'rug pull', which is when a project is created for the sole purpose of scamming investors. Stay safe by performing adequate research on a cryptocurrency before making an investment. 
Disclaimer: The Industry Talk section features insights by crypto industry players and is not a part of the editorial content of Cryptonews.com.
---