Is Bitcoin a Good Investment in 2023?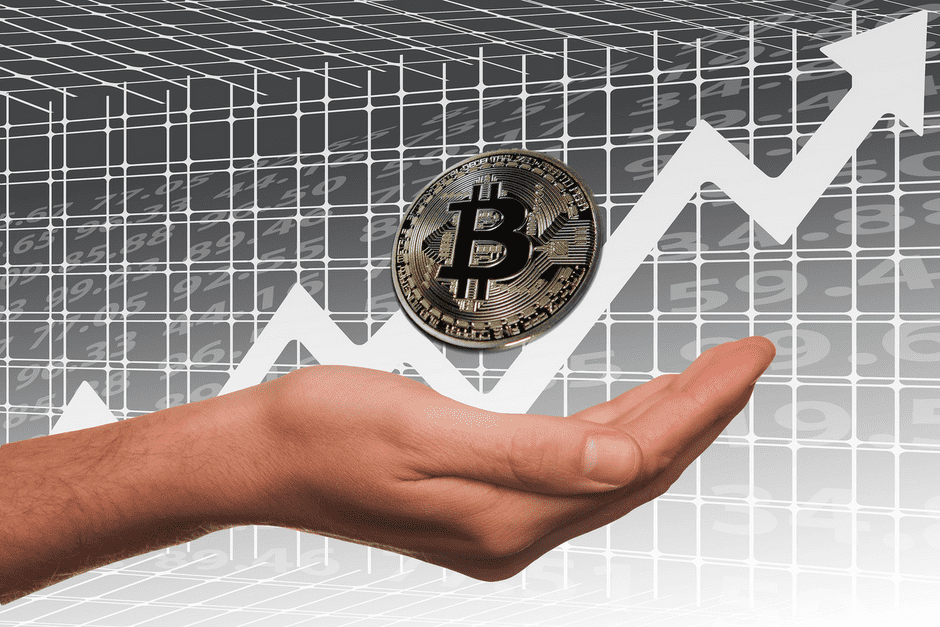 Disclaimer: The Industry Talk section features insights from crypto industry players and is not a part of the editorial content of Cryptonews.com.
Is Bitcoin a good investment? This is a question posed relentlessly in today's market, given the tremendous growth in the BTC price over the past decade. However, the coin's high volatility and colossal carbon footprint have pushed crypto investors towards other projects in recent times – leading many to speculate whether Bitcoin can thrive in the long term.
In this article, we'll take an in-depth look at Bitcoin and its place in today's crypto market, covering its price history and looking at its prospects. We'll also detail where investors can buy Bitcoin today before providing our thoughts on whether BTC represents a good investment, given the current market conditions.
Is Bitcoin a Good Investment? Our Verdict
So, is investing in Bitcoin a good idea? There's no questioning that Bitcoin has been one of the top crypto gainers since it hit the public consciousness in the early 2010s – yet it's hard to imagine the coin providing the same level of returns as it did back then.
Most retail traders gravitate towards Bitcoin for two reasons – they're interested in the world of cryptocurrency, and they're hopeful of generating market-beating returns. However, what these traders often don't realize is that Bitcoin is now a relatively 'mature' asset within the context of the market. As such, the days of 2,500% returns are likely in the past.
There are some good points concerning Bitcoin, such as the fact that it's now part of many crypto index funds, making it the first cryptocurrency to be adopted by the traditional financial markets. From this perspective, BTC may actually represent a good opportunity for investors with a higher risk tolerance and who wish to gain exposure to digital currencies.
However, those looking to get rich off crypto will need to look elsewhere. Yes, Bitcoin has outperformed the S&P 500 in six of the last seven years. This is over 3x more than the S&P 500's drawdown and hints that Bitcoin's time as a rapidly-growing asset could be coming to an end.
How Bitcoin Has Performed Since Launch & in 2023
People often ask, "Should I buy Bitcoin now?" yet fail to understand what the coin is and its price history. As defined by Forbes, Bitcoin is a digital version of cash that exists outside the framework of banks and governments. Two parties can exchange Bitcoin without the need for an intermediary – making it 'decentralized'.
The mysterious Satoshi Nakamoto created the concept of Bitcoin in the paper titled "Bitcoin: A Peer-to-Peer Electronic Cash System". The Bitcoin code was released in January 2009 and was initially used by murky websites like Silk Road to facilitate anonymous payments.
Over the following years, Bitcoin expanded and entered the public consciousness. People started wondering, "Should I invest in Bitcoin?" as the coin's value began to rise exponentially. To put this into perspective, BTC was valued at $13.30 in 2013 yet rose to $770 by early 2014 – a remarkable 5,689% increase.
This growth continued in the following years, prompting many new cryptocurrency projects to spring up (dubbed 'altcoins'). The popularity of altcoins grew in tandem with Bitcoin, helping set the stage for crypto exchanges like Binance and Coinbase to expand. By 2020, high-profile names like Elon Musk and Jack Dorsey had publicly expressed their optimism for BTC.
All told, if an investor had bought BTC at the beginning of its rise in early 2017 and the coin's all-time high in November 2021, they'd have generated a return of 7,297%. To put this another way, an investment of $1,000 would have been worth $73,970 at the end of the bull run – highlighting why investors began clamoring to get involved in the crypto market.
However, since November 2021's peak, it's been challenging for BTC to maintain its status. The combination of rising inflation and interest rate increases has created a 'risk-off' environment, making cryptocurrency much less popular.
Nonetheless, since the start of 2023, BTC has been performing quite well after rebounding from the $16.2K support. It has been up by nearly 80% YTD and is trading around $29.7K at press time.
Here's a quick summary of the key points to be aware of regarding Bitcoin:
Satoshi Nakamoto came up with the concept of Bitcoin in 2008
Bitcoin's source code was released in January 2009
Dubious online sites initially used BTC to facilitate anonymous payments
Bitcoin began entering the mainstream as an investment asset and helped kickstart the growth of the entire crypto market
After peaking in November 2021, BTC has been on an extended downtrend
Since the start of 2023, it has witnessed an uptrend before facing resistance at the $30.9K level.
Bitcoin Price History
Given the coin's past, is it a good time to buy Bitcoin today? To answer this question, it's essential to look more closely at the coin's price history to determine whether what we're seeing today has been seen before.
As mentioned in the previous section, Bitcoin's first real 'spike' was between 2017 and 2018, when the price surged by over 5,600%. However, this peak was short-lived, and BTC's value gradually decreased over the following year.
However, many believed Bitcoin was the best long-term crypto due to its size and reputation relative to others in the market. This helped BTC generate some momentum in late 2019 – yet it wasn't until the beginning of the COVID-19 pandemic in March 2020 that the coin's true potential was unveiled.
Between March 2020 and November 2021, Bitcoin's price rose by 1,657%. According to CoinMarketCap, this led BTC to create an all-time high of $68,789. At this point, the bullish sentiment around Bitcoin was at its peak – but this peak would be short-lived.
Between November 2021 and November 2022, Bitcoin's value fell by 74%. The year 2022 has been challenging for BTC investors, as regulatory issues and rising interest rates have hampered price momentum.
However, 2023 has helped the king coin regain some momentum. At the time of writing, Bitcoin is trading at around $29.7K.
Bitcoin Highs & Lows
High of $19,735 in December 2017
Low of $3,270 in December 2018
High of $13,910 in June 2019
Low of $3,881 in March 2020
All-time high of $68,789 in November 2021
Current low of $18,120 in November 2022
Regained High of $30,000 in July 2023
Bitcoin Price Forecast
Is Bitcoin worth buying at today's price? There's an argument that BTC is relatively 'undervalued', given its worldwide adoption and popularity with institutional investors. It's clear that BTC's downtrend is more to do with external factors rather than internal ones, leading many to speculate that another price rise could be looming.
However, deciding how much to invest in Bitcoin is crucial, as there's also the chance that the price will keep dropping. The Federal Reserve is expected to continue increasing interest rates into early 2023, which makes 'risky' assets like Bitcoin less appealing. Naturally, this could lead to more bearish pressure over the next six months.
So, will Bitcoin go up, or will it continue plummeting? Given the points raised above, we forecast that BTC will continue to hover around this area for the next 6-12 months. However, we do believe that Bitcoin will rise again in the years that follow – just not to the same level as before. Here are our Bitcoin price predictions for the following years:
BTC Prediction for End of 2023: $35,000
BTC Prediction for End of 2024: $47,600
BTC Prediction for End of 2025: $69,800
BTC Prediction for End of 2030: $100,000
Bitcoin's Utility - What Does the Future Hold?
Answering the question "Is Bitcoin still a good investment?" involves taking a closer look at the coin's utility – or lack thereof. Naturally, Bitcoin's primary use case is to allow individuals and businesses to transfer cash in a decentralized manner. Not only is this considered safer by many, but it's often a lot cheaper, too.
For the longest time, Bitcoin's popularity revolved around this aspect. People no longer had to rely on centralized banking institutions to handle their payments – they could 'step outside' the system and use Bitcoin instead. Furthermore, since BTC had first-mover status in this regard, it was often the go-to for those looking to make decentralized payments.
However, as more people opted to invest in cryptocurrency, new and exciting projects began to spring up that challenged Bitcoin. Projects like Ethereum, Solana, and Cardano implemented 'smart contract' functionality, which created limitless possibilities for decentralized application (dApp) developers. In turn, this began to affect Bitcoin's reputation.
The critical issue is that Bitcoin's utility is lacking relative to these other projects. As stated by Fortune.com, the Bitcoin network is hobbled by a lack of capacity. Moreover, Bitcoin's network still relies on the outdated 'mining' process, which is exceptionally energy-intensive and has been roundly criticized by all corners of the media.
All of these factors play into the increasingly bearish sentiment towards Bitcoin. Although the coin has had some significant milestones in recent years, such as becoming legal tender in El Salvador, many believe this to be a result of its first-mover status. When compared to other crypto projects, Bitcoin can't really compete.
So is Bitcoin a good investment when taking these points into account? In our eyes, Bitcoin is now deriving its value from its scarcity rather than its utility. Over time, it's unlikely that this approach will hold up – meaning investors may need to look elsewhere for high returns.
Is Bitcoin a Good Long-Term Investment or Short-Term Investment?
Following on from the previous section, there's a school of thought that Bitcoin has evolved from being a long-term investment to a short-term investment. Although it might not be the next cryptocurrency to explode, BTC has still shown itself capable of outperforming equities on the smaller timeframes.
For this reason, many people opt to day trade Bitcoin, as it's not uncommon for the coin's value to rise by 5% (or more) in a matter of hours. The image below highlights this, yet this isn't an isolated incident – moves like this occur regularly.
At the same time, it's important to remember that bearish moves are just as common. The crypto market is inherently volatile, so day trading BTC is best-suited to risk-seeking traders. However, those happy to trade both sides of the market may find an abundance of opportunities – making it a viable alternative to the FX market.
But is Bitcoin a good investment over the long term? We struggle to believe that BTC has superior long-term value due to its reliance on high-energy mining processes and the lack of utility. As such, we believe BTC is best for short-term traders – investors with a long-term investment horizon may find better opportunities elsewhere.
BTC 2024 Halving
The next Bitcoin halving will take place in 2024. This event will limit the influx of new BTC tokens into the market.
This halving will halve mining rewards from 6.25 BTC to 3.125 BTC. Historically, halvings significantly influence Bitcoin's price. After the 2012 halving, we saw an incredible four-digit rise. Post-2016 halving, the price grew by over 280% in the following months.
After 2020's halving, Bitcoin surged by more than 500% and peaked at a record $69,000 in November 2021. Should Bitcoin demand escalate, BTC coins' value might potentially surge significantly.
What Experts Say on Whether You Should Invest in Bitcoin
Experts often weigh in on the debate of "Is now a good time to buy Bitcoin?" which tends to influence the minds of retail investors. This is understandable, as when a high-authority figure places their backing behind an asset, it's likely that a sizable percentage of the investment community will follow what they are saying.
With that in mind, detailed below are three high-profile names that have discussed Bitcoin in the past, along with their thoughts on the coin:
Elon Musk
Elon Musk needs no introduction, as the CEO of Tesla (and the new owner of Twitter) is regularly in the headlines for a myriad of reasons. In 2021, Musk revealed that Tesla had invested significantly in Bitcoin. However, as reported by the BBC, Tesla has since offloaded 75% of its BTC holdings.
Whether this was to raise capital or because insiders believed Bitcoin was past its peak remains to be seen. However, Musk has stated in the past that he wants to see Bitcoin "succeed" and that he wouldn't "dump" the coin.
Michael Saylor
Michael Saylor is the co-founder of MicroStrategy, a US-based business intelligence firm. Saylor is estimated to have a net worth of roughly $500m and is a strong advocate for Bitcoin. In fact, MicroStrategy has become the world's largest corporate holder of Bitcoin, owning around 130,000 BTC at the time of writing.
Saylor has been quoted as saying that Bitcoin represents "the digital transformation of money, property, currency, energy & matter". The entrepreneur has also stated that he believes BTC could be valued at more than $65,000 in the next four years, highlighting his bullish stance.
The Winklevoss Twins
Cameron and Tyler Winklevoss are best known for suing Mark Zuckerberg, claiming that he stole their idea for Facebook. However, the Winklevoss Twins have gone on to become prominent crypto investors and founded Gemini – one of the world's leading crypto exchanges.
Tyler Winklevoss has been quoted as saying that "Bitcoin is better than gold", whilst Cameron Winklevoss has stated that the coin has "a tremendous power of social good behind it". Moreover, the Twins are reportedly one of the world's largest BTC holders, owning around 1% of the total supply.
Where to Buy Bitcoin
Investors wondering, "Should I sell my Bitcoin – or should I buy more?" will need to partner with a safe and reliable platform to facilitate their trades. All top crypto exchanges will offer Bitcoin trading services because it is the most-traded crypto globally. However, given the abundance of options, deciding which platform to use can be challenging.
Fortunately, we've completed the necessary research and testing and found that eToro is one of the best places for investors looking to get involved in the crypto market. For those unaware, eToro is one of the world's largest online brokers and serves more than 28 million users worldwide.
Are you wondering if cryptocurrency is safe? Regarding the issue of safety, eToro is regulated by several top-tier organizations, including the FCA, ASIC, CySEC, FinCEN, and FINRA. eToro users can trade 78 different coins, including Bitcoin and a selection of the best altcoins. When buying or selling crypto, users simply have to pay a 1% transaction fee plus the bid/ask spread.
eToro also streamlines the trading process by enabling users to create custom watchlists and analyze coins with real-time price charts. Users can employ a selection of technical indicators and even lock up the best staking coins to generate recurring income using eToro's dedicated staking service.
Those looking to buy Bitcoin right away can fund their accounts with as little as $10 using a credit/debit card, bank transfer, or e-wallet (e.g. PayPal, Skrill). Deposits are free to make, and eToro even offers 'fractional investing' – meaning users can invest in BTC from just $10 per position.
Crypto assets are a volatile investment product. Your capital is at risk.
Should I Buy Bitcoin Now? Our Verdict
In conclusion, is Bitcoin a good investment? Like many of the best future cryptocurrency projects, Bitcoin's value has decreased substantially over the past year due to adverse macroeconomic factors. Whilst sentiment towards the coin may have been bullish before, it certainly isn't now.
In our opinion, Bitcoin undoubtedly still has a role to play in the crypto market's growth – yet not as big a role as it has had previously. Bitcoin's 'first-mover' status has paved the way for new and exciting projects to take centre stage, gradually pushing the coin towards the back of the pack.
The coin's lack of utility and outdated validation process has made it difficult for the project to innovate and keep up with the likes of Ethereum and Solana. Moreover, there are now hundreds (if not thousands) of tokens that can facilitate decentralized payments, so Bitcoin's 'unique selling point' (USP) is no more.
We do believe that Bitcoin can increase in value over the coming years since it is favored by financial institutions, meaning that it'll likely be the go-to for investment products (e.g. ETFs) focused on crypto. However, retail investors looking to get rich off crypto are best looking elsewhere.
Reasons Why Bitcoin BSC May Outperform Bitcoin
Now that we've provided our thoughts on the question of "Is Bitcoin a good investment?", let's look at some alternative coins.
Given the saturated nature of the market, finding the next big crypto can be challenging. However, we've identified a promising project that has already generated massive attention among investors.
Bitcoin BSC - The New-Age Staking Token on Binance Smart Chain With High APY Rewards Raised $200K in Three Days
Bitcoin BSC (BTCBSC) is the latest staking crypto that has caught investor attention with its quick reward distribution and a foundation built on Bitcoin's principles.
Moving away from Bitcoin's energy-draining Proof-of-Work system, BTCBSC leverages a Proof-of-Stake model. This allows users to earn money by holding tokens and offers a greener alternative to Bitcoin.
Within three days of going live, the project has raised over $200,000, with a launch price of only $0.99 per token.
The industry's reaction to Bitcoin derivatives has been optimistic, as seen in similar projects like Ethereum's BTC20, which pumped by 700% after its Uniswap debut.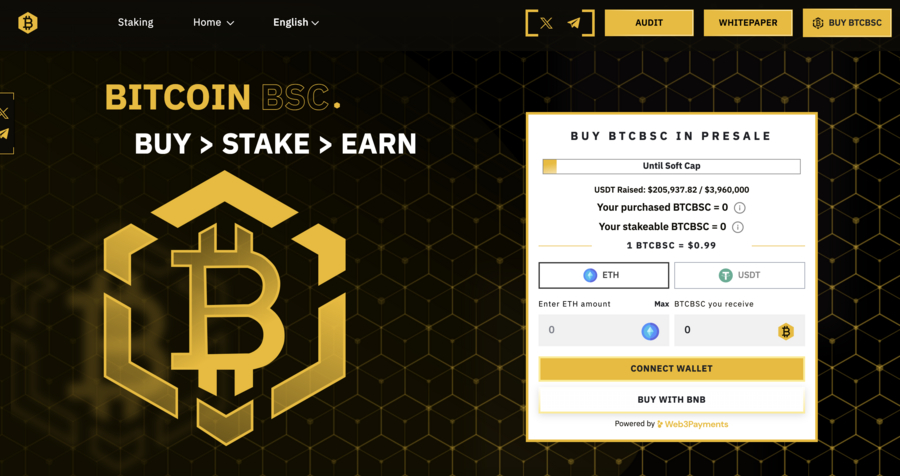 The Bitcoin BSC whitepaper states that BTCBSC gives out staking profits every 10 minutes. So, how does it work? Your percentage of total tokens in a pool determines your cut of the rewards, making this an exciting option for early adopters.
The platform offers an Annual Percentage Yield (APY) of over 2,000% at press time.
The token's design has a 21-million token, similar to Bitcoin. Out of these, 6.125 million are offered in the presale phase.
The presale has begun with 4 million tokens, with an additional 2.125 million on hold to meet excess demand in the next stage. The remaining tokens are set aside for staking and will be vested over 120 years.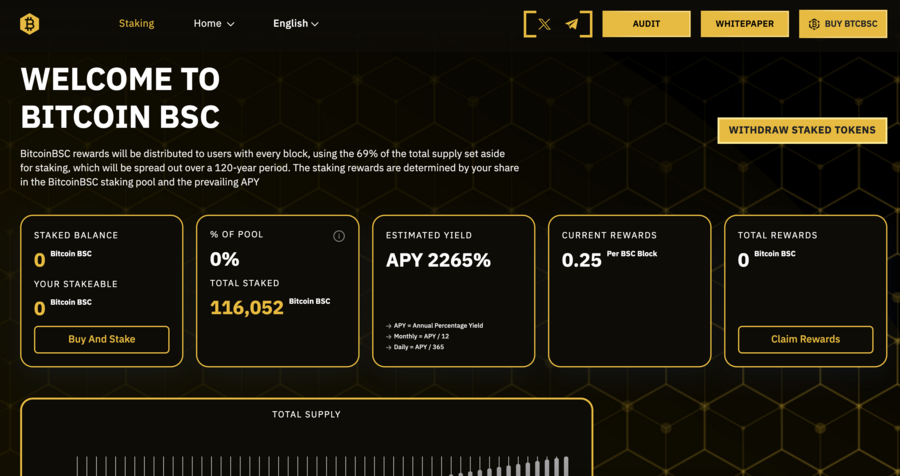 The project runs on the cost-effective Binance Smart Chain, which offers superior speed and affordability over Bitcoin. Any unsold tokens in the presale will be redirected to benefit the staker community.
For the latest updates, consider joining the Bitcoin BSC Telegram group.
| | |
| --- | --- |
| Presale Started | September 5 2023 |
| Purchase Methods | ETH, USDT, BNB, Credit Card |
| Chain | BNB Smart Chain |
| Min Investment | $10 |
| Max Investment | None |
References:
https://www.forbes.com/uk/advisor/investing/cryptocurrency/bitcoin/
https://coinmarketcap.com/currencies/bitcoin/
https://fortune.com/2021/04/25/bitcoin-btc-value-drop-use-case-currency-digital-gold/
https://www.statista.com/statistics/326707/bitcoin-price-index/
https://www.bbc.co.uk/news/business-62246367
FAQs
Is Bitcoin still worth investing in?
Bitcoin may still be worth investing in for those seeking exposure to the digital currency market. Although Bitcoin's explosive growth may be a thing of the past, it has shown an ability to outperform other asset classes – making it a suitable option for risk-seeking investors.
Is Bitcoin a good investment long term?
If Bitcoin were to be considered a good investment over the long term, we'd need clarity in the regulatory landscape. The rules around BTC are still unclear in many countries, which has stifled growth. If this were to clear up, we could see the sentiment around BTC become bullish once more.
Will Bitcoin go back up in 2023?
It's doubtful that Bitcoin will go back up in 2023, as rising interest rates and the FTX crash have both led to a 'risk-off' sentiment towards crypto. However, this may change in 2023 if the economic conditions become more suitable.
Can you make money from Bitcoin?
Yes – like all investment assets, Bitcoin has a value dictated by supply and demand forces. This means that if someone were to buy Bitcoin and the price increased, they could sell their Bitcoin holdings and make a profit.
---