IOST Joins HAVAH as Validator, Expanding Boundaries in Next-Gen Interchain Ecosystem
Disclaimer: The text below is a press release that is not part of Cryptonews.com editorial content.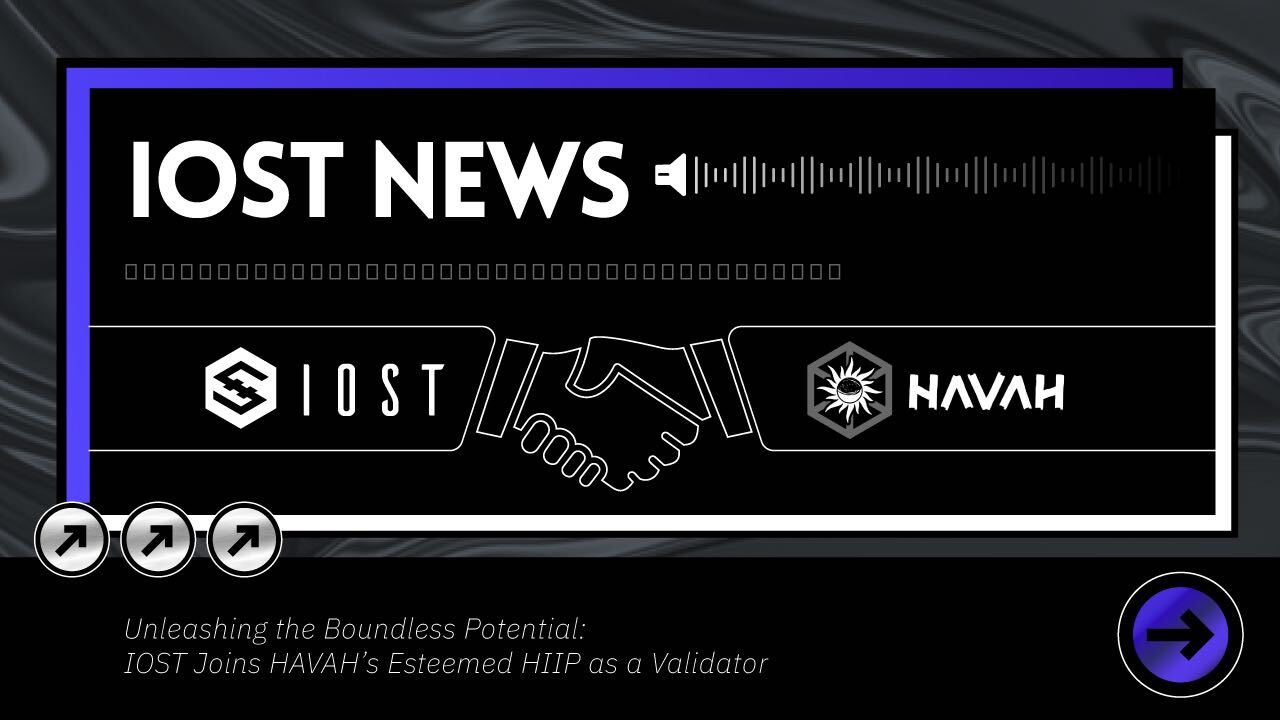 Singapore-based enterprise-level blockchain application platform IOST proudly announces its partnership with HAVAH, the Next Generation Interchain Platform, as a validator in their esteemed HIIP (HAVAH Interchain Infra Partners) program. This collaboration marks a significant milestone in the evolution of both platforms, unlocking new possibilities and pushing the boundaries of the decentralized ecosystem.
HAVAH's revolutionary interchain bridge empowers users to seamlessly bring their non-fungible tokens (NFTs) from different chains into their ecosystem. By doing so, users gain access to a wide range of benefits within HAVAH. They can proudly showcase and explore their diverse NFT collections, tap into the potential of NFTs in decentralized applications (DApps), and actively engage in the thriving HAVAH ecosystem.
With a mission to create a dynamic playground for NFTs, HAVAH is focused on key tasks such as setting up the mainnet, refining the interchain NFT transmission protocol, and launching innovative DApps. This strategic partnership with IOST, backed by prominent global USD investment institutions including Sequoia, Matrix Partners, and ZhenFund, brings together the expertise and technological advancements of both platforms.
IOST's participation as a validator within HAVAH's HIIP program ensures robust block verification and network stability within the HAVAH ecosystem. The collaboration also fosters technical cooperation and research, enabling the integration of state-of-the-art features like BTP, INTP, and POB(Proof-of-Believability) mechanisms, as well as seamless compatibility with the Ethereum Virtual Machine (EVM). Together, IOST and HAVAH are actively working towards establishing a strong network pipeline in the global WEB3 region, driving the growth and adoption of decentralized applications and services.
Community engagement is a key focus of the partnership, with efforts dedicated to fostering exchanges and interactions within both the Korean market (HAVAH) and global regions (IOST). By creating a vibrant and inclusive community, the collaboration aims to raise awareness, provide education, and promote widespread adoption of the respective platforms.
The IOST team remains committed to the vision of a future where digital assets can be freely utilized without network constraints. Through their partnership with HAVAH, IOST is excited to contribute to the evolution of the decentralized ecosystem and unlock new opportunities for users.
As HAVAH continues to pave the way for the limitless future of NFTs in the metaverse, users are invited to unleash their NFTs and experience the infinite possibilities within this groundbreaking interchain ecosystem.
About IOST: IOST is an enterprise-level blockchain application platform founded in 2017. Headquartered in Singapore, IOST boasts support from globally renowned USD investment institutions, positioning itself as a trusted solution for online service providers.
About HAVAH: HAVAH is the Next Generation Interchain Platform that enables seamless integration of non-fungible tokens (NFTs) from various chains. HAVAH aims to create a dynamic playground for NFTs, where users can showcase their collections, engage with innovative DApps, and contribute to the thriving HAVAH ecosystem.
---