Interest in Bitcoin Spikes Following Major TV Show in the U.S.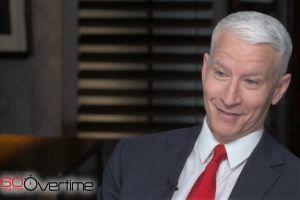 Google searches for 'bitcoin', 'what is bitcoin' and 'how to buy bitcoin' increased after one of the most popular American television shows, 60 Minutes aired a program dedicated to the most popular cryptocurrency on Sunday. Meanwhile, the cryptoland is now getting ready for its new 'citizens'.
Searches for 'bitcoin':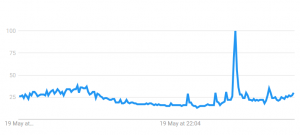 However, interest in Bitcoin in the U.S. was higher in the beginning of last week when Bitcoin price hit USD 8,000.

Meanwhile, searches for 'what is bitcoin' (blue line) hit a weekly high, while 'how to buy bitcoin' (red line) spiked also, but didn't beat previous searches in the past seven days.

According to CBS, last season, 60 Minutes made Nielsen's weekly Top 10 List 22 times – 9 of them at #5 or better and the broadcast drew an average of 11.4 million viewers.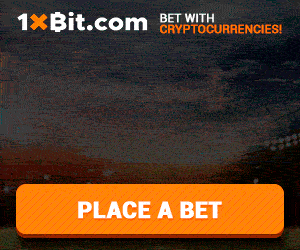 Bitcoin trades at around USD 8,000, almost unchanged in the past 24 hours (05:45 UTC). It's up by 12% in the past week.
In the most recent show, famous American journalist Anderson Cooper reported on how Bitcoin was started, where it may go and some of the people who have ridden the cryptocurrency roller coaster over the last 10 years.
He talked to Charlie Shrem a Bitcoin advocate, a founding member of the Bitcoin Foundation, who was pronounced one of bitcoin's first millionaires. Other show participants included Neha Narula, Director of the Digital Currency Initiative at the MIT Media Lab, programmer Laszlo Hanyecz, who paid another Bitcoin talk forum user for two Papa John's pizzas for the low, low price of 10,000 BTC (worth about USD 25 at the time and about USD 80 million now,) Marco Streng, CEO of Bitcoin mining company Genesis Mining, and Lael Brainard, a member of the U.S. Federal Reserve's Board of Governors.
__
Charlie Shrem was one of bitcoin's first millionaires, starting a business called "BitInstant" that helped people obtain bitcoins. But poor management and bitcoin's volatile landscape put BitInstant out of business and made Charlie a felon https://t.co/PdLLTbEk9b pic.twitter.com/8auE3W9VtK

— 60 Minutes (@60Minutes) May 19, 2019
Will cryptocurrencies someday be mainstream, just as important as email? MIT's Neha Narula thinks it's possible https://t.co/z2v01yV5Zz pic.twitter.com/aPN81qljH0

— 60 Minutes (@60Minutes) May 19, 2019
__
Bitcoin was worth less than a penny when Laszlo Hanyecz was trading it for pizza. If he'd held onto all his bitcoin instead, he'd now have hundreds of millions of dollars. He tries not to think about that https://t.co/HcF6DJoCu3 pic.twitter.com/cInuQmv6RO

— 60 Minutes (@60Minutes) May 19, 2019
__
Closely guarded warehouses in Iceland house the record, blockchains, of cryptocurrencies. In industry lingo, they're called "mines." https://t.co/ODMMnPeQnp pic.twitter.com/2N1vcIbklq

— 60 Minutes (@60Minutes) May 19, 2019
_________
Watch the latest reports by Block TV.
This is how the cryptoland reacted to the show:
"Honey, you hear about this? Only 21 million shares!"

— ฿ully (@BullyEsq) May 20, 2019
__
In the 60 Minutes piece on Bitcoin, a Federal Reserve governor couldn't respond to @AC360's question about central bankers' manipulation of US dollars.

Instead she decided to talk about FDIC insurance and "legal protections." 😂😂

LONG BITCOIN, SHORT THE BANKERS!!

— Pomp 🌪 (@APompliano) May 19, 2019
__
Did you watch @60Minutes tonight and come away with a lot more questions such as "what is Bitcoin?" "how does bitcoin work?" and "why should I care about the monetary system, it seems to work fine for me!"
Those answers and more await you at https://t.co/8ZsrcEwSfa

— Jameson Lopp (@lopp) May 19, 2019
__
This Bitcoin "60 Minutes" feature is BULLISH. pic.twitter.com/TkR7qXkaRD

— Jeremy Gardner (@Disruptepreneur) May 19, 2019
__
Summary of 60 Minutes Bitcoin exposé:

Number go up

— Randy 🧢 (@nondualrandy) May 19, 2019
__
60 Minutes just aired a free commercial for Bitcoin. Great press for Bitcoin owners looking to sell to CBS viewers who may be suckered into buying based on this very one-sided segment. At a minimum CBS owed its audience a healthy degree of skepticism. Very bad reporting as usual!

— Peter Schiff (@PeterSchiff) May 20, 2019
__
For some reason, my family thinks of Bitcoin like the company stock for @TokenSoftInc. My mother's take on the 60 minutes segment below. pic.twitter.com/I4AgiQP0go

— Mason & Co. (@masonic_tweets) May 20, 2019