Inside the ICO Pitch Competition: Rock 'n' Roll and Deafening Gong
Blockchain is an amazing technology that has already given birth to some breathtaking projects that promise to change the way we live and work. But what's even more mind-blowing about this technology is the way it oils up the cogs in the human brain, how it gets a person's creative juices flowing and how it inspires people to think of (sometimes crazy) new ideas.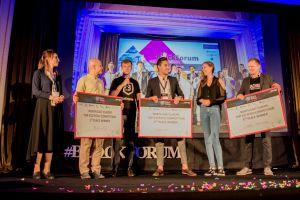 We were lucky enough to witness this firsthand, during the Block Forum conference, that took place last week in Vilnius, Lithuania.
A part of the conference was reserved for an ICO (initial coin offering) pitch competition, where a total of 15 participants from different countries came to present their ideas and their work to a panel of judges. The winners would be awarded handsome prizes to push their idea even further into the waters of success.
The panel of judges included the likes of Miko Matsumura, co-founder of the Evercoin exchange, Ryan Wang, founding partner at Outpost Capital, the Silicon Valley-based venture capital fund, and Suppoman (Michael Suppo), one of the top cryptocurrency youtubers.
Each contestant was given fives minutes to present their work as concisely and precisely as possible, and the goal was always the same – to impress the judges and get them to support the project, while having a great time in the process.
The competition itself was a blast, from companies looking to create new currencies, across those wanting to simplify how small and medium-sized businesses buy non-essential goods, to revolutionary ones aiming at completely changing how gamers find games, play them, review them and share gaming content amongst themselves.
The presentations showcased the full spectrum of human creativity, with a healthy dose of humor and just the right pinch of awkwardness.
So, we've had people screaming "BLOCKCHAIN AND ROCK AND ROLL, BABY!!!" on stage (which was both hilarious, and awkward, depending on how much you were paying attention to the entire presentation), we've had a few tiny technical difficulties with the clicker (I don't think we've had a presenter who hasn't, at least once during the presentation, said 'what is wrong with this clicker?', which was harmless to the contestants, and amusing to say the least), and we've even had this magical genius person that moved his slides around just by waving his hands in the air.
The particularly funny thing was when he waved at the wrong direction at one point, skipping a slide, and then laughing out loud as he waved backwards to get to the right slide.
Oh yeah, and the event's moderator, Founder and Chairman of World Tokenomic Forum, an organization for "enabling public-private cooperation <...> in a token and blockchain based global economy", Chris J. Snook, had a real-size gong to bang onto when each of the contestant's time was up. If you don't know who Chris is, let's just say he's a relatively big man who enjoys smacking gongs with full force when you least expect it.
Thanks Chris, I still have this buzzing sound in my ears!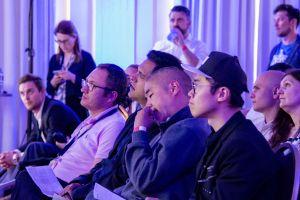 The judges themselves have had but a few moments to agree on who the winner was, and according to the hosts, it was a landslide victory. The number one spot was miles away from second and third place, which were as well, additional miles away from everyone else.
We didn't get to see any detailed numbers, but what we do know is that the first prize went into the hands of Samat Galimov of RAWG.
Samat was the telekinetic genius that moved the slides around with his hands, to the amusement of the entire venue. His project, RAWG, is a video game discovery site, which aims to build the most comprehensive database, powered by personal player experience.
Unboxed, a developer of a blockchain based system that allows businesses to pay you directly for using your influence, was second, while CHRG Network, a developer of a blockchain-based electric car charging solution, was third.
The top three projects get to share the prize pool of other competitors' tokens (50% of the entire pool). Tokens distribution to winners will happen every half-year until all competitors' tokens are collected and distributed, or two years have passed. The winners were also promised marketing help, as well.
Other participants of the competition were: Golden Currency, Zeew, DBF Connect, CryptoPolice, Mobio, Procurean, N.exchange, Aceso, EF EVE, Iagon, Desico, and CryptoAds.
---