InQubeta (QUBE) Shoots for the Moon as Dogecoin (DOGE) and Shiba Inu (SHIB) Lose Momentum
Disclaimer: The text below is a press release that is not part of Cryptonews.com editorial content.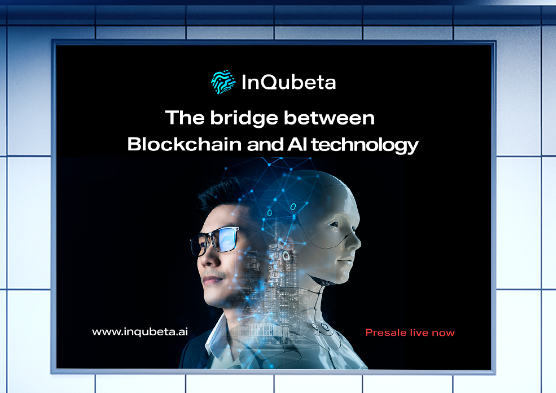 The crypto landscape constantly changes, welcoming new players with the potential to revolutionize the market.
InQubeta (QUBE) is one such rising star that is captivating the attention of crypto enthusiasts. With Dogecoin (DOGE) and Shiba Inu (SHIB) losing their once-soaring momentum, InQubeta is on a mission to shoot for the moon.
InQubeta is setting the pace and racing ahead to become the best crypto investment around. This leading DeFi coin is on the path to changing the way we think of AI and crowdfunding by merging these two sectors.
From offering fractional investments to providing opportunities to own and trade trending NFTs, InQubeta is topping the charts with its unique value proposition.
InQubeta (QUBE): Fueling Innovation and Growth
InQubeta is a blockchain DeFi project that aims to fuel innovation and growth in the crypto industry. With its visionary approach and advanced technology, InQubeta has quickly gained recognition among investors and enthusiasts.
The platform offers a wide range of solutions that address funding limitations in the AI industry. InQubeta's unique value proposition offers all investors access to AI startups looking to raise capital.
Doing so provides a platform that benefits investors and companies, with both parties looking to profit.
The most prominent feature of this DeFi project is its NFT marketplace, where the holder of its native token, QUBE, can buy, sell, and trade rewards and equity-based NFTs.
They can also stake these NFTs to earn from a rewards pool funded by buy-and-sell taxes.
The ongoing presale of QUBE is surging, with sales surpassing $200k just a few weeks after its launch.
InQubeta's upward trajectory positions it as a serious player to watch in the quest for innovative and profitable cryptocurrencies.
With such an impressive rise, QUBE is set for significant uptake and gains in the future.
Dogecoin (DOGE): From Meme to Reality
Once hailed as the ultimate meme coin, DOGE took the crypto world by storm with its adorable mascot and viral internet presence.
However, the initial hype has subsided, and Dogecoin faces challenges maintaining its momentum.
Introducing other meme coins with better value propositions and utility into the crypto industry is causing DOGE to lose its once-unique competitive edge.
Industry experts have also noted the cryptocurrency's inflationary model, which is increasingly becoming an issue.
Unlike other tokens, Dogecoin has no cap on its supply, meaning that with every block created on this platform, more tokens are introduced on the blockchain, devaluing them.
The recent decline in the value of this once prominent DeFi project has raised concerns among investors, prompting them to explore alternative opportunities that offer better stability and potential for growth.
It is becoming more critical for the team behind Dogecoin to evolve to remain relevant.
Shiba Inu (SHIB): Community-Driven With a Playful Spirit
In the battle of meme coins, Shiba Inu is a strong contender, having been previously described as a "Dogecoin Killer".
However, SHIB has struggled to sustain its initial hype as time progresses. While Shiba Inu boasts an active community and a playful narrative, its value has experienced a downward trajectory.
Investors increasingly seek projects offering more substance and tangible value beyond a catchy backstory. Shiba Inu is taking the initiative, providing more utility for its users.
Its decentralized exchange, Shibaswap, offers impressive features, including trading with SHIB and BONE, its governance token.
SHIB is experiencing even more volatility and unpredictability than usual. Although the token is deflationary, its maximum supply of about 1 trillion is still too high for crypto standards.
Conclusion
InQubeta is emerging as a formidable contender, stealing the spotlight from cryptocurrencies like Dogecoin and Shiba Inu, which are experiencing a loss of momentum.
With its innovative technology and robust ecosystem, InQubeta has the potential to shoot to the moon and reshape the crypto space.
While DOGE and SHIB captured attention with their memes and catchy narratives, their long-term sustainability remains to be determined.
Investors are now looking towards InQubeta's promising features and forward-thinking approach as a solid investment opportunity.
Its presale is the first step towards widespread market adoption and becoming the best crypto investment with excellent growth potential.
---