InQubeta (QUBE) Shakes Up the Crypto Scene Sparking FOMO Among Monero (XMR) and OKB (OKB) Holders
Disclaimer: The text below is a press release that is not part of Cryptonews.com editorial content.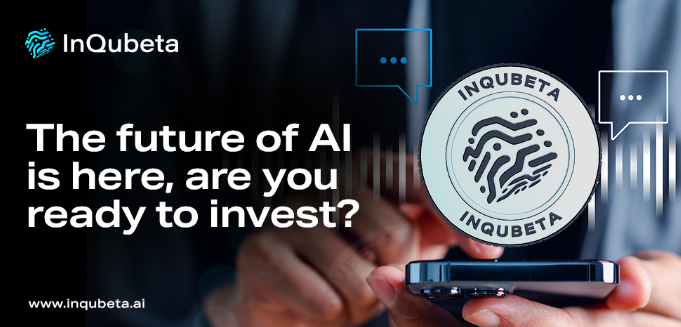 The InQubeta (QUBE) presale is sparking up lots of FOMO as a growing number of OKB (OKB) and Monero (XMR) investors dump their holdings to purchase more QUBE tokens.
It's the rational thing to do given how stagnant many altcoin prices have been all year, despite Bitcoin (BTC) and Ethereum (ETH) growing by 40% in 2023.
Investors who are tired of seeing their portfolios remain stagnant are capitalizing on the opportunity to 4x their holdings during InQubeta's presale.
InQubeta prices are also expected to rise exponentially once its presale is over and it's officially launched.
The success of the InQubeta presale is mirroring the growth the artificial intelligence (AI) industry has enjoyed in the past several years.
Total investments in AI companies were only $12.75 billion in 2015 but rose to $119 billion by 2022.
Investments are expected to keep pouring into the AI space with total investments expected to reach $1.5 trillion by 2030.
As impressive as these numbers are, millions of people aren't able to invest through mainstream channels thanks to entry barriers like minimum investments that are more than the average person's yearly income.
InQubeta Presale Shaking Up Cryptocurrency Scene
Artificial intelligence is emerging as the next major technology breakthrough as AI-powered tools become more viable.
The innovations already made in the sector are extremely impressive, from self-driving cars to autonomous robots that clean the different floors in a home.
Many of the AI companies entering the market today will go on to change how the world works, much like the internet did in the late 90s.
Explaining to the average person how services like Netflix's streaming services would work would have been impossible in the early 90s, but it's now one of the biggest content platforms.
A $10,000 investment during the company's initial public offering in the early 2000s would be worth over $5 million today.
There's no question that some AI companies will go on to enjoy similar levels of success as their products revolutionize industries.
The InQubeta (QUBE) platform makes it easier than it's ever been for anyone, anywhere to purchase equity in AI startups, bypassing the barriers linked to traditional investment medium.
InQubeta also gives startups an alternative way to raise money for projects. It involves these companies creating non-fungible tokens (NFTs) that represent equity in their companies.
These tokens also sometimes come with additional rewards like profit sharing or early access to products.
Investors purchase these tokens on the marketplace with $QUBE tokens, the platform's native currency.
These tokens have deflationary protocols to protect price growth like a 2% tax added to all marketplace transactions.
The tokens collected from the tax are transferred to burn wallets to be permanently removed from the supply.
InQubeta investors can also raise funds by staking their tokens.
FOMO Hits Monero (XMR) Investors
XMR provides near-instant, anonymous transactions and low fees, making it one of the most efficient cryptos for transferring funds.
XMR has seen more growth than most altcoins since the 2022 crash, but that hasn't been enough to stop investors from looking for greener pastures like InQubeta.
OKB (OKB) Investors Still Looking For Better Options
OKB is one of the select altcoins that have fully recovered since the 2022 crash. Current prices are higher than they've ever been in the past and it's enjoyed about 400% growth since the crash.
However, that doesn't seem to be enough to keep investors content with their holdings as OKB's price growth slows down.
Many are looking to coins like InQubeta that are projected to see exponential growth once launched.
Summary
InQubeta making it easier for investors to purchase equity in AI startups has been a winning formula as it continues to draw investors from other cryptos.
Even OKB's massive growth hasn't been enough to prevent InQubeta FOMO with its investors.
---