InQubeta (QUBE) Presale Surge Leaves Avalanche (AVAX) Polkadot (DOT) Trailing Behind
Disclaimer: The text below is a press release that is not part of Cryptonews.com editorial content.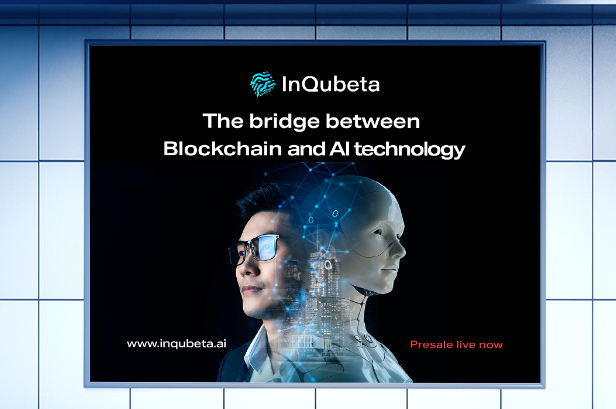 For cryptocurrencies with solid foundations and applications, the past few months have been productive.
When other cryptocurrencies decline, investors who take the time to conduct thorough research find themselves smiling at the bank.
To guarantee that you join a sustainable project before it soars, you should take your time and do your research on the best DeFi token to invest in.
Avalanche (AVAX) and Polkadot (DOT) are popular cryptocurrencies investors have been looking to invest in and maximize their portfolios.
However, InQubeta (QUBE), a new cryptocurrency, has continued to rise since the launch of its presale.
The InQubeta token's unprecedented presale surge has surprised investors, leaving the Avalanche and Polkadot tokens trailing behind.
Please keep reading to learn more about InQubeta's presale token surge and how it has left Avalanche and Polkadot behind.
InQubeta (QUBE) Proving to be More than an AI Crypto
InQubeta is one of the new DeFi projects in the crypto market that has quickly gained the attention of investors because of its innovative approach to decentralized finance.
Since its inception, InQubeta has seen unprecedented growth in its presale. It has gathered over 10,000 Twitter followers and has raised over $290,000 in its ongoing presale, making investors rush to buy the QUBE tokens.
With over 45 million tokens already sold, crypto analysts predict a rise in demand for the InQubeta tokens.
The InQubeta platform aims to revolutionize how AI start-ups raise money and interact with their communities.
The tokens are deflationary, and there is a 2% tax on all buys and sells going to a burn wallet that helps to increase the value of the ERC-20 tokens over time.
Furthermore, QUBE levies a 5% sales tax into a separate rewards pool, allowing investors to stake their tokens and benefit.
InQubeta was created on the popular Ethereum blockchain, which allows QUBE holders to benefit from the security and reliability of the Ethereum network.
Token holders can support the development and prosperity of AI technology start-ups using QUBE, the platform's native token, on an even playing field where investments are more accessible and suitable for various budgets.
InQubeta provides a marketplace where holders may find the best NFTs to buy, with some NFTs related to rewards from and/or investments in AI start-ups.
This ensures a seamless, secure, and efficient transaction, promoting this crowdfunding project's success.
Avalanche (AVAX) Offers Quicker Transaction Times
Avalanche is a decentralized blockchain with smart contract capability. It is a high-throughput blockchain platform for smart contracts.
The platform uses AVAX, its native cryptocurrency, to secure the network and cover transaction costs.
Avalanche offers lower costs and quicker transaction times and can process 4,500 transactions per second.
The Avalanche blockchain can complete transactions almost instantly. Its network is safeguarded by AVAX, which also acts as the system's primary unit of account.
Avalanche is a cryptocurrency and blockchain technology that competes with Ethereum regarding speed and scalability.
The smart contracts platform from Avalanche supports both decentralized apps and independent blockchains.
Polkadot (DOT) Enhances Blockchain Data Sharing
Polkadot is one of the cryptocurrencies that will see significant growth in 2023. It debuted on the crypto scene in May 2020 and has been dubbed the cryptocurrency that will boost blockchain interoperability.
This means that DOT investors can design protocols on their blockchain while each blockchain retains its governance.
The ability of Polkadot to organize transactions across many blockchains will allow for increased scalability.
DOT is ranked 12th on CoinMarketCap and will allow users to send assets and data across multiple blockchains.
Despite the issues impacting other cryptocurrencies, DOT has maintained a decent performance.
Conclusion
It is an excellent time for investors to board the InQubeta train to access crowdfunding opportunities and buy the best NFTs.
With an investment ecosystem focused on providing transparent and secure investments, InQuebeta is an excellent alternative for anyone looking to invest in one of the most promising DeFi projects.
The surge in the InQubeta token's presale shows its strong value proposition and the growing interest in AI-focused investments.
InQubeta has the potential to become the next major crypto hit, giving high returns to early investors.
InQubeta is an excellent DeFi token that meets profitable investment criteria. Join the AI revolution now.
---