InQubeta (QUBE) Could Experience a Bigger Growth Than Top Players Like Ethereum (ETH) According to Crypto Whales
Disclaimer: The text below is a press release that is not part of Cryptonews.com editorial content.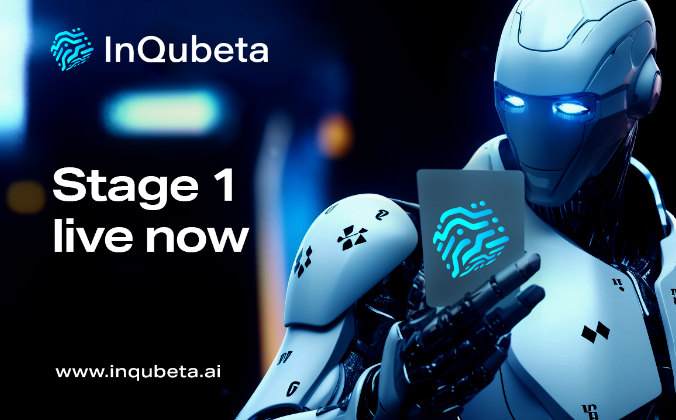 Ethereum (ETH) is a top player in the crypto scene. Investors are constantly on the lookout for the next utility project with the potential to match or surpass its growth.
While numerous tokens have failed to meet this expectation, InQubeta (QUBE) has been predicted to have all it takes to experience bigger growth than Ethereum.
To learn more about this project poised to skyrocket and why you should invest in it, continue reading.
InQubeta (QUBE): The New AI Token to Skyrocket
AI usage and popularity are currently on the rise, with InQubeta emerging as the new focus. InQubeta is the world's first blockchain-based crypto crowdfunding platform.
Through the platform, AI entrepreneurs can seamlessly conduct fundraising for their projects. InQubeta has hit the ground running by recording instant presale success.
Analysts believe the project's protocol is well on its way to adoption and its deflationary token is bound to skyrocket.
InQubeta's novel concept is centered around crowdfunding for AI startups and investment for members.
Through its innovative platform, startups will be able to seamlessly raise much-needed funds for their projects, while members will be able to browse and invest in promising projects.
Its marketplace will form an important part of its ecosystem as projects will be able to mint investment opportunities which token holders can fractionally invest in.
InQubeta's fractional investment model will allow members to partially invest in the next big AI projects, which will in turn produce significant returns.
The deflationary nature of the InQubeta (QUBE) token means its supply will reduce over time and drive its price uptrend.
The benefits of holding InQubeta (QUBE) tokens include staking rewards and voting rights, making it a utility token and bullish.
The presale is currently in its stage 1 and costs $0.00875 per token. Over $500,000 has been raised in just a few weeks, which is proof of its popularity and growth potential.
According to experts, the gains from InQubeta (QUBE) will be significant and have the potential to soar 40x when it launches.
With its smart contract audited by Hacken, KYC audit by Block Audit and tokens to be vested for 12 weeks, investors can be confident about their investment.
Ethereum (ETH) is a Top Crypto and a Blue-Chip Token
Ethereum (ETH) is undoubtedly a blue-chip token, trailing only Bitcoin (BTC) in the crypto market.
The open-source blockchain and its native token, Ether (ETH), have witnessed massive adoption and growth since its launch.
By investing early in Ethereum, investors would have enjoyed over 61,000% returns on investment if purchased at its launch or earliest price.
Additionally, Ethereum is trading in an uptrend from its opening price in January, which indicates that it is a great investment.
The bear cycle has seen Ethereum experience a price decline. In addition, considering its recorded growth, there are fears that Ethereum might not be able to replicate its past success.
This has led investors to InQubeta (QUBE), a new token with strong fundamentals that experts have predicted could have bigger growth than Ethereum (ETH).
Conclusion
It won't be an easy feat to surpass Ethereum's growth, but if any token could, it would be InQubeta's QUBE.
The increasing adoption and acceptance of AI and blockchain will play a great part in InQubeta's growth.
According to experts, investors should be poised for a bullish ride with InQubeta as it is likely to surpass that of Ethereum.
To be a part of this success, you should participate in its presale and enjoy significant profits during its presale and after launch.
---