Increased Bitcoin Volatility Ahead - Research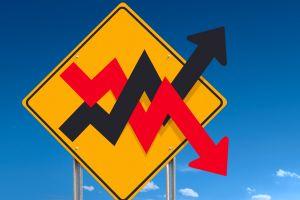 Bitcoin dropped by more than USD 100 on Sunday, moving below USD 3,550 before recovering to almost USD 3,600 on Monday morning. However, a new research findings suggest volatility might even increase. At the same time, Japanese regulators deny they're considering approving crypto ETF.
According to the Boston-based crypto analytics provider Flipside Crypto, a large number of bitcoin holders who haven't touched their coins for more than two and a half years are now starting to move. Speaking with Bloomberg, Flipside Crypto's head of data science, Eric Stone, said the supply of "active bitcoins" in the market has increased by 40% since the summer of 2018.
The trend has now moved so far that around 60% of the entire bitcoin supply is currently being held by wallets that have been active in the last 30 days.
According to Stone, the same phenomena also occurred prior to the large price swings in the bitcoin market in 2015 and 2017. As is well-known, that price move brought bitcoin to an all-time high of nearly 20,000 USD in 2017.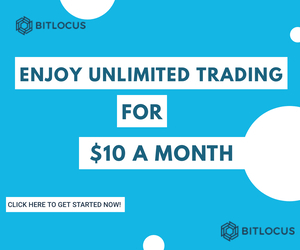 He further added that "It's definitely a big shift [...] There's more potential than usual for price swings." The question now is whether that will be up or down.
As previously reported, a new triangle-shaped chart pattern may signal lower prices ahead. Moreover, despite the recent sell-off, New York based research company Delphi Digital confirmed yesterday that their previous forecast that Bitcoin to bottom out in the first quarter of this year still stands.
Bitcoin price chart: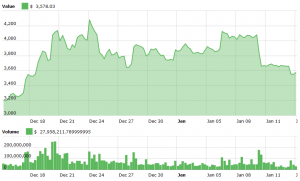 Meanwhile, cryptocurrency researcher Willy Woo thinks that bitcoin is still looking for the bottom:
To balance out my pessimism, here's a summary to the bull side by @renato_shira. Many of our on-chain indicators suggest the bottom may be near. While I don't concur with this conclusion, I like the analysis, it's a good summary of the bull case.https://t.co/Qp2A5OjebF

— Willy Woo (@woonomic) January 14, 2019
In separate news, a spokesperson from Japan's Financial Services Agency (FSA) told News.bitcoin.com, that "there is no such fact that we are considering approving [Bitcoin] ETFs which track crypto-assets at present […] we are not currently considering approving them."
According to the spokesperson, the agency is of the opinion "that there is no need for trading crypto-assets derivatives at financial instruments exchanges where many market participants are able to trade."
The spokesperson was responding to a report by Bloomberg that the FSA is currently gauging industry interest in ETFs tracking digital currencies.