Income Made Easy: 3 Ways to Earn with TFS Token
Disclosure: Crypto is a high-risk asset class. This article is provided for informational purposes and does not constitute investment advice. By using this website, you agree to our terms and conditions. We may utilise affiliate links within our content, and receive commission.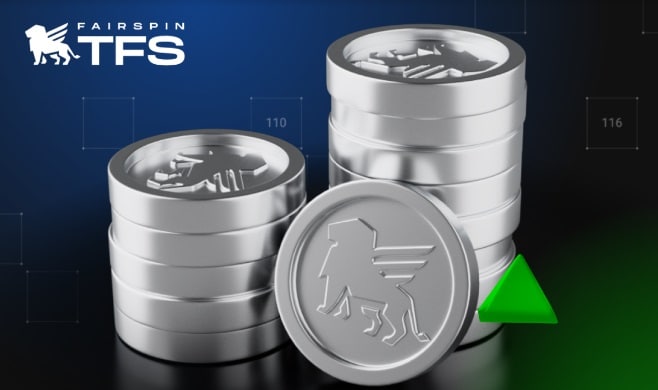 Disclaimer: The text below is a press release that is not part of Cryptonews.com editorial content.
Fairspin, a pioneer of the online casino industry, is leading the way with blockchain integration into online gaming and introducing its own cryptocurrency – TFS Token. These advancements opened new ways for players to generate substantial passive income while enjoying their favorite games and engaging in special programs.
This article will guide you through the lucrative benefits for TFS Token holders and their three proven earning opportunities.
TFS Token: Financial Freedom Unlocked

When it comes to managing your finances, traditional banking systems often involve time-consuming bureaucracy and offer low returns. However, a more rewarding and streamlined alternative is staking. TFS Token provides transparent control over your profits and unlocks a host of benefits compared to conventional banking.
Token Utility: As the primary medium of exchange, TFS Token facilitates transactions, services, and interactions within the Fairspin platform and its affiliated applications.
Hold To Earn program: TFS Token holders can participate in the ​Hold to Earn program and earn a percentage of Fairspin's platform daily income as a reward.
Play To Earn program: TFS Tokens can be earned as a tokenized cashback for playing on the Fairspin platform.
BuyBack Model: Fairspin replenishes TFS Token supply by repurchasing tokens through exchanges or directly from users, contributing to the token's price and value appreciation.
Rewards and Incentives: TFS Token holders can earn rewards for their contributions, like staking yield, transaction fees, and token distribution events, adding extra value to their holdings.
Integration: The TFS Token ecosystem effortlessly integrates with various blockchain networks and protocols, offering extensive utility and opportunities for token holders.
Transparency and Security: The TFS Token ecosystem operates on a secure, transparent public blockchain, guaranteeing visibility and accountability for transactions, data, and user assets.
Empowering users with these features, the TFS Token ecosystem offers a wide array of activities within the Fairspin platform and beyond, delivering value, advantages, and opportunities to TFS Token holders.
A New Era of Smart Investment: Liquidity Staking
Fairspin users have the opportunity to engage in Liquidity Staking, a program to stake TFS Tokens alongside USDT (Tether) stablecoins within TFS-USDT pools on the PancakeSwap DEX.
Liquidity Staking program features a unique reward structure linked to the Gross Gaming Revenue (GGR) generated by the casino. Participants receive a share of Fairspin's Gross Gaming Revenue, with potential rewards increasing as the platform grows and generates higher revenue. More extended staking periods yield higher rewards.
"Importantly, Fairspin's Liquidity Staking program offers flexibility with no minimum or maximum staking periods, allowing users to withdraw or retain their staked tokens and ensuring they continue to receive rewards without the risk of expiration," – comments from Ethan, TFS Community Manager. 
Get Profit from Your Playing Passion
At Fairspin, users can earn TFS Tokens while enjoying games through the Play to Earn program. This feature enables players to monetize their gaming skills by receiving tokenized rakeback as rewards, providing more opportunities the more they play.
Users receive tokenized rakeback as a reward with every bet placed, varying based on the bet size and game category. After each bet, earnings are instantly credited to users' accounts, ensuring a seamless experience.
Unlike conventional models that offer rakeback only on losses and distribute it periodically, Fairspin offers immediate rakeback, regardless of the bet's outcome. Additionally, players can multiply their tokens through the Hold to Earn program.
500% APR: Earn While You Sleep
Engaging in the Hold to Earn program, users can passively earn income by holding TFS Tokens. The potential profits are determined by the number of tokens held and the income generated by Fairspin. The more tokens a user holds, the higher their potential rewards.
The Hold to Earn program offers distinct advantages, such as:
High ​Annual Percentage Rate (APR): The Hold to Earn program offers a high annual percentage rate of 500%, surpassing traditional ​banking rates.
Flexibility: Users can choose from various staking durations, such as 3 days, 1 day, or 8 hours, aligning with their investment strategy or financial goals. Importantly, holders receive a refund of their funds even if the casino generates no profit during the holding period.
Innovative Earning Options: Participants can benefit from Fairspin's innovative earning options, combining traditional gambling with blockchain technology for transparency and security.
Potential for Growth: As the Fairspin platform continues to grow and gain popularity, there's potential for TFS Token value to increase, enhancing overall earnings.
Notably, if users don't earn any tokens during a holding period, their initial token amount is refunded to their wallet.
Community Voice
Fairspin, a respected name in the online gaming community, embodies transparency and trust in crypto casinos. Let's explore some cases of satisfied participants in the Fairspin TFS ecosystem.
Casino Guru, a reputable source for online reviews, applauds Fairspin's exceptional performance, awarding it a commendable rating. Users highly recommend Fairspin's remarkable staking opportunities, featuring APRs exceeding 500%. Additionally, players appreciate the transparency inherent in blockchain technology, which, in their words, makes it "virtually impossible to deceive the player."
For an alternative platform where independent customer voices thrive, Reddit showcases numerous positive reviews of the TFS Token experience, emphasizing its advantageous pricing and potential to enhance mining competitiveness. Fairspin is considered a secure and trustworthy investment platform, garnering attention from players.
How to get started with ​Fairspin's TFS Token?
The TFS Token ecosystem within Fairspin opens doors to various activities, delivering value and opportunities for token holders. Whether you opt for Liquidity Staking for passive income, Play to Earn to monetize your gaming skills, or Hold to Earn to invest your TFS Tokens, the potential for earnings is at your fingertips.
Don't miss out on exploring the TFS Tokens and their rewarding benefits. Starting is easy, and the profit opportunities are incredible.
---