In 2021, Bitcoin To Hit USD 25K, Ether - USD 900 - Median Estimates Of Pre-rally Survey
In October, when bitcoin (BTC) was still below USD 14,000 and ethereum (ETH) was fluctuating around USD 400, majority of the respondents in a survey by Kraken Intelligence, hoped that BTC will hit USD 20,000 in 2021 while ETH will at least be trading higher than the price in October. However, the median estimated BTC price in 2021 is USD 25,000 and USD 900 in the case of ETH.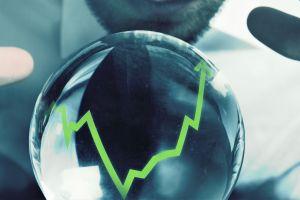 Meanwhile, already in November, BTC hit USD 19,800, and ETH surpassed USD 630.
Kraken Intelligence conducted its second VIP client sentiment survey for 2020, out of which around 72% were investors or traders, 18% institutions (such as broker, custodian, hedge fund, venture capitalist, etc), 4% crypto service providers or miners, and others. There were 323 respondents in total.
After asking the respondents for their 2021 bitcoin and ether price targets, the team found that the average 2021 price target for bitcoin is USD 36,602, while the median price target is USD 25,000. The most commonly submitted target is USD 20,000. Furthermore:
c. 61% of respondents believed bitcoin will meet, if not exceed USD 20,000 in 2021;
c. 20% of respondents reported a price target ≥ USD 50,000;
c. 8% of respondents provided a price target ≥ USD 100,000.
By the time the report came out, bitcoin had already hit a series of all-time highs, correcting since. It's now (10:37 UTC) standing at USD 19,105, having dropped 3% in a day and 1% in a week.
"Participants appear to be even more optimistic of ether's performance next year," Kraken Intelligence said, adding that:
just under 92% think ether will at least be trading higher than current price in 2021;
59% said ether will, at least, hit USD 800;
22% said ether would surpass its previous all-time high of USD 1,595 set in early-January 2018.
ETH is currently trading at nearly USD 599. It dropped 5.3% in a day and 0.7% in a week.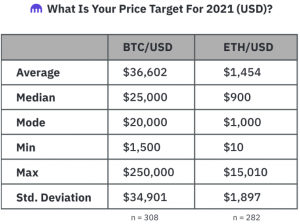 As for the survey-over-survey results, when comparing their first half of 2020 sentiment survey with the second half one, average price target fell from USD 22,866 in H1 to USD 14,886 in H2 for BTC, and from USD 810 to USD 549 for ETH. The average 2021 price target for BTC came in at USD 36,602, and USD 1,451 for ETH.
The latest survey respondents were also asked what they're most excited for over the next 12 months. Approximately 23% said "adoption," with more than half of these pointing specifically to further adoption by institutions and/or corporates. 19% cited "improvements in [E]thereum," specifically in terms of its scalability.
In the third place are improvements in decentralized finance (DeFi), "despite the fact that the vast majority of respondents indicated that they don't own any DeFi tokens, hadn't borrowed from or lent to a liquidity pool, and haven't been using decentralized exchanges." This response, said the report has beaten 'Bitcoin improvements' with 14% share. "This suggests that market participants are optimistic of the road ahead for the ecosystem despite an ongoing 'cooling off period'," they added.
As for other findings, the report highlighted that:
approximately 66% of respondents believe the cryptoasset market is in a bull market;
26% believe we're in a bear market and 9% are unsure;
in comparison, in Q1 2020, 44% of respondents stated that they thought we were in a bull market and 24% signaled a bear market;
asked to list their favorite altcoins, the most commonly cited altcoins were ETH, polkadot (DOT), chainlink (LINK), monero (XMR), and XRP.
asked what DeFi token they owned, most respondents listed uniswap (UNI), chainlink (LINK), yearn.finance (YFI), kava.io (KAVA), and kyber network (KNC);
asked about their usage of liquidity pools and decentralized exchanges (DEX), 93% and 76% of respondents indicated that they had not borrowed from or lent to a DeFi liquidity pool, respectively, and their DEX usage was virtually non-existent.
____
Learn more:
Watch Grayscale Bitcoin Trust For BTC Price Clues - JPMorgan
Crypto in 2021: Institutions Prefer Bitcoin, Retail Open to Altcoins
---