IMPT ICO Raises Massive $15m With Only 4 Days to Go, Listing Price Set 10% Above Presale
Disclosure: Crypto is a high-risk asset class. This article is provided for informational purposes and does not constitute investment advice. By using this website, you agree to our terms and conditions. We may utilise affiliate links within our content, and receive commission.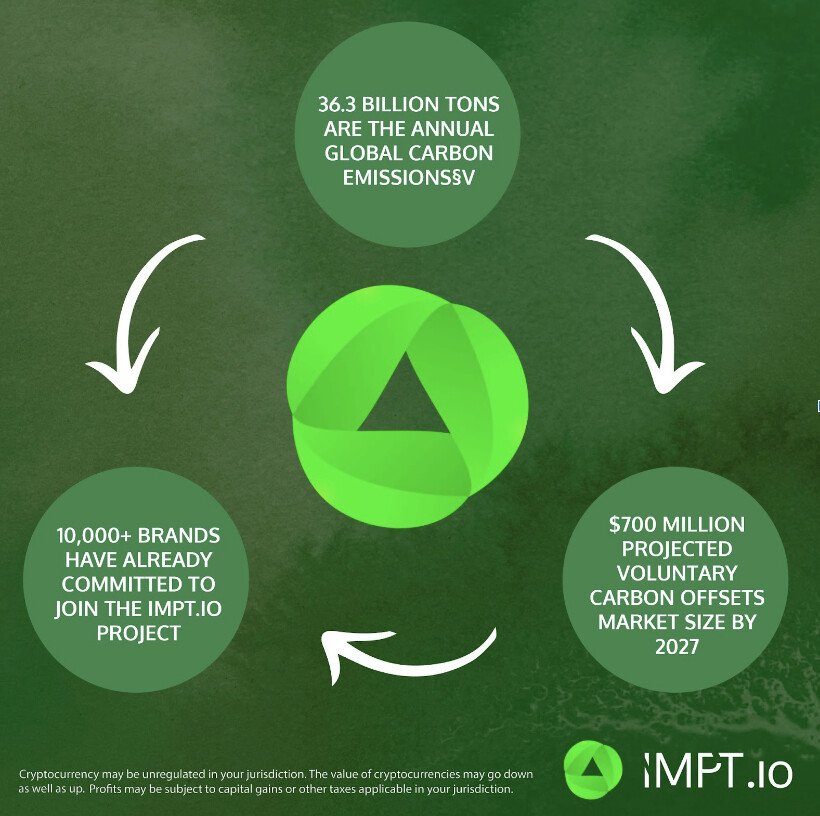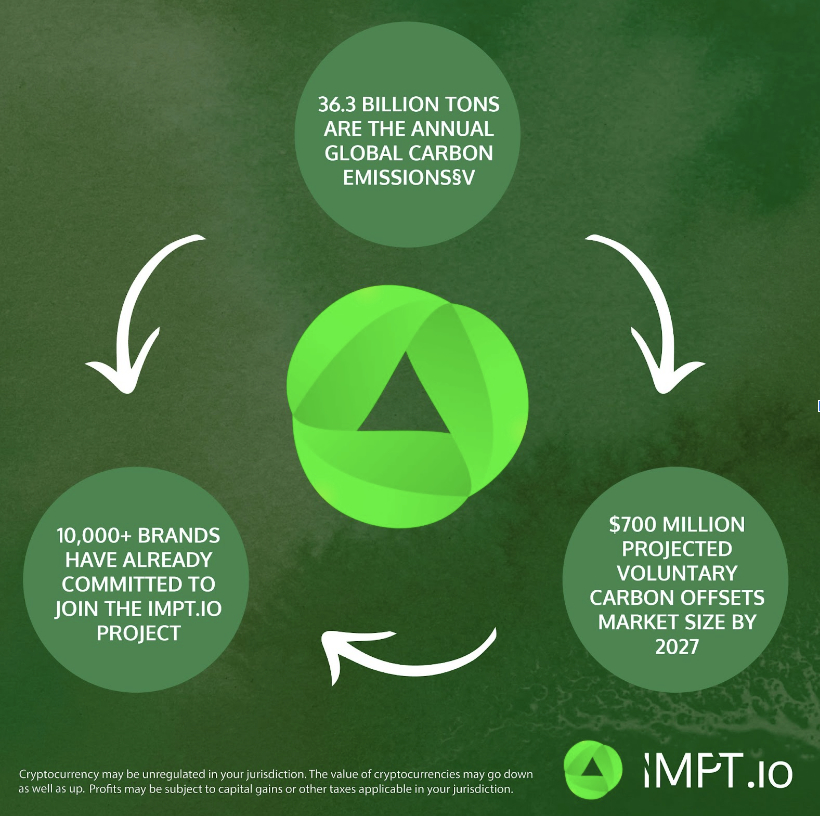 London, England, Wednesday 7th December 2022 – Breakout carbon-offsetting platform IMPT has announced the listing price of its IMPT token will be $0.0253, 10% above the final presale price.
The news comes just five days before the fundraising for the project ends on 11th December. $15 million has been raised in barely two months, with $350k of that amount raised in the past 24 hours alone.
In a message posted on its Discord server, CEO Denis Creighton also added that in addition to listings already agreed with centralized exchanges LBank and Changelly and decentralized exchange Uniswap, to go live on 14th December, a further seven exchanges are in the works.
Only 4 days left to buy at cheap presale price
For those who wish to invest early before the presale ends on 11th December, there is no time to lose.
Connect a crypto wallet at IMPT.io and buy IMPT with ETH or USDT (Tether stablecoin).
Buyers who don't have ETH, can buy using a card securely on the IMPT site, and then make their IMPT token purchase.
In the 1st stage of the presale IMPT was priced at $0.018. In the current second stage, the token is priced at $0.023, so the list price is set at a healthy premium.
Analysts expect the IMPT price to surge at launch, and gains of 10x or more have been predicted, while Creighton emphasizes that IMPT is not a "pump and dump" coin.
Any remaining presale 2 tokens will be burnt and tokens previously allocated to presale 3 stage will be locked for 12 months from the token generation event (TGE) and vested over 12 months.
Investors that take part in the IMPT presale are not subject to any vesting.
Be part of the planet's loyalty program
Creighton says the locking and vesting is to "support Use Case 3", which refers to the discount when using IMPT to make purchases through its affiliate shopping program.
"We are moving part of [the] ecosystem development cycle to next year to allow us [to] get to exchanges now. This ultimately enables us to deliver Use Case 1 and 2 in 2023 and to push Use Case 3 to 2024," explains Creighton.
He continued: "We are doing this due to the current climate and the uncertainty that continues to exist. The FTX crash has caused a volatile reaction and significantly unsettled the market. We are also witnessing an aggressive Bear market which is also not sustainable.
"As CEO, I and the team need to be capable of taking brave, but not reckless decisions, to protect IMPT, its business model and its supporters. We firmly believe that we are on the right trajectory and have to make the correct changes when market conditions shift.
"We are fully committed to making IMPT the success it deserves to be – a platform that offers a simple, affordable and effective mechanism for each member of society to help combat climate change. Be part of the planet's loyalty program."
How and when investors can claim their IMPT tokens
Presale investors will be able to claim their tokens by connecting their crypto wallet to the IMPT.io website on the 12th of December.
IMPT is an ERC-20 token, which means it is compliant with the Ethereum blockchain.
Soon after its DEX launch, centralized exchanges LBank and Changelly Pro will list IMPT.
Amazon joins thousands of retailers in IMPT.io affiliate shopping program
The IMPT.io launch is eagerly awaited. The project has been signing up hundreds of retailers to join its affiliate shopping program, which allows consumers and businesses to acquire carbon credits to offset their footprint.
IMPT aims to partner with 10,000 retailers by launch time.
Retailers already onboard include e-commerce giant Amazon, well-known tech names such as Samsung and Microsoft, fashion outlets River Island and Harry Brown, plus latest joiners, Tripadvisor, Dyson, AEG, not to mention Bloomingdales, Macy's, Dominos, Lego, and many more.
Managing carbon offsetting and carbon credits the easy way and at scale
When you shop using the IMPT web widget or mobile app, your chosen participating retailer will donate a portion of the purchase amount to a vetted green project.
Alongside the widget and app, the platform includes a marketplace where consumers and businesses can retire their carbon credit by easily 'burning' it on the blockchain.
Those who retire their credits receive in return a unique collectible NFT designed by a recognized artist that is also tradable.
If you don't want to retire carbon credits, they can be held as an investment or traded – all on the IMPT marketplace.
Join the carbon-offsetting revolution by supporting the pathbreaking IMPT.io platform.
---