Immediate Bitwave Review 2023 – Scam or Legitimate Trading Software
Disclosure: Crypto is a high-risk asset class. This article is provided for informational purposes and does not constitute investment advice. By using this website, you agree to our terms and conditions. We may utilise affiliate links within our content, and receive commission.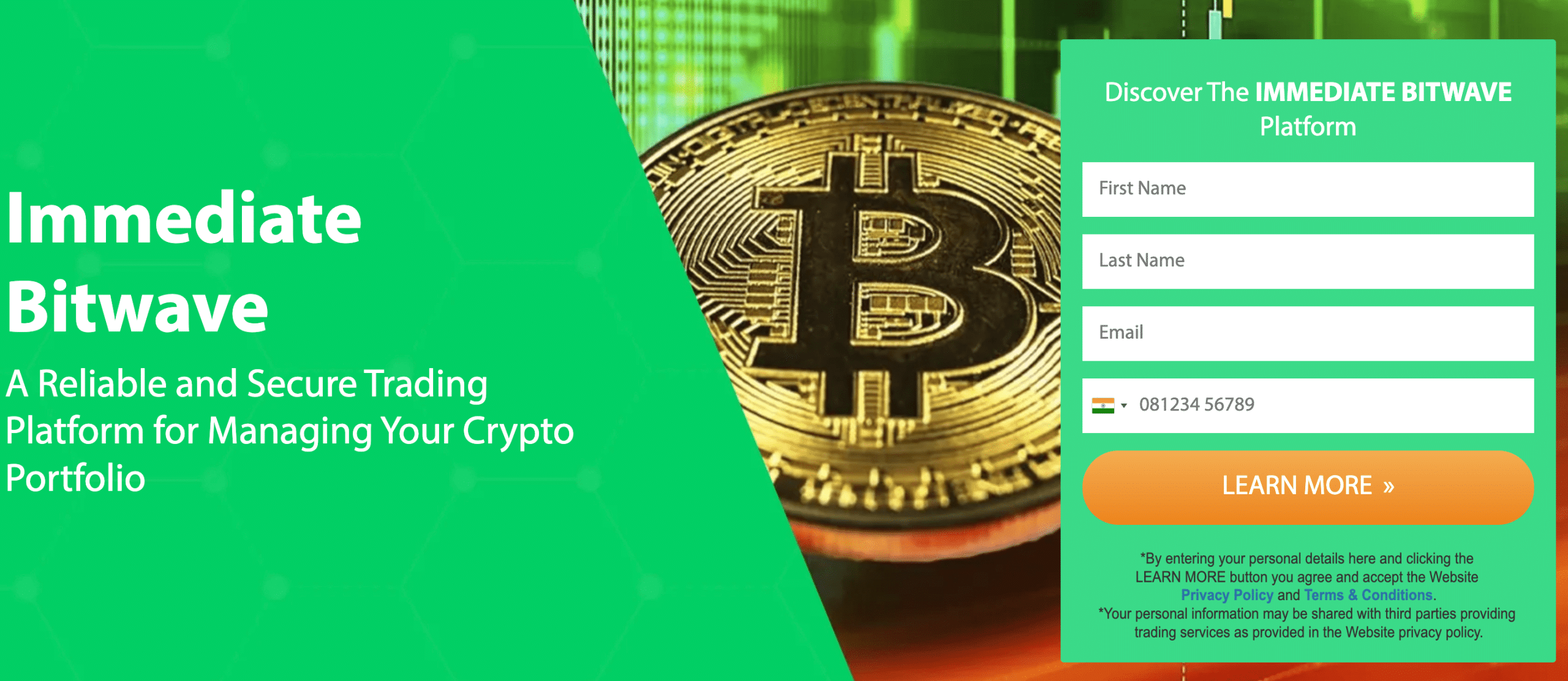 Disclaimer: The text below is an advertorial article that is not part of Cryptonews.com editorial content
Immediate Bitwave states that it is a reliable and secure trading platform for managing one's crypto portfolio. Per the website, that is possible due to the interplay between the platform's tracking facilities and secure trading utilities, complete with "loads of" information and insights.
But how true are these claims? This Immediate Bitwave review will look into these assertions to see whether it is legit or is simply riding the wave of scam-filled crypto applications.
Immediate Bitwave Summary

Before we dive into assessing the facilities that Immediate Bitwave promises to provide, here are some key details to know:
| | |
| --- | --- |
| Supported Crypto | Bitcoin, Dogecoin, Cardano, and 30 other cryptocurrencies |
| Accuracy Rate | It is not an autonomous trading application |
| Available on Mobile | No mobile app is available |
| Fees | Not mentioned |
| Customer Support | Available 24/7 |
| Withdrawal Speed | Claims to be instant |
| Minimum Deposit | Not mentioned |
Cryptocurrencies are unregulated. Trading with unregulated brokers will not qualify for investor protection.
What is Immediate Bitwave?

Immediate Bitwave portrays itself as a secure and intuitive trading platform for Bitcoin and cryptocurrency trading, where charting and tracking facilities go hand in hand with ample information and insights about the crypto market.
Per the platform, users can see the bigger picture of the crypto market and take a "proactive approach" to analyzing the cryptocurrencies and making sound trading decisions.
"This platform will help users manage their assets online," says Immediate Bitwave's official website, asserting that it has an "excellent" service that enables versatile trading options and strategies backed by the highest security standards.
These utilities apparently help both kinds of traders as they can learn at their own pace. Also helping investors, the website says, are customer service professionals who facilitate smarter trading. It is possible that these professionals will act as robo-advisors or offer human-assisted trading facilities.
Even though the apparent presence of top-notch analysis tools and reporting features is appealing, Immediate Bitwave isn't clear on all the features it delivers. The main content is mostly a marketing copy that focuses on how fruitful these facilities are.  Another thing to consider is the platform's fee-free approach. Platforms similar to this come with a minimum deposit requirement, but none have been mentioned on this website. The same goes for its fee details – details are absent.
Therefore, it is recommended that our readers take caution when using this trading software. Invest wisely and note that crypto trading doesn't always yield profitable results.
Immediate Bitwave Pros and Cons

Here are the limited details we could find upon analyzing the limited information available on the platform:
Pros
Claims to be an info-focused platform featuring charting and analytical tools
Supports multiple cryptocurrencies
Asserts that it has a simplified UI which is fit for both beginners and veteran traders
It seemingly has a simplified, fee-free structure
It doesn't advertise a ludicrous win rate
Cons
Doesn't tell much about the tools it provides
It is vague about the founders of the platform
Offers no information about the fee structure
How Does Immediate Bitwave Work?

Immediate Bitwave seems to be riding the wave of novel crypto trading systems while still staying true to its roots. Unlike other platforms with the term "immediate" prefixed, Immediate Bitwave doesn't show itself as an auto trading platform. All trading, from selecting the crypto to executing a trade, is manual.
These conventional trading mechanisms also seem to permeate across the other facilities Immediate Bitwave delivers. These include charting tools and market insights to assess the cryptocurrency market. The addition of news and the latest updates further seem to enhance the news-focused approach that this platform apparently takes.
From what we could gather from the website, there might be a minimum deposit required. However, the information about that only becomes accessible during the signup process. Fortunately, the sign-up process for this platform is simple. Only standard details are required, and KYC is not mentioned. The website's content also mentions that the customer support team helps with trading. It could mean that users may not have to trade alone but rather take assistance from account managers to develop strategies.
We have only been able to determine these details upon reading the limited content available on the website. There are third-party reviews that describe Immediate Bitwave as an autonomous trading system equipped with a crypto trading bot. However, we found nothing of that sort upon reading the available content. Therefore, we recommend our users remain careful before trading.
Immediate Bitwave – Top Features

Immediate Bitwave doesn't talk much about its features, only focusing on how effective these tools could be. So, here are some utilities that we could make out from the limited content available:
Simplified UI
The first standout feature that Immediate Bitwave claims it has is the simplified UI. "Both veterans and novice traders can easily navigate the crypto market", Immediate Bitwave says. These features apparently allow investors to interact with charting and tracking tools without friction.
Highly Stable, Fast Trading Facilities
Immediate Bitwave claims that the platform can execute crypto trades in seconds. "Leverage our platform to break through the speed barriers", claims the platform. If available, this facility could help reduce the trading fee.
Multiple Trading Strategies
Per the website, investors can engage with multiple trading strategies, depending on their requirements. The platform discusses long-term holding, day trading, scalping, swing trading, position trading, and more.
Support for Multiple Cryptocurrencies
Immediate Bitwave states that it supports multiple cryptocurrencies. This apparently helps users hedge bets by diversifying their portfolios.
Charting and Tracking Tools
Immediate Bitwave states that investors can get access to charting and tracking tools to gain the upper hand in the market. These facilities are seemingly easy to understand, with beginners and veteran traders easily interacting and comprehending them.
Access to Markets
Immediate Bitwave states that users can access markets easily and have complete control of their trading experience.
Cryptocurrencies are unregulated. Trading with unregulated brokers will not qualify for investor protection.
Immediate Bitwave – Fees

Immediate Bitwave has not mentioned any fee-related details on the website. While it may be possible that it is taking the same fee-free approach that multiple crypto trading software claim to take, we recommend talking to the customer support team and inquiring about it.
Immediate Bitwave – Minimum Deposit Requirement

The way the creators have designed the website tells us that Immediate Bitwave does have a deposit requirement. But there is no information about it available online. It likely has the same charges as others – $250. However, the customer support representative might be able to deliver a better answer.
Is Immediate Bitwave a Scam?

To find out whether Immediate Bitwave is a scam, we require two things. One is to test the facilities to determine whether the tools perform as advertised. The other is customer testimonials and third-party reviews to help us get a broader perspective on the platform.
We don't have any answer on both fronts. The website's content, although it appears to be thorough, is full of simple marketing jargon meant to upsell the platform. It only hints at the facilities it delivers and uses the remaining bulk of the words to tell investors how good the platform is.
Third-party reviews of the platform tell a different story. Nowhere on the website does it mention that autonomous trading facilities are available. However, most third-party reviews describe Immediate Bitwave as an AI crypto trading bot with hands-free trading perks.
Customer testimonials of the platform are also mixed. They range from being too appreciative of what the website offers to those portraying it as a straight-up scam. The lack of a balanced nature further casts doubts about the platform's legitimacy.
However, these factors can't put this platform under a scam category, as there are also some positives. There are no claims of there being a large win rate. It also does not have any fake testimonials on the platform. Also, signing up is simple, and it does not take long to use the platform.
We recommend independently auditing the website to learn more about its legitimacy.
Immediate Bitwave Customer Support

Customer support is available on Immediate Bitwave. However, it only seems available for those who have registered and deposited the minimum amount. The Contact Us page doesn't yield any results, as the details one must enter here are the same ones the sign-up page requires.
However, those who register apparently enjoy 24/7 customer support. Apparently, the team also helps investors formulate strategies and make informed investment decisions.
How to Use Immediate Bitwave?

Listed below are the steps that can help investors use Immediate Bitwave:
Step 1 – Go to Immediate Bitwave
First, navigate to the official Immediate Bitwave website and start the sign-up process. Enter the name, email, and phone number to proceed. Privacy-conscious investors can choose only to provide a burner number to correspond with the team only via email.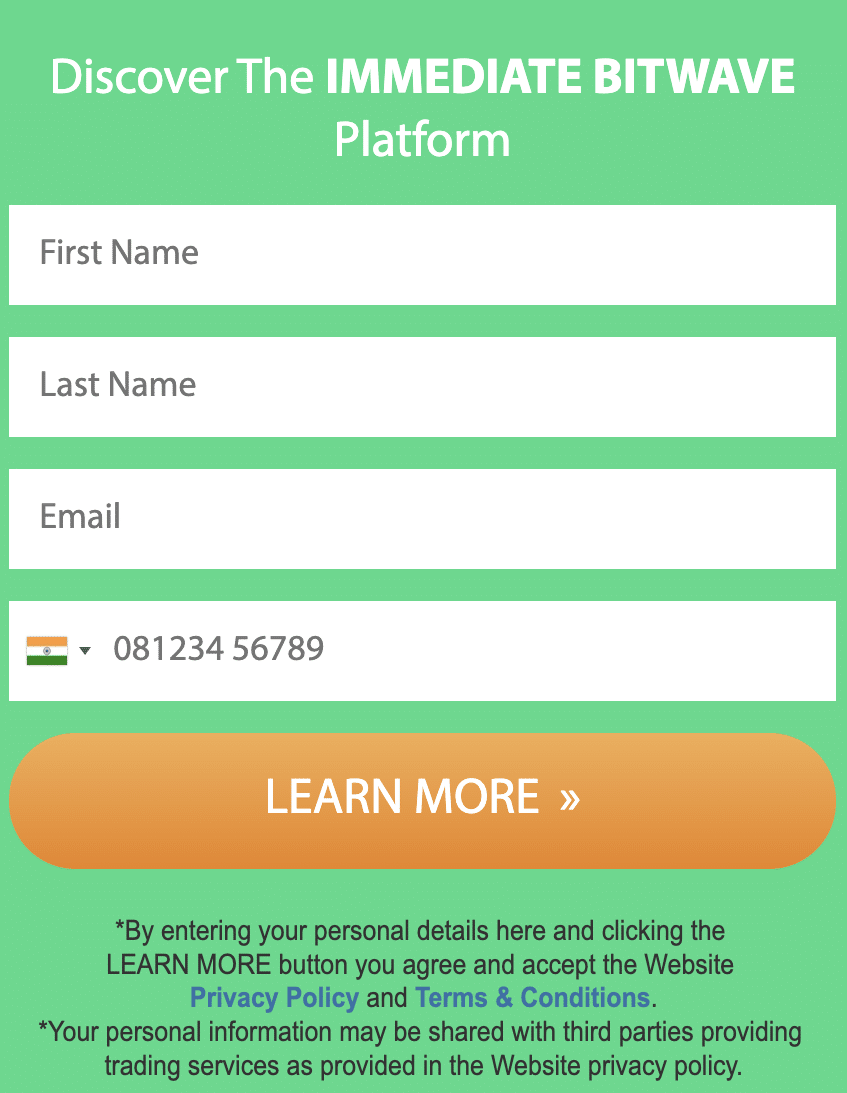 Step 2 – Deposit the Minimum Amount
The sign-up process will lead to conversing with the customer service representative, who will clarify the minimum deposit requirement. Make the deposit using the available methods. These include debit cards, credit cards, Google Pay, Apple Pay, wire transfer, and more.
Step 3 – Start Trading
Once the account is open and the tools become accessible, investors can start trading. We recommend that beginners remain in touch with the customer support team to learn about the tools available on the website.
How to Delete an Immediate Bitwave Account?

Immediate Bitwave doesn't mention the process of deleting an account. We recommend talking to the customer support team for assistance. However, before doing that, we recommend going to the dashboard and finding the button to terminate the account.
Have Celebrities Endorsed Immediate Bitwave?

Immediate Bitwave is a novel website that may have the same name as other platforms available online. Due to the confusion it creates,  we cannot say for certain whether celebrities are endorsing it. Immediate Bitwave likely has no celeb endorsement. It is a simple website with texts focusing on upselling their facilities. At least for now, there is nothing celeb-worthy on the platform.
Who is the Founder of Immediate Bitwave?

On its About Us page, Immediate Bitwave claims to have been founded by "experienced and savvy technology, compliance, fintech, and finance professionals." However, no other detail is available online. Even social media sites are barren regarding info about Immediate Bitwave or its founders. The team is likely anonymous. As the site becomes more popular and attracts more traders, we may see Immediate Bitwave developers dox themselves.
Latest Bitcoin News

Here are the key new details about Bitcoin as of Q4 2023:
Bitcoin is still struggling to cross its $36k resistance. It was briefly able to surmount this level today (Nov 9), but bears took control again.
CoinGecko reported that global assets in spot Bitcoin ETFs exceed $4.16 billion,
Volatile market conditions are pushing people towards new cryptocurrencies with higher upside potential.
The Verdict

Immediate Bitwave seems to be a traditional trading platform with standard charting and analysis tools to help investors. Its only USP seems to be a simplified UP and access to news and updates, which tells us that it might be a simple trading system, doing nothing more and nothing less.
However, there is a lot of confusion around the site's facilities. Some say that autonomous trading facilities are available, which we could not find on the link we got access to. Some say that it is a scam, indicators for which weren't there according to us. Due to this, we were unable to verify whether the website is a scam or legit. We recommend exercising caution and investing only what you can afford to lose.
Cryptocurrencies are unregulated. Trading with unregulated brokers will not qualify for investor protection.
FAQ

What is Immediate Bitwave?
Immediate Bitwave claims to be an intuitive trading platform that makes it simpler for veteran and beginner traders to navigate the volatile cryptocurrency market. It also seemingly has charting and portfolio management facilities.
Has Elon Musk ever endorsed Immediate Bitwave?
Immediate Bitwave doesn't have a lot of renown online, and its third-party reviews are quite unbalanced. Therefore, it is highly unlikely for Immediate Bitwave to be even a blip on Elon Musk's radar.
---