If You Missed Pepe, AiDoge Presale is a Must – Raises $1.5m in 9 Days, Investors Snap up 1,000x Gains Opportunity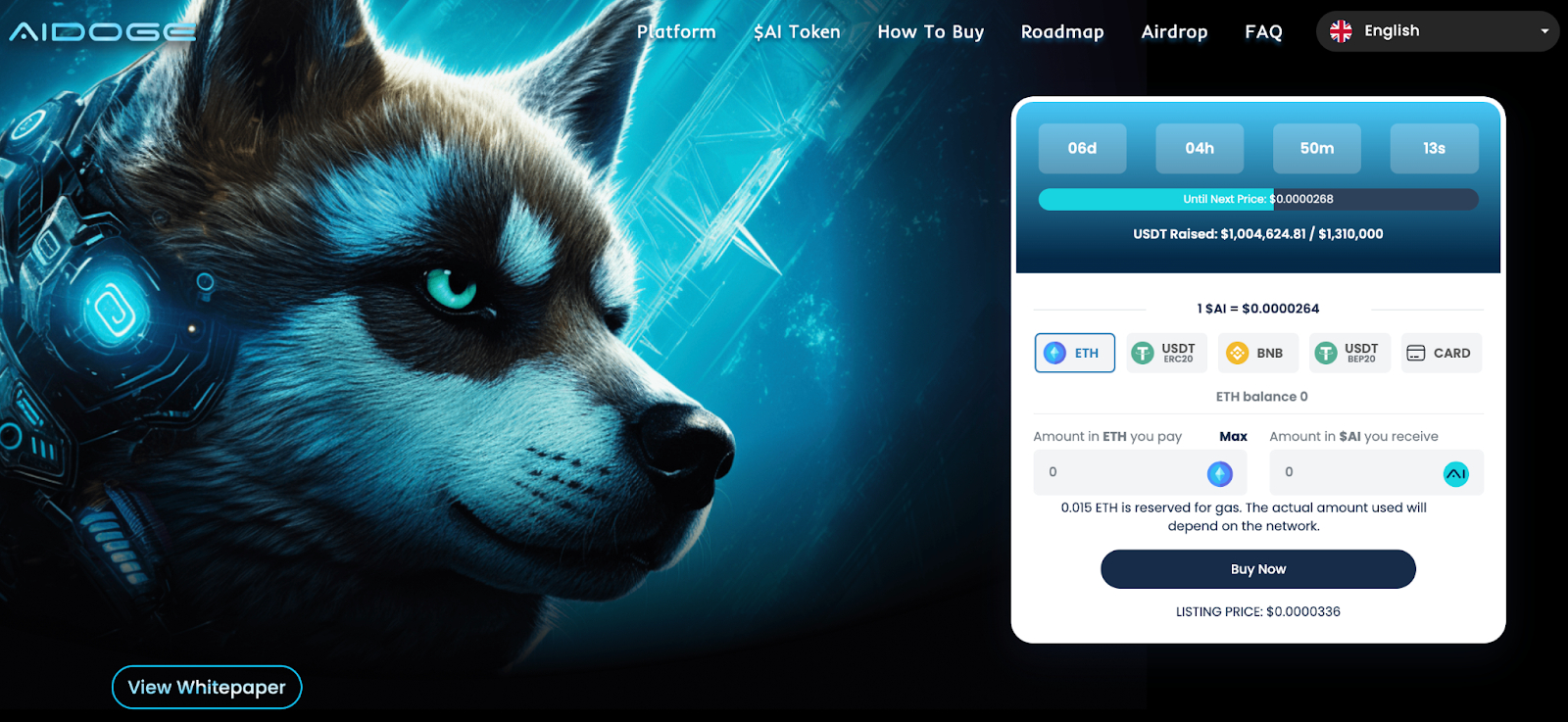 Friday May 5th 2023 – The next AI crypto meme coin to take off, AiDoge.com, has raised $1.56 million in its presale as FOMO takes hold.
Adding to the excitement surrounding the project is the announcement that YouTube star crypto investor and analyst Conor Kenny is coming on board with the project.
Even without the reach of Kenny, who has 155,000 subscribers to his YouTube channel, AiDoge ($AI), in little more than a week, has got social media buzzing about its unique meme-generating artificial intelligence (AI) platform use case.
Introducing AiDoge ambassador YouTube crypto investor and analyst Conor Kenny
Kenny is a crypto tipster and analyst well-known in the industry for his dissemination of trusted actionable information, which makes him the perfect fit for AiDoge.
You can catch up with Conor Kenny at his YouTube channel here: https://www.youtube.com/channel/UCJQY1CkwtFNfJfIzROc8KiA
Next Pepe: AiDoge presale Stage 3 to sell out soon – don't delay
The $AI token is currently priced at $0.0000268 in Stage 3 of its presale.
Brand recognition for the coin is on the rise as investors hunt for meme coin projects that can bag the sort of returns seen by Pepe, which boasts returns north of 7,000%.
However, despite its one-of-a-kind meme generation pitch, AiDoge.com $AI should not be confused with another successful coin, in price terms at least, ArbDoge ($AIDOGE).
In contrast to ArbDoge, AiDoge is based full square on a solid business model that aims to transform the way memes are created and how we communicate on the internet.
When the presale hits the milestone of $1,980,000 raised, Stage 4 will begin. That means there is only around $400k left to be raised in Stage 3 before the price increases to $0.0000272.
Although AiDoge presale has 20 stages, prospective buyers will still need to to move fast to get the lowest possible price for the presale tokens. AiDoge may be the best investment opportunity of 2023.
Crypto investors are flooding into the AI sector at the moment, which can make it hard to decide where to turn. But analysts are predicting that it is those coins with a strong utility-focus AI, like AiDoge, that will be the winners.
AiDoge FOMO – crypto's two hottest niches combined in one coin
Because of its combination of meme coin and AI – probably the two hottest niches in crypto today – AiDoge.com is reeling in buyers at a phenomenal rate.
In anticipation of stellar returns to come as meme coin season kicks into higher gear, investor FOMO is becoming ever-more frenetic.
Even by crypto standards, the success of Pepe has surprised many. It has come from nowhere to become one of the most talked about crypto on the back of meme virality.
Just today, Binance announced that it would be listed on the exchange, alongside another coin, Floki.
AiDoge is emulating the breakthrough of success of Pepe, ArbDoge and relative newcomer Turbo – the coin that was created by ChatGPT and has turned its digital artist inventor into an overnight multi-millionaire.
What this tells us is that AiDoge has landed on something very big. The project is focused on using image-generative AI to power a platform that will enable anyone to create a meme simply by entering a text prompt.
That's right, it will work in exactly the same way as ChatGPT, which hundreds of millions of us around the world are already so familiar with in the short space of time it has been on open release.
In the hands of AiDoge, AI will transform memes and internet engagement
It cannot be emphasized too much how artificial intelligence is already transforming how we interact with the internet – it's no wonder search giant Google is worried.
The boost to productivity of user-friendly chatbots that can build websites, write essays and have the domain expertise to create a cryptocurrency from scratch, should not be underestimated.
So imagine what AiDoge can do with its meme generator – or rather what you can ask it to do. AiDoge will unlock everyone's creative juices in a way that democratizes meme creation. That's to say, you don't need the art of graphic design skills to make a meme.
All you need is a little imagination and the ability to describe it and present it as a prompt. Everything else is done for you by AiDoge.
Through the application of machine learning technology and neural networks, large language models as used by AiDoge, and the likes of ChatGPT, have opened up truly endless possibilities.
In the case of AiDoge.com, the AI training has taken place on huge datasets of memes and other images as well as crypto news.
Armed with this ever-growing 'knowledge base' of data, AiDoge can generate the memes of your desires.
If you are hunting for a truly original idea that fully leverages the promise of AI, AiDoge is that project.
$AI is the utility token of AiDoge and must be used to purchase credits in order to generate memes – it is this utility that gives the token its fundamental value.
And the $AI token's value will be enhanced by various forms of incentivization to encourage network participation that creates viral content.
Vote for the best memes on the AiDoge public wall, earn income too
AiDoge will feature a public wall feed of all the memes generated by the community of users, giving everyone's creation, at minimum its five minutes of fame, as Andy Warhol would have it.
But it could be much more than five minutes of fame if the community likes your meme. The wall is a voting arena, where standout memes can be elevated to table-topping positions and earn $AI token rewards.
Every month creators with the highest-scoring memes receive token rewards. In addition, the leaderboard is reset each month, so that all community members have a chance to win every month.
On top of that, the best-ranking meme creators will be able to gain exclusive access to premium features too and even be granted voting rights as part of AiDoge's governance.
AiDoge also provides staking rewards and premium features for its users, in the shape of daily credit rewards depending on how much is staked.
As the AiDoge.com platform develops and grows, the more revenue-earning potential there is for its meme creators. In other words, AiDoge is not just a meme generator, it is an income stream generator too.
The public wall creates a virtuous feedback loop that will encourage meme virality. The curation effect of the voting suggests that what is popular in the community may also be popular with a wider internet audience.
AiDoge's public wall is an ingenious way to turbo-charge virality and, therefore, adoption of the platform as more seekers flock to take part, as they are doing so with ChatGPT or, more specifically, image generation tools such as Midjourney, DALL-E or Bing's image creator, which uses DALL-E technology.
AiDoge is the only meme-generator platform in existence.
Welcome to the meme revolution.
Invest today.
---