IDEX Coin Price Up 30% in May, Experts Believe Decentralized Exchanges Are the Next Crypto Narrative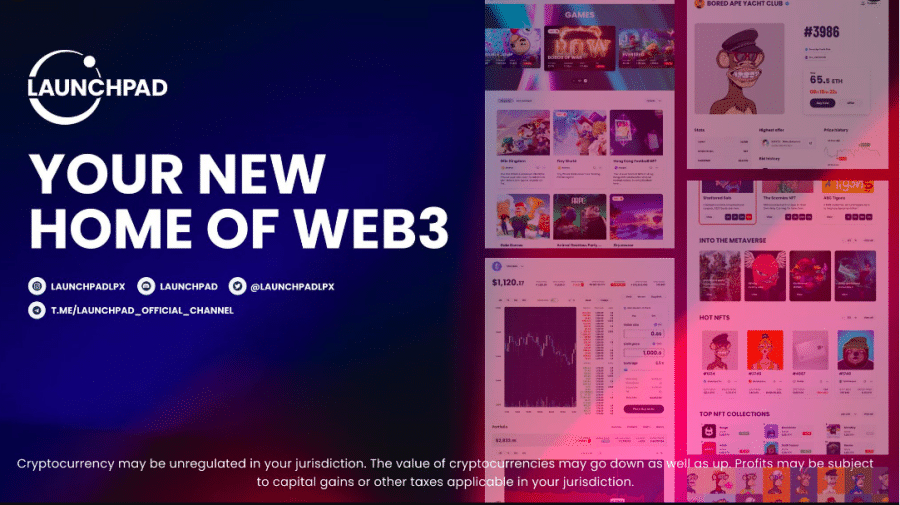 The $IDEX coin has caught the eyes of investors as it entails strong capabilities to withstand marketing turbulence, with its price surge being a testament.
The digital asset price pumped over 122% on May 17th, 2022, recording 1153%+ in 24 hours.
2023 has been no different for the DEX token, as it surged over 30% on May 5th and fell to 18% within 48 hours.
Although the $IDEX liquidity platform is tipped to drive the value of its native token towards a high and stable growth trajectory, investors needing a more solid asset that embeds rich utilities and potential 200x returns on investment should consider $LPX.
$LPX is the native token of Launchpad, a decentralized revolutionary exchange that aims to bridge the gap between the Web2 and Web3 space, enabling users to trade assets, non-fungible assets, and many more.
Already on a red-hot presale, the $LPX has raised over $234,000 so far, indicating traction from global investors set to reap enormous returns from investment.
IDEX Market Sentiments: Insights on Fundamentals and Price Analysis
IDEX is a decentralized exchange that establishes a peer-to-peer trading hub through which crypto traders can process transactions.
The platform has surged in popularity due to its hybrid liquidity system – high-performance order book in centralized exchanges and versatile automatic market making (AMM) integrated into decentralized exchanges.
The crypto project's core fundamental is its unique merge and blend of functionalities from a traditional order book model with the core security and liquidity of AMM.
The DEX platform enables investors to mitigate losses while trading by providing the finest spreads and liquidity in real-time.
At the heart of the exchange platform is its native token, $IDEX.
As detailed in the CoinMarketCap data report, 1 $IDEX trades at $0.091, indicating a downtrend to 11.04% in the last 24 hours.
The crypto asset saw an uptrend of over 30% on May 5th before hitting a new bearish downtrend.
Nevertheless, $IDEX is a grounded crypto asset and has proven to embed powerful utility to drive its price value above short market turbulences.
Technical analysis indicates the DEX token market trades above the 200-day and 50-day simple moving average (SMA) indicator price of $0.065 and $0.054, respectively – signaling a bull run.
The relative strength index resides at 53.98, indicating $IDEX movement to the overbought zone, which may trigger a price increase.
However, the recent price fluctuations, notably its most recent on May 5th, have sprouted uncertainties over the $IDEX potential rebound as it trades below 90.56% of its all-time high of $0.97 recorded on September 8th, 2021.
That being said, Launchpad ($LPX) has hit the crypto space with promises of intrinsic utilities, including Web3 and blockchain technology, to propel its price to the peak and provide massive returns for early investors.
Launchpad ($LPX) Limitless Mechanics – The Next Biggest Crypto Project
Launchpad is an emerging decentralized exchange that acts as a portal to the web3 space.
Web3 is regarded as the third generation of the internet that will create a more decentralized, trustless, and secured web.
The new crypto project asserts to build an intuitive platform stacked with varieties of Web3-based tools such as its crypto asset $LPX, decentralized finance (DeFi), decentralized applications (dApps), non-fungible token (NFT) marketplace, and much more.
Due to its decentralized exchange nature, the platform facilitates collaborations and innovations in the digital space.
It integrates investment opportunities via insights, market sentiments, and full access to exclusive upcoming presales and NFT launches.
As a Web3-solution, Launchpad will combine all digital products and services in a single hub to make it easy for investors and traders to learn about the limitless capabilities of the new internet.
Additionally, the innovative crypto platform will act as a portal for new crypto projects and NFTs to reach prospective investors.
Launchpad asserts to onboard 10 million individuals into the Web3 space to capitalize on emerging markets.
At the heart of the DEX platform is $LPX. The token will be used to incentivize users in the digital space and power payments within the ecosystem.
Users can also stake the crypto asset and earn passive ventures without trading.
Ready to buy $LPX?
Invest in $LPX Today – Over 10x Potential Massive Gain to Be Amassed
At press time, 1 $LPX trades at a discounted presale price of $0.035 USDT with over $234,000 raised from early investors.
Financial experts tip the fast-rising $LPX to become the next biggest decentralized exchange asset based on its impressive merge of blockchain technology and Web3 space that embeds wide offerings, such as DeFi, dApp, metaverse, and utility assets, from a single platform.
Set to be the ultimate web3 hub, now is the time to purchase $LPX before price increases.
Disclaimer: Cryptocurrency projects endorsed in this article are not the financial advice of the publishing author or publication - cryptocurrencies are highly volatile investments with considerable risk, always do your own research.
---