IBM's VP Calls USD 1 Million, McAfee Knows When
Recently, Jesse Lund, Head of Blockchain & Digital Currencies at IBM, said that he expects Bitcoin to get to "a million dollars someday." Now, controversial entrepreneur and Bitcoin bull John McAfee is miffed that others are repeating what he considers his own prediction and reminds the community that he's the only one who set a date for this price: by the end of 2020.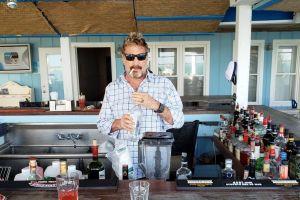 "People are waking up to the fact that Bitcoin will be USD 1,000,000. But when? 'Someday.' 'Maybe 5 years.' 'Within a decade.' I'm the only one giving you a hard date: Dec 31st, 2020," he wrote in reply to the news of Lund making his prediction. Later, he followed up by tweeting, "Jesus! The media yet again! 'By Dec. 31. 2020,' is not an exact date. Let's all be clear again: I predicted Bitcoin would reach USD 1,000,000 before the end of 2020. That is not saying it will hit that price on that date."
This updates (and in effect doubles down on) his previous bet, made in July 2017, that Bitcoin price would move above USD 500,000 in three years. McAfee famously claimed that if he lost that bet he would eat his own penis on national television. When questioned in the Twitter comments, McAfee confirmed that this was the same bet, and that: "I never lose a bet."
However, he has also previously tried to back out a bit, perhaps realizing how that bet sounded: "If the worst comes and I lose my Bitcoin bet (keep in mind I promised to eat my dick. The cutting it off first was added by the media), I will probably subcontract the task to a relay team of Bangkok prostitutes with instructions to carry out the task slowly, finishing as I exit," he tweeted in December last year.
McAfee's word may carry more weight than intended as he has announced his intent to run for president of the United States with the Libertarian Party for the second time. He has also revealed that he is being pursued by the Internal Revenue Service, for "unspecified crimes," and living in exile.
And while the extravagant presidential candidate is trying to reassert his dominance as the most relevant price predictor, the prices are not really cooperating. As of the time of writing, Bitcoin is trading at USD 3,839.64, following a turbulent market which saw it jump to almost USD 4,200.
Also, there is a website, bircoin.top that follows McAfee's prediction and measures how much Bitcoin would have to rise for McAfee's nethers to stay intact: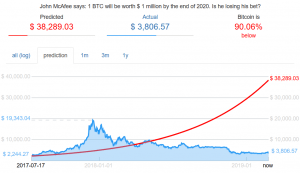 ---