How to Use Business.Club to Your Advantage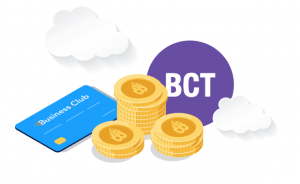 Disclaimer: The text below is a sponsored article that was not written by Cryptonews.com journalists.
_________
Building your own business is tricky. What's even trickier is attracting both potential customers and partners that have a similar vision in terms of security, transparency and immutability - all achieved through blockchain. Luckily, with Business.Club, this is now easier than ever, as the platform offers a social network profile to every user of their Active Wallet so that they can connect with like-minded individuals, as well as inspire and build up others and lead them to success.
Business.Club is a constantly evolving ecosystem that offers a myriad of services, all centered around having everything in one place. This means that the platform offers a native token, traded at the rate of 1 BCT = 1 USD, an Active Wallet, a social network, Visa crypto cards, and many other things. The token can be used on the social network, for example for purchasing ad space, sponsoring your content to have it reach a bigger audience, purchasing more bandwidth or storage space on the Business.Club Cloud - but also to transfer funds between users in a quick, secure and transparent way through the blockchain.
If you already have an idea for a business in mind, Business.Club offers you the opportunity to build your team with an additional incentive: earn a percentage for every new person you recruit, tallied through the passive income generated in your Active Wallet. Similar to a company's shareholders receiving dividends, so people holding BCT receive some of the generated profit from transaction fees, with the amount you get depending on previous holdings of the token. With a minimum deposit of 250 BCT, you can get started by introducing other people - possibly those that are part of your business in the first place, or friends and family that want to learn more about blockchain while utilizing it to the best of its abilities - and the platform will add to your passive income depending on the amount invested by your downline.
Depending on the number of people you invite to the platform and their individual successes from using it, you can advance through the ranks and increase the bonuses, both for yourself and your team. The more your team works, the better it gets for both you and them. Additionally, you are all eligible for a Visa Leaf Green Debit Card if you freeze-time any amount of BCT on your active wallet, with more exclusive cards available if you hold more BCT. All the cards have cashback options, unlimited in-app exchanges, as well as unlimited account top-ups.
With a solid business structure and an ambitious team, all that remains to you is advertising your services to the world. This is also easily done through advertising on the Social Media Platform of Business.Club. By having your content sponsored, it can reach more people who would be interested, and you can refer them to the smart marketplace integrated into the platform to find out the prices of your services. Or you don't have to make them public at all - an encrypted chat function lets you have a conversation away from prying eyes.
Running a successful business doesn't have to cause you a headache. All you have to do is create an Active Wallet, and the simple, easy to use interface of Business.Club will help you along with the rest. Join us & find out more on the FAQ page.