How To Buy Sonik Coin - Easy Guide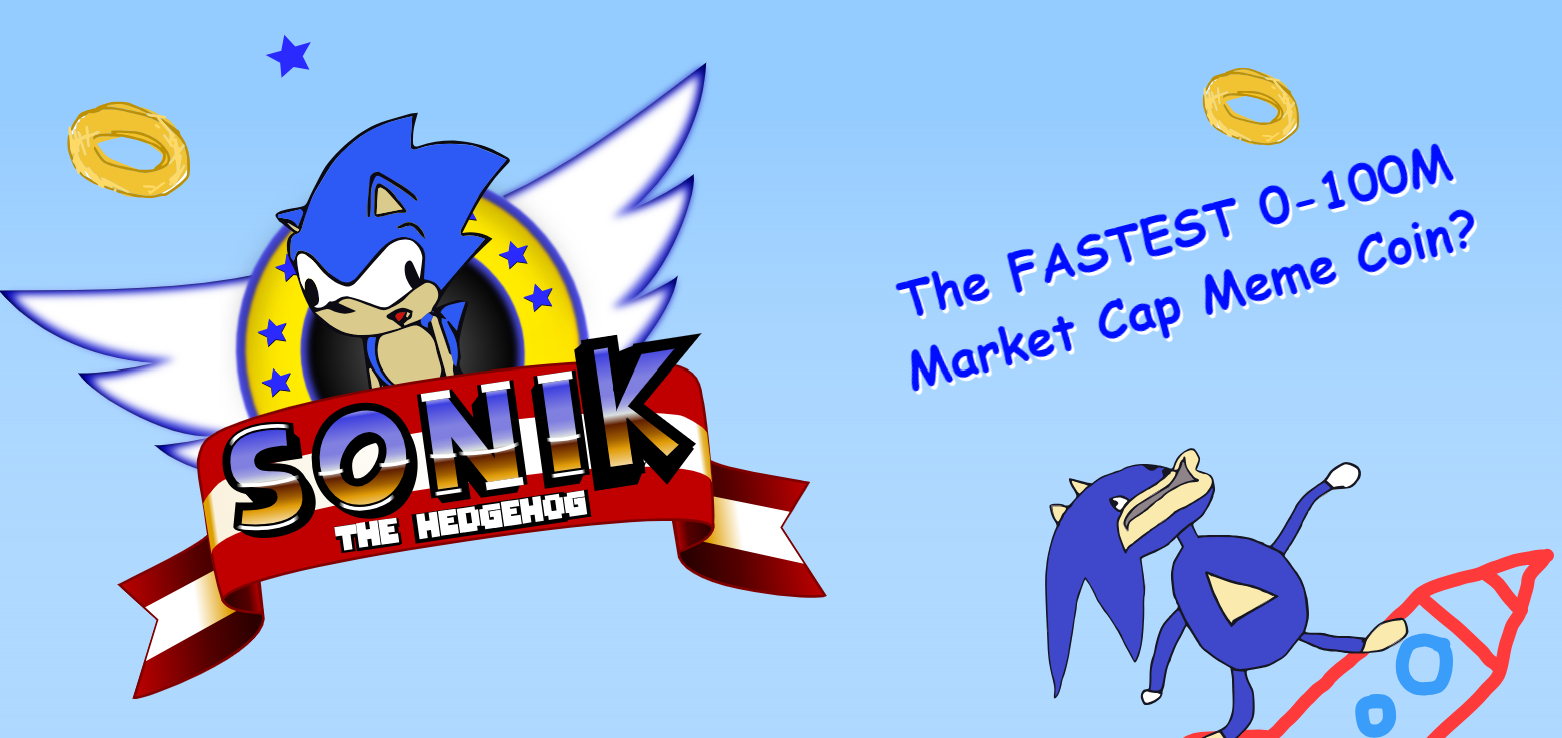 Sonik Coin ($SONIK) is one of the hottest new meme coins in the crypto market. This token, based on the hugely popular Sonic the Hedgehog video game franchisem has seen massive interest since launch.
In fact, it has now raised more than $1.2 million in just over two weeks and has had billions of tokens added to its staking pool.
Now, investors need to hurry if they want to buy $SONIK before the presale closes - at the time of writing there are just over 24 hours remaining until the window slams shut on Tuesday, September 5, with rumors that an IEO could take place at the end of the week.
In this guide, we'll cover everything investors need to know about Sonik explain how to buy Sonik token during the presale.
What is Sonik Coin?
Sonik Coin is a new meme coin based on the popular Sonic The Hedgehog character, who was first introduced to the world by video game maker Sega in 1991. Sonik is not affiliated with the Sonic brand or Sega, but it draws on some of the characters and items that make the Sonic games so beloved.
The goal of the $SONIK project is to reach a $100 million market cap. The token will launch with a market cap of just over $4 million, so that represents a potential 25x gain for early investors.
Notably, Sonik offers token rewards for investors who stake their $SONIK. This means that unlike some other top meme coins, $SONIK has utility
How to Buy Sonik Tokens on Presale
$SONIK tokens are available to buy right now during the project's presale. Here's how to buy $SONIK in 5 quick steps.
Step 1: Get a Crypto Wallet
Investors must have an ERC-20 compatible crypto wallet to buy $SONIK during the presale. We recommend MetaMask. MetaMask is completely free and highly secure.
Visit the MetaMask website and install the wallet app on a computer, browser, or mobile device. Create a new password, then write down the seed phrase and store it somewhere secure.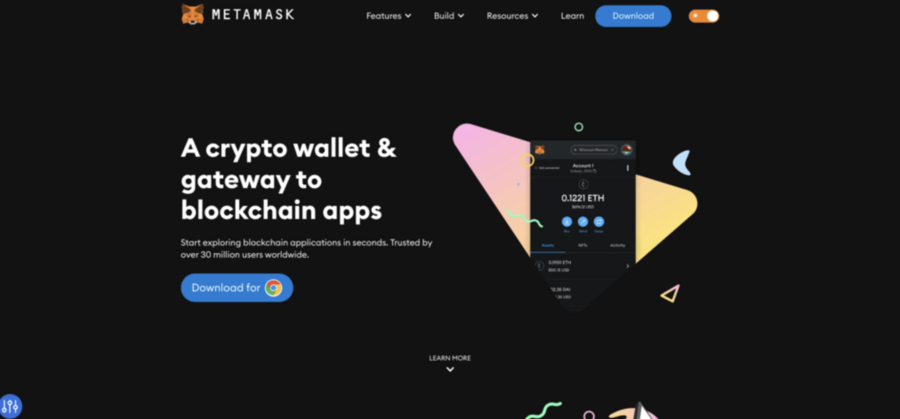 Step 2: Buy ETH or USDT
Investors must swap $ETH (Ethereum) or $USDT (Tether) for $SONIK tokens during the presale.
The best way to get $ETH or $USDT is using a centralized exchange that accepts fiat payments. Most exchanges accept credit and debit cards, bank transfers, and e-wallets.
Create an exchange account, make a deposit, and then purchase $ETH or $USDT. Transfer the tokens to the MetaMask wallet set up in Step 1.
Step 3: Visit the Sonik Presale
Head to the Sonik presale site and click 'Connect Wallet' to connect the Metamask wallet. Follow the prompts to authorize the connection.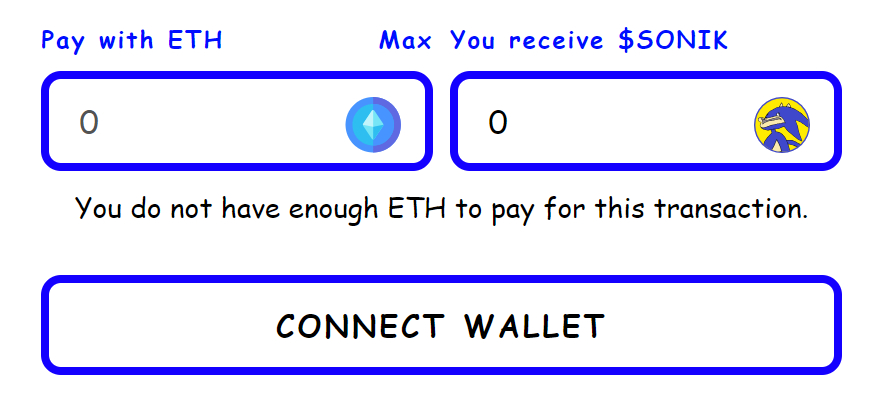 Step 4: Buy Sonik
Enter the amount of $ETH or $USDT to convert to $SONIK. Then click 'Buy Now' to complete the transaction.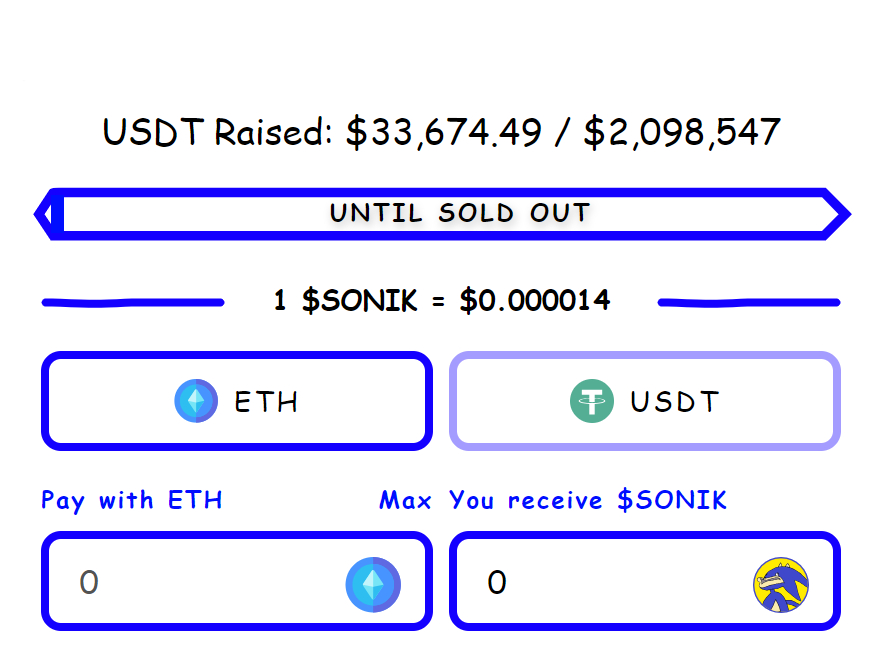 Step 5: Claim Tokens
All $SONIK purchased during the presale will be released after the presale sells out and before the token's ICO. Return to the presale site and reconnect the MetaMask wallet. Then click 'Claim Tokens' to transfer $SONIK to the wallet.
$SONIK Tokenomics
$SONIK is an ERC-20 token built on the Ethereum blockchain.
It has a total supply of 299,792,458,000 tokens. That's the speed of light in meters per second. The joke is that this is how fast Sonic The Hedgehog runs.
The supply is allocated into 3 categories:
50% of the total supply is available during the $SONIK presale
40% of the total supply is set aside to provide staking rewards
10% of the total supply is locked to provide liquidity on exchanges
The presale only has a single stage and has a hard cap of $2,098,547. It's already sold more than $30,000 worth of $SONIK tokens in just 2 days. $SONIK is priced at $0.000014.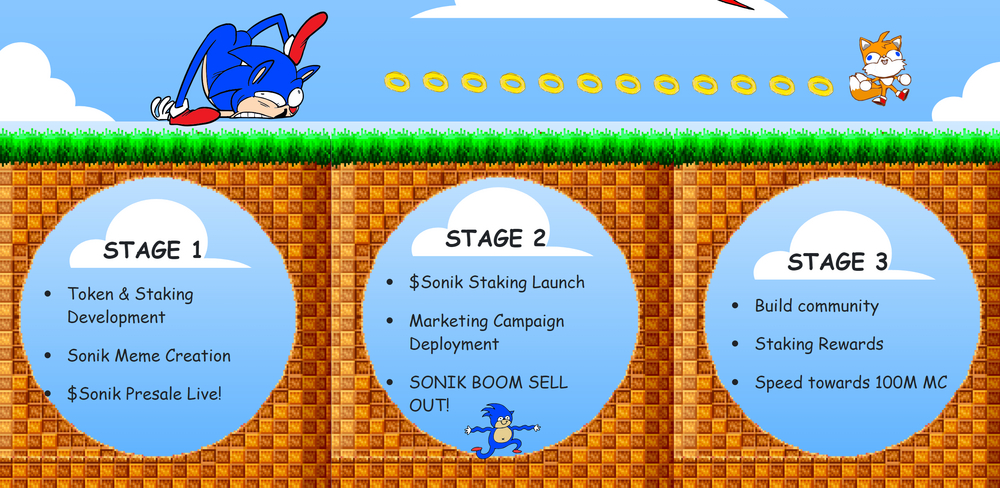 Is Sonik Coin a Good Investment?
Sonik is the latest meme coin to launch in a year packed with successful meme coins. $PEPE kicked things off with a more than 10,000% gain in May. More recently follow-on meme coins like Pepe v2.0 gained more than 2,000%.
While there's no guarantee that Sonik will also return thousands of percent to investors, the overall trend is promising. It also helps that $SONIK is launching just as the crypto winter comes to an end
Sonik's goal is to reach a $100 million market cap, which represents a 25x gain from the launch price. While that's a lofty goal, analysts like Jacob Crypto Bury think that it's possible.
The excitement around $SONIK is palpable. The project sold more than $30,000 worth of $SONIK during the first 2 days of its presale, which is an impressively fast launch. At that rate, the presale will hit its hard cap within a few weeks.
Another reason to be bullish on $SONIK is that it's one of the only meme coins that offers staking rewards. This could help the token gain popularity outside of traders simply searching for the next meme coin to explode.
As investors stake $SONIK, it will also lock up tokens and reduce the supply available for trading. Assuming demand stays constant, that's expected to push up the price and further encourage investors to stake their $SONIK.
Conclusion
Sonik is a hot new meme coin based on the popular Sonic The Hedgehog character from Sega. It stands out for its explosive launch, which has now seen more than $1.25 million of investment in just two weeks - and $300k-plus in the last 48 hours.
It's also unique among meme coins in offering staking rewards, which could help attract long-term investors to this token, with a current estimated APY of 58%.
The Sonik presale offers a chance to lock in $SONIK at the lowest possible price.
But investors have to hurry since this presale is set to close on Tuesday, September 5.
FAQs
What is Sonik crypto?
Sonik ($SONIK) is an ERC-20 meme coin based on Sega's Sonic The Hedgehog video game character. The project aims to achieve a $100 million market cap and offers staking rewards for investors.
How do I buy Sonik crypto?
Investors can buy Sonik tokens now during the project's presale. Investors must connect an ERC-20 compatible crypto wallet to the presale site, then swap $ETH or $USDT for $SONIK.
Is Sonik on exchanges?
$SONIK is currently available through the presale website only. The project plans to list on exchanges after the presale sells out.
Can Sonik 10x?
Sonik's goal is to reach a $100 million market cap, which represents a 25x gain from the presale price. There's no guarantee Sonik will reach this goal, but investors are very excited about the token and the presale looks set to sell out quickly.
---