How to Buy ICO Tokens for Beginners in 2023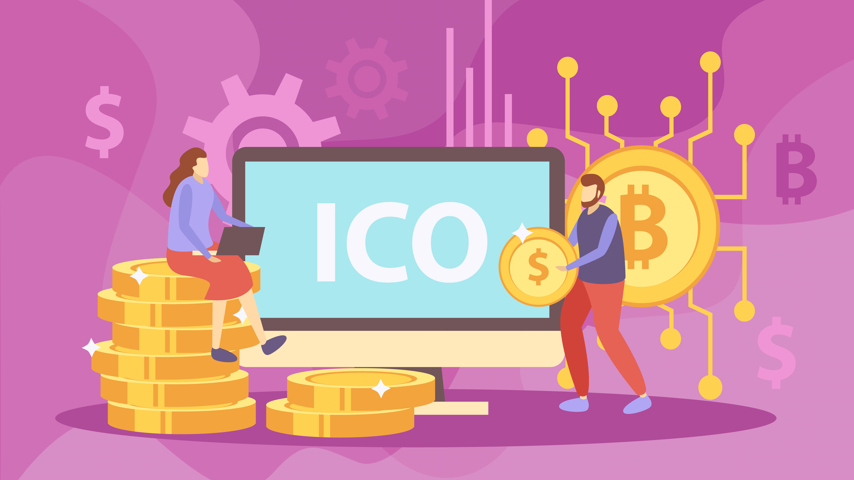 Disclaimer: The Industry Talk section features insights by crypto industry players and is not a part of the editorial content of Cryptonews.com.
Initial coin offerings (ICO) offer access to brand-new crypto projects - usually at a discounted price for early investors.
In this beginner's guide, we explain how to buy ICO tokens. Read on to discover where to buy ICO tokens and which crypto startups are worth watching.
How to Buy ICO Tokens - Quick Guide
Let's start with a quick walkthrough of how to buy ICO tokens:
Step 1: Decide which ICO tokens to buy - First, lots of research needs to be done on which ICO tokens to purchase. Read the chosen project's whitepaper and look into its roadmap and tokenomics.
Step 2: Set up a crypto wallet - After choosing a suitable ICO project, download a crypto wallet. This is required to invest in ICOs. MetaMask is a popular option with beginners.
Step 3: Obtain crypto tokens that the ICO supports - The next step is to obtain a crypto token that the ICO supports.
Step 4: Buy and claim ICO tokens - Finally, visit the website and connect the MetaMask wallet. Then, choose how many tokens to buy and confirm the investment. The tokens will then be deducted from MetaMask.
Read on for a detailed explanation of how to invest in ICO tokens.
How to Buy ICO Tokens - Step-by-Step Tutorial
Now let's dive into a more comprehensive tutorial on how to buy ICO tokens. In this example, we explain the steps required to invest in the Wall Street Memes ICO. Its native token, WSM, is required to use the tool.
Step 1: Download and Install MetaMask Wallet
To begin with, ICO investors will need a crypto wallet. This is a core requirement when learning how to buy ICO crypto tokens. Not only in terms of storage but transferring tokens to the ICO website.
There are hundreds of crypto wallets, but MetaMask is a great option for newbies. MetaMask comes as a browser extension for Chrome, Edge, and Firefox. Prefer investing on a smartphone device? MetaMask also comes as an app for Android and iOS.
Download MetaMask and set up a new wallet. Choose a password and take note of the 12-word backup passphrase.
Step 2: Buy a Crypto Token Supported by the ICO
ICOs enable investors to buy their new cryptocurrency with an established token. In the case of Wall Street Memes, the ICO accepts Ethereum and Tether. Those that are completely new to crypto will need to purchase one of these tokens to invest in the WSM ICO.
In our view, eToro is the best crypto exchange to buy established tokens like Ethereum. Investors can open an account in minutes and make a deposit with a debit/credit card or e-wallet. The minimum investment is just $10, and eToro offers fee-free deposits on USD payments.
The process to buy Ethereum at eToro is as follows:
Visit the eToro website and register an account
Make a deposit, choosing from a debit/credit card, e-wallet, or bank wire
Search for 'Ethereum' and click 'Trade'
Type in the investment amount in USD and confirm the order
Ethereum will then be added to the investor's eToro web wallet
Step 3: Transfer Tokens to MetaMask
Now that Ethereum or Tether has been purchased, the tokens need to be transferred to Metamask. This will enable the user to invest in the Wall Street Memes ICO.
So, open the Metamask wallet and click on 'Assets'. Towards the top of the interface, the wallet address is displayed beneath 'Account 1'. Copy the wallet address.
The tokens can then be transferred to the wallet, with the transaction usually taking 1-2 minutes to process.
Step 4: Visit ICO Website and Set Up an Order
Once the Metamask wallet has Ethereum or Tether tokens, the next step is to Wall Street Memes website.
The order box for the ICO is on the right-hand side of the homepage. Choose from Ethereum or Tether as the payment currency. Then type in the number of Ethereum or Tether tokens to invest. The number of equivalent WSM tokens will update in the subsequent box.
Step 5: Connect Wallet and Confirm ICO Order
Next, click on the 'Buy Now' button. A box will then pop up asking to select the preferred wallet. Choose Metamask and open the wallet.
Metamask will show details of the transaction between the wallet and the Wall Street Memes ICO. After confirming the transaction, the Ethereum or Tether tokens will be transferred to the ICO wallet.
This means that the ICO investment has been completed successfully. Go back to the WSM website after the ICO and claim the tokens. The tokens will then be transferred to the same Metamask wallet.
What are ICO Tokens?
Before cryptocurrencies are listed on exchanges, they usually go through an initial coin offering (ICO). In simple terms, this enables investors to buy the startup's new cryptocurrency token before it is sold to the public.
Crypto ICOs are a win-win situation for both investors and blockchain startups.
For crypto startups, this enables the project to raise capital from investors to help fund their operations.
For crypto investors, this enables them to buy the ICO tokens at a discounted price - as an incentive to invest early.
ICOs are very similar to initial public offerings (IPOs). For instance, those that invested in the Tesla IPO in 2010 received shares at a preferential price. The Tesla shares were listed on the NASDAQ exchange after the IPO and have since gone on to generate significant gains.
This is much the same as how ICO works. For example, those investing in the Ethereum ICO in 2014 would have paid just $0.31 per token. Since then, Ethereum has hit highs of nearly $5,000. This translates into gains of over 1.5 million percent.
As we unravel in more detail later on, Ethereum isn't the only ICO token that has generated huge returns for early investors. On the contrary, there are plenty of other success stories.
Are ICO Tokens the Same as Other Cryptocurrencies?
There are many terms used in the cryptocurrency investment space, and some are used interchangeably. For example, ICO tokens refer to newly launched cryptocurrencies that are in their fundraising stage. As such, ICO tokens are also referred to as cryptocurrencies.
Both ICO tokens and cryptocurrencies are backed by blockchain technology.
For example, XRP is backed by the Ripple blockchain.
Some cryptocurrencies have their own native blockchain.
In this instance, the cryptocurrency is defined as a 'coin'.
Bitcoin, Cardano, Litecoin, and many others have their own blockchain.
In other cases, cryptocurrencies will build their ecosystem on a legacy network. For example, thousands of cryptocurrencies operate on the Ethereum blockchain, and these are known as ERC-20 tokens.
There are also thousands of cryptocurrencies listed on the Binance Smart Chain, and these are known as BSC tokens.
In other words, if a cryptocurrency is built on a legacy blockchain, they are referred to as 'tokens' rather than 'coins. This is the case with the vast majority of ICO cryptocurrencies.
Why Invest in ICO Tokens?
Below, we discuss some of the reasons why seasoned investors are constantly searching for the best crypto ICOs.
Discounted Entry Price
Crypto ICOs typically incentive investors with an attractive entry price. This means that the investor will buy the ICO token before it is listed on a crypto exchange.
Once again this is similar to IPOs, as the shares will be sold at a discount before they hit a stock exchange.
Small Market Capitalization
Crypto ICOs generally seek to raise a modest amount of capital. At least when compared to IPOs.
After all, the top 100 cryptocurrencies by market capitalization currently range from $400 million to over $570 billion.
This means that ICO tokens like Wall Street Memes offer early investors a huge upside potential. While it can take time to see sizable gains, long-term investors often see the best investment results.
That said, Shiba Inu, which was launched in mid-2020 - took just one year to become a billion-dollar cryptocurrency. This is also the case with other ICO tokens that were able to create hype and FOMO (Fear of Missing Out).
Invest in New Ideas and Concepts
The Ethereum ICO was hugely popular with investors, largely because of its 'smart contract' concept. This took blockchain and cryptocurrencies to the next level, with previous networks focusing exclusively on payments.
This is the case with many ICOs, which offer solutions to real-world problems. Crucially, the best ICO tokens are those that bring a new idea or concept to the market. This gives the token the best chance possible of going mainstream and generating attractive returns for early investors.
Easy to Diversify
Crypto ICOs are increasingly becoming popular with new blockchain startups. This means there are plenty of opportunities for investors seeking above-average returns.
However, ICOs are also risky, considering they are backed by new and unproven concepts. That said, investors can consider diversifying into lots of different ICO tokens to help reduce the risk.
This means that instead of investing $1,000 into one ICO, the funds could be split across 10 different projects at $100 each. In doing so, only one of the ICO tokens purchased needs to go mainstream for the investor to witness sizable growth.
What are the Top Tokens to Buy Now?
New ICO tokens enter the market on almost a daily basis. This makes it challenging to assess the best crypto to buy.
Below, we help clear the mist by discussing some of the best emerging cryptocurrencies currently available at ICO prices.
Wall Street Memes
Wall Street Memes ($WSM) is a new coin that blends the meme culture with blockchain to create a community-powered financial ecosystem.
Originating from the Wall St. Bulls legacy, a brand with over one million social media followers, $WSM has quickly gained traction, securing over $25 million within a few months.
The project's presale, priced at $0.0337 per $WSM token, has been met with high community enthusiasm. On the first day alone, the presale attracted $300,000 and has not lost steam since.
The presale is capped at $30,577,000 and is set to close by the end of September, creating the way for potential listings on tier-1 exchanges like Binance.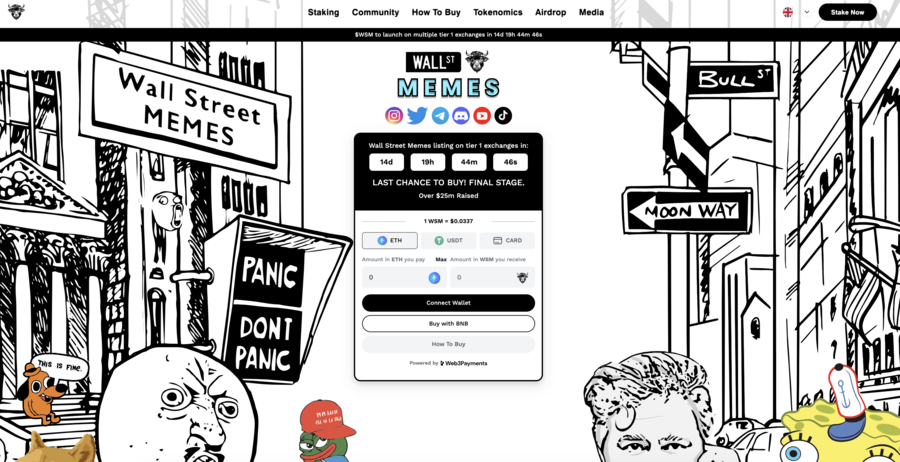 The staking platform offers a high annual percentage yield (APY) of over 50%, providing token holders an opportunity to compound their investment substantially.
The lucrative staking model and the project's low market capitalization set the stage for potentially high returns.
Per the Wall Street Memes whitepaper, the WSM tokens have a supply cap of 2 billion tokens, with 50% dedicated to the presale. The remaining 50% is split between community rewards and exchange liquidity.
Notably, no tokens are allocated for the team, mitigating the risk of a rug pull. The fully diluted market capitalization is expected to be $61,144,000 at launch.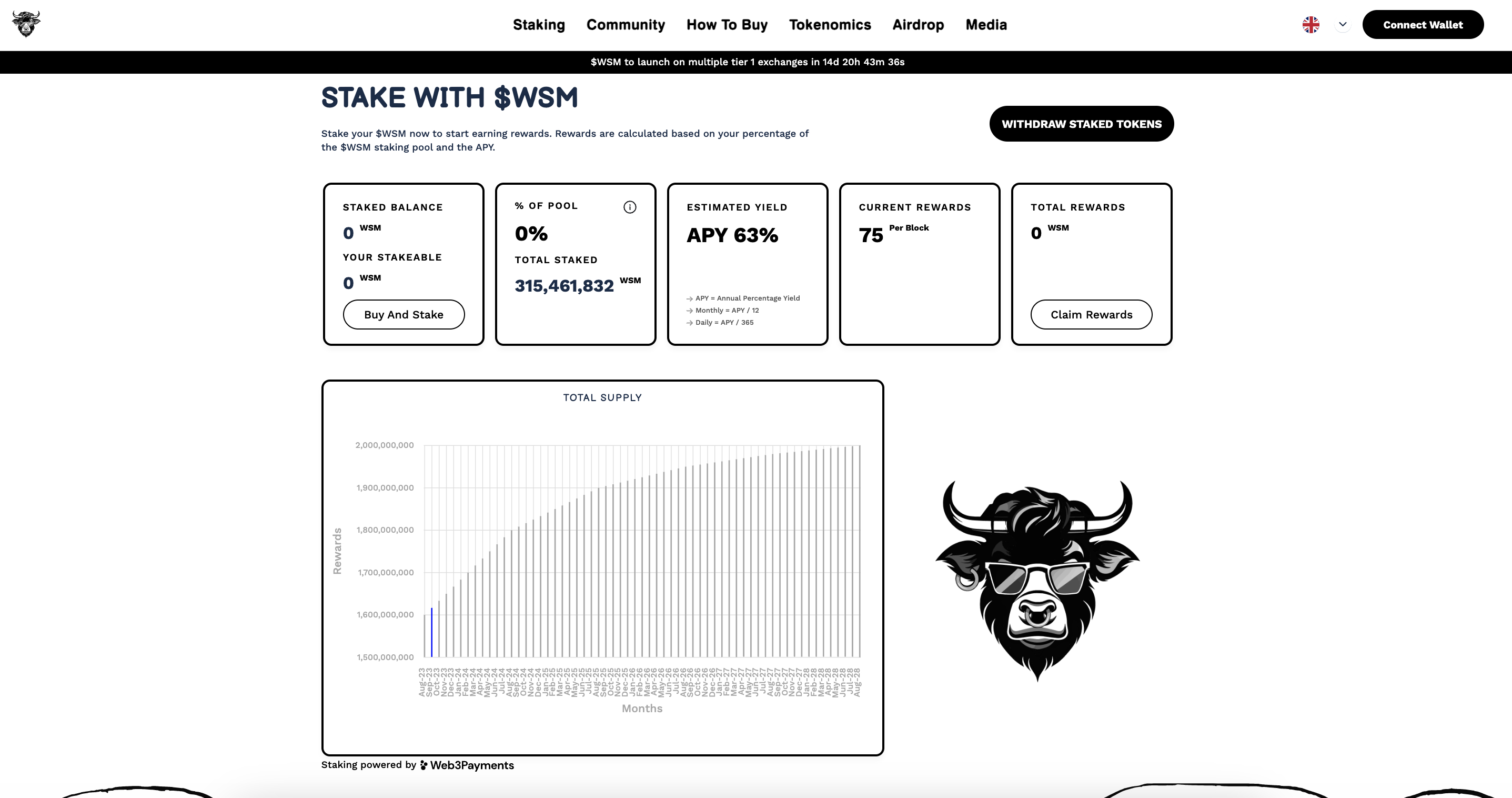 The project has also gained significant mainstream attention, with Elon Musk engaging with Wall Street Memes on Twitter. This social media footprint adds credibility and hints at the potential for expansive growth.
To celebrate the presale, Wall Street Memes is hosting an airdrop. Participants can join its Discord channel and complete simple tasks to enter a drawing, where five winners will share $50,000.
Interested users can join the Wall Street Memes Telegram Group for the latest information.
| | |
| --- | --- |
| Presale Started | 26 May 2023 |
| Purchase Methods | ETH, USDT, Credit Card |
| Chain | Ethereum |
| Min Investment | 100 $WSM |
| Max Investment | None |
Meme Kombat
The next new initial coin offering is of a multi-utility meme ecosystem called Meme Kombat ($MK). The native token of Meme Kombat, $MK, is priced at just $1.667 on the presale.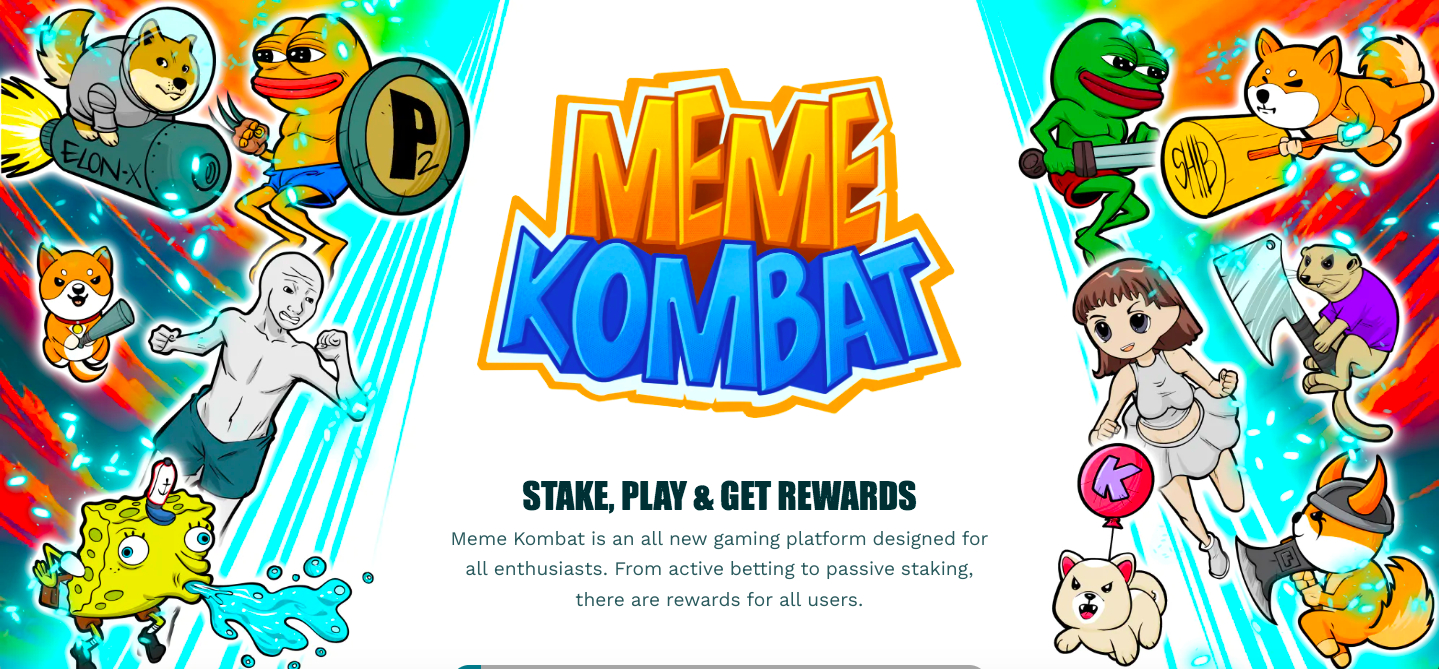 As soon as one purchases Meme Kombat on the presale, their holdings will be automatically staked on a staking contract. You can generate daily passive income before the token even lists on crypto exchanges. For the ongoing presale, the staking APY is a staggering 112%.
On Meme Kombat, users can take part and wager on a battle arena, which combines the thrill of meme coins with gaming opportunities. The battle arena will feature several meme coin avatars that will go head-to-head in battle. $MK token holders can stake and wager their tokens to predict the outcome of these battles.
Through the Player vs Player mode, you can even challenge a friend and wager tokens. The rewards include free $MK tokens and exclusive prizes. According to the Meme Kombat whitepaper, the first season of the battle arena will kick off after the presale ends. It will feature staking and betting opportunities and slowly expand over time.
The project and the CEO have been doxxed, a rarity for most meme coin projects. Furthermore, 100% of the 12 million token supply has been allocated for the public. 6 million tokens are available for the presale, while another 30% of the supply will be distributed through staking and battle rewards. Meme Kombat will offer a further 10% of the supply through community rewards.
The remaining 10% will be used for DEX allocation. Stay updated with this meme coin by joining the Meme Kombat Telegram channel.
| | |
| --- | --- |
| Presale Started | 21 September 2023 |
| Purchase Methods | ETH, USDT |
| Chain | Ethereum |
| Min Investment | $5 |
| Max Investment | None |
Bitcoin BSC
Bitcoin BSC (BTCBSC) is a trending new staking token on the Binance Smart Chain, designed as a Bitcoin clone.
The project offers rapid, 10-minute reward distributions and runs on a greener Proof-of-Stake (PoS) mechanism.
Bitcoin BSC kicked off its presale at an attractive $0.99 per token and has witnessed a strong community. The platform raised over $2.7 million within a few days of launch.
Such rapid growth revealed strong market optimism for Bitcoin-inspired cryptos, especially given the success of similar Bitcoin clones like BTC20 on Ethereum, which saw a 7x increase post-Uniswap listing.
Mirroring Bitcoin's original 21-million token cap, the presale aims to circulate 6.25 million BTCBSC tokens in its presale.
The project has set a presale hard cap of $3.96 million but allows for an extension of over $6 million to meet the expected surge in demand. Any unsold tokens will revert to the staking pool.
In contrast to Bitcoin's energy-intensive Proof-of-Work model, BTCBSC operates on a PoS mechanism. This not only makes the platform more eco-friendly but also encourages long-term investments.
According to the Bitcoin BSC whitepaper, the staking reward system is designed to mirror Bitcoin's original block structure, vesting over 120 years.
The tokens currently offer an APY of over 190%, though this rate will likely decrease as the staking pool grows. However, early investors can benefit from compounding their rewards.
Moreover, BTCBSC offers the dual advantage of faster and more cost-effective transactions than Bitcoin or Ethereum, thanks to its Binance Smart Chain foundation.
Potential investors can join the Bitcoin BSC Telegram channel for real-time updates and announcements.
| | |
| --- | --- |
| Presale Started | September 5 2023 |
| Purchase Methods | ETH, USDT, BNB, Credit Card |
| Chain | BNB Smart Chain |
| Min Investment | $10 |
| Max Investment | None |
TG.Casino
TG.Casino ($TGC) is a fully licensed Telegram online casino and has just launched its native token on presale. On the TG.Casino, users can leverage the $TGC token to access staking rewards, multiple casino games, and NFTs.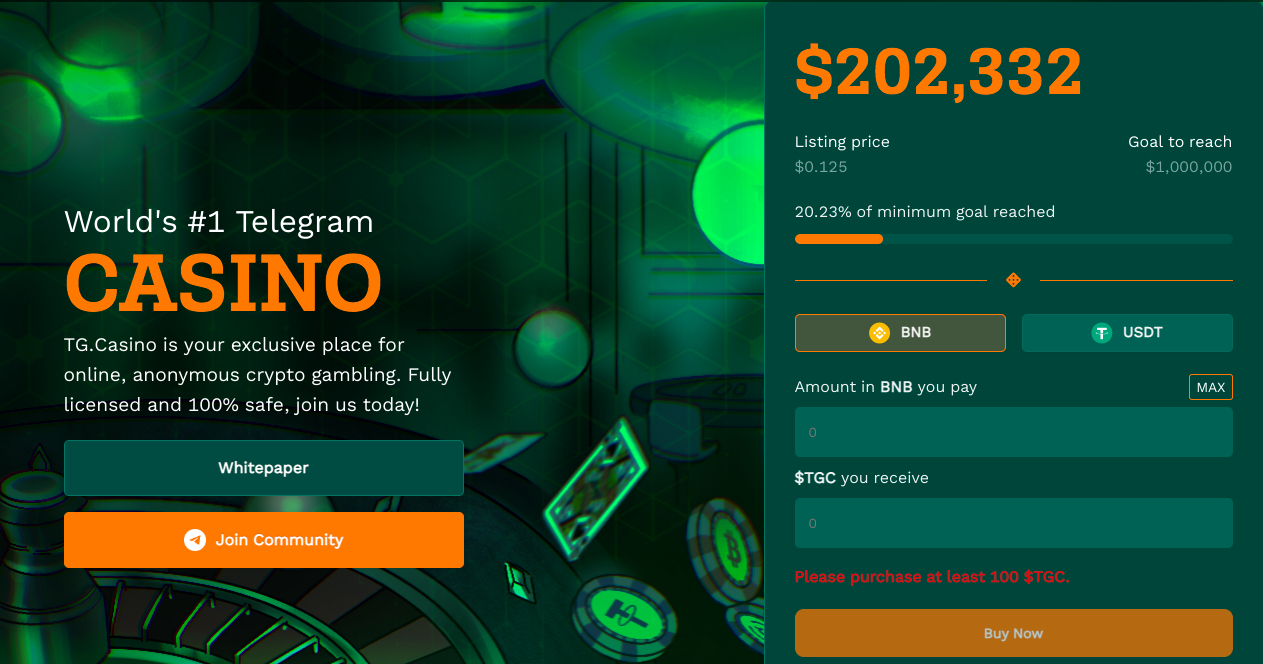 Currently, one can buy $TGC on presale for only $0.125 per token. From a total supply of 100 million, 40 million has been allocated for the presale. In under a week, the presale has raised more than $200K. The goal is to raise $10 million by the end of the presale.
On the TG.Casino, the token can be used to get access to exclusive games. Furthermore, the TG.Casino will reward top performers with $TGC tokens. 10 million tokens will be offered as player rewards and bonuses.
The $TGC token can also be staked to earn potentially high APYs. Currently, the staking APY on $TGC is 2,358%. More than 1.6 million tokens have been staked on the ecosystem. 20% of the token supply will be distributed through the staking mechanism. The TG.Casino will also use a part of its profits to buy back $TGC tokens.
A majority will be distributed to token holders through a staking pool, while 40% will be burnt. As the supply reduces, the token can become more valuable if we see an increase in demand. Since TG.Casino is accessible only through Telegram, users do not need to complete a KYC process and can easily start gambling.
Interested investors can purchase at least 100 $TGC tokens through the presale. Stay updated with this cryptocurrency by reading the TG.Casino whitepaper and joining the Telegram channel.
| | |
| --- | --- |
| Presale Started | 21 September 2023 |
| Purchase Methods | ETH, USDT, BNB |
| Chain | Ethereum |
| Min Investment | None |
| Max Investment | None |
yPredict.ai
yPredict.ai has developed an innovative platform that enables crypto investors to make informed trading decisions. The yPredict ecosystem covers many features, including sentiment and technical analysis that is backed by AI.
Users will also receive real-time trading signals. This informs users of which crypto tokens to buy or sell, alongside the appropriate entry and exit price. yPredict also offers a staking facility, enabling users to earn passive rewards on its native token, YPRED.
The yPredict ICO is currently in stage four, meaning YPRED tokens are priced at just $0.05. The next stage of the ICO will increase the price to $0.07. After the ICO, YPRED will be listed on exchanges at $0.12 - an upside of 140% based on current prices.
How to Find the Best ICO Tokens to Buy
Not all ICO tokens go on to become successful, so investors will need to conduct plenty of independent research. The most important factors to consider include the project's concept, the utility of its token, and how realistic its roadmap objectives are.
Let's explore some of the most effective ways to find the best ICO tokens to buy:
Concept of the Project
A good starting point when exploring how to buy ICO tokens is to read the project's whitepaper. This will reveal the concept of the project and what real-world problems it aims to solve. Ultimately, the most successful ICO tokens offer something innovative and new.
Utility of the Token
While there are thousands of tokens in the market, many do not have any use cases. ICO tokens that fall into this category will rarely witness long-term growth.
Instead, it's better to focus on tokens that have an actual utility within the project's ecosystem.
If an ICO token has utility, this increases the likelihood that people will buy it. In turn, increased buying pressure can lead to price appreciation of the token - benefiting early investors.
Roadmap Targets
The best ICO projects offer a detailed and trackable roadmap. This is usually found in the project's whitepaper. Investors should evaluate how realistic the roadmap targets are. Moreover, each target will have an anticipated completion date.
This enables investors to assess whether or not the project is on course. When ICO projects meet their stated targets, this increases trust from the broader markets. But when targets are missed, this has the opposite effect.
How to Buy ICO Tokens Safely & Avoid Scams
The unregulated nature of cryptocurrencies means that investors need to be cautious when learning how to buy ICO tokens. Put simply, just because an ICO claims to have developed an innovative solution to a real-world problem, this doesn't mean that this will come to fruition.
Many crypto startups fail to meet their targets, with investors never seeing the final product or service. This is why research is so important.
Another risk associated with ICOs is a rugpull. This happens when the team behind the ICO suddenly disappears, taking investor funds with them. This leaves ICO investors with worthless tokens.
So what steps can ICO investors take to remain safe? First and foremost, it is important that ICO investors only risk what they can afford to lose. There is no guarantee that the ICO will be successful, so investors can lose some or even all of their investment.
Second, it is crucial to avoid putting all investment funds into one ICO. Instead, consider diversifying across many different ICOs from multiple niches.
It is also important to use a suitable crypto wallet when investing in ICOs. This will ensure that the ICO tokens purchased can be stored safely. Ultimately, ICOs are never risk-free, so investors should tread with caution.
Conclusion
While ICOs can be risky, the investment returns can be significant. This is because ICOs enable investors to buy newly launched tokens at the lowest price possible. If the project is successful, this can yield sizable returns for early investors.
Overall, Wall Street Memes is currently one of the hottest ICOs in the market. This project is revolutionizing the meme industry through its community-centric tokenomics and staking rewards. Its utility token, WSM, is now available to buy at ICO prices at only $0.0337 USDT.
FAQs
How do I buy ICO tokens?
After finding a suitable project to invest in, connect a crypto wallet (e.g. MetaMask) to the ICO website and pay for the tokens with a supported crypto (e.g. Ethereum).
---