How to Buy Doge Rush ($DR) - Easy Guide
Disclaimer: The Industry Talk section features insights from crypto industry players and is not a part of the editorial content of Cryptonews.com.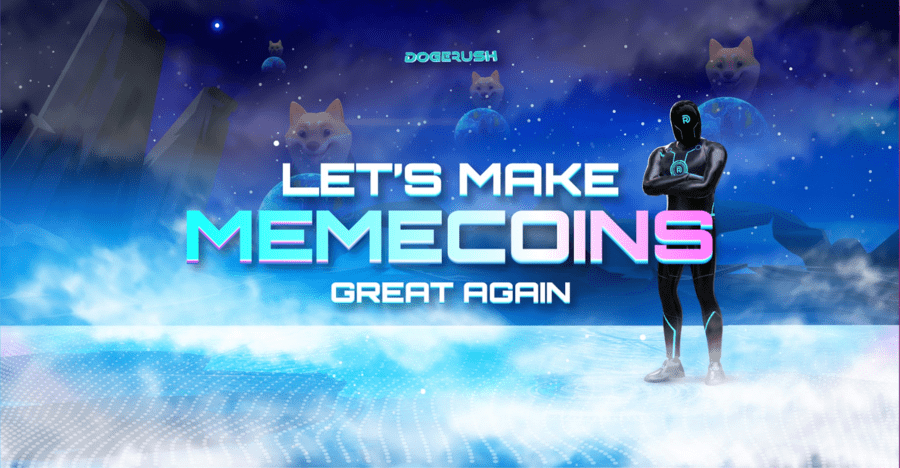 As the meme coin trend continues to gain momentum, numerous tokens are experiencing price surges, only to plummet soon after.
Doge Rush, a promising new entrant, is changing the game by offering genuine utility, often seen as a key to securing long-term price stability.
Doge Rush merges gaming, competitions, and NFTs to separate itself from the crowd. With its meme tokens currently on presale, it's catching the attention of savvy traders.
In this guide, we dive into the project details and outline the process of purchasing $DR tokens.
How to Buy Doge Rush in 5 Quick Steps
Purchasing Doge Rush ($DR) tokens can be broken down into the following five quick steps:
Step 1: Set up a Wallet - Set up a digital wallet compatible with Doge Rush. MetaMask is a commonly chosen option.
Step 2: Buy ETH/USDT - Acquire Ethereum or USDT, the digital currencies accepted for purchasing $DR tokens.
Step 3: Connect to Presale - Connect your wallet to the Doge Rush presale page and select your preferred digital currency.
Step 4: Confirm Transaction - Decide the amount of Ethereum or USDT you wish to exchange for $DR tokens, hit 'swap,' and confirm the transaction.
Step 5: Claim Tokens - The tokens will stored on the Doge Rush website and will become claimable after the presale ends.
Doge Rush: An Overview
Doge Rush is a meme coin blending the fun meme culture and gaming into a single platform. The platform places a special focus on its practical use.
By fusing two components, DogeHub and DogeWin, it goes beyond a mere speculative asset and creates an immersive and rewarding space for users.
The Doge Rush platform has recently launched its presale event for its native token, $DR. This token facilitates users' complete access to the platform's exclusive services.
The Doge Rush whitepaper sheds light on the benefits $DR token holders can gain, setting it apart from its peers.
DogeHub, an integral segment of the Doge Rush platform, offers an exciting gaming environment reminiscent of popular games such as Subway Surfers and Temple Run.
Moreover, DogeHub has a unique selling point - starring influential internet personalities like Elon Musk and Doge. It launches the "play-to-earn" mechanism within a meme coin culture.
DogeWin, on the other hand, showcases a competitive platform with crypto-based incentives. Users can pit their skills against one another and stand a chance to win rewards - ranging from exclusive NFTs to considerable quantities of ETH.
Why Doge Rush?
The Doge Rush project underlines the importance of security. Undergoing a comprehensive audit by Coinsult proves its dedication to fostering transparency and building investor trust.
Moreover, the platform's roadmap clearly outlines its expansion plan. Starting with an exhaustive security analysis and the conceptualization of the gaming platform, the roadmap charts out the launch of Uniswap and the inauguration of DogeHub.
Phase three involves launching Doge Rush NFTs and strengthening collaborations, projecting a vision beyond the traditional meme coin craze. Recognizing the significant role of the community in a project's success, Doge Rush rewards active participation.
Also, with a total supply of 2 billion tokens, investors are assured of limited dilution and sustained value. This scarcity principle is crucial in increasing the token's market value over a long timeframe.
Moreover, its broad distribution ensures ample liquidity and encourages user participation. It stands out in the meme coin sector with planned tokenomics, stringent security, a clear roadmap, and a community focus.
Those who purchase during the current presale phase can also secure an immediate upside of 80% - with tokens now priced at $0.0055, they will increase to $0.0099 when they are listed on exchanges.
Join the Doge Rush Telegram group for more updates or read our full Doge Rush Price Prediction.
Buying Doge Rush - Step-by-Step Guide
Acquiring Doge Rush ($DR) tokens involves the following steps:
Step 1: Set Up Your Crypto Wallet
Start by setting up a Doge Rush-compatible digital wallet. A favored option is MetaMask, renowned for its accessibility across Google Play and the App Store - desktop users can opt for a MetaMask browser extension.
Post-installation, you'll be prompted to make a new wallet and make a secure record of your private key.
Step 2: Topping Up Ethereum or USDT
With your digital wallet ready, your next step involves securing ETH or USDT tokens, the approved digital currencies for purchasing $DR.
You can acquire these currencies directly through your MetaMask wallet or via numerous crypto trading platforms.
Step 3: Connect Your Wallet
The next stage is to link your wallet with the platform's presale page.
This requires navigating the presale page and clicking the 'connect wallet' button (pictured below).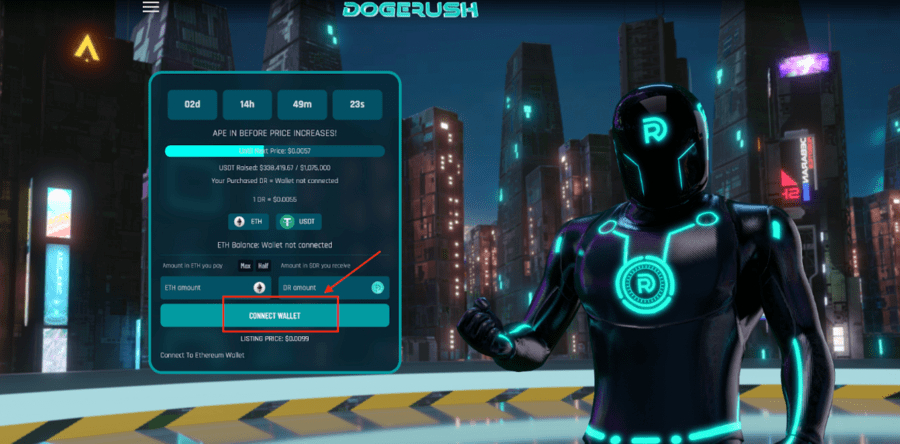 You are then given a choice between MetaMask or WalletConnect.
Following a successful connection, you must select the digital currency (USDT or ETH) you will exchange to receive the Doge Rush tokens.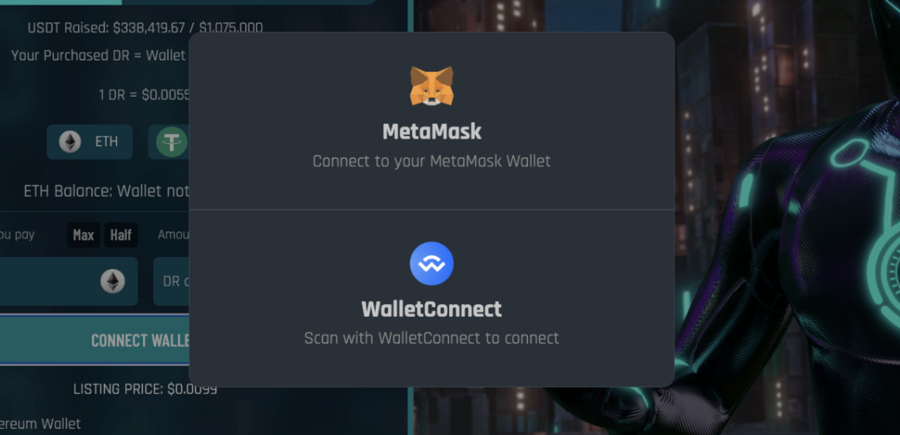 Step 4: Trade Your ETH/USDT for $DR
This next phase requires determining the quantity of existing crypto you wish to trade for the Doge Rush tokens.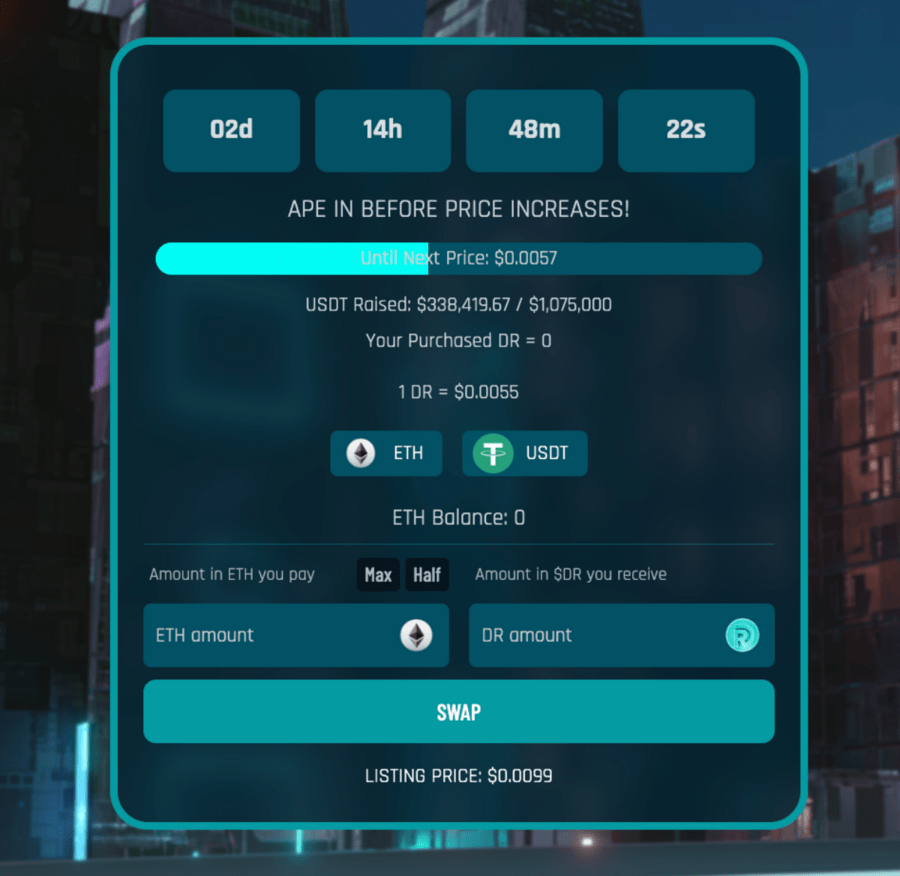 Once settled, simply click 'swap' on the presale widget and follow the instructions to confirm your transaction.
Step 5: Claim $DR Tokens
These tokens become claimable once the presale period concludes, with details to be released nearer the time.
They will be safely stored on the website until then.
Conclusion
Doge Rush ($DR) is attempting to redefine the meme coin concept through its native $DR token. Its platform allows users to experience the fun of memes with games and rewards.
More than just a typical meme coin, $DR presents real utility and strategic investment potential supported by an engaged community.
At the time of writing the presale, which has now raised $350k, is offering tokens for $0.0055 - however, tokens will list for $0.0099, meaning buyers can secure an immediate upside of 80%.
FAQs
What is the $DR Token?
The $DR token is the native token in the Doge Rush ecosystem. This token is the primary medium of transactions for all upcoming actions within Doge Rush, enabling access to the DogeWin and DogeHub gaming platforms.
Should I buy the $DR token?
Acquiring $DR tokens presents an opportunity to participate in a meme coin that merges memes and gaming. Yet, similar to all investment choices, thorough research and understanding the project's details beforehand is paramount.
---