How To Buy Deal With It ($DWIT) Token - Easy Guide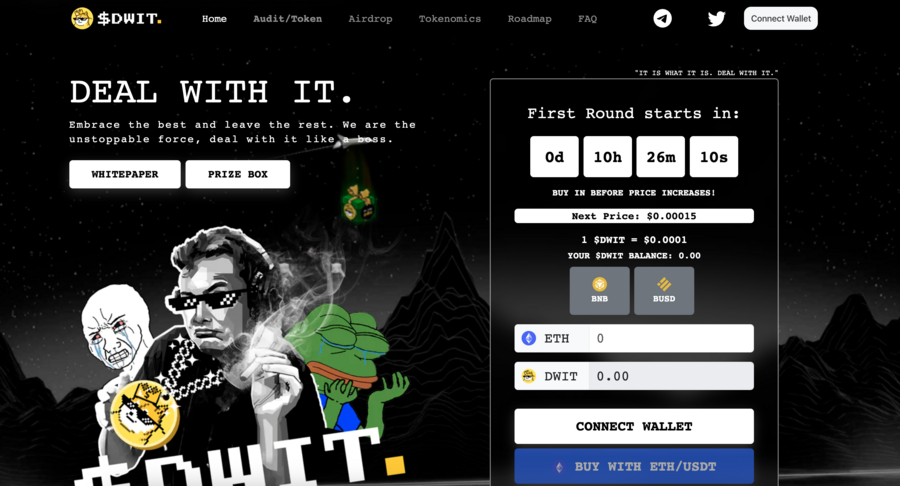 Deal With It ($DWIT) is a trending new crypto that aims to achieve what other tokens have failed to do - consistent profits and meaningful community rewards.
Powered by Ethereum's ERC-20 protocol, $DWIT offers features like staking, buybacks, and burning alongside unique incentives like Prize Boxes and airdrops.
This guide provides an in-depth look at the $DWIT token, including its features, reward systems, a step-by-step guide on buying it via its presale, and an overview of its growth plans.
What is the Deal With It Token?
The Deal With It Token has a simple motto, "Embrace the best and leave the rest." It has a unique goal to bring steady profits and various rewards to its users. This includes actual prizes, airdrops, staking, and many ways to earn.
Based on Ethereum's ERC-20 protocol, Deal With It has a cap of 130 billion tokens. The token design prevents minting new tokens and 'ownership renunciation.' It also assures transparency and trust with compliance through a rigorous audit by Solidproof.io.
$DWIT's distinguishing feature emphasizes stable profits and real rewards. Initiatives include Prize Boxes, referral incentives, and a 100K USDT airdrop.
Moreover, the Deal With It Token offers several key features contributing to its value and appeal.
Staking: Allows holders to generate further rewards.
Buybacks: Designed to maintain and increase the token's value.
Burning: A mechanism that reduces the overall supply, typically leading to value appreciation.
Together, these features create a robust ecosystem that encourages more participation in the token.
One of $DWIT's main goals is eventually reaching tech icon Elon Musk. This indicates ambition and the drive not just to follow but also to set trends.
The Deal With It token represents a movement focusing on profits and community engagement, making it one of the best low-cap cryptos to watch.
Prize Box System & Referral Rewards
The Prize Box System is integral to the $DWIT token reward system. Dealers who invest more than $100 USDT in $DWIT tokens during an ongoing round can claim one Prize Box for each $100 invested at the end of the round.
For instance, if $150 USDT is invested, two Prize Boxes can be claimed post-round. Upon opening these Prize Boxes, investors will instantly receive USDT rewards ranging from $5 to $200.
This system adds an engaging aspect to the investment process and provides additional incentives, aligning with Deal With Its mission to genuinely reward its community.
The platform also has a Referral Reward System, encouraging community engagement and investment. For every $100 in $DWIT tokens sold via a member's referral link, that individual earns +1 Prize Box. This offers a fun, interactive way to incentivize spreading the word about the $DWIT token and boosting new investments.
$100K Gleam Airdrop: A Chance to Win Exciting Rewards
The $DWIT also offers an exciting opportunity with a $100K USDT Gleam Airdrop. This event will take place on the Gleam platform, where 20 lucky winners will be selected to share the prize.
The distribution of prizes will be in USDT to ensure that the token's value is not depreciated. The prize pool includes awards like 1st place receiving 20K USDT, 2nd place 10K USDT, 3rd place 5K USDT, and the rest 65K will be distributed among the other 17 winners.
Prospective users must follow Deal With It on social media to enter the Airdrop .$DWIT moderators will verify winners' social media accounts to ensure authenticity.
Tokenomics
The tokenomics of the "Deal With It" token shows a well-thought-out community-centric allocation. The project has a supply cap of 130 billion tokens, of which 100% are set aside for the community.
For marketing purposes, 20% of the total tokens are reserved, ensuring the project reaches a broad audience.
To incentivize community participation and loyalty, rewards are set at 10%. A 10% allocation each is maintained for decentralized exchanges (DEX) and top-tier centralized exchanges (CEX), providing both accessibility and liquidity.
The $DWIT token allows flexibility with no minimum or maximum purchase limits, encouraging inclusivity for all investors.
Liquidity is locked forever, creating a stable environment and enhancing trust. Additionally, the contract is renounced, ensuring high transparency and security.
Solidproof.io has also audited the Deal With It Token. The process involved comprehensively examining security, integrity, and reliability, identifying vulnerabilities and potential weaknesses, thereby reinforcing investor confidence.
Roadmap
Identifying the best crypto presales often requires diving into its long-term strategy, partnerships, and potential expansion into various markets.
The platform has outlined its growth strategy as follows;
Phase 1: Foundation
In the foundational phase, Deal With It focuses on developing a transparent smart contract, creating community engagement on platforms like Telegram and Twitter, and launching the "Prize Box" system.
This phase lays the groundwork, with the Prize Box system offering an opportunity for Dealers to unlock instant USDT rewards ranging from $5 to $200 at the end of each round.
Phase 2: Launch
Phase 2 marks the launch of the $DWIT Token and collaboration with content creators and influencers. Token listings on decentralized exchanges provide effortless trading, while listings on centralized exchanges can widen the reach.
This phase also involves awareness campaigns, mainstreaming the Deal With It movement, and prepping the community for the following stages.
Phase 3: Community Growth
The third phase targets community growth to reach a $1 billion market cap and listings on top-tier centralized exchanges.
The development of Smart Contract NFTs and a Marketplace is a pivotal component, with market fees used for a token burn mechanism. It sets the stage for trading boxes, rewards, and NFTs, boosting the Deal With It community-centric approach and moving toward achieving high profits and community rewards.
Additionally, any future partnerships or collaborations that $DWIT might have with renowned platforms or organizations in the crypto space can boost the token's reputation and market presence.
Also, any upcoming technological advancements or innovations can impact the Deal With It token price. This could include new features, enhancements, or even venturing into NFTs, gaming, etc.
Presale Information
The presale of the "Deal With It" token offers an exciting opportunity for early buyers. Successful meme coin launches can reach 10x after the presale.
The first round will sell each $DWIT token for $0.0001 USDT, and the price will increase to $0.00015 in the subsequent round. This progressive pricing structure ensures early buyers benefit from significant upside potential.
Each presale round will last seven days or until the tokens of that specific round are sold out. The timing and structure of the rounds are designed to grant better profit for those who buy first, making early participation highly attractive.
To keep up with the presale, rounds, airdrops, and prizes, it's crucial to stay updated with the latest information. The 'Deal With It' Telegram and other social media channels are vital to get this information.
Staying connected through social media will ensure you do not miss any opportunity to participate in the presale and capitalize on the platform's incentives.
Also, following 'Deal With It' on Twitter will help you keep up with the platform's progress alongside other updates.
How To Buy Deal With It ($DWIT) Tokens
The following section outlines the steps to buy the Deal With It tokens. Here's a step-by-step guide that even beginners can follow to buy Deal With It tokens.
Step 1: Choose and Set Up a Crypto Wallet
Before buying $DWIT tokens, you'll need a crypto wallet compatible with the 'Deal With it' presale website.
MetaMask and Coinbase Wallet are widely used, but alternatives like Ledger, Infinity, Zerion, and others are also available.
Pick the one that fits your needs, and either download the browser extension or install the app on your mobile device. Follow the prompts to get it set up.
Step 2: Obtain ETH/BNB/BUSD/USDT Tokens
You'll need some of the best altcoins like Ethereum (ETH), Binance Coin (BNB), BinanceUSD (BUSD), or Tether (USDT) to buy $DWIT tokens. If you don't have these, purchase them from a crypto exchange you trust, then transfer them to your chosen wallet.
Step 3: Link Your Wallet to the Presale Website
Next, go to the official Deal With It presale website. Here, you'll find information about the presale price and an option to 'Connect Wallet.' Click this and select your wallet, following the clear instructions to link it to the presale.
Step 4: Purchase $DWIT Tokens
After connecting your wallet, select the number of $DWIT tokens you want to buy and choose the currency you'll use (ETH, USDT, BNB, or BUSD).
For example, 0.001 ETH will get you 24,205.20 DWIT tokens. Enter the amount you want to swap and click 'Buy $DWIT.' There's even an option to buy ETH with a card directly on the presale site.
Step 5: Claim Your $DWIT Tokens
Once the presale ends, you can claim your $DWIT tokens. Return to the Deal With It website, where you'll find the claiming option. Follow the steps, and your new tokens will appear in your wallet.
Important Note: The designated token contract address for Deal With It is 0x379E4C1CD4e0133. It is vital to refrain from sending funds directly to this address, as they will be irretrievable. Stay up to date with 'Deal With It' official social media channels and website for any updates, promotions, or changes to the buying process.
Conclusion
The Deal With It Token is an emerging crypto presale with unique features like staking, buybacks, and burning to increase value. The Prize Box System and a 100K USDT airdrop alongside a community-focused approach further improve the token's appeal.
Early buyers can grab the $DWIT tokens for a presale rate of $0.0001 USDT in the first round and $0.00015 in the next. Always ensure the security of your transactions and transact on the 'Deal With It' official presale page.
References
https://www.worldbank.org/en/news/podcast/2021/12/22/how-crypto-technologies-could-revolutionize-development-the-development-podcast
https://www.cnbctv18.com/cryptocurrency/tamadoge-meme-coin-raised-15-million-in-presale-pegged-to-rally-10x-in-future-14712101.htm
FAQs
What is the Deal With It token?
The Deal With It Token ($DWIT) is hot new crypto built on Ethereum's ERC-20 protocol, aiming to bring steady profits and various rewards to its users. It focuses on stable profits, transparency, and tangible rewards, with features such as staking, buybacks, burning, and a cap of 130 billion tokens. The incentives include Prize Boxes, referral incentives, and a 100K USDT airdrop.
What is the price of the Deal With It token?
During the presale of the Deal With It Token, the price is set at $0.0001 USDT in the first round and will increase to $0.00015 USDT in the next round. This progressive pricing structure is designed to benefit early buyers.

---