How to Buy Battle Infinity – Should You Invest?
Disclosure: Crypto is a high-risk asset class. This article is provided for informational purposes and does not constitute investment advice. By using this website, you agree to our terms and conditions. We may utilise affiliate links within our content, and receive commission.
Disclaimer: The text below is an advertorial article that is not part of Cryptonews.com editorial content.
We've compared numerous crypto projects and NFT games, and we saw that Battle Infinity is one of the best crypto investments. It offers investors and gamers numerous benefits, but its key function is enabling players to earn while entertaining themselves. We wanted to provide a tutorial about how to buy Battle Infinity.
Apart from that, we also included how investors and gamers benefit from this crypto platform. We covered the game's benefits, price and a detailed step-by-step guide with screenshots on how to invest in Battle Infinity to earn rewards.
How to Buy Battle Infinity – Quick Guide
Let's get into a simple process of how to buy IBAT to take advantage of everything this game and its native token offer.
Set up Crypto Wallet – It's necessary to have a secure wallet that can connect to Binance Smart Chain to buy and store IBAT coins. Getting started requires a user to download the app for a trust or Metamusk wallet.
Buy BNB – To buy Binance coin, users should create an account on Binance, then choose the preferred payment method, search for BNB and then enter the amount of fiat currency to spend.
Connect Wallet to Presale Dashboard – Visit Battle Infinity's website. In the right corner is an icon for 'Connect Wallet'. Click on it and then choose the wallet to connect.
Buy Battle Infinity (IBAT) – After connecting a wallet, the navigation opens a window enabling users to buy IBAT directly. All that's required is to enter the amount of IBAT to buy.
Enter the IBAT Contract Address – Here is the IBAT contract address: 0x19cd9b8e42d4ef62c3ea124110d5cfd283ceac43. It needs to be pasted into a trust wallet so that it can find IBAT.
Should I Buy Battle Infinity?
Investors and gamers can benefit from investing in Battle Infinity. This NFT fantasy sports game provides more than entertainment. It offers players the opportunity to earn rewards, which they can redeem on Battle Swap for other currencies.
Benefits of Buying Battle Infinity
Although playing games is fun, it can rob people of the time they could use to earn money. But with Battle Infinity, users get the best of both worlds. Not only is the game fun, but it's also rewarding.
Play-to-Earn
Battle Infinity enables players to enter six platforms. Although Battle Games offers multiple games, the platform is set up to enable players to compete for the highest rewards. As an example, Battle Stake enables players to stake their IBAT coins. But their rewards are based on how well they play. The best players receive the highest annual percentage yield (APY).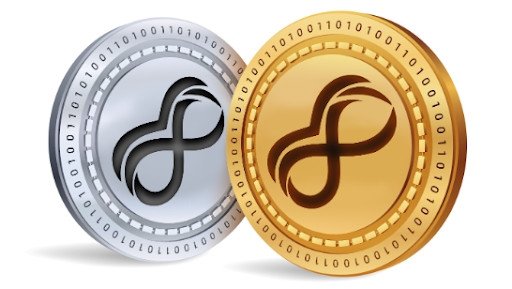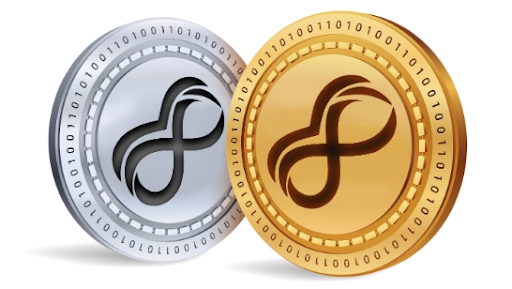 The platform is designed to process half of all IBAT transactions into a global staking pool. It's from the global staking pool that Battle Infinity allocates rewards to the most active and loyal players.
Capital Gains
Battle Infinity is powered by the native token IBAT. Players can buy the token on Battle Swap, the platform's decentralized exchange. The coin is currently on presale, so it's at discounted prices. Now is definitely the time to invest in Battle Infinity because it's one of the top 10 cryptos with the most potential.
The coin has tremendous upside potential since it's only USD 0.0015 each. Crypto investors have seen projects such as Battle Infinity provide significant returns. Although capital gains aren't guaranteed, if Battle Infinity grows so will the demand for IBAT.
Gaming
Players who love multiple gaming options will enjoy Battle Infinity. It provides access to six platforms such as IBAT Premier League, Battle Arena and Battle Market. Players can choose multiple games from Battle Game and explore the Metaverse with their unique avatar in Battle Arena.
Battle Market enables players to buy NFTs to dress their characters with accessories such as sunglasses and hats but also stylize their hair. In IBAT Premier League, players can build up their team by buying real-life players and monetising land.
Ways of Buying Battle Infinity
Investors will soon be able to buy IBAT in several ways. The two most popular ways to invest in cryptocurrencies are with Paypal and credit/debit cards.
Paypal
Several major exchanges such as eToro enable investors to pay for cryptocurrencies via Paypal. Connecting a Paypal to an eToro account is simple, and the transfer reflects immediately.
At the moment, IBAT isn't listed on a centralized exchange. But since the project has been doing extremely well in the first two weeks of its presale, it's only a matter of time before it's listed on an exchange enabling Paypal transactions.
Debit/Credit Cards
Using cards to buy cryptocurrencies has become a popular payment method. At the moment, IBAT isn't listed on a centralized exchange. But the project is still only in presale.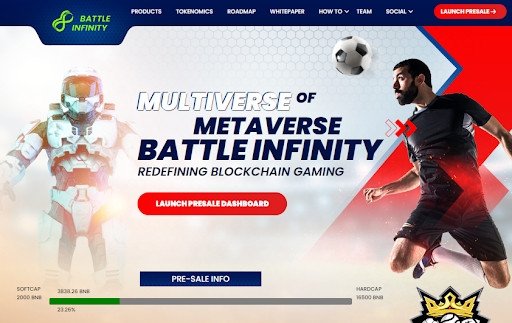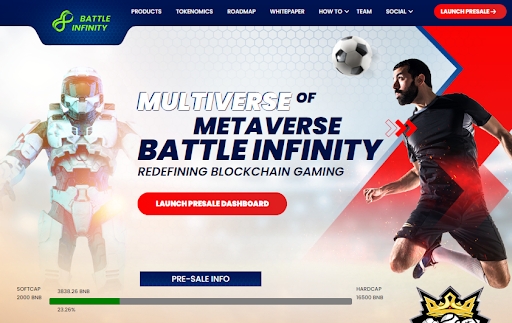 Considering Battle Infinity has received a Solid Proof audit, it's just a matter of time before investors can use cards to buy IBAT on an exchange such as Kucoin.
Battle Infinity Price
At the moment, IBAT is trading at USD 0.0015. It's on presale and has been since 11 July 2022, but that only runs until 10 October 2022. So the price is discounted at the moment. Considering IBAT offers so many benefits and it's extremely affordable, it's definitely one of the most undervalued cryptos to buy.
The Battle Infinity project has done extremely well in the short time it's been out. In the last two weeks, it has raised more than USD 1 million in IBAT sales. If sales keep continuing this way, IBAT is bound to be sold out way before the presale ends.
So now is definitely the time to get in on this project and buy IBAT.
Battle Infinity Price Prediction
Considering Battle Infinity's token has been out for only a few weeks and hasn't traded on centralized exchanges, it's difficult to predict its price. We can't technically analyze its price action, but we can look at the fundamentals.
Battle Infinity offers players and investors the opportunity to earn. While playing, players can earn and redeem their rewards for fiat currencies. This game offers six platforms and various ways to earn rewards.
IBAT's presale has exceeded all expectations. Battle Infinity's coin price is currently affordable, and the demand is high. When considering all those factors, IBAT has tremendous potential to provide significant returns.
For the latest Battle Infinity news, make sure to subscribe to its Telegram channel. Admins will never DM subscribers first – beware of imposters who use the same profile picture and name as moderators.
Currently the Battle Infinity Telegram has around 8,000 members and according to BScScan data there are currently 1,439 holders of IBAT.
Read our full Battle Infinity price prediction.
How to Buy Battle Infinity Safely
The safest way to buy IBAT safely is to visit Battle Infinity's website. All that's required is to connect to a Metamask or trust wallet and enter the amount of IBAT to buy.
How to Buy Battle Infinity – Detailed Tutorial
Since investors want to get in on IBAT while it's on presale, we provided a step-by-step tutorial with screenshots on how to buy Battle Infinity.
How to Buy IBAT
Here's a quick tutorial on how to buy IBAT.
Step 1: Connect Wallet
Log onto Battle Infinity's website, and make sure to click 'Connect Wallet'.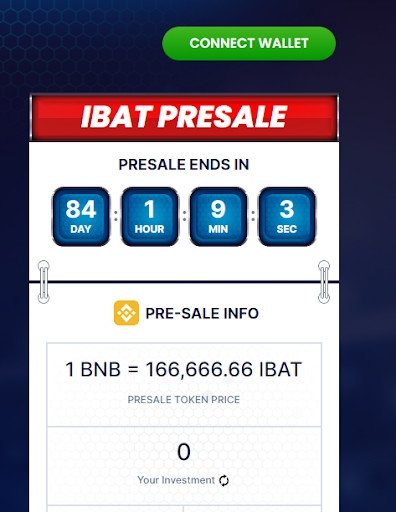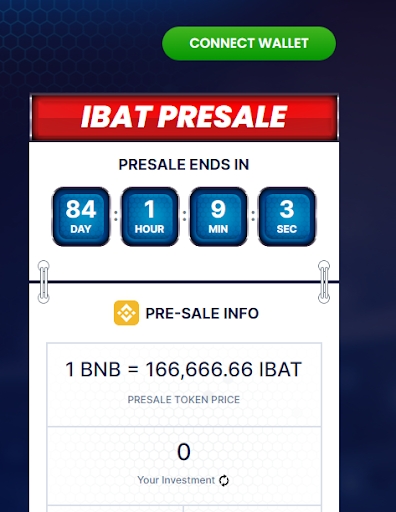 Step 2: Buy IBAT
Decide the amount of IBAT to buy and click 'BUY IBAT'.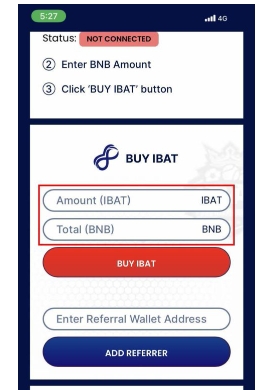 Step 3: Confirm Transaction
Make sure to click 'Confirm' in the wallet.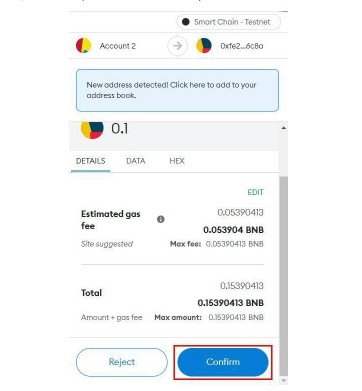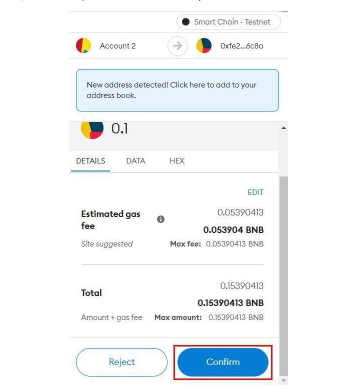 At the time of writing this piece, the IBAT presale is 23% sold out.


How to Sell Battle Infinity
New crypto projects, like Battle Infinity, at presale and ICO are early in their Gartner Hype cycle and tend to perform well after launch even in a bear market – so early investors could potentially sell IBAT for 10x gains once it's listed on PancakeSwap, a decentralized exchange.
Play to earn token ALICE which powers the metaverse game My Neighbor Alice is still up 18x from its presale price (USD 0.125 at ICO, and USD 2.2 today) even after a long correction and the entire 2022 crypto bear market. That demonstrates the popularity of NFT-based metaverse games, and the high potential upside for presale investors in IBAT.
---