How to Predict Crypto Prices? yPredict Platform Has the Answer Using AI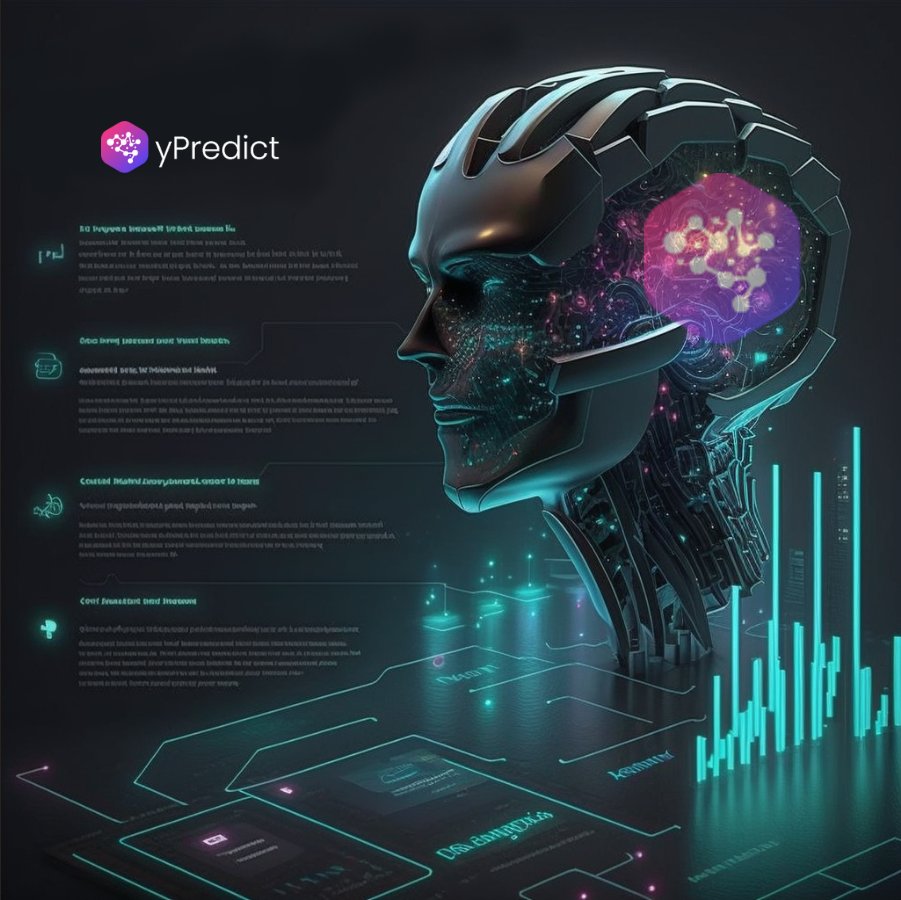 As the cryptocurrency market becomes increasingly competitive and complex, trading cryptocurrency has become an increasingly challenging task for traders, quants, and analysts alike.
yPredict serves as an AI-driven platform with the goal of reshaping and simplifying how individuals perform technical analysis and predict crypto prices.
The yPredict ecosystem, which is a collaboration among AI and machine learning experts, financial quants, and traders, aims to provide actionable market insights and analytics by leveraging cutting-edge AI technologies.
AI Takes Center Stage: The Power of Large Language Models
Central to yPredict's approach is the use of machine learning-based large language models (LLMs), which have already demonstrated their ability to predict stock price movements.
By deploying advanced financial prediction models and metrics trained on extensive datasets, yPredict endeavors to optimize trading choices and achieve greater precision in predicting crypto price movements.
Recent research has shown the potential of AI, such as ChatGPT, in predicting stock price movements, further validating yPredict's methodology.
A New Breed of Trading Tools: Advanced Features for Enhanced Predictions
yPredict offers a comprehensive suite of features designed to help users analyze and predict crypto prices.
These features include pattern recognition, sentiment analysis, indicator analysis, and transaction analysis.
By incorporating these advanced tools into its ecosystem, yPredict seeks to empower its users with actionable insights and the ability to make more informed trading decisions.
Algorithmic Dominance: The Growing Challenge for Market Predictability
One significant hurdle faced by traders in today's market environment is the prevalence of algorithms in determining price structures.
With as much as 80% of trading volume orders executed by algorithms across financial markets, predictability has decreased, making it increasingly difficult for traders to find a reliable statistical edge.
The rise of automated systems has led to the concealment of market information, leaving traders to navigate through a sea of data noise.
Taming the Algorithmic Beast: yPredict's AI-driven Market Predictions
To address these challenges, yPredict will harness the power of AI to create in-house predictive models and marketplaces.
In contrast to many financial information websites and blogs that often hide the source of predicted values and the authenticity of their predictions, yPredict stands apart as an open system.
The platform is designed to filter out the noise and provide traders with more transparent, data-driven insights to improve their decision-making process and predict crypto prices more effectively.
Win-Win for Developers: Passive Income Opportunities with yPredict
yPredict is not only beneficial for traders and analysts but also offers opportunities for AI machine-learning developers.
By allowing developers to sell their predictive models on the platform, yPredict will enable them to earn passive income in the form of $YPRED tokens, depending on the verifiable success rate of their models.
This innovative approach incentivizes the development of high-quality, reliable predictive models that can further enhance the platform's offerings.
yPredict's market predictions platform will be open to all users, providing cryptocurrency rewards and securities price predictions generated through its proprietary predictive models and marketplace.
These predictions showcase the potential of AI machine learning-driven tools in analyzing price trends on yPredict platforms.
By offering an open and accessible platform, yPredict encourages the widespread adoption of AI-driven price predictions for the benefit of all market participants.
Freemium Pricing Model: Catering to Traders, Quants, and Analysts of All Levels
The yPredict Analytics platform operates on a freemium pricing model, featuring three membership levels: free, active, and pro trader.
The $YPRED token is used to pay for memberships and predictive models available in the marketplace, underpinning the utility and value of the token.
By offering a tiered pricing structure, yPredict ensures that its platform is accessible to traders, quants, and analysts with varying levels of experience and resources.
Investors can buy $YPRED with ETH, MATIC, and BNB.
The Power of Community: Collective Intelligence and Collaboration
Another key aspect of yPredict's platform is its focus on fostering a community of traders, analysts, developers, and quants.
By creating an open and collaborative environment, yPredict encourages the sharing of knowledge, expertise, and insights, ultimately benefiting all market participants.
This community-driven approach not only helps to enhance the quality of the platform's predictions but also serves to drive innovation and the development of new tools and strategies.
As mentioned earlier, the $YPRED token also serves as the primary currency within the yPredict ecosystem, used to pay for memberships and predictive models available in the marketplace.
Additionally, the token offers staking opportunities in a staking pool, ensuring consistent and lucrative APY% as each new platform subscription contributes to the pool.
This multifaceted utility ensures that the $YPRED token remains an integral component of the yPredict ecosystem, supporting its growth and development.
Embracing the AI Revolution in Crypto Price Predictions
The advent of AI and machine learning technologies has the potential to transform the way we predict crypto prices and navigate the increasingly complex financial markets.
Platforms like yPredict offer a glimpse into the future of trading, providing users with advanced tools, insights, and strategies to make more informed decisions.
As the crypto space continues to evolve, the adoption of AI will no doubt serve as a pivotal strategy for maintaining a competitive edge and unlocking new opportunities within the cryptocurrency market.
Disclaimer: The Industry Talk section features insights by crypto industry players and is not a part of the editorial content of Cryptonews.com.
---