How IMPT's New Planet's Loyalty Program Will Help Everybody Offset Carbon Emissions and Why You Should Be Getting Involved
Disclaimer: The text below is a press release that is not part of Cryptonews.com editorial content.
After years of building its product and months of raising funds, IMPT has finally started to release its ecosystem to the public. The rollout now allows shoppers to earn carbon credits and offset their carbon footprints whenever they shop at their favorite retailers.
With its application launched on the Google Play store and the Apple App Store, shoppers can finally purchase items through the platform and instantly start to impact the planet positively.
With the foundational structure of the ecosystem in place, IMPT is rolling out its new Planet's Loyalty Program, which will help to expand the reach of the groundbreaking carbon credit ecosystem.
What is IMPT, and Why is the Global Rollout Network So Important?
IMPT is an ecosystem designed to connect socially responsible brands with businesses and individuals seeking to reduce their carbon footprints.
The ecosystem is designed to make it extremely easy for people to purchase and earn verified carbon footprints through its Carbon Credit Marketplace and Shopping Platform.
The Carbon Credit Marketplace allows customers to easily purchase carbon credits without crossing the hurdles in the convoluted carbon credit industry designed for large-scale enterprises.
The Shopping Platform allows customers to easily earn carbon credits while shopping at their favorite retailers without changing their lifestyle habits.
The project underwent a wide-scale fundraising presale, in which it managed to raise almost $20 million. Now, IMPT has officially released two of its highly anticipated products, which can be accessed through its platform online or through mobile applications on both Android and iOS devices.
Furthermore, IMPT already has thousands of brands onboard as retailers, with Amazon and Alibaba also involved. Users can earn carbon credits through their Netflix subscription if purchased through the platform or earn them through re-selling on eBay via the platform.
In addition, the project recently unveiled its new "Planet's Loyalty Program," which allows retailers to sign up for the Retail Partnership Network and benefit from being affiliated with an ESG-friendly ecosystem.
The partnership offers retailers incentives and customer rewards, which can be converted into carbon credits to help reduce global carbon emissions.
How Does it Work?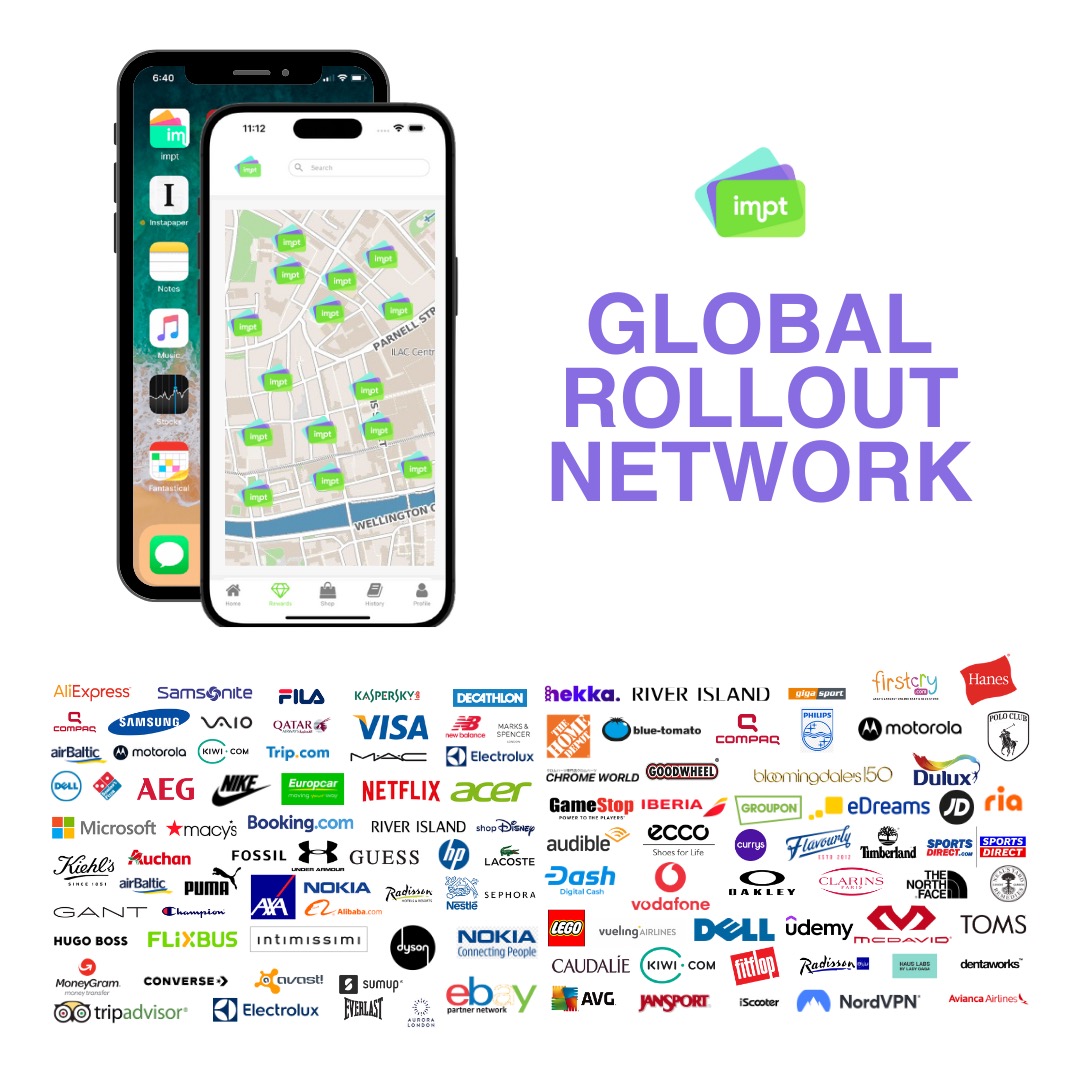 IMPT is launching a Global Rollout Network to expand the blockchain-based carbon credit ecosystem to help prevent climate change.
This is a "first of a kind" Retail Partnership Network on the blockchain,
The Global Rollout Network creates a revolutionary partnership program that allows individuals and businesses to expand the IMPT network and onboard new retailers into the Planet's Loyalty Program.
It's designed to provide retailers an opportunity to partner with IMPT and join the Planet's Loyalty Program to allow their customers to offset carbon emissions as they shop.
The network is accessible through the IMPT platform and iOS and Android applications, which allow businesses to sign up and become partner-listed retailers.
The Global Rollout Network Structure
The Global Rollout Network is structured uniquely, providing the quickest method for retailers to onboard in new territories.
The structure is split into Country Partners, Leadership Partners, and Area Partners.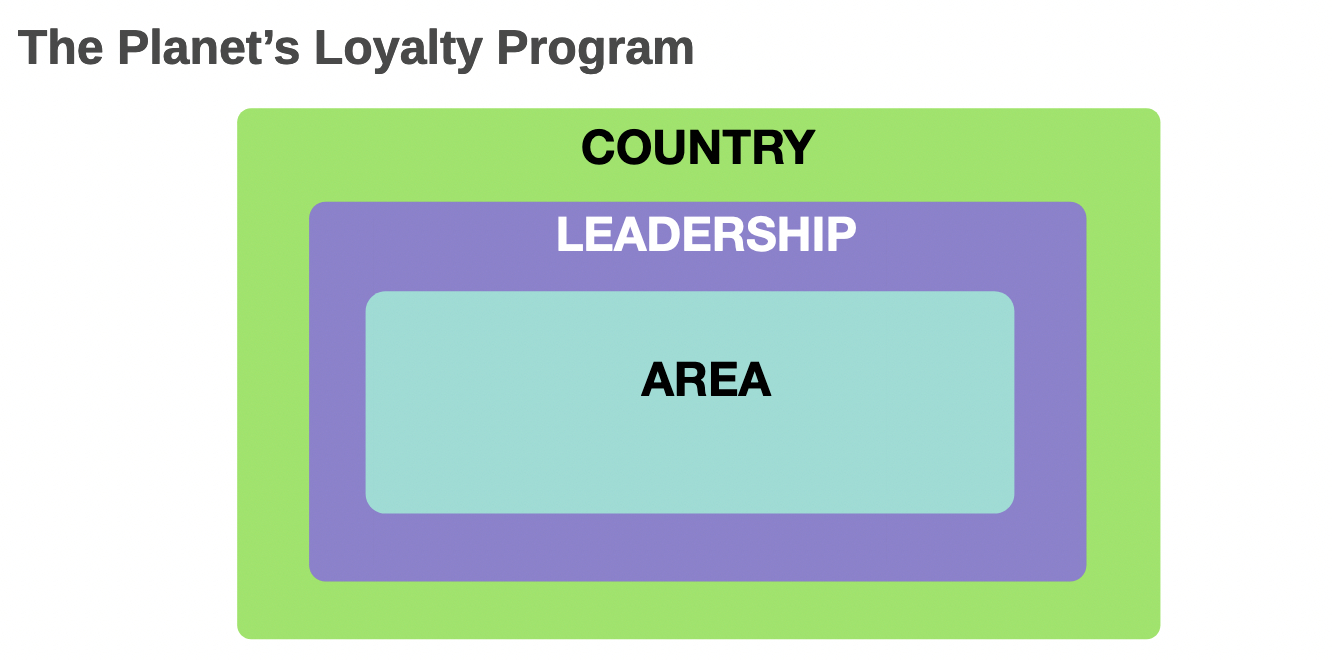 Country Partners Set the Foundation
Country Partners buy the rights to represent the Planet's Loyalty Program in that country, allowing them to build out the loyalty program there.
To be eligible, you need to lock between 100,000 to 20,000,000 IMPT tokens, depending on the size of the country.
Once the rights are acquired, the Country Partners can build up teams to operate beneath them, onboarding Leadership and Area Partners.
Country Partners can receive 5% of all leadership agreements in that territory. They also receive 2% of all the shopping commissions in that country and 5% of all the IMPT merchandise sales.
Leadership Partners can help and guide Area Partners into building the loyalty program in specific areas within a country.
IMPT will help support all Country Partners with marketing initiatives, assets, and other materials to help promote the brand and increase IMPT's sales in the country.
Area Partners Create Relationships with Retailers
Area Partners are tasked with building relationships with retailers in a specific area, onboarding them into the loyalty program,
They can approach all types of retailers, from car washes to restaurants, pharmacies to hair salons - everybody can get involved.
Area Partners can onboard new retailers through the app, where they agree on a commission with the area partner.
Retailers receive rewards, such as commissions on purchases made via IMPT and the opportunity to attend quarterly global events.
It also increases retailers' customer loyalty as customers become aware of the business's environmental impact. It creates a positive brand image and can increase traffic for retailers.
Area Partners also have financial incentives to join as they receive 15% of all the commission on all IMPT purchases in that area and 3% on all IMPT merchandise sold.
Area Partners earn more with more retailers onboarded and more users that shop.
All networks must undergo IMPT selling, marketing, the retailer set up, and IMPT carbon credit training in the IMPT training center, ensuring a consistent onboarding process in every territory.
IMPT envisions this Global Rollout Network to become a robust partnership program that helps the Planet's Loyalty Program expand from country to country, area to area.
Overall, the Global Rollout Network is set to be a game-changer for the IMPT ecosystem, helping retailers in every region to be a part of the Planet's Loyalty Program.
If you're interested in getting involved in this revolutionary retail partnership program, get in touch through the link below and contact one of the IMPT representatives.
---