How game theory helped a Swiss entrepreneur overcome the financial crisis: a success story
Disclosure: Crypto is a high-risk asset class. This article is provided for informational purposes and does not constitute investment advice. By using this website, you agree to our terms and conditions. We may utilise affiliate links within our content, and receive commission.
Disclaimer: The text below is a press release that was not written by Cryptonews.com.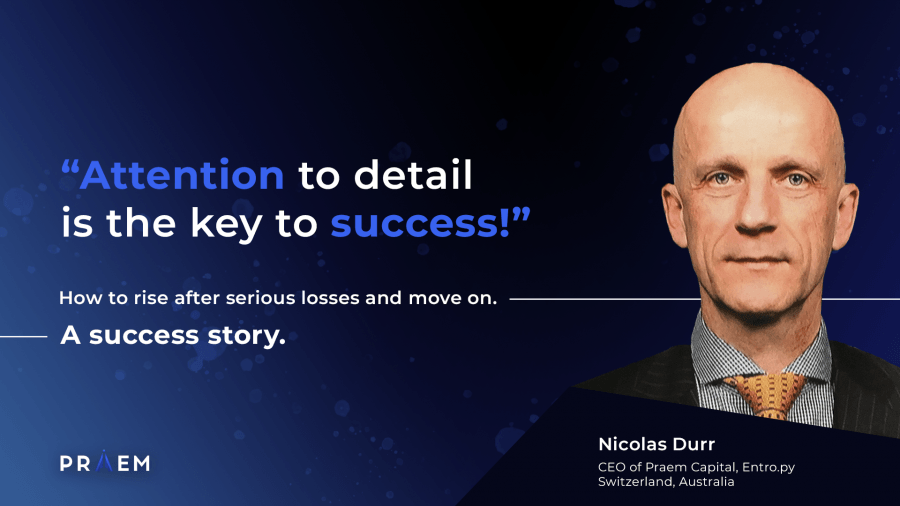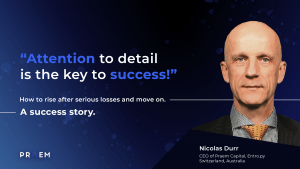 Benjamin Franklin, an American politician, inventor and writer, said: "If you know how to spend less than you get, then you have the Philosopher's Stone".
The hero of today's rubric does not have a philosopher's stone, but he does know exactly how to rise from the ashes after serious losses, and move on.
Undoubtedly, this is an integral part of everyday life, but when it comes to falling markets or a global recession, things are not so simple. Nicolas Durr, a Swiss venture capitalist, entrepreneur and CEO of Praem Capital, knows first hand what a financial crisis is and how to get through this difficult time with dignity.
Two key events that became a serious test in Nicolas's life and forced a reconsideration of his outlook on life, occurred in 2014 and 2018. The digital money space caught the attention of the entrepreneur at a time when the cryptocurrency boom and gold rush were gaining momentum exponentially. At that time, they managed to successfully invest in the system and acquire a large amount of Bitcoin, but after a time when the entrepreneur was experiencing serious financial difficulties and successfully selling a digital asset, the cryptocurrency market collapsed: the price of the Brent brand increased sharply by 44% in one year, and the rate of Bitcoin fell by 54% accordingly. The termination of Mt. Gox led to a market crash of 80% with high positions, which continued to spur the wrecking spiral of economic collapse.
The next stage, which seriously shook the investor's financial stability, was the cryptocurrency crash of 2018, which was much more dangerous than the fall of the dot-com market in 2000, as the digital asset market collapsed by 80%. Of course, the consequences and scale of the catastrophe cannot be compared with the 2008 crisis, when even a series of reduced refinancing rates from 5-6% to 0.25%, which the US government implemented, did not help solve the global problem.
Despite the fact that the cyclical nature of economic development is an effective lever of economic dynamics, a factor of macroeconomic equilibrium and a model of the progressive reform of society, today there are no accurate and reliable methods for predicting the next financial crisis or global recession. The economic crisis is not only a crisis of the national currency, reduction, growth of unemployment and inflation, it is the kind of event that changes the course of history and economic development, and the impact on social processes, and which also transforms the thinking of society as a whole. According to statistics, over the past century, if we are talking about the United States, a recession has been observed on average every 10 years, but, as we said, the crisis has another facet. Thanks to the events described above, Nicolas found key "pain points" and weaknesses in his mechanism of doing business and finance. With the economic recovery, many shortcomings (for example, project management) go unnoticed, and new volatile market conditions force the conditions to adapt, change the usual thinking model, and also resort to atypical management approaches.
Economic shocks are, in some way, the root cause of the emergence and development of the volume of digital money, since we know how the alternative to financial money was formed during the bankruptcy of the banking system. So we can safely say that it was this crisis that triggered the development of the cryptocurrency market.
Any crisis or problem that appears in the life or work of Nicolas Durr's, he solves from the point of view of analysis and position assessment in order to maximize both objective and subjective benefits: everything is similar to game theory. "If we consider the next chess game, after a fierce struggle, when the game passes into the last decisive stage – the endgame, the player evaluates the situation and decides how he will act next: on which side (conditionally) there is a material or positional advantage.
"This also happens in life: if a material or positional advantage is on your side, you should accumulate all internal reserves and win, but if it prevails on the opponent's side, you should build a correct and reliable defense to neutralize fatal consequences and hedge risks in such a way that the losses are minimal, " the entrepreneur shared his personal experience. Undoubtedly, when an economic downturn occurs, this tendency is observed among entrepreneurs and companies that seek to minimize risks, maintain their positions as much as possible and overcome a difficult period, with the least possible losses.
Over the past 25 years, the entrepreneur has worked in many countries in Europe, and in Australia, occupying leading positions in the field of BMS and energy efficiency. After graduating cum laude from the Conservatory of Arts and Crafts, Nicolas spent his first ten years working in relational database management systems and project management in Australia. Implementing multimillion-dollar projects at Johnson Controls in Sydney, he installed and implemented customised building management systems and expanded the company's geography. "Working in different companies makes me understand that we are all clients for each other. Attention to detail is the key to success, " says Nicholas.
All of this has led to a serious passion for Big Data and Artificial Intelligence, and in his leadership role at Entro.py, Nicolas minimized energy use in commercial buildings, using Big Data. The entrepreneur decided not to stop there, so decided to continue his studies at the Swiss Higher Technical School of Zurich, which ranks fourth in the world in the field of engineering and technical sciences. The Swiss Center for Knowledge and Technology allowed Nicolas to dive deeper into the field of data science, robotics and information technology, which influenced his further career development.
In 2017, Nicolas Durr decided to study more details and subtleties of the cryptocurrency market, therefore, he, together with the development team, created and tested algorithms for the first trading bots. And a new algorithm was developed for the largest Forex market, after successfully launching one of the crypto bots for Praem. Trading bots perform trading operations in various stock and cryptocurrency markets and not only process enormous amounts of information in a split second, but also eliminate the human factor and minimize risks.
Scalping, trend and arbitrage bots are capable of compressed analysis of the market situation, form the most profitable offers on the market and complete a large number of transactions. After testing a large number of algorithms, Nicolas Durr and the Praem team came up with the idea of developing Artificial Intelligence that can process Big Data and solve complex investment problems.
Of course, having rich and diverse work experience, like that of Nicolas Durr's, you can safely work on new projects and realize goals in any area, which is what the businessman is doing at the moment. Today, the main project that Nicolas is working on is the Praem ecosystem: a highly profitable and very safe investment model.
Given the dire consequences of the pandemic and the disappointing forecasts of analysts, passive income and a "financial safety cushion" are a key problem that is exciting the minds of modern society. Increased fear of job losses, the transition of whole functions to telecommuting and wage cuts are not conducive to a rational view of things, but all these economic shocks undoubtedly make one think about financial literacy and new sources of income. Investing is an excellent option for passive income, but any field of activity requires a large time resource for full immersion in the subject and effective work on trading platforms.
Praem aims to solve the main problems of the modern investor, which almost every novice trader faces: lack of the necessary experience or time, lack of knowledge of the investment field, insurance losses, a high entry threshold, ineffective strategic decisions and asset unification.
"With big data for five years, I discovered the power of data mining and data correlation: Entro.py was born out of this discovery and the quest to understand the chaos of my clients' data. The use of such opportunities saves energy and makes the world a better place, so I am passionate about finding new ways to solve problems with less energy, but, of course, I realize that my current knowledge is always in the "development" stage. Today, using big data, we save more than 10% off our customers' electricity bills, and who knows how far we can go tomorrow, " said the investor. "Based on my experience in developing algorithms and data analytics, at the moment I am working on the launch of a new large project called Praem, which is one of the most significant in my life, since it will simplify the entire investment process and give even a novice investor the opportunity to receive stable passive income. The world requires new approaches and unique technological solutions in the field of investment, and I am ready to provide them", said the investor.
In our opinion, this approach is the beginning of the realization and implementation of ambitious global goals, because the world is ruled by romantics and optimists who achieve them no matter what, because they believe in themselves and their businesses!
Telegram Group: https://t.me/PraemCapitalENG
{no_ads}
---