Hot Green Meme Coin Chimpzee Nears $2M Milestone – End of Presale Giveaway Now Live
Disclosure: Crypto is a high-risk asset class. This article is provided for informational purposes and does not constitute investment advice. By using this website, you agree to our terms and conditions. We may utilise affiliate links within our content, and receive commission.
Disclaimer: The text below is a press release that is not part of Cryptonews.com editorial content.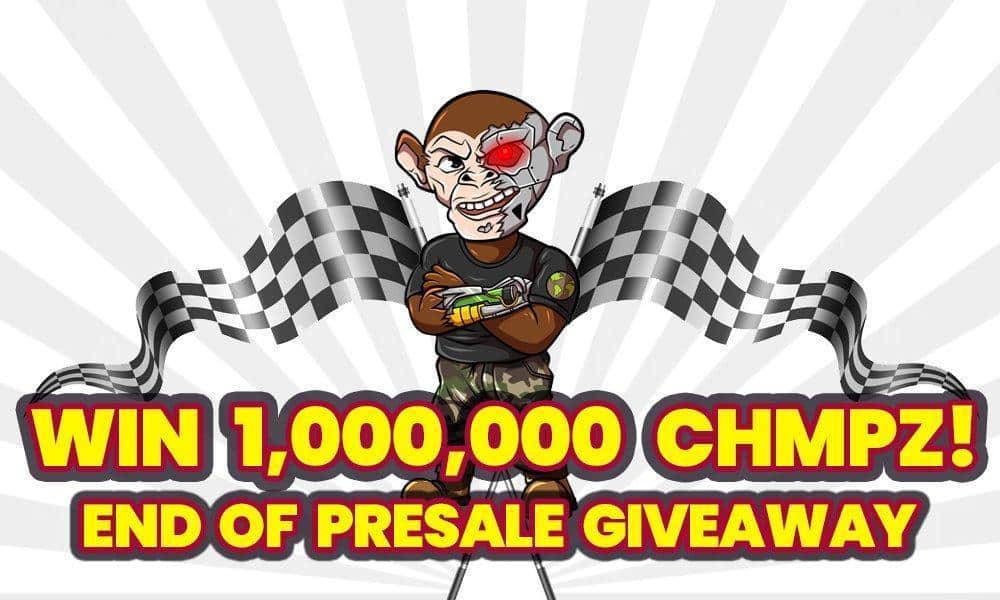 Chimpzee has launched an 'End of Presale Giveaway' with attractive rewards up for grabs.
A lucky investor who has bought $150 worth of $CHMPZ tokens stands the chance to receive 500,000 $CHMPZ with every $50K milestone achieved in the $CHMPZ presale.
An Opportunity to Not Miss Out On!

If you're planning to invest in the CHMPZ presale, the 'End of Presale Giveaway' shouldn't be missed. It not only rewards a random, lucky investor who has made a $150 investment in the project, but also the largest investor.
Whoever plows in the highest investment to the wildlife conservation project before it hits the next $50K milestone will win 1,000,000 CHMPZ tokens!
Chimpzee End of Presale Giveaway 🥳

Are you ready for some exciting news? As we approach our 2 million softcap, we're thrilled to introduce our Chimpzee End of Presale Giveaway! Your chance to win a treasure trove of CHMPZ tokens is here, and it's as thrilling as it gets!🚀🔥… pic.twitter.com/B8HqUQxIRj

— Official Chimpzee Project (@RealChimpzee) November 1, 2023
This presale of Chimpzee's native cryptocurrency $CHMPZ is now in the fifteenth stage. There are sixteen stages in the presale in total. Upon hitting the $2.2M milestone, the giveaway contest will expire, and the winners will be announced.
Green Token with Meme Coin Traits

Chimpzee stands out in the crowded crypto market as an innovative green cryptocurrency initiative. It merges sustainability with the playfulness of meme coins as part of bringing widespread attention to the project and the long-term environmental vision it stands for.
Meme coins have captured the interest of crypto investors due to their rapid and unpredictable price movements, although they are considered extremely risky.
Chimpzee is not an inherently risky investment, however. Unlike most meme coins, it doesn't solely rely on speculation or shilling to nurture its value. Instead, it has a vast ecosystem in the making with attractive avenues for passive income. Each of these components is designed to serve different purposes and engage the community in supporting its cause.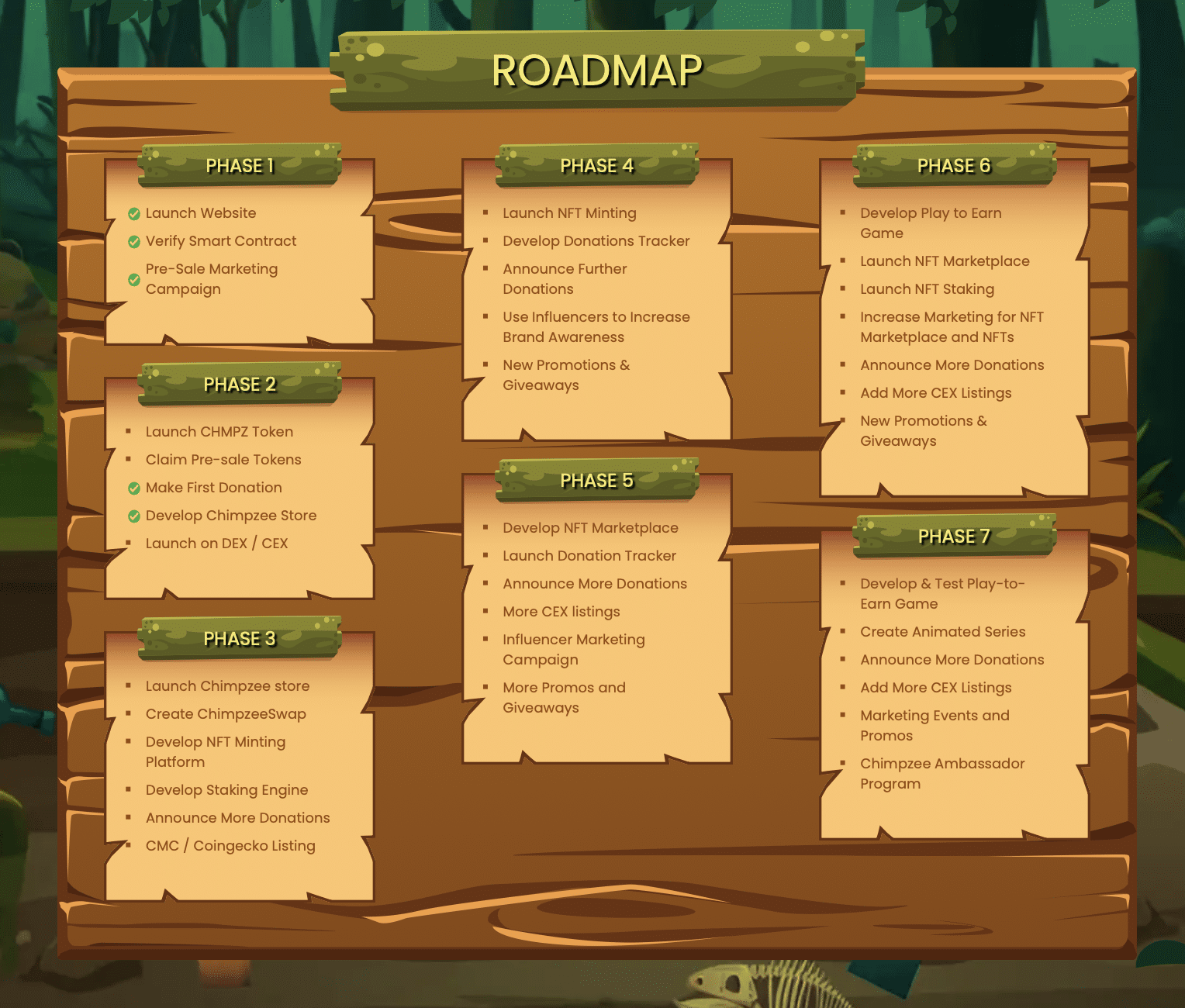 The wildlife conservation project challenges traditional approaches by bringing blockchain and crypto incentivization to the picture. Rather than directly participating or asking people to participate in the regeneration of flora and fauna, Chimpzee financially supports reputable initiatives dedicated to such crucial missions.
The method helps bring a lot of eco-conscious people into climate action, who may not otherwise have time, skills, or resources to dedicate to the cause.
A Glimpse of the Chimpzee Ecosystem
Chimpzee Shop
Part one of the Chimpzee Shop went live recently.. Currently, it gives users a preview of the shopping website and what they can expect while the ability to purchase has yet to be enabled while they finish their quality control and finalize their payment provider. It features a wide range of merchandise items like t-shirts and mugs that display slogans advocating climate action and wildlife conservation.
A share of the profits from merchandise sales will fund various environmental missions supported by Chimpzee. Moreover, shoppers will earn CHMPZ tokens as rewards with every purchase made from the Chimpzee Shop.
Since these tokens hold tangible value, they serve as a fun and effective source of passive income for consumers focused on sustainability. The tokens can be held, staked, or traded on public crypto exchanges.
Chimpzee NFT Marketplace
The Chimpzee ecosystem includes an NFT marketplace where traders can acquire diverse NFTs from robust projects at the best prices. The marketplace operates on a profit-sharing model. It will be beneficial for active traders who are looking for ways to boost their income.
Zero Tolerance Game
Chimpzee's unique offering is Zero Tolerance Game – a play-to-earn video game that aligns with the project's vision by raising awareness about wildlife conservation. The game educates users in an engaging manner and offers rewards to top players to encourage participation.
Chimpzee users can also earn rewards by staking $CHMPZ tokens. The potential for earning rewards in the Chimpzee ecosystem can be improved by holding Chimpzee NFT Passports, which are not yet available but will be launched soon.
Users can currently purchase $CHMPZ tokens at the presale. The bonuses and rewards are not to be missed out on.
Unparalleled transparency

Web3 has revolutionized our approach to global coordination by establishing a decentralized framework for financial and data transactions. It enhances the ease and efficiency of global initiatives.
Blockchain enables unparalleled transparency in transactions, enabling individuals worldwide to unite in pursuit of common objectives like climate action and wildlife conservation.
But numerous crypto projects have faltered in fulfilling their commitments. It has more to do with their lack of a substantive vision from the outset rather than the technology in itself. The ease of access to the blockchain sector has led to an oversaturation of the market with hollow projects that have little to offer.
They postpone development long after the token launch, fading into oblivion over the course of time. These cryptocurrencies should be avoided at all costs.
Projects like Chimpzee, on the other hand, are grounded in robust visions. Even before the token launch, it has been consistently working towards its goals and fulfilling its promises ahead of the roadmap.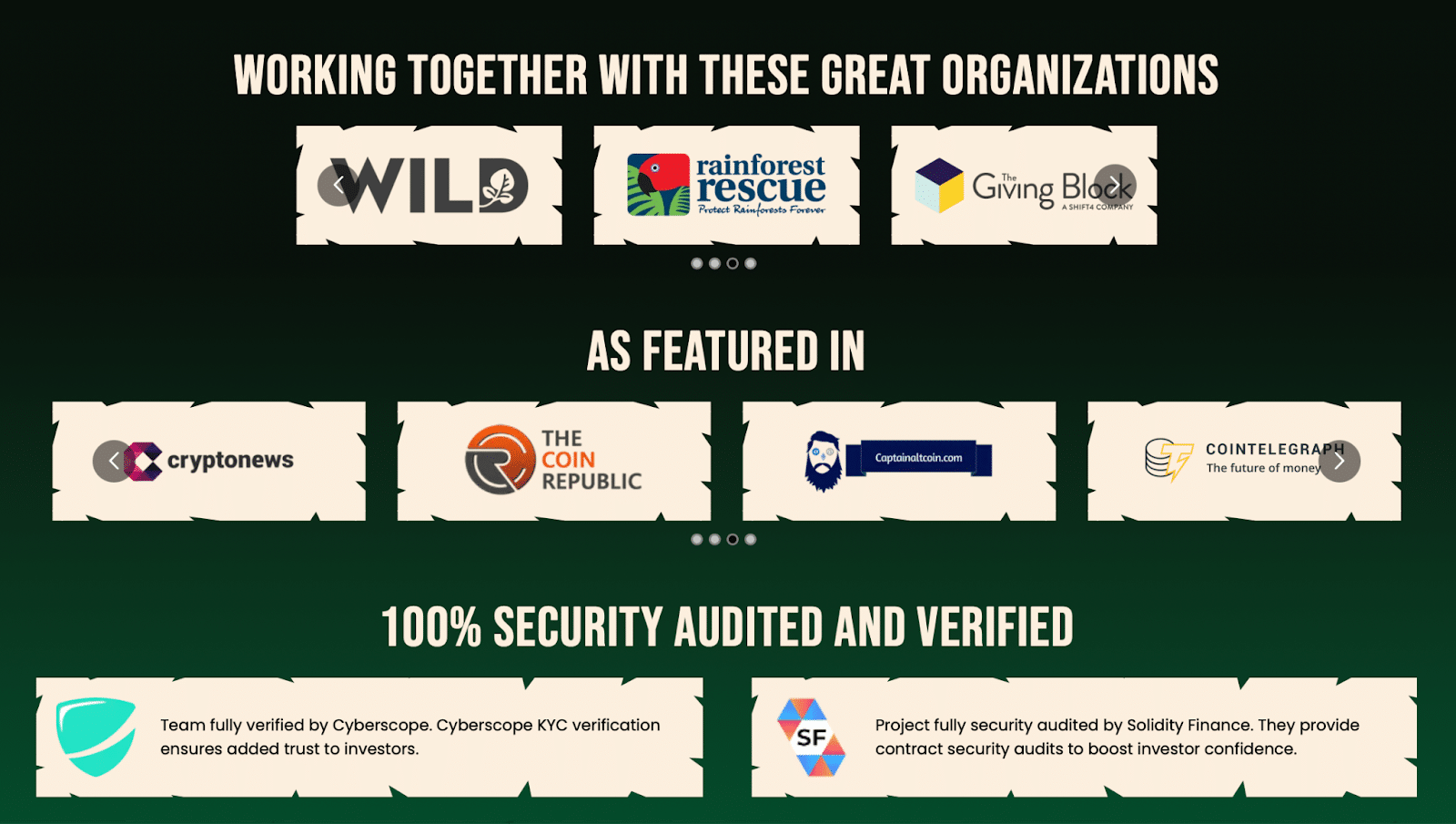 With every relevant milestone achieved in its presale, Chimpzee has allocated funds to hand-picked conservation initiatives. Some of these initiatives include:
Planting 1200 trees to restore the Brazilian rainforest
Donating $15,000 to protect desert-adapted elephants
Planting 20,000 trees in Guatemala
Contributing to the preservation of 1000 square meters of Australian rainforest
Initiating donations to aid forgotten animals in war-torn Ukraine
Plans to plant over 5,000 trees in Tanzania to combat climate change.
In addition to that, it has been consistently slashing its token supply through a burning mechanism to benefit early investors.
Is it too late to buy $CHMPZ?

No. The token is in the 15th stage of its 16-stage presale. So it is not too late to buy the token at a favorable price. Chimpzee has an attractive presale scheme in place that offers up to 4X bonuses depending on the investment level.

---