HedgeUp Presale nearing $500k raised. Price Increase Imminent as Traction Builds
Disclaimer: The text below is an advertorial article that is not part of Cryptonews.com editorial content.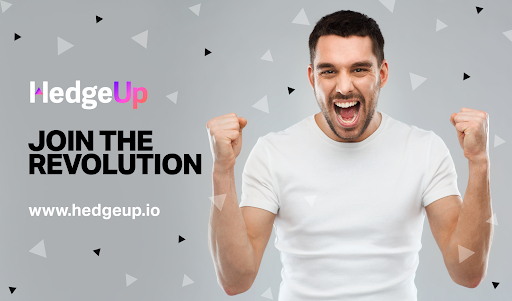 HedgeUp (HDUP), since it began presale, has continued to record daily price increases. As of this article's writing, the alternative investment platform has raised almost $500k. HedgeUp has shown that it has many potentials that users can harness shortly.
HedgeUp does not just boast about being the foremost alternate platform that aims to bring traditional investors into alternative investment; it has attracted many investors. This article will look at what makes HedgeUp a massive success in its presale and what investors stand to gain when it finally launches.
HedgeUp (HDUP) is redefining DeFi with alternative assets.
HedgeUp (HDUP) is a new blockchain project that aims to help people make big gains in the value of their investment portfolios by investing in alternative investments. Fine art, diamonds, gold, luxury watches, and wines are just a few investment options on the HedgeUp website.
HedgeUp (HDUP) is a decentralized finance (DeFi) initiative that aims to provide individuals with an easy and risk-free way to invest in bitcoin. One of the most striking features of HDUP is the emphasis on hedging measures. Unlike most cryptocurrencies, which are only meant to be used for speculation, HDUP gives investors a unique way to protect themselves from market volatility.
HedgeUp's main selling point is using smart contracts to execute their instructions. These contracts will automatically put the terms of the agreement into force when certain conditions are met. As a result, investors can hedge their portfolios without the assistance of a third party or intermediary, resulting in lower costs and improved levels of efficiency.
HedgeUp (HDUP) makes it easy for anyone to invest in its assets.
Anyone can invest as little as $1 in HDUP NFTs, virtual representations of real-world products. When consumers can engage in fractionalized NFTs backed by equity, it will be much easier for investors worldwide to increase the value of their portfolios and create profits.
HedgeUp (HDUP) is the world's first cryptocurrency and NFT alternative investing platform, encouraging people to invest fractionally in rich assets worldwide. By bridging the gap between investors and non-traditional investing markets, this platform aims to empower individual portfolios. It accomplishes this by questioning the status quo and attempting to bridge the gap.
The platform's native token, HDUP, offers a variety of benefits to holders. Investors and consumers can use as little as $1 worth of HDUP tokens to enter the alternative investing marketplace.
HedgeUp (HDUP) has a growing community of investors and industry leaders.
HedgeUp (HDUP) also has a community of investors and developers that is constantly growing. The HedgeUp team has been very involved with the community, and they have given the platform regular upgrades and added new features. As a result, the number of people utilizing the HDUP coin has increased, as has an interest in the project.
The fundamental and technical market assessments form the core of HDUP's hedging tactics. The team in charge of the initiative uses advanced algorithms to look at market data and spot possible threats. Investors will benefit from the HedgeUp (HDUP) team's many resources and educational materials, which will help them understand how the token market works uniquely. This has aided in establishing a devoted following of investors who believe in the coin's potential.
HedgeUp (HDUP) is one of the most promising coins in the market at the moment. Anyone who wants to get a huge ROI should consider investing in this cryptocurrency as it will keep increasing. The crypto market is marked by volatility, but HedgeUp will maintain its success for a long period. Why not join the train now?
For more information on HedgeUp, click the links below:
Presale Sign Up: https://app.hedgeup.io/sign-up
Official Website: https://hedgeup.io
Community Links: https://linktr.ee/hedgeupofficial
---