HedgeUp (HDUP) On Track To Becoming Another UNICORN Tech Cryptocurrency Firm Alongside Ripple (XRP) And Dogecoin (DOGE)
Disclaimer: The text below is an advertorial article that is not part of Cryptonews.com editorial content.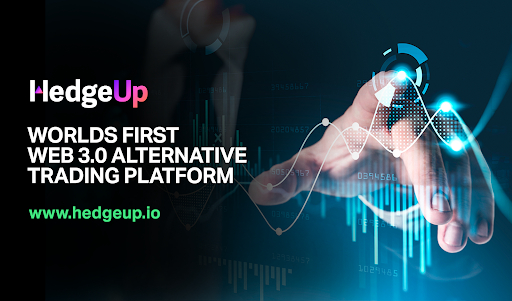 The cryptocurrency market continues to bubble with new tokens and their fantastic utilities. Launching in the market via any of the ecosystem's subdivisions, each token, especially potentially successful tokens, brings unique vibes to the industry. Their distinct features further propel the growth of the industry.
Unicorn technologies are widely known in finance as companies or startups valued at $1 billion or more. It is important to understand that for tokens to attain this value on the stock market, they must bring peculiarities to the ecosystem.
Over time, several tokens have attained unicorn status, and HedgeUp (HDUP) is behind them. These incredible tokens are Ripple (XRP) and Dogecoin (DOGE). HedgeUp seeks to emulate these distinctive tokens so that it can also sit at the table of unicorns.
Dig into this article to keep up with HedgeUp's track to becoming a unicorn tech and crypto firm.
HedgeUp (HDUP) Continues To Move At An Incredible Pace To Attain Unicorn Status
Success is the primary aim of every token in the ecosystem. Also, attaining "unicorn status" is one of the ecosystem's highest accolades cryptos can achieve. Innovative tokens like HedgeUp (HDUP) possess specific elements that could make them acquire unicorn status quickly.
HedgeUp is a project that seeks to provide extensive portfolio growth for individuals by utilizing the alternative investment marketplace. Some of the assets this platform offers for investment include fine art, diamonds, gold, luxury watches, and wines. Opportunities are also available in the aviation and marine industries.
As the world's first crypto NFT alternative investment marketplace, HedgeUp encourages users to invest fractionally in luxurious assets worldwide. Challenging the status quo, this platform aims to empower individual portfolios by bridging the gap between investors and the non-conventional investment marketplace.
The utility token that aids in the execution of the primary functions of this amazing project is the HDUP token. This token, backed by vast utility, is predicted to achieve undeniable growth in no time.
Ripple (XRP) Remains Worthy Of Its Unicorn Status As The Leading Global Payment Protocol
Ripple (XRP) is undoubtedly one of the major pillars of the cryptocurrency ecosystem. It is a blockchain-based network for digital payments that completely utilizes the decentralized protocol. Operating on an open-source and P2P protocol, Ripple permits seamless monetary transfers, which can be in dollars, other global currencies, or cryptocurrencies.
Ripple (XRP) is the governing token powering the Ripple Network. The XRP token is a middleman for exchange between two currencies or networks. Ripple's services extend beyond the shores of crypto, as it also offers services to major world banks and financial institutions.
The Number One Memecoin In Crypto Today; Dogecoin (DOGE)
Dogecoin (DOGE) is a leading peer-to-peer (P2P) cryptocurrency well-known as a derivative of the altcoin giant, Litecoin. Dogecoin has also become an industry giant with its memecoin approach, identified by the fan favorite, the Shiba Inu logo.
Dogecoin (DOGE) is incredibly community-friendly, offering top-notch services to its platform users. Some of these services include efficiency, speed, and minimal gas fees. Due to its alluring utility, Dogecoin (DOGE) remains in popular demand amongst dog lovers and all users.
Ripple and Dogecoin's roles in the cryptocurrency industry cannot be overemphasized. Upcoming cryptos strongly emulate these top pillars of the metaverse, and HedgeUp is an excellent example. Experts say investors should watch out for HedgeUp in the coming months, as they suggest that this token is gearing up for a sensational upswing.
For more information on HedgeUP click the links below:
Presale Sign Up: https://app.hedgeup.io/sign-up
Official Website: https://hedgeup.io
Community Links: https://linktr.ee/hedgeupofficial
---