The Healthcare Network of Tomorrow
Disclaimer: The text below is an advertorial article that is not part of Cryptonews.com editorial content.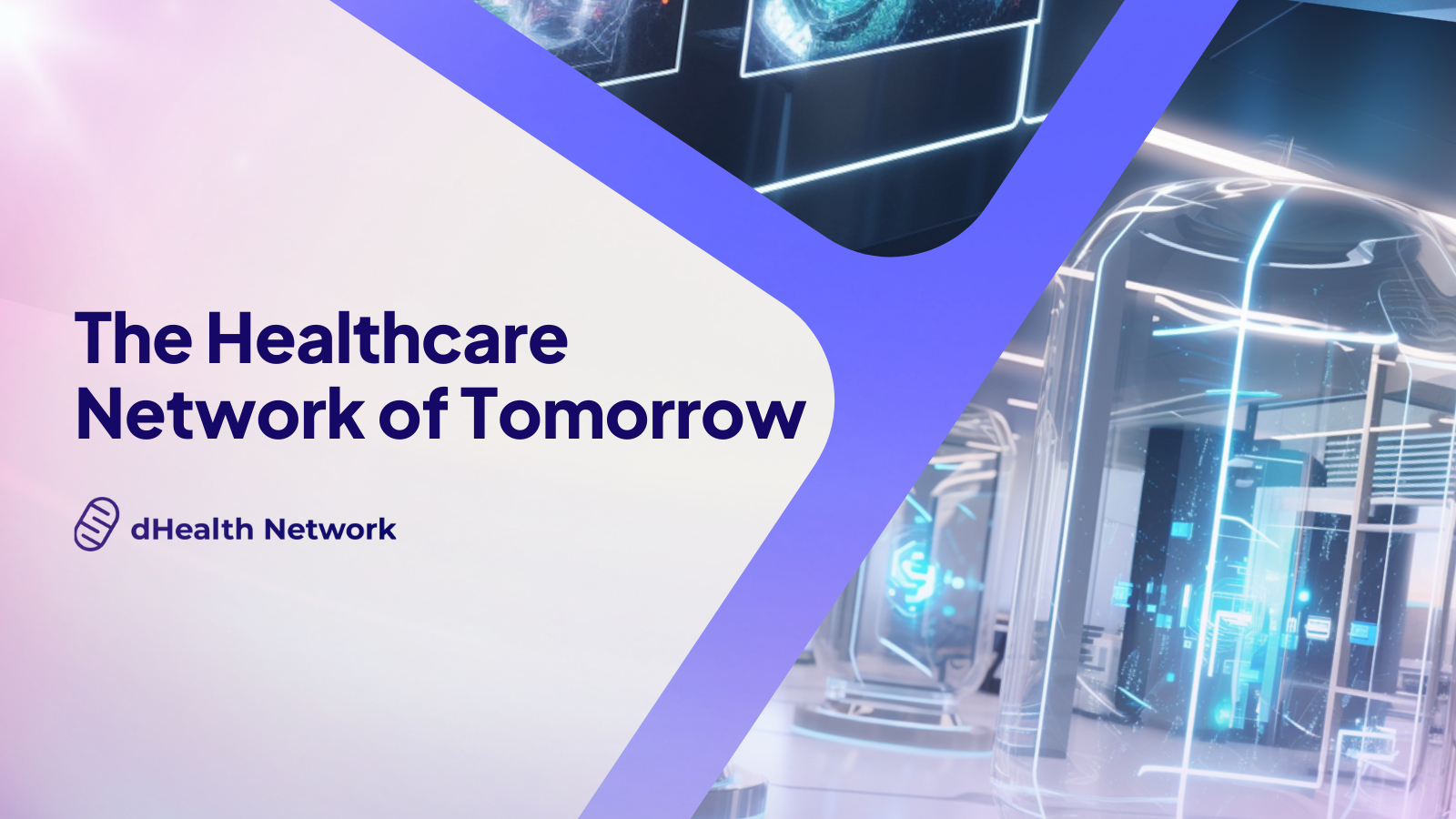 The tokenization of the world's economy is inevitable. The reason behind it is simple—the blockchain technology, and the tokenization that comes with it, is extremely efficient and opens up incredible new opportunities for users and builders.

Despite the legacy systems' affinity to maintain the status quo, the transition to a tokenized & decentralized economy is already underway. There is no doubt that the pace of adoption is and will be increasing exponentially as monthly active developers grew 5% year-over-year in 2022., despite a 70% decline in prices. This translates to a 297% increase across multiple blockchain ecosystems, since January 2018.
To be a pioneer in this transition is an incredible opportunity to create immense value, and dHealth aims to do exactly that in the healthcare industry.
Blockchain integration into healthcare opens up new horizons that will not only generate immense value within the healthcare industry and increase efficacy, but it will, most importantly—save lives, improve patients' lives, and even allow individuals to earn on the medical data they have accumulated. This revolutionary concept is daunting to implement but possible and already in development by dHealth and partnering pharmaceutical company Roche.
This is definitely a challenging undertaking because it pertains to highly sensitive information, and to successfully deliver such a new concept, an incredible amount of care must be put into the product to ensure it's safe and invulnerable to unauthorized access.
When successfully deployed, it will allow patients to turn their unfortunate circumstances into a revenue stream—allowing them to live more comfortably with their conditions or even afford private therapies that were previously out of reach.
There is, however, much more to dHealth, than 'just' patient data registry, as the startup has successfully demonstrated numerous use cases such as tracking rabies vaccines utilizing blockchain technology, as well as helping tuberculosis patients by reducing recovery time and increasing dedication to prescribed treatment with the help of Health2Earn type incentives.

Although dHealth might not be the only start-up aiming to revolutionize healthcare with the help of blockchain technology—dHealth is the only start-up partnered with the world's largest pharmaceutical companies.
This fact will set apart successful teams and those that are not—in the web3 healthcare industry.
The reasoning is straightforward—the healthcare system is a system that contains many barriers due to its nature of dealing with people's lives. Hence, partnerships with leading pharmaceutical companies will prove to be imperative in realizing blockchain integration within the legacy healthcare system.
Let's dive into the details of how dHealth is already transforming the healthcare industry.
Deployed Use Cases
So far dHealth has demonstrated the following functionalities of its technology through the following projects:
• Centiva - Patient Monitoring and Surveillance App
Partner projects include:
NLH Vietnam for tuberculosis treatment;
Roche, which runs a hemophilia monitoring programme;
Green Consensus which is building a cannabis surveying tool and AI programme;
larger medical aid funds in Africa and Asia(TBA)
UPD8 - Move2Earn
Web App rewarding users for fitness activity on Strava
Vaccine Supply-Chain Management and Patient Intake
Rabies Vaccine Tracking with Swiss Tropical and Public Health Institute via dHealth blockchain-based event records API
Organ Donor Card with OrganX and Paris Transplant Group
Vaccine Pass with Swiss TPH
A pilot project demonstrating the Move2Earn use case was re-released just weeks ago in the form of the UPD8 app that rewards individuals Digital Health Points(DHP) to exercise. At the moment everyone can become a part of it, however, for now it is limited to 10,000 beta users.
Every use case demonstrated or being developed—is done in partnership with an organization with relevant expertise and access.
That is why the vaccine supply chain tracking was performed in partnership with Swiss TPH. The goal was to reduce deaths caused by a lack of transparency on who is the final recipient of a vaccine, as well as a lack of transparency with regards to the recipients' health changes.
The treatment adherence pilot program was completed in collaboration with National Lung Hospital in Vietnam by creating the Centiva Life app that was directly connected to the dHealth infrastructure. The app allowed patients to input details on their treatment adherence, and in exchange they were provided DHP tokens, incentivizing them to continue with the long treatment.
Poor tuberculosis treatment adherence results in a high risk of treatment failure, drug resistance, longer treatment regimens as well as increased costs and public health risk of infection. The Centiva Life app which was used to mitigate these issues with tuberculosis is available for any patient group to utilize, regardless of the disease or condition being addressed!

Another use case deployed in partnership with Roche aimed to improve patients' lives by incentivizing them to monitor and record their Hemophilia symptoms with more attention and detail. A technical solution was created to facilitate this, called—patient data registry.
Finally, the organ donor tracking use case that was created in partnership with OrganX is aimed to make the processes related to organ transplantation more effective, efficient, transparent, secured and trustworthy. This will be done by creating a fully virtualized and tokenized transplant ecosystem. Ultimately, it is the goal of the partnership to optimize the matching between donor organs and the potential recipients, hence, improving the survival time of implants and patients.
Under the hood
With 80.9% supply in circulation and 40 staking nodes verifying transactions, the dHealth mainnet is a mature network. It's a PoS chain that has its own explorer, with over 520,000 completed transactions and 10,000 wallets.
Anybody can start a verifying node on the dHealth network!

However, to ensure stability and security of the blockchain network—both dHealth and dHealth partners the likes of pharmaceutical giants Roche and Eli Lilly are running dHealth verifying nodes.
The current APY on staking, on the native dHealth chain—is approximately 12%.
The native dHealth network is a clone of the Symbol blockchain technology, with modifications that make the blockchain more convenient for usage in the healthcare industry. To further expand the dHealth ecosystem and its functionalities, the dHealth team decided to deploy a Binance Application Sidechain (BAS) which will have its own verifiers. In anticipation of this technology deployment, the dHealth team released a BEP20 version of its native token DHP, as well as performed a successful listing on PancakeSwap!
At the current moment, the DHP token is present on 3 chains and is available for purchase via two other pairs—DHP/USDT on MEXC and DHP/ETH on Uniswap.
An automatic uni-directional bridge connects Ethereum and the native dHealth chain, by allowing transfers from Ethereum to native dHealth chain. Similarly, a manual uni-directional bridge connects Ethereum and native chain with the BNB chain. This manual bridge is operated by the team and currently only allows transfer from native or Ethereum chain to BNB chain. To easily transfer DHP between Ethereum and native dHealth chain, it is also possible to utilize the MEXC exchange as an intermediary, as it accepts DHP of both blockchain standards.
As time passes on and the dHealth technology matures as a result of more and more solutions being deployed on-chain—the goal is for the DHP token to be seamlessly transferable across various chains.

However, the main function of the DHP token is, and always will be—to power the healthcare industry of tomorrow.
In the near future, dHealth's distributed and community-owned network for healthcare-related transactions will power the global data-driven healthcare ecosystem. This is only possible by utilizing the blockchain technology, as well as the newest innovations therein.

The dHealth team can achieve what legacy systems are incapable of—by staying on top of technological advancements and applying them with both vigor and caution.

To take your first step in becoming a part of this ambitious but realizable goal, you can join dHealth's Discord community, as well as start using their network.
---