Gym Street acquires Japanese Kabutoucho Metaverse, expanding ecosystem and experience
Disclaimer: The text below is a press release that is not part of Cryptonews.com editorial content.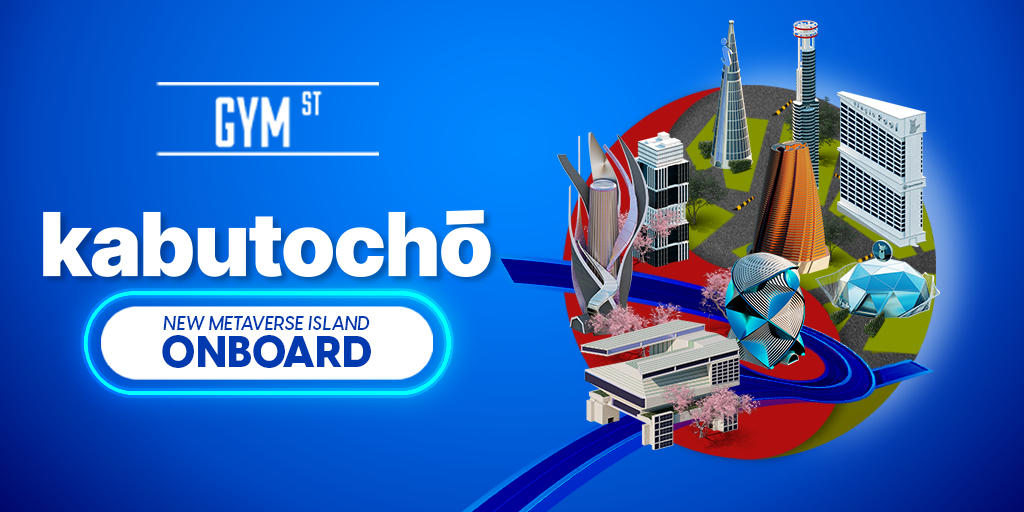 The world of virtual reality is constantly evolving, and the latest development in this space is Gym Streets akquisition of Kabutocho Metaverse. Combining two innovative metaverse platforms aims to create a comprehensive virtual experience for users, bringing together the best of both worlds.
"We are thrilled to announce the integration of Kabutocho, a thriving financial district in the Metaverse, into Gym Street Financial Metaverse. The acquisition of these platform will bring a new and exciting community to our existing user base and provide even more opportunities for our business partners to grow in the virtual world. This is a major step towards our vision of creating a comprehensive and immersive Metaverse financial experience for all." - Frank Roehrig, CEO of Gym Street.
Gym Street
Launched in mid-2022, Gym Street Financial Metaverse is a fast-growing virtual universe where the boundaries of gaming and finance converge. This innovative platform is powered by blockchain technology, bringing a safe and secure environment to engage in a range of activities like minting, real estate, DeFi, NFTs and more. Gymstreet has its own community token, GYMNET, which expects to maintain the bullish trend after Kabutocho joins regarding the expected community number breakthrough.
Kabutocho
The Kabutocho Metaverse is a Japan-focused platform that engages in various blockchain-based activities, such as minting, real estate and DeFi.. It was launched in 2022 as a 2D platform with plans to expand into 3D virtuality with approx. +10.000 users. Gymstreet, which already has a thriving 3D ecosystem, is to welcome Kabutocho and share its technology.
Unified vision, formerly in two separate places, now under one roof
The primary objective of the acquisition is to leverage the strength of two major brands, providing users with a one-stop-shop for all their virtual needs. By joining forces, the two metaverses will be able to offer a wider range of experiences and opportunities, including access to different worlds with unique cultures. Gymstreets interpretation of Manhattan, the Wallstreet financial district, will sit alongside Kabutocho, a Japanese community that has a similar approach to building a financial hub.
Kabutocho had already sold out almost all of its virtual land and offered similar products to Gym Street Metaverse. This made the acquisition an attractive option for both companies as it allowed them to join forces and achieve more together than they could have alone.
The combined metaverse will feature both "islands" - Manhattan and Kabutocho - on the map, providing a great advantage for business partners who can now open Metaverse offices in multiple locations simultaneously.
The advantage of having multiple offices in different metaverse locations is that businesses can overcome the physical borders that exist only in the real world. This opens up new opportunities for companies to reach new markets and customers, offering a unique and exciting way to engage with the virtual community. The existing partners of both Kabutocho and Gym Street have already expressed their excitement about the opportunity to have multiple Metaverse offices, providing a solid foundation for the success of the merger.
The two companies have already begun working together to integrate their technology and services, with the goal of launching the combined platform later this year in their MVP release. In the meantime, users of both Kabutocho Metaverse and Gym Street Financial Metaverse can continue to use their existing accounts and services, ensuring a seamless transition to the new platform.
A step forward the future
The virtual reality world market is growing at an astonishing rate, with the global market expected to reach $800 billion by 2024. The acquisition of Kabutocho and Gym Street Metaverse is a testament to this growth and a sign of the potential of the Metaverse. By combining their expertise, the two companies aim to create a more immersive and integrated virtual reality, providing users with a seamless and unparalleled experience.
In conclusion, the merger of Kabutocho Metaverse and Gym Street Financial Metaverse is a step toward the future of virtual reality. Combining the two Metaverses will create a comprehensive platform that offers a unique and exciting way for users to engage with the virtual world. The merger is set to revolutionize the virtual experience and open up new opportunities for businesses to reach new markets and customers.
New Metaverses - Welcome
Gym Street will be onboarding more Metaverses in the future and opening them under their umbrella. With this strategy Gym Street wants to make the way into the Metaverse more attractive for companies, as they can reach new target groups more easily. For example, either a country-specific metaverse can provide access to a certain target group or a topic-specific (finance, casino, gaming or even cooking, etc.) virtual world can host new users.
For this, you are welcome to contact Gym Street and discuss your plan.
Gymstreet
Website - https://gymstreet.io/
Telegram - https://t.me/gymnetwork_english
YouTube - https://www.youtube.com/@gymstreet.metaverse
Twitter - https://twitter.com/GymNet_Official
Instagram - https://instagram.com/gymstreet.metaverse
LinkedIn - https://www.linkedin.com/company/meta-networks-fzco/
---