Google and Facebook Give Cryptos a Boost
Two of the world's biggest internet companies, Google and Facebook, are adding features which the crypto community will, most likely, be fond of.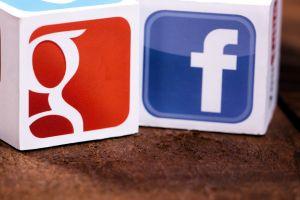 Google has added new cryptos to its currency converter, and Facebook, as promised, has started unbanning crypto-related advertisement. Let's talk about Google first.
If you wanted to find out the price of Bitcoin, one of the ways to do it was to simply search for the term Bitcoin in Google, and you'd be presented with the cryptocurrency's current price, in USD.
However, the same did not work for other cryptocurrencies, up until recently. Google has now introduced a similar feature for a pair of popular coins – Litecoin and Bitcoin Cash.
Now, all you need to do, to find out the prices of these two, is to search for the term in Google and you will be presented with the currencies' latest prices. It seems as if the prices follow those seen on Coinmarketcap.com.

____

Ethereum's currency, Ether, has also gotten a bit of love from Google, but not in the same way as Litecoin and Bitcoin Cash. You can't get the price of Ether by simply typing the term into the search bar, but there is a new way which wasn't available earlier.
Google's currency converter now offers conversions into Ether. Searching for "Currency converter" in Google will bring up the search engine's nifty little feature, in which you can find Ether on the dropdown menu.

As with almost everything in the world today, people are divided in opinions about Google's latest move. Both sides took to Twitter to express their opinions. While some see it as a 'bullish' move, which will consequently result in cryptos being "everywhere in the world", others are not so positive about it, saying this is a way for Google to track which cryptocurrencies, and in which amount, people are hodling.
Meanwhile, Facebook, which first announced it would unban crypto-related advertisements on its platform a month ago, has finally acted on its promise. Late last week, Coinbase, the popular US-based fiat-to-crypto exchange and wallet service, CEO and co-founder, Brian Armstrong, revealed that the company can once again advertise on the social media platform.
But this doesn't mean all crypto-related stuff is in the clear. Facebook is still banning Initial Coin Offerings (ICOs) and binary option advertisements. 'Legitimate companies', however, can now advertise. Meanwhile, despite Google announced that it's banning crypto-related ads starting June 2018, one can still find such ads on Google.
---